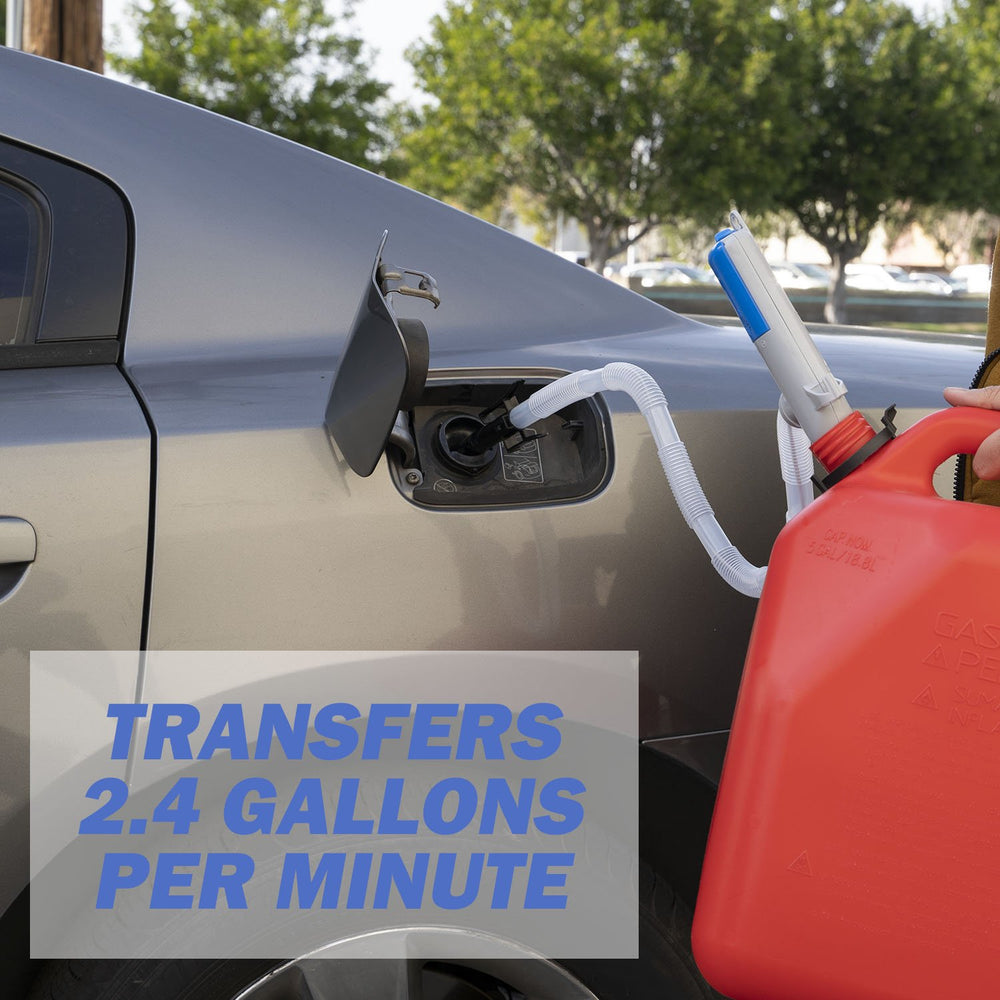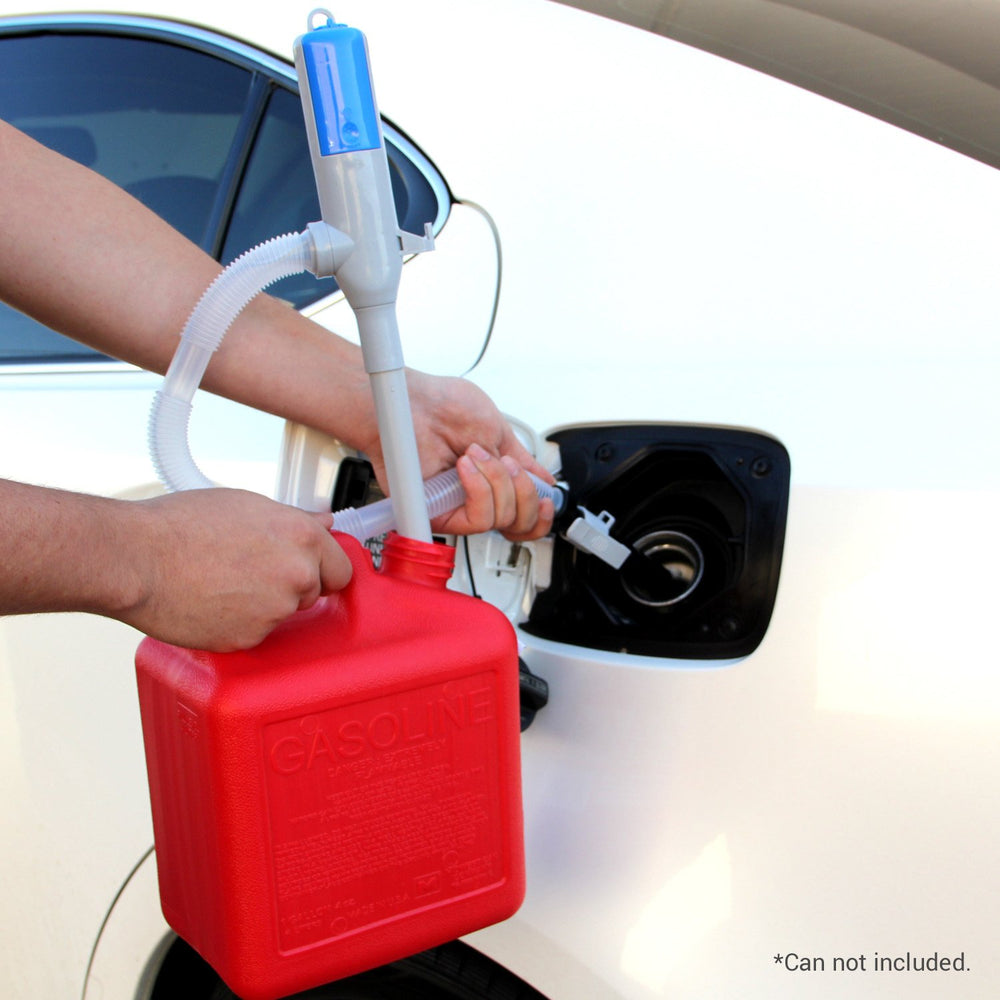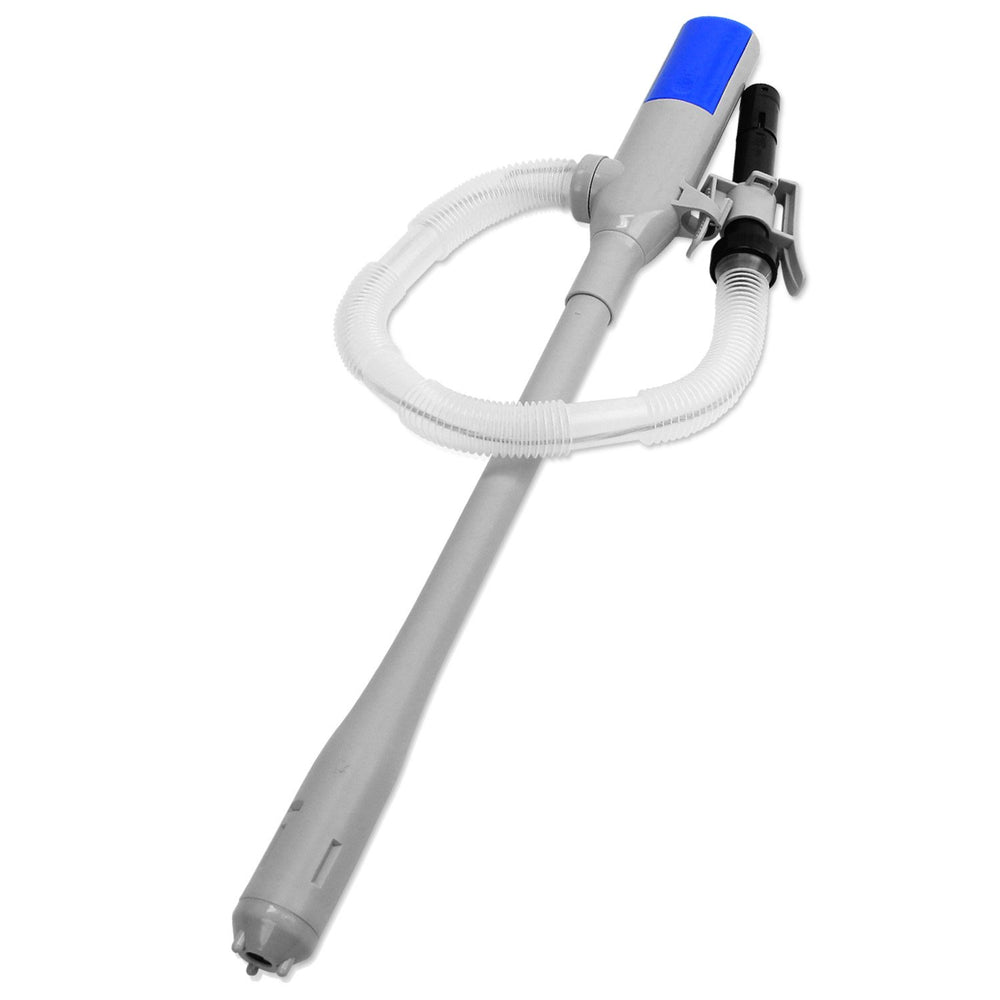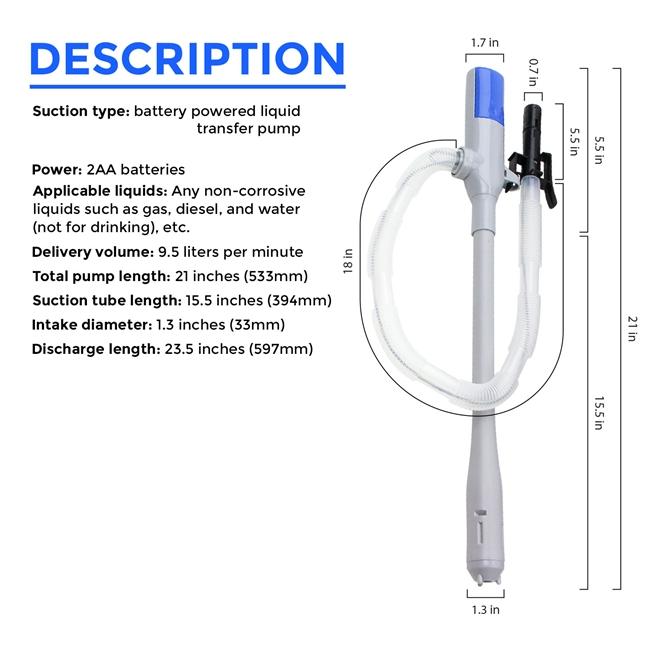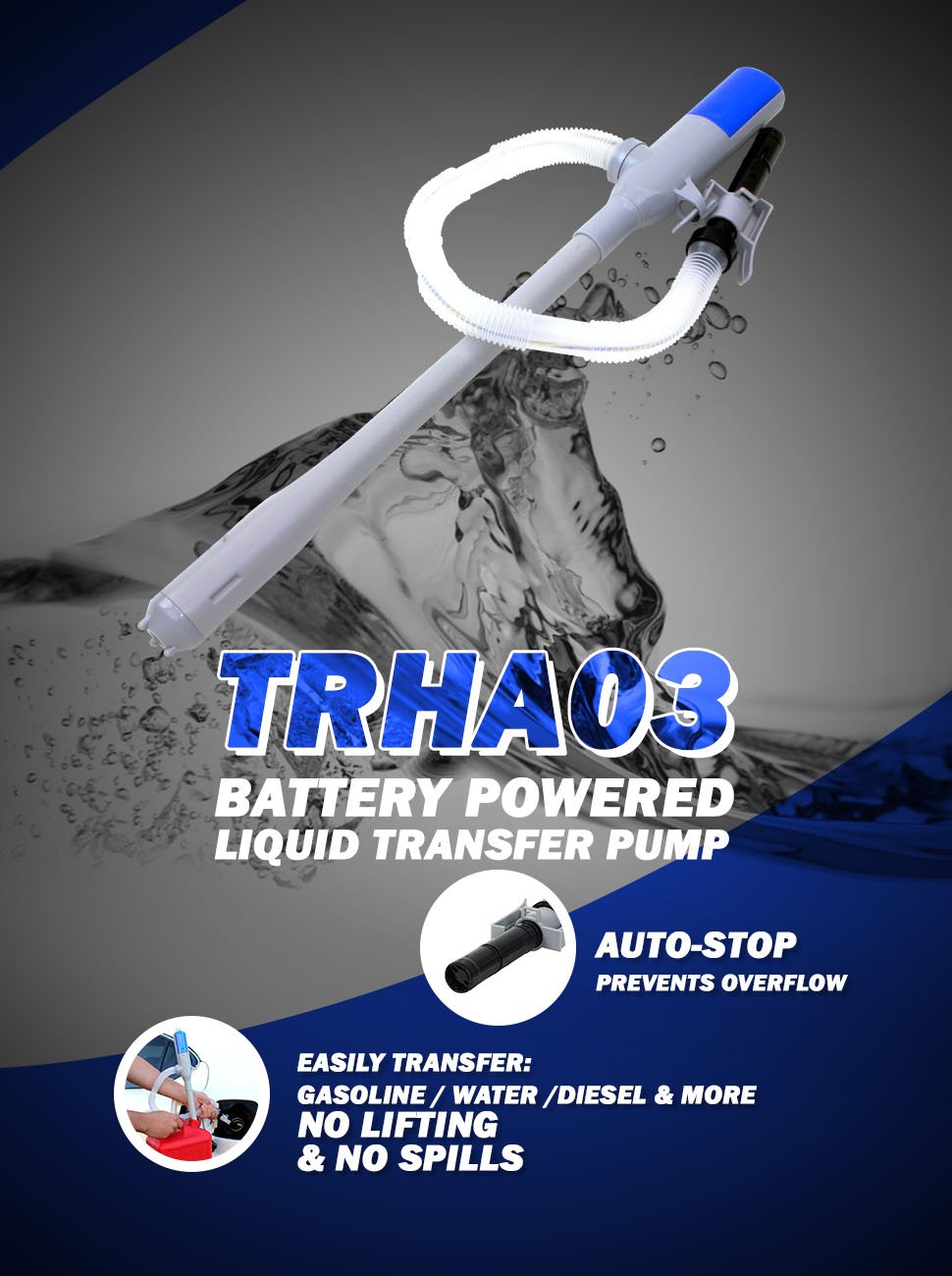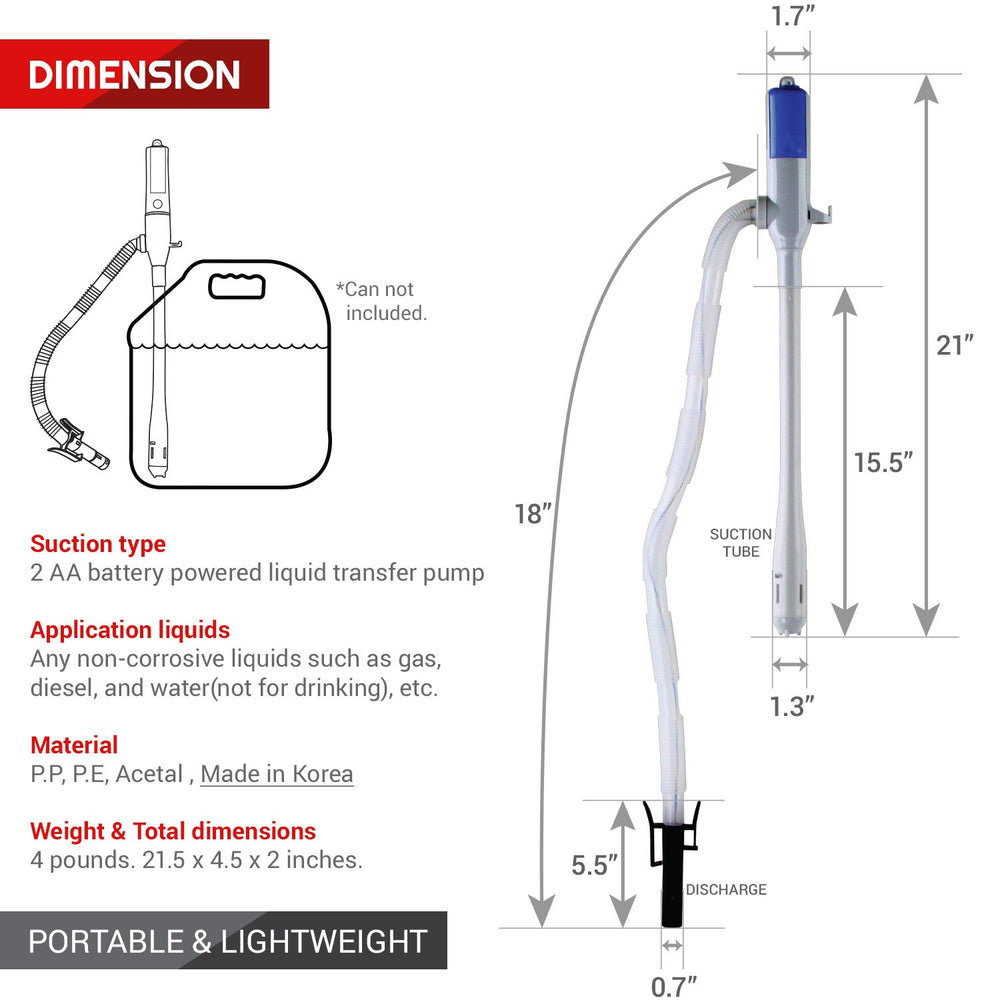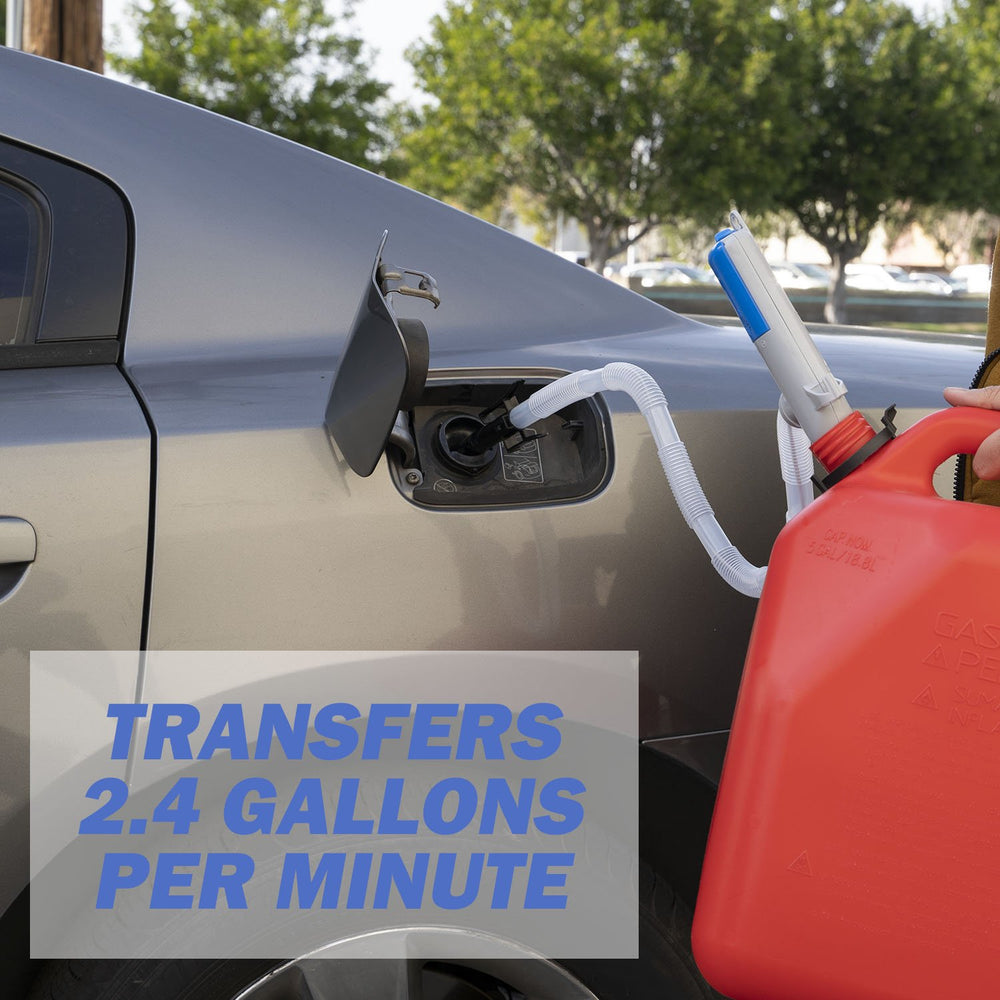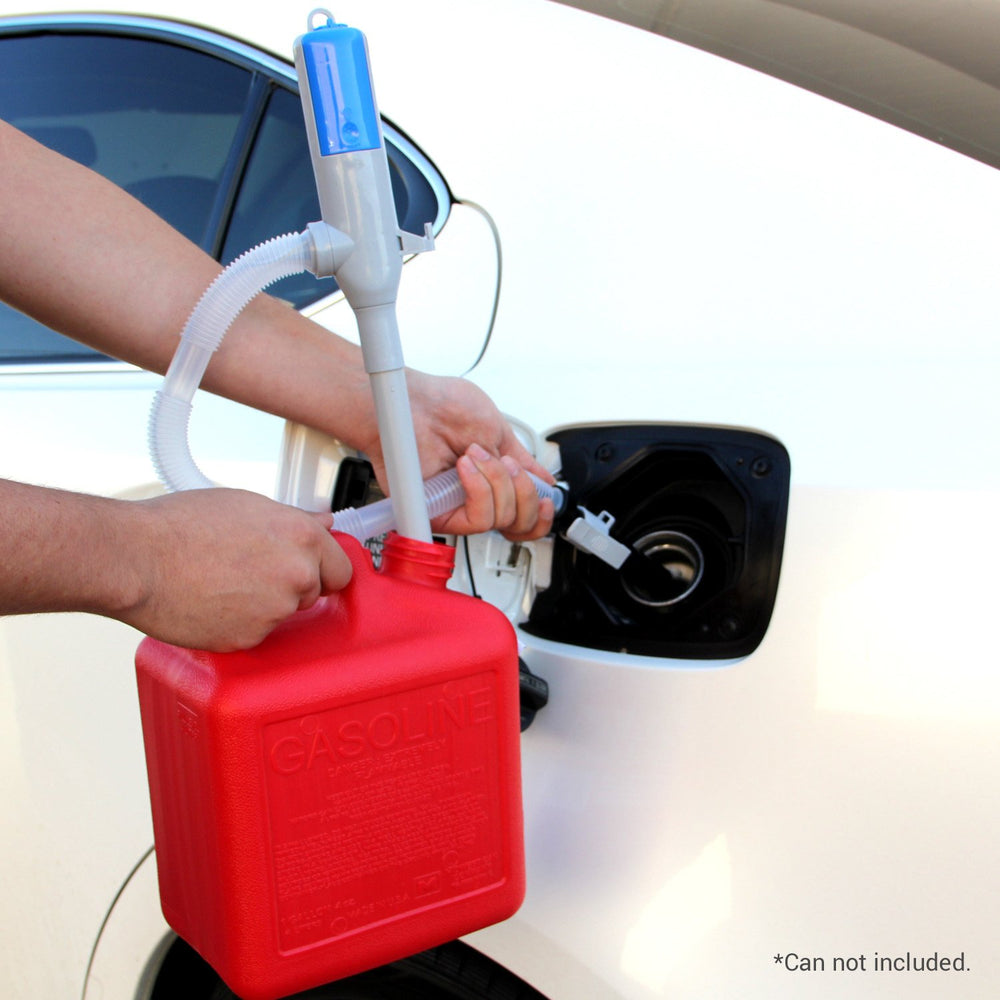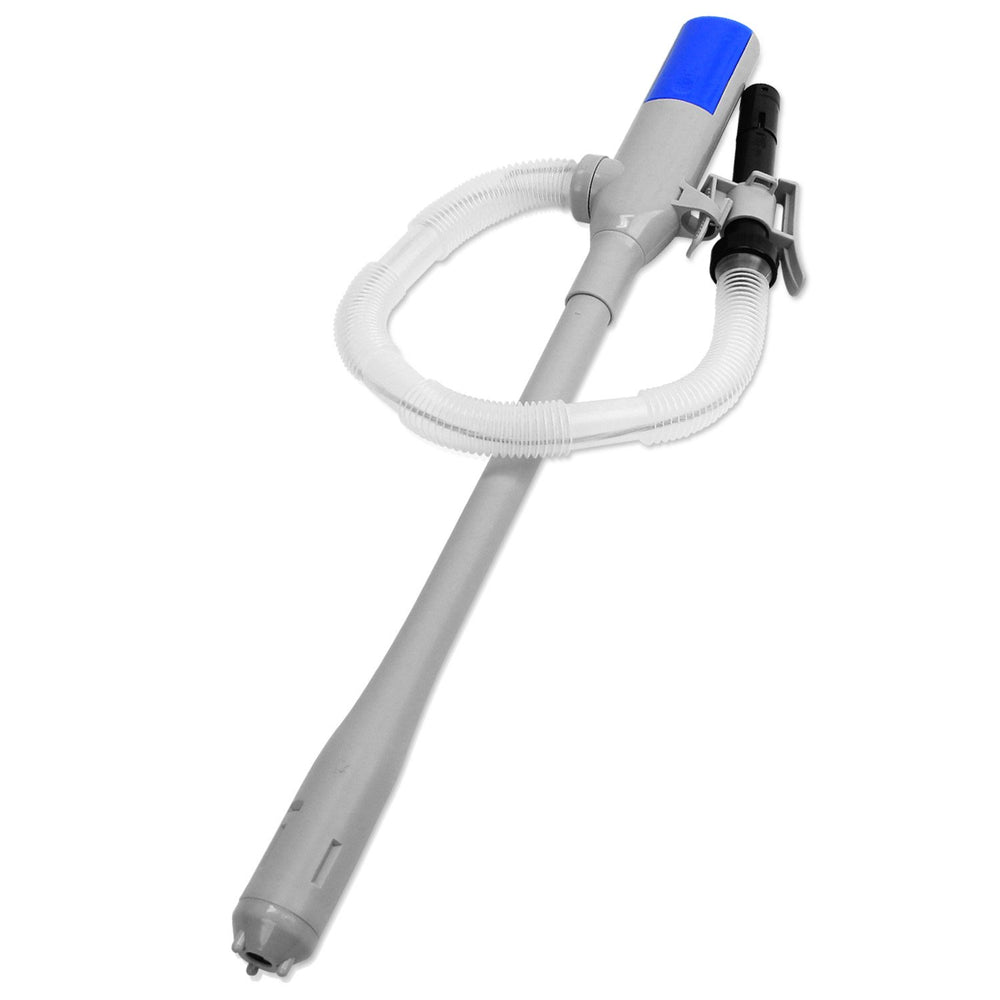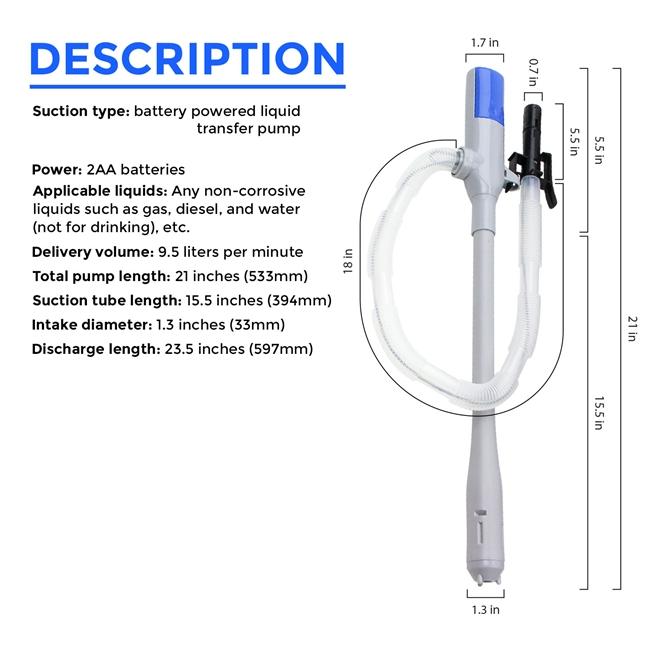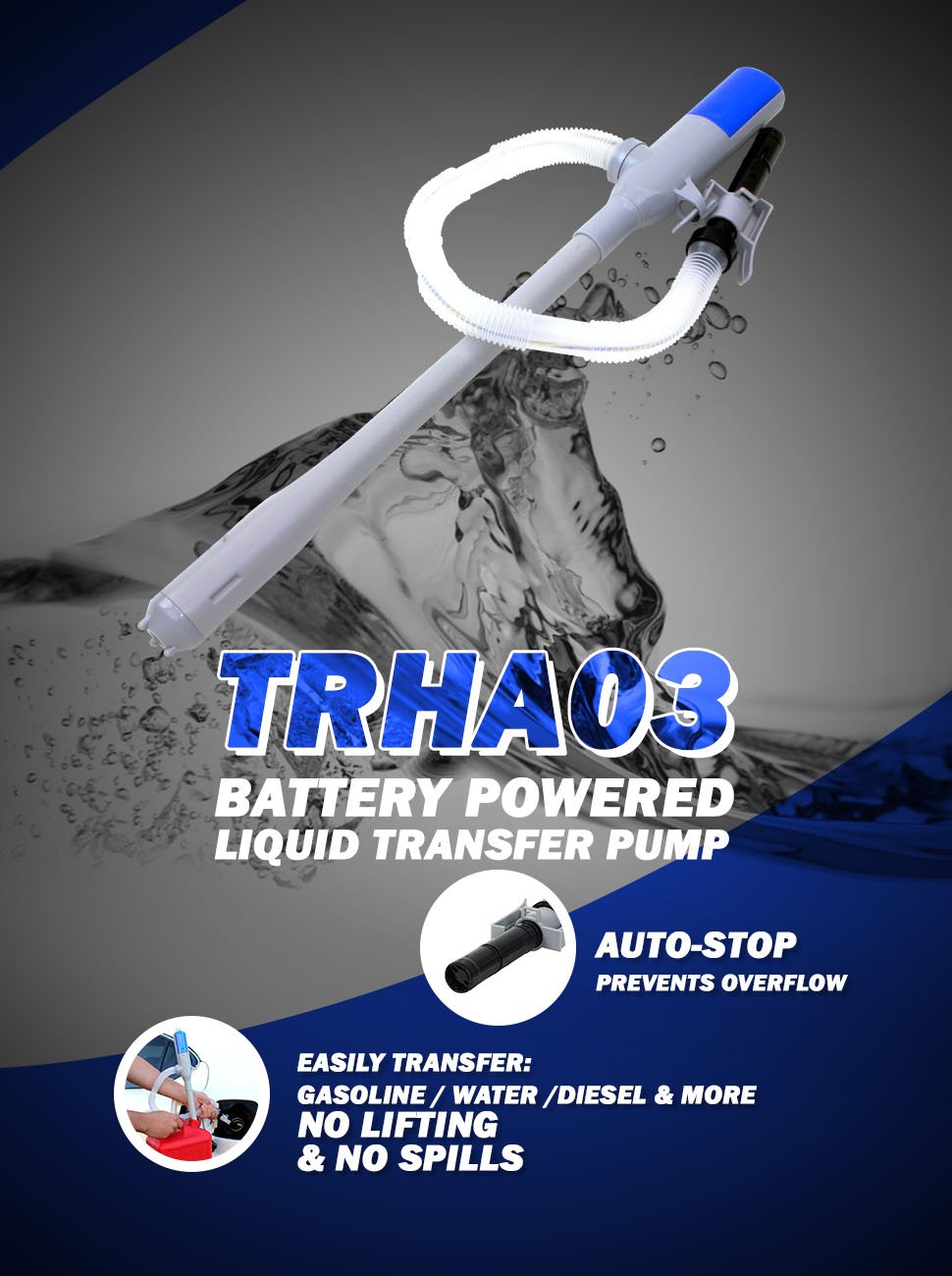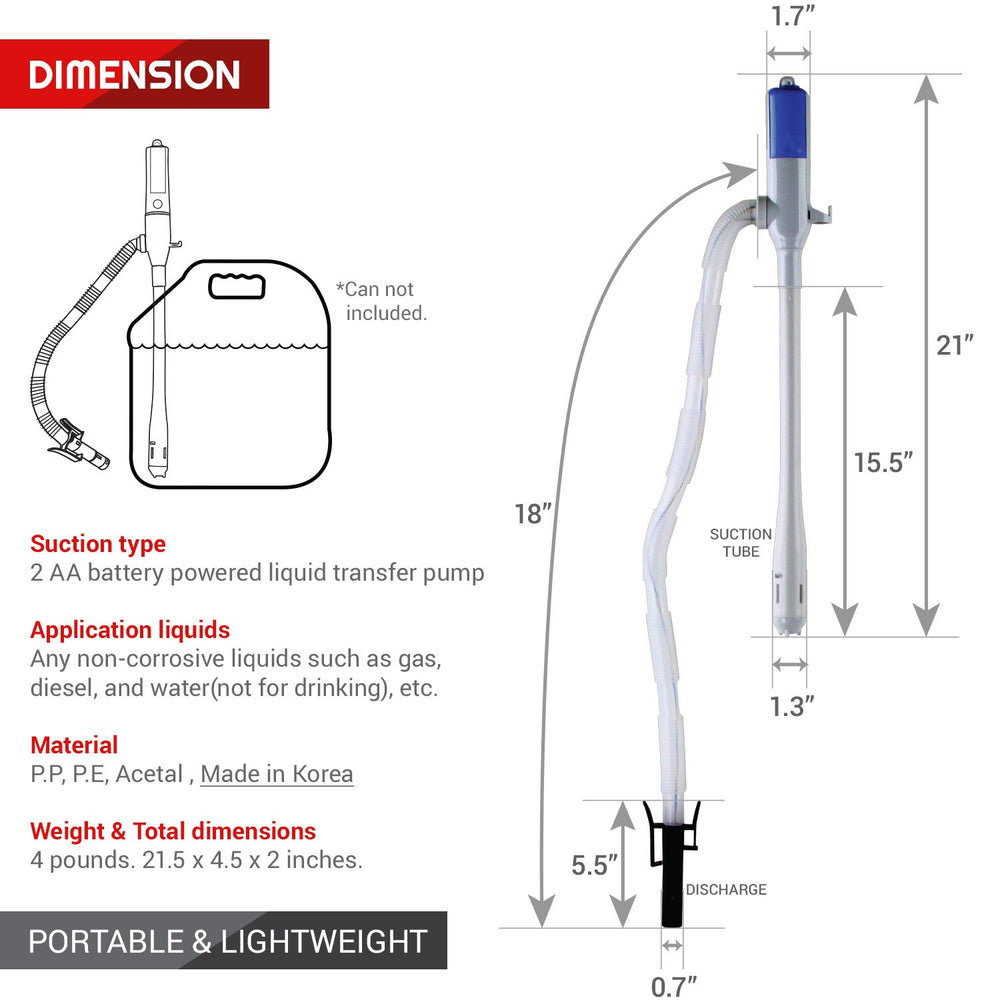 Product Description
Description
Need An Easier Way To Transfer Fuel and Liquids? 
Introducing: The NEW Terapump TRHA03…
✓ Flow Rate of 2.4 Gallons per Minute


✓ Intake Tube Length: 15.5 in


✓ Discharge Hose Length of 18 in + 5.5 in Nozzle
✓ Auto-Stop mechanism &
Auto-Buzzer: Sounds when pump Automatically stops


✓ Requires 2 "AA" Batteries (Not Included)
TRANSFER FUEL TO: 
✔️ Cars
✔️ Trucks
✔️ Boats
✔️ Lawn Mowers 
✔️ Tractors / Heavy Equipment
✔️ Chainsaws 
✔️ Snow Blowers / Snow Throwers 
✔️ Snow Mobiles 
✔️ ATV's
✔️ Jet Ski's
✔️ Fuel Powered Generators 
COMPATIBLE WITH:
✔️ Diesel 
✔️ Gasoline
✔️ Water (NOT for Drinking Water)
✔️ Light Oils 
✔️ Kerosine
❌ NOT COMPATIBLE WITH:
Drinking Water, Hot Water, Acetone, Benzen, Creosol, Ethylphenol, Methylethyl, Concentrated Caustic Soda Liquid, Nitric Acid, Hydrochloric Acid, Sulfuric Acid, Thinners, Solvents, etc.
ABOUT THE TERAPUMP TRHA03
The TERA PUMP TRHA03 is an affordable BATTERY OPERATED fuel transfer pump designed for quick and easy emptying of gas cans of various sizes. 
The TRHA03 eliminates wasting fuel and the need to lift large, heavy, gas cans. 
2.4 GPM Fuel Transfer Pump
Transferring fuel and liquid can be a pain! 

Safely use this portable TRHA03 Battery Powered Siphon Pump to transfer or empty gas cans, tanks, barrels, drums, carboys, IBCs, etc. 
The TERA PUMP TRHA03 is an affordable battery powered liquid transfer pump designed for quick and easy emptying of gas cans of various sizes. 
Up and down operated flexible spring type bellows allow smooth operation and high powered discharge.
FUEL TRANSFER PUMP Features
Battery Loading Slot: Simple Slide off mechanism
Simple Power Switch: Switch to on and you're ready to go
Auto-Buzzer: Sounds when pump Automatically stops
Auto-Stop Sensor Mechanism: Pump warns when it is at capacity, Protecting from leaks and liquid overflow
Suction Type: Battery Powered Liquid Transfer Pump
Battery Operated: Uses only 2 AA Alkaline Batteries (NOT Included)
Dimensions: 21.5 x 4.5 x 2 Inches
Delivery Volume: 10 Quarts / Min or 2.4 Gallons per Minute. Increased suctioning power with impeller head
Application Liquids: Any Non-Corrosive Liquids such as gas, diesel and water (NOT for Drinking Water), etc...
1. Immerse the suction end of the pump into the liquid (ex. Gas Can)
2. Insert the tube into a container to receive the liquid
3. Turn the pump on. Caution: Do Not overfill the container. Avoid pumping liquid to a container higher than the pump's motor housing
4. When finished, keep the pump upright and lift the handle above the pump mechanism to drain any liquid back into the original container. Do Not lay pump down until all liquid has been drained from the tube and pump.
5. Run water through the pump after using it with any other liquid. This will rinse the interior and extend the life of the pump.
 *GAS CAN NOT INCLUDED*
electric transfer pump fuel transfer pump fuel transfer pumps fuel transfer pumps electric tera pump fuel transfer pump
I have been using this pump all summer to keep my boat, lawn tractor and a whole bunch of other stuff filled up around here. I still use 5 gallon containers for their portability and even with 10 of those I'll have to fill them twice to get through the summer. This pump has been great for my needs. If you are sick and tired of having to hold a 5 gallon container of fuel in the air while attempting to get those funky nozzles to work, buy this pump.
Brad
So far it's working as well as I had hoped. Nothing is perfect when trying to transfer gas, but this does a very decent job. You need to make sure to lift the nozzle and hose up at the end of the fuel transfer to allow any residual fuel to run back into the tank or it will dribble out all over. It empties most of a five gallon gas can in a couple minutes without having to lift and hold the can up which is exactly what I wanted.
V. Thomas