Top 7 ATV Trails in Canada: Exploring The Great Canadian Outdoors
Posted by G. Nicholas on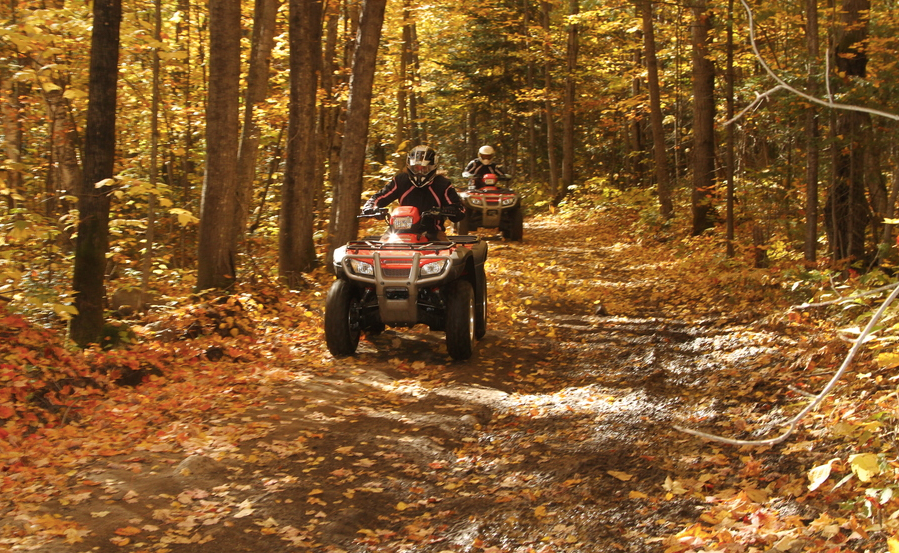 Introduction:
ATV lovers rejoice, as Canada offers some of the most diverse and breathtaking ATV trails in the world! Whether you're a seasoned rider or a beginner looking for an exciting new adventure, Canada's ATV trails have something for everyone. In this blog post, we are thrilled to share the top 7 ATV trails in Canada that every enthusiast should experience.
From the rugged beauty of the Canadian Rockies to the dense forests in Nova Scotia, these ten spectacular trails boast diverse landscapes and varied difficulty levels that are sure to challenge and amaze even the most experienced riders. To help you plan your next trip, we've compiled all the information you need on each trail, including the area's unique attractions, notable scenery, and level of difficulty.
Canada's extensive wilderness and vast landscape are perfect settings for the adrenaline-rushing excitement that comes with exploring off-road terrain on an all-terrain vehicle. Whether you're interested in rolling hills, lush forests, sand dunes, or rocky mountain slopes, this list has it all.
Additionally, several trails also offer guided tours for riders who prefer a structured experience or want to learn more about the diverse ecosystems that make up these beautiful Canadian regions.
While each of these trails will offer a unique experience, one thing is certain: the breathtaking beauty of these locations and the invigorating thrill of navigating the off-road tracks will absolutely capture your heart. Before embarking on these treks, remember to prioritize your safety and always respect the environment, as well as any local regulations in place.
So, are you ready to discover the top 7 ATV trails in Canada? Get your helmets on, gear up, and let's dive into the unforgettable world of ATV riding in the great Canadian outdoors!
Photo Credit: Cottage.Rocks
KATVA Trails – Ontario
Situated in the stunning Kawartha Lakes region, the KATVA Trails cover over 600 kilometers of prime ATV terrain. The trail system is diverse, with options ranging from technical rocky sections to fast-paced dirt roads. KATVA caters to riders of all levels, providing an engaging ATV experience that can easily be customized based on skill level or desired challenge. For those looking to enhance their visit to KATVA, consider joining one of their guided tours. This way, you get to learn from experienced locals and explore areas of the trail that only insiders would know about.
Photo Credit: Ride West Magazine
High Country Ride – Alberta
The High Country Ride in Alberta is renowned for its Rocky Mountain landscapes and vast expanses of pristine backcountry wilderness. Spanning over 420 kilometers, the trail system offers various terrains and ecosystems to explor, ranging from lush alpine meadows to rugged mountain ridges. The High Country Ride is the ideal ATV destination for those seeking unparalleled views and some of the most challenging terrain in the country. Be sure to take your time and stop at lookout points to truly appreciate the breathtaking surroundings.
Photo Credit: WikiLoc
Blue Mountain Trail System – Nova Scotia
Experience Atlantic Canada's coastal beauty by embarking on an adventure through the Blue Mountain Trail System. This vast network of trails spans over 300 kilometers, offering an extensive variety of terrain for ATV enthusiasts to tackle. The blend of dense, lush forests and stunning coastline views will have you riding alongside captivating scenery that showcases the best of Atlantic Canada. The Blue Mountain Trail System is adept at catering to riders of all skill levels, ensuring an enjoyable experience for everyone.
Photo Credit: New Brunswick 
Chaleur Region ATV Trails – New Brunswick
Located along New Brunswick's picturesque Bay of Chaleur, this expansive trail system covers more than 350 kilometers and boasts some of the most diverse landscapes in Atlantic Canada. Ride through dense forests, traverse sandy shorelines, and keep an eye out for local wildlife, including moose and foxes. The Chaleur Region ATV Trails offer a unique opportunity to discover the beautiful and diverse environments of the Acadian Peninsula, all while providing an enjoyable and engaging ATV experience.
Photo Credit: Tourdulactemiscamingue
Abitibi-Témiscamingue Trails – Quebec
Admire the serene beauty of Quebec's Abitibi-Témiscamingue region as you explore its incredible network of ATV trails. With over 4,000 kilometers of tracks to discover, you'll be blown away by the variety of landscapes and adventures this region offers. From the crystalline waters of Lake Témiscamingue to the historic sites of Val-d'Or, you'll be immersed in a landscape that seems straight out of a fairy tale. Make sure to stock up on Poutine and sugar shack treats before hitting the trails, as you'll need all the energy you can get.
Photo Credit: Tourism Saskatchewan
The Pasquia Hills Loop – Saskatchewan
The Pasquia Hills Loop is a 160-kilometer trail that showcases the rugged, wooded terrain of Saskatchewan. The trail is a true gem for those who treasure long, winding drives that showcase the local landscapes. It is suitable for riders of all levels, making it a fantastic option for group exploration or a scenic family getaway. Additional points of interest include accessible fishing holes and the chance to observe a unique array of plant life throughout the trail.
Photo Credit: Riders West Magazine
Cross Lake Park Trails – Manitoba
The 200-kilometer Cross Lake Park Trail System showcases the mesmerizing landscapes of Manitoba's Interlake Region. The trail network provides a variety of terrains, winding through dense forests, quaint countryside, and vast, marshy areas. Surrounded by beautiful natural scenery, including more than 400 kilometers of shoreline, your ATV adventure will be nothing short of extraordinary. To make your trip more enjoyable and rewarding, consider visiting during one of the local festivals or events held throughout the year in the region.
Conclusion: Choose Your Adventure
With so many incredible ATV trails to choose from, your next adventure is only a ride away. From coast to coast, Canada boasts an immense diversity of landscapes and terrains for thrill-seekers and nature lovers alike to enjoy. Whether you're seeking the rugged serenity of the Rockies, the enchanting beauty of the Atlantic coast, or the vast, untamed wilderness of Canada's interior, it's time to gear up and hit the trails. Happy riding!
Ready to explore the great Canadian outdoors on the top ATV trails in the country? Make sure your ATV is equipped with the best battery on the market with BRS Battery. Our high-quality ATV batteries will keep your vehicle running smoothly and reliably, so you can focus on the adventure of hitting the trails. Contact us today to learn more about our ATV battery services and start exploring the top ATV trails in Canada with confidence!