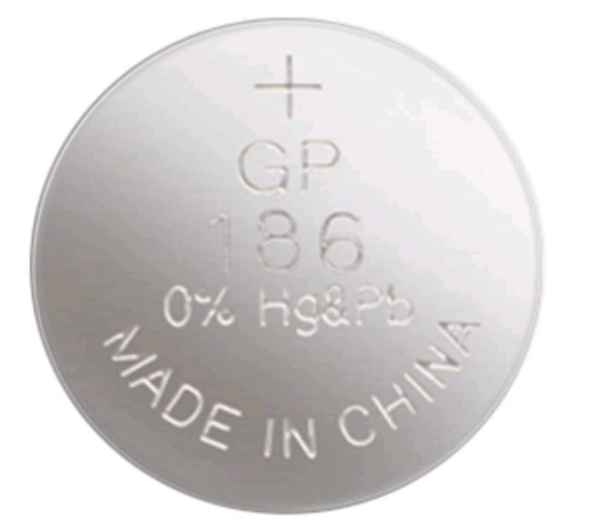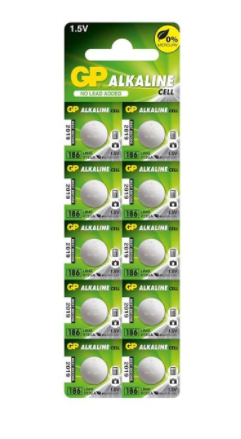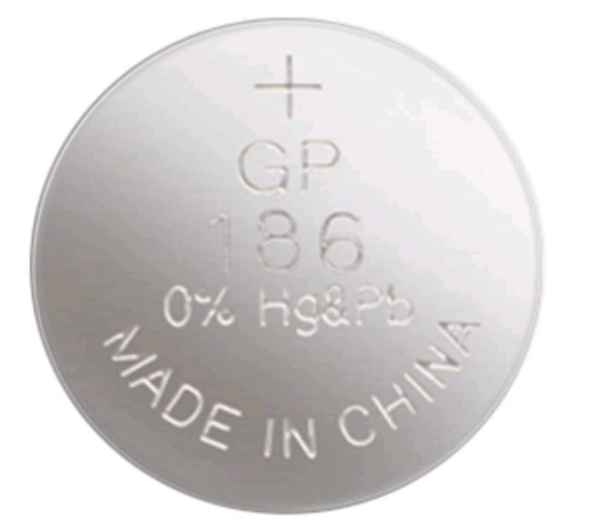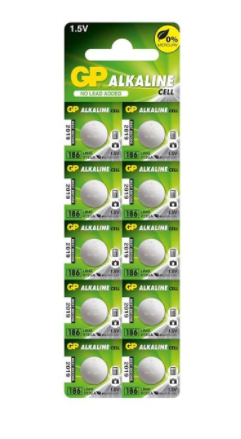 Product Description
Description
Supplied in an economically priced blister pack of ten, these single-use, disposable GP 186 LR43 alkaline batteries are rated at a nominal 1.5 Volts. They are useful for keeping as spares and commonly used in small clocks, toys and other low-power electronic assemblies such as calculators, certain types of remote control devices, security system components as well as photographic applications.

Just four grammes in weight, these button cells are 11.6 millimetres in diameter with a height of 4.2 millimetres. GP186 cells are designed to provide solid performance in low-drain devices and are compatible with battery codes A186, AG12, V12GA, 10L/124, 548, A03, A150, G12, G12A, GP86A, L1142, LR1142, RW84, WL11 and WS10.

Although their specification and electrical properties are slightly different, devices that specify obsolete MR43 size batteries may nonetheless function satisfactorily with a substitute LR43. Mercury cells are no longer produced due to toxicity problems. In addition, these button batteries may be suitable if a more cost effective solution is sought for wristwatches that typically require 301 or 386 cells, depending on performance.
Specifications

BATTERY SIZE:

LR43 Button Cells

MANUFACTURER:

GP

EAN NUMBER:

4891199015502

WEIGHT:

19

VOLTAGE:

1.5V

BATTERY TECHNOLOGY:

Alkaline

DIMENSIONS:

Height: 4.2mm Diameter: 11.6mm

ITEM CODES:

V12GA, LR43

MANUFACTURER PART NUMBER:

GPPBA186F004

PACK SIZE:

5

PRODUCT TYPE:

Batteries



Warranty
You are protected by our 30 Day Money Back Guarantee and Specific FULL REPLACEMENT Warranty Options: BRS Super Gas Pumps: 1 Year Full Replacement Warranty. BRS Super Battery: 30 Days, 2 Years, or 10 Years Full Replacement Warranty with NO PRORATION. BRS Super Charger: 1 Year Full Replacement Warranty. Fisher Price Power Wheels / Peg Perego Batteries and Chargers: 6 Months Full Replacement Warranty. Please contact us for all other product specific warranty options.