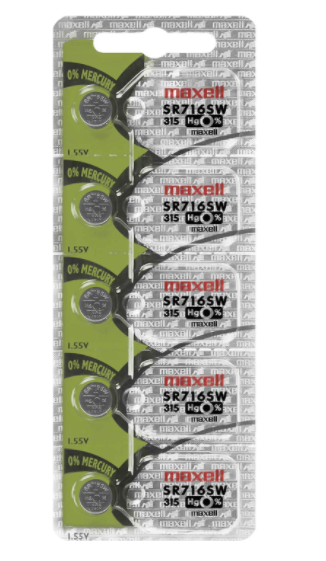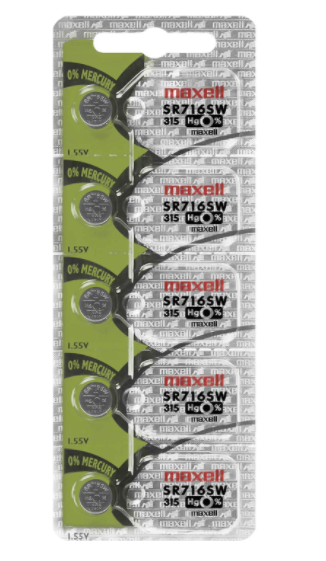 Product Description
Description
Maxell 315 Watch Battery - 5 Pack
Mercury-Free Formula
The Maxell 315 watch battery is part of the company's SR collection of silver oxide button-type batteries. This particular button cell battery, also known as the SR716SW, is designed to power low-drain electronics.
We recommend using this non-rechargeable battery within your analog watch or calculator. The Maxell 315 features a silver oxide chemistry, which provides a stable discharge current that won't vary in voltage.

In fact, the flat discharge rate of a silver oxide battery is designed to provide the same voltage level until the end of the battery's life. Alkaline batteries, on the other hand, offer a more slopped discharge characteristic that lowers the voltage over time, therefore lowering your electronics' performance as well.
This is why it is important to replace silver oxide button cell with batteries of the same chemistry so that your devices' maintain optimal efficiency.
Maxell is a leading manufacturer of specialty button cell batteries industry, including the 315 watch battery. These non-rechargeable batteries offer a stable operating voltage in a safe package that won't leak or damage your devices.
In addition to being safe and reliable, Maxell button cell batteries are free of mercury and therefore have less of a detrimental impact on the environment. Please note that the Maxell 315 watch battery is sold by the piece; however, the button cells are packaged in tear strips of five units. 
The Maxell 315 watch battery is the solid choice for powering your low-drain, personal electronics.
Features:
Flat discharge characteristics maintain a stable voltage to keep your electronics running efficiently
Optimized for low-drain devices, such as analog watches
Superior leak protection keeps you safe and prevents damage to your devices
5-year manufacturer's warranty protects against defective product
Equivalent Battery Types:

 

Renata 315, Energizer 315, Eveready 315, Maxell SR716SW, Panasonic SR716SW, Sony SR716SW, Toshiba SR716SW, Varta V315, Rayovac 315, Bulova 614, Timex HA, Citizen 280-56, Seiko SB-AT, IEC SR716SW (SR67)
Specifications:
Battery Size:

 

315 / SR716SW
Battery Chemistry:

 

Silver Oxide
Nominal Voltage:

 

1.55V
Nominal Capacity:

 

22mAh
Nominal Discharge Current:

 

30μA
Dimensions:

Length

 

- 0.066" (1.68 mm)
Diameter

 

- 0.311" (7.9 mm)

Weight:

 

0.012 oz. (0.3 g)
Warranty
You are protected by our 30 Day Money Back Guarantee and Specific FULL REPLACEMENT Warranty Options: BRS Super Gas Pumps: 1 Year Full Replacement Warranty. BRS Super Battery: 30 Days, 2 Years, or 10 Years Full Replacement Warranty with NO PRORATION. BRS Super Charger: 1 Year Full Replacement Warranty. Fisher Price Power Wheels / Peg Perego Batteries and Chargers: 6 Months Full Replacement Warranty. Please contact us for all other product specific warranty options.