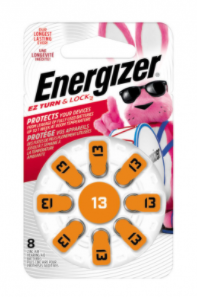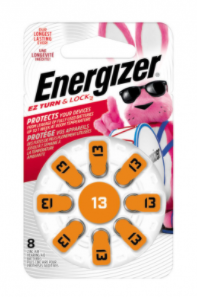 Product Description
Description
Energizer EZ Turn & Lock Hearing Aid Battery includes:
(8) Batteries
Our longest lasting zero mercury hearing aid batteries ever.
EZ Turn & Lock design keeps unused batteries safe and secure.
Batteries are easily removable from the access tab on the back - but only when you WANT to remove them. You are in control with the Energizer® EZ Turn & Lock package.
Longer tabs clearly marked with the size and color make for easy shopping, handling and insertion.
100% recyclable packaging and zero-mercury batteries responsibly power you with less impact on the environment.
Perforated top of package enables miniaturization of pack for easy transport and storage.
Warranty
You are protected by our 30 Day Money Back Guarantee and Specific FULL REPLACEMENT Warranty Options: BRS Super Gas Pumps: 1 Year Full Replacement Warranty. BRS Super Battery: 30 Days, 2 Years, or 10 Years Full Replacement Warranty with NO PRORATION. BRS Super Charger: 1 Year Full Replacement Warranty. Fisher Price Power Wheels / Peg Perego Batteries and Chargers: 6 Months Full Replacement Warranty. Please contact us for all other product specific warranty options.