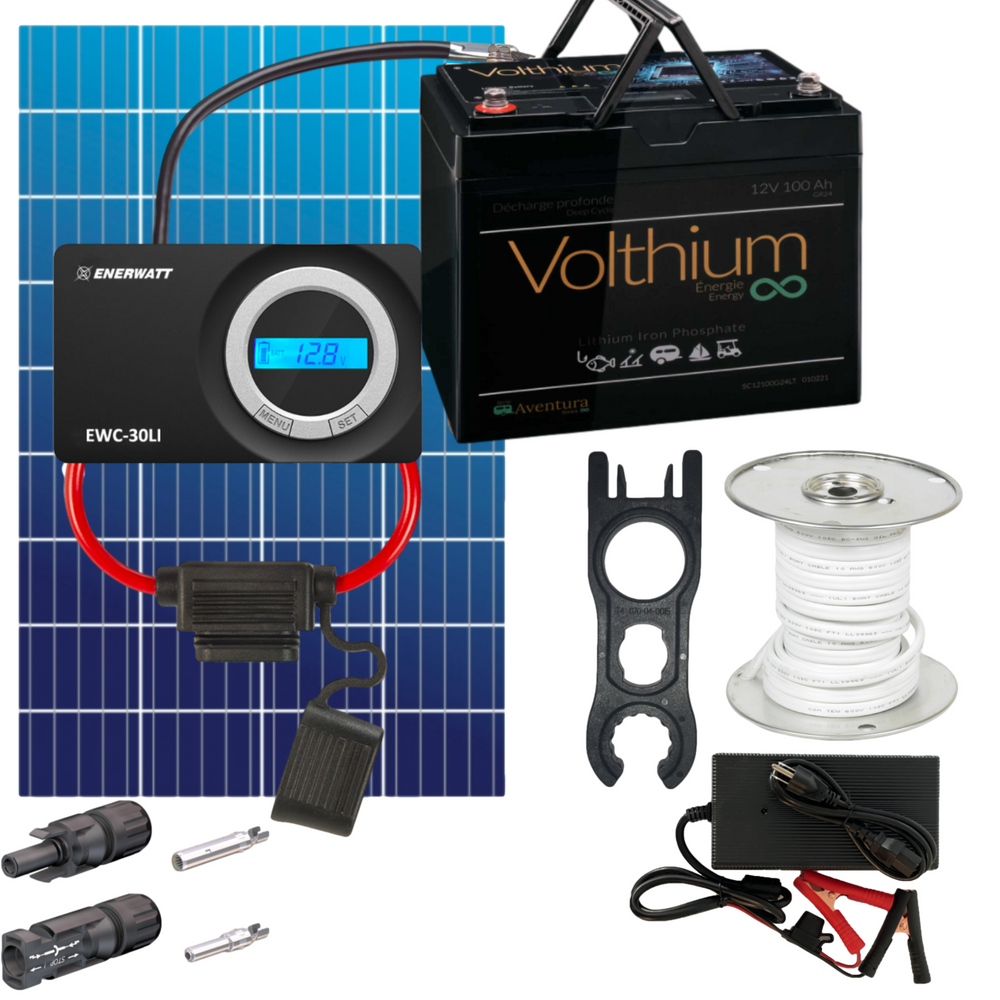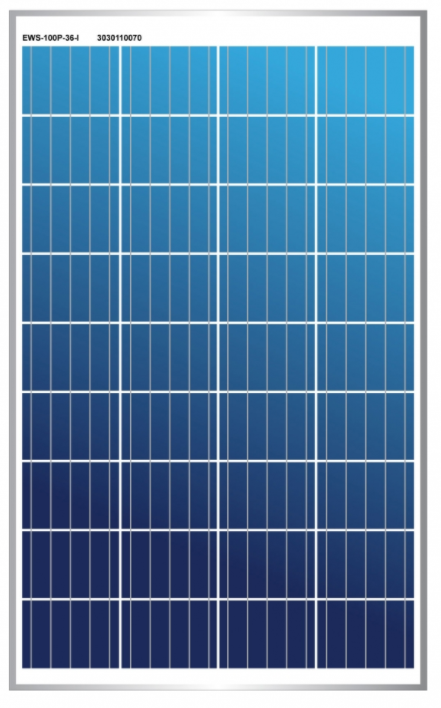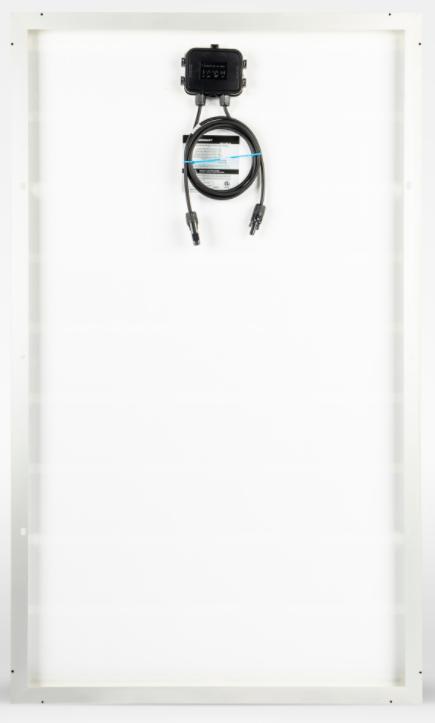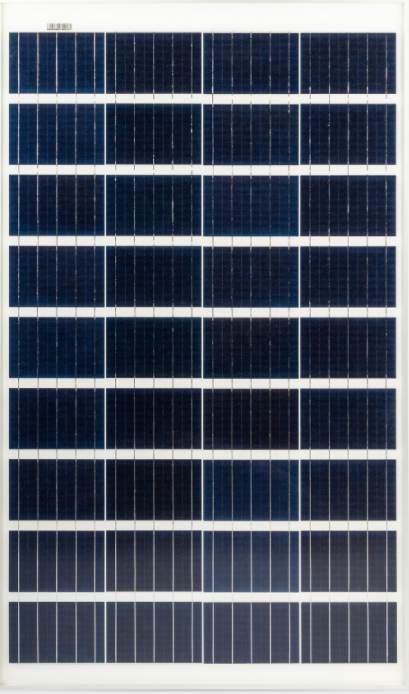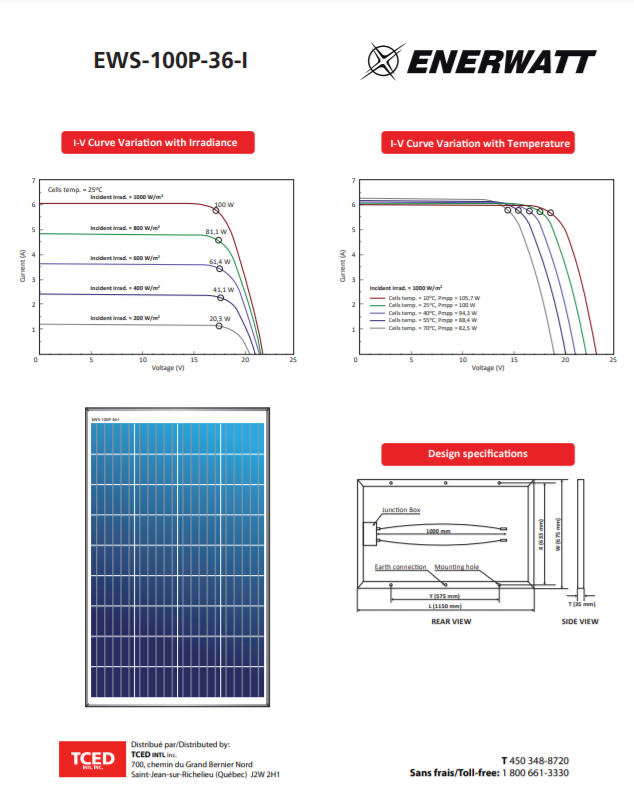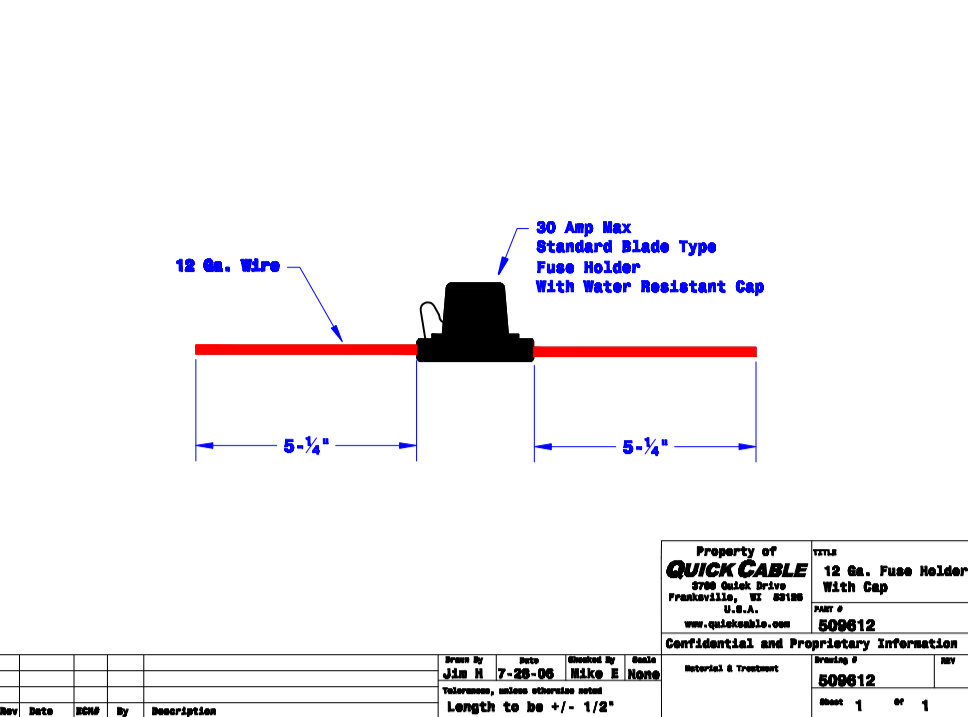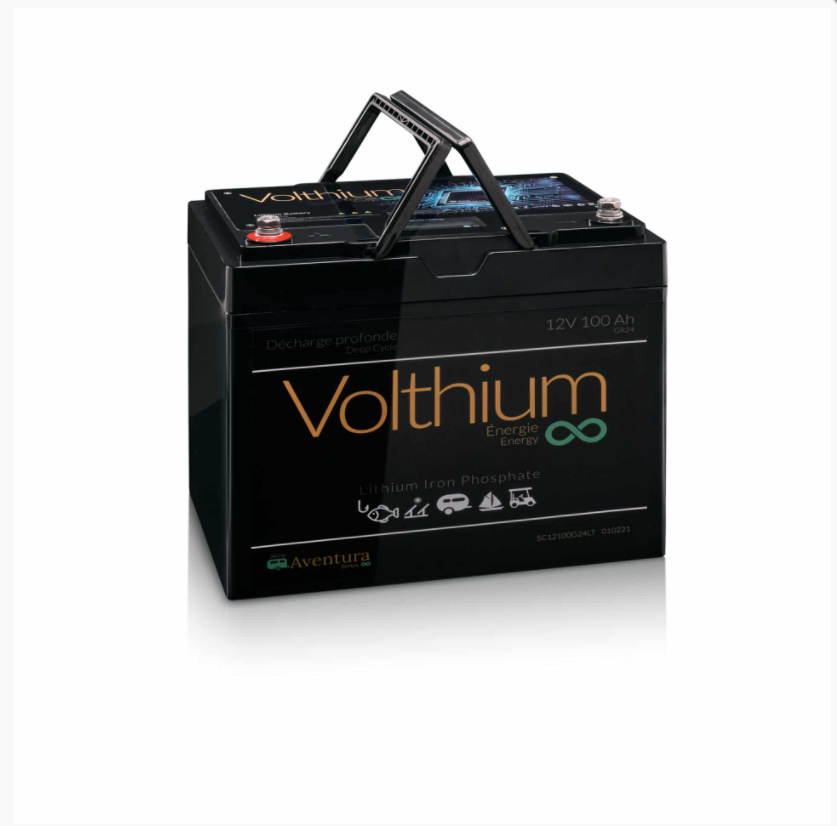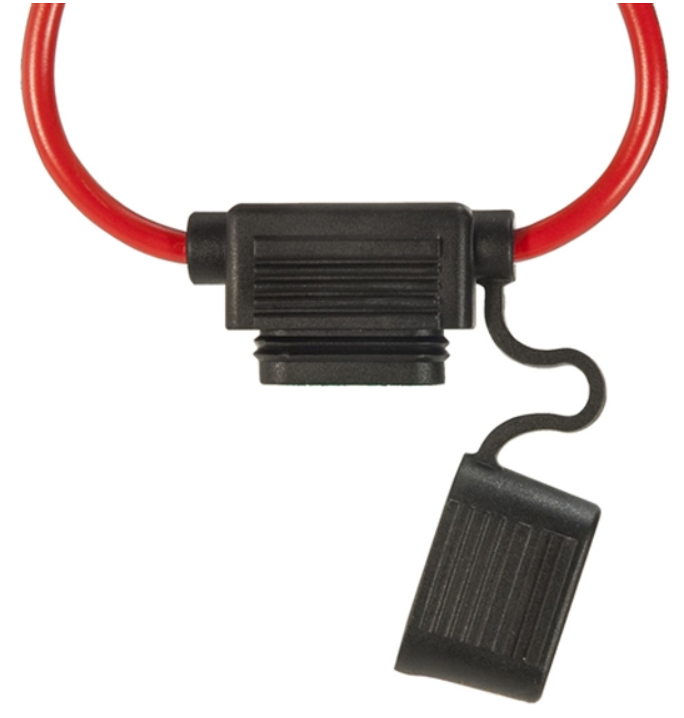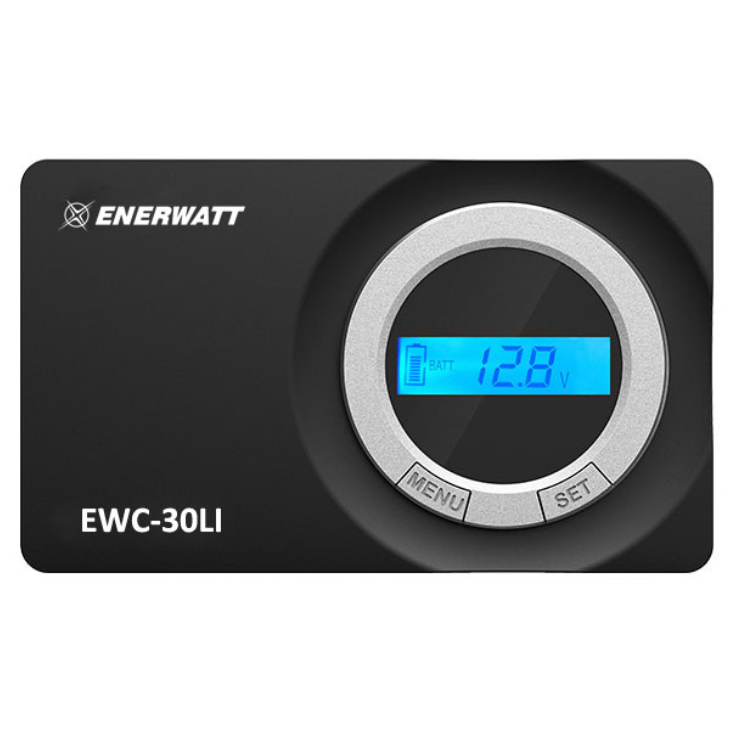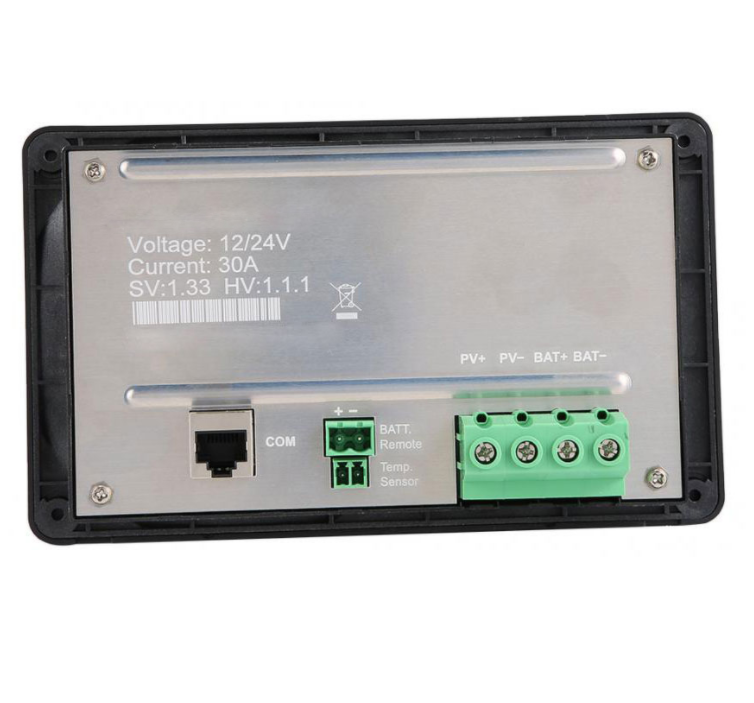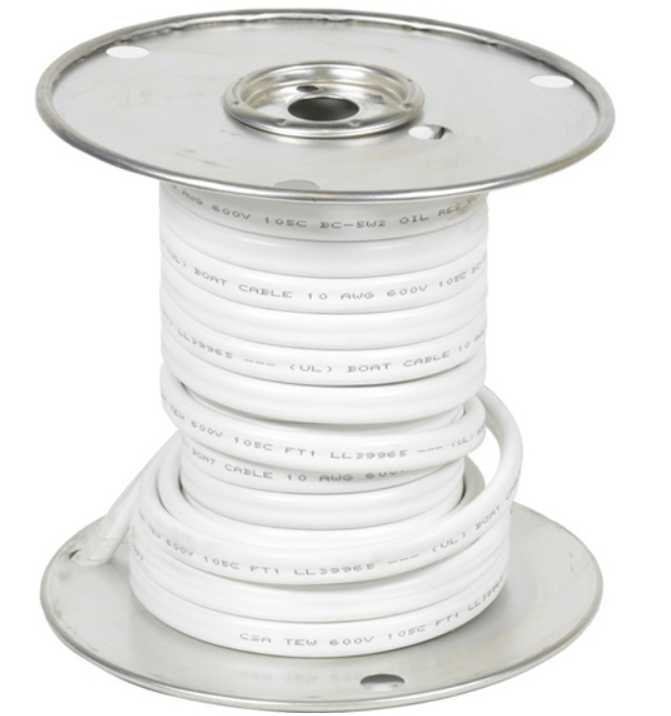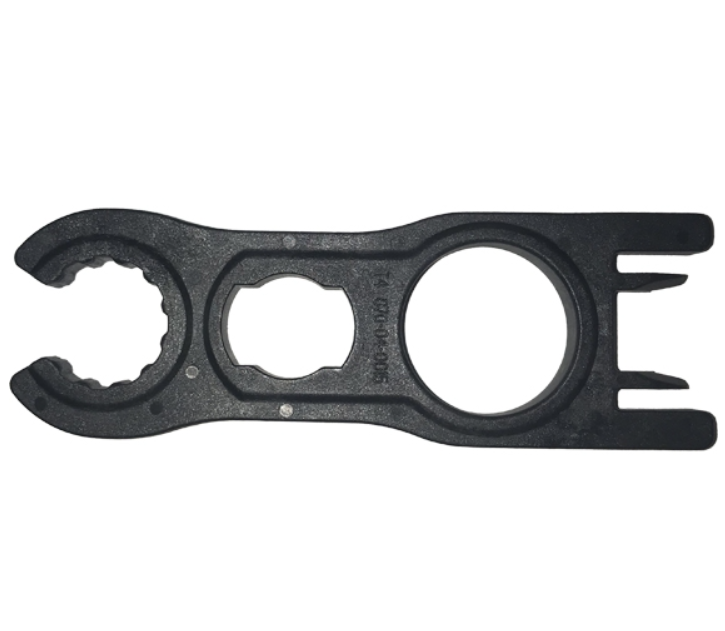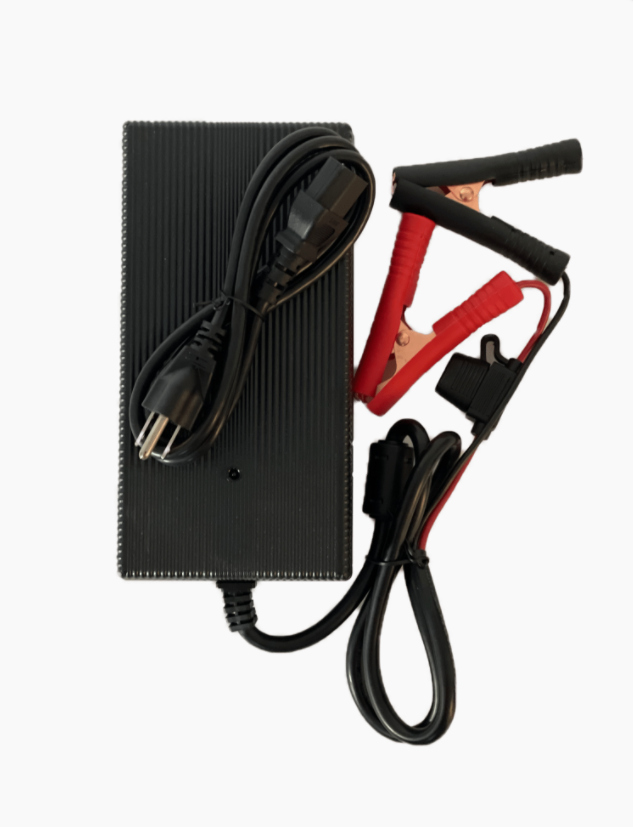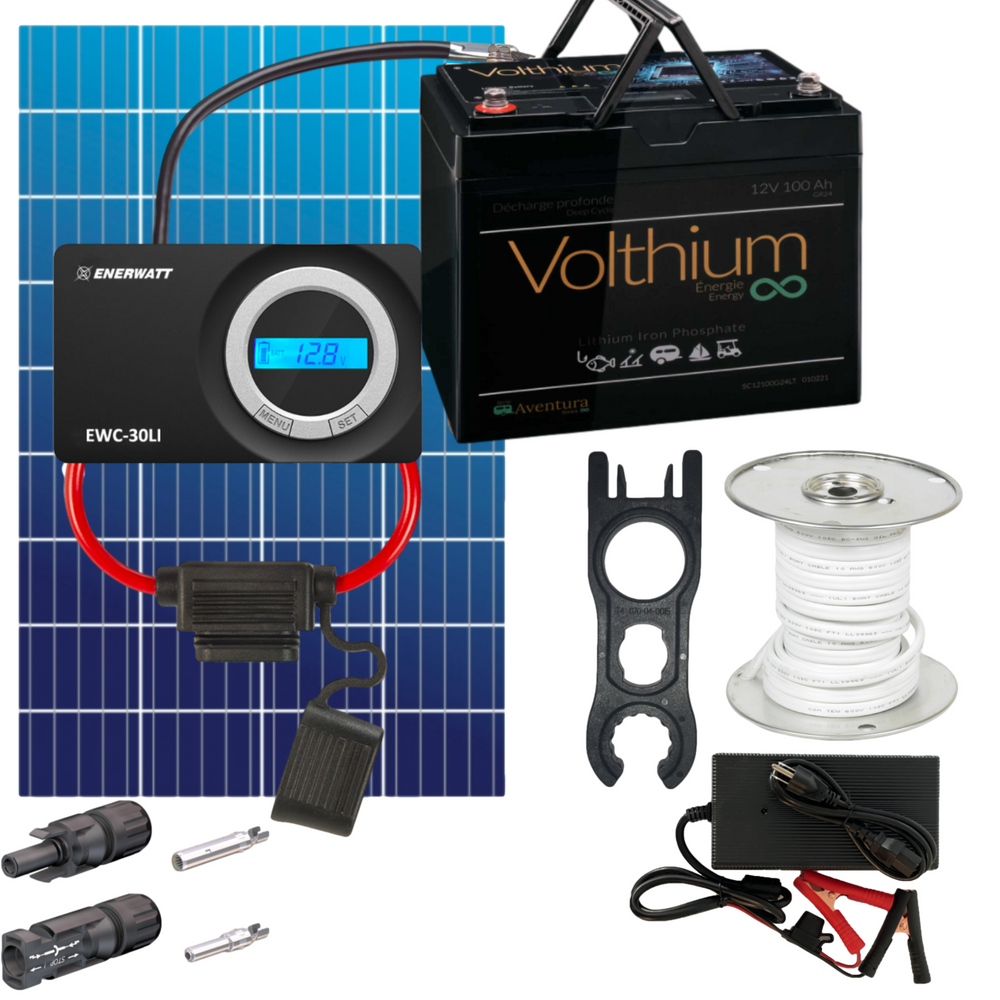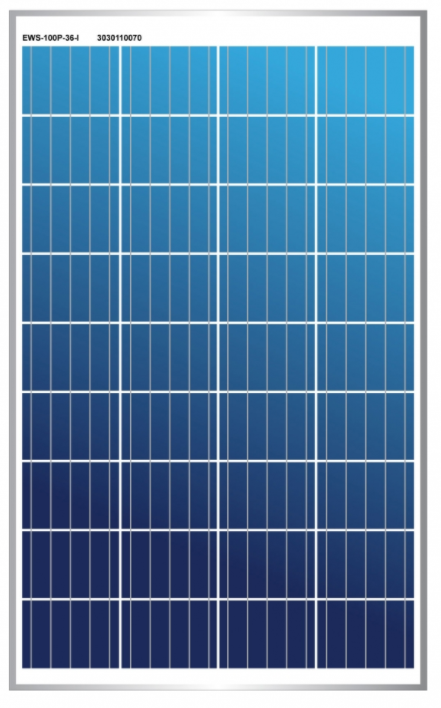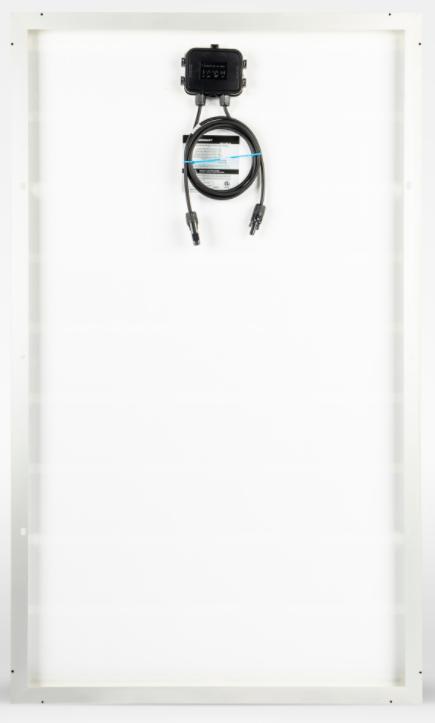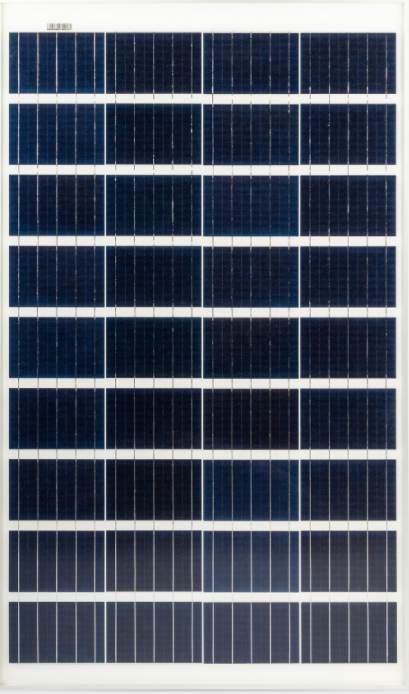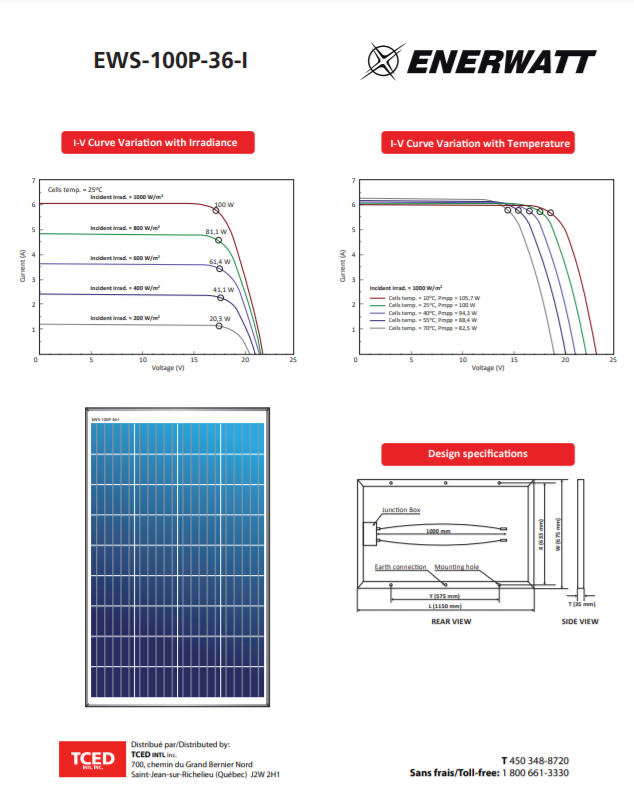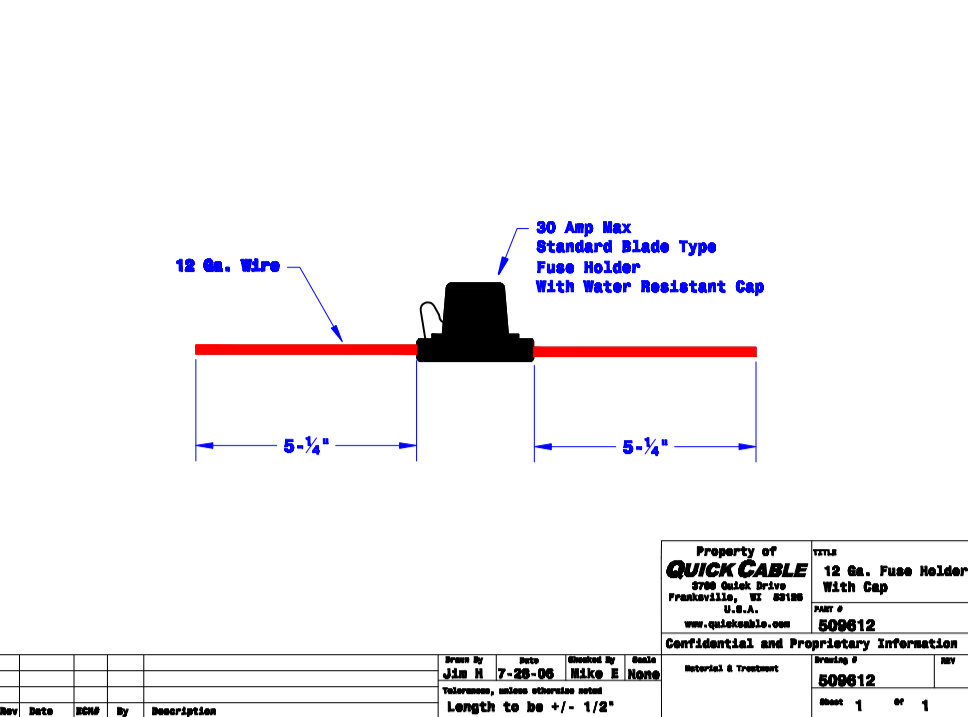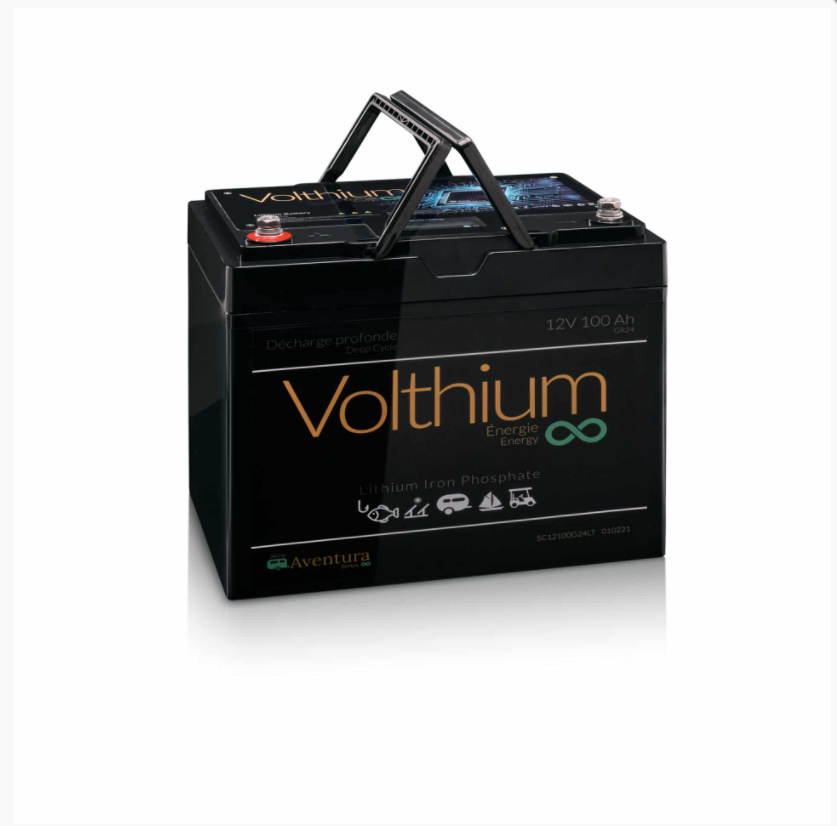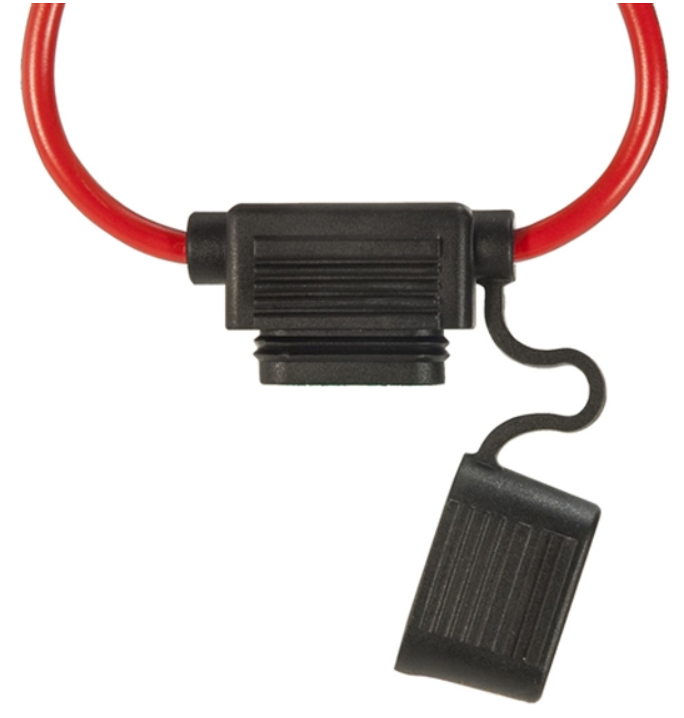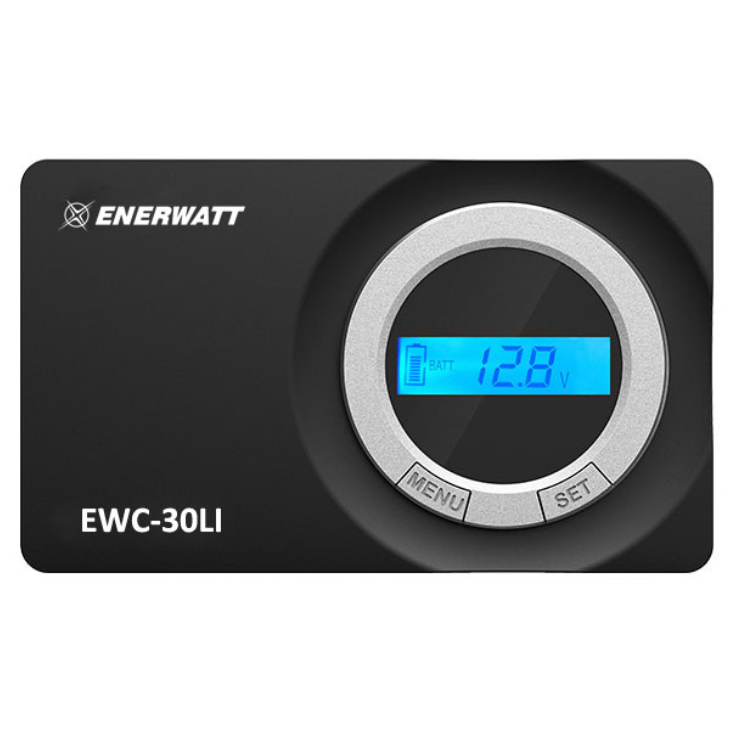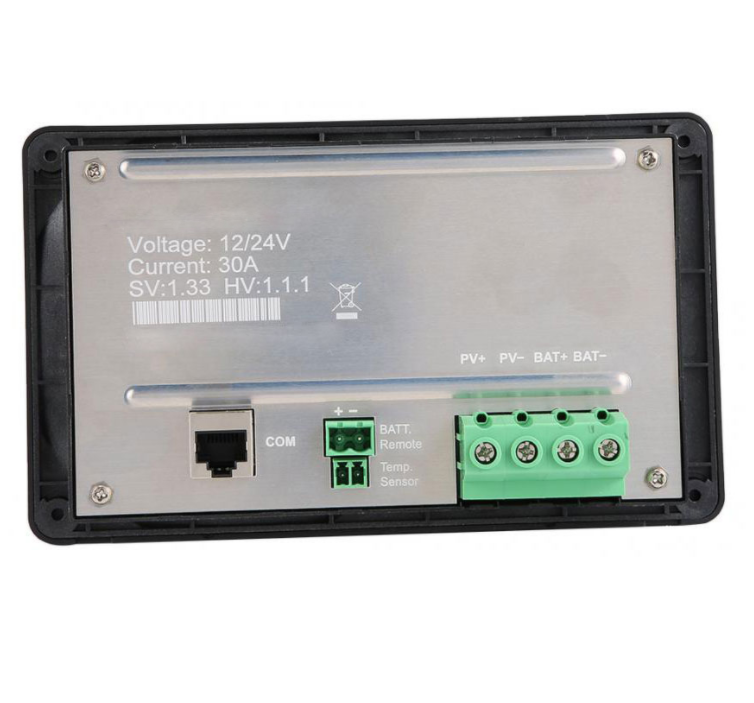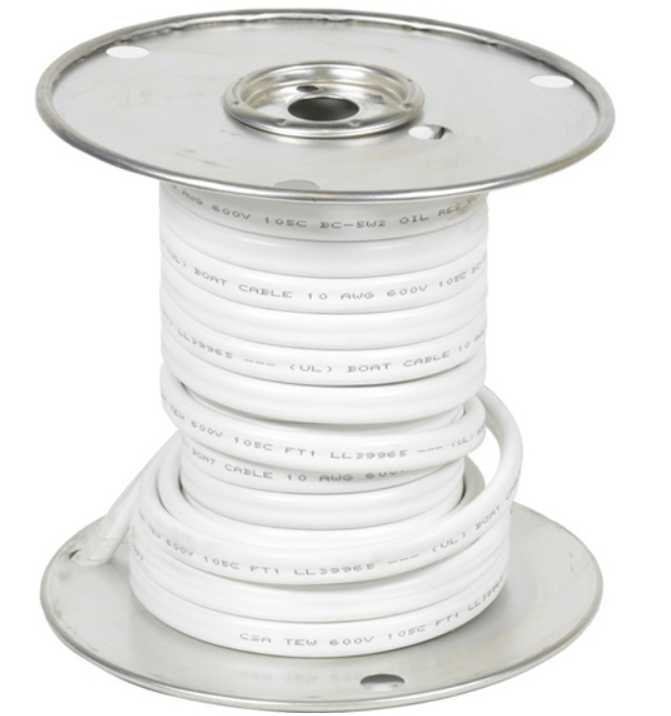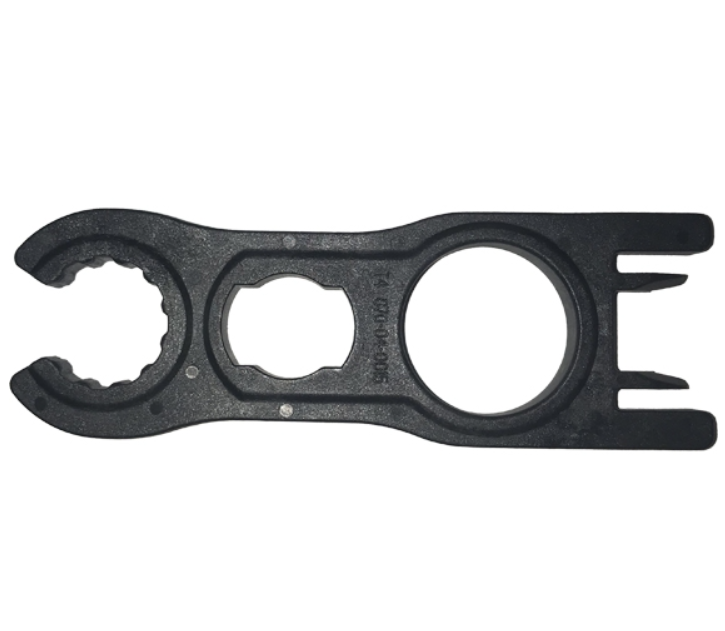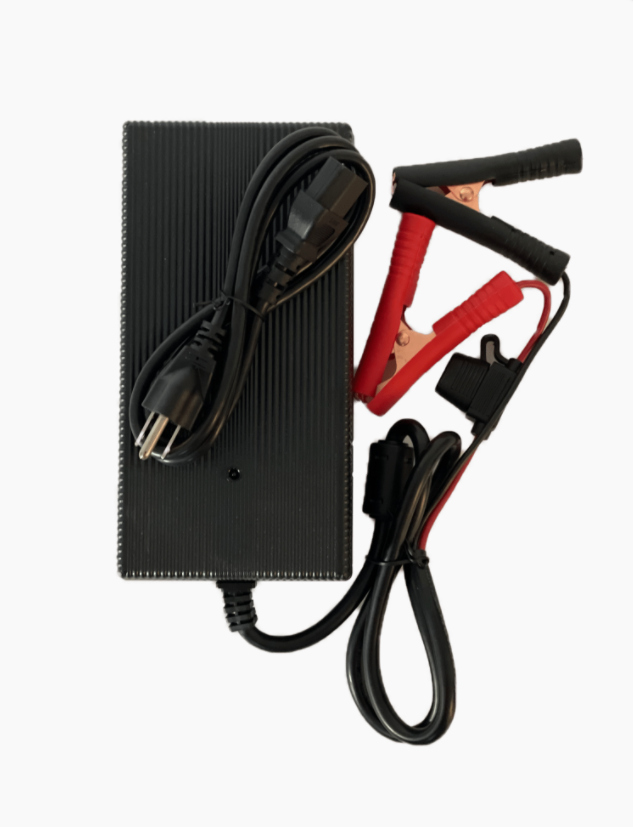 Product Description
Description
EWS-100P-36-I Solar panel polycristalline 12V 100W - EWS-100P-36 SOLAR PANEL POLY 100W 5.56AMP CETL - Quantity: 1
SPECIFICATIONS
Ampères / Amps
5.56A
Marque / Brand
Enerwatt
Garantie / Warranty
30 ans
30 years
Hauteur / Height
1.4" / 35 mm
Largeur / Width
26.6" / 675 mm
Longueur / Length
45.3" / 1150 mm
Numéro de pièce/modèle / Part/Model Number
EWS-100P-36-I
Type de terminal / Terminal Type
MC4
Volts
18.0vmp / 21.9voc
Watts
100W
EWC-30LI  12/24V 30A  SOLAR CHARGE CONTROLLER Quantity: 1
SPECIFICATIONS
Ampères / Amps
30A
Marque / Brand
Enerwatt
Garantie / Warranty
24 M
Hauteur / Height
1.9"/48.3mm
Largeur / Width
4.2"/105.5mm
Longueur / Length
7"/178.5mm
Numéro de pièce/modèle / Part/Model Number
EWC-30LI
Type de terminal / Terminal Type
8AWG
Volts
12/24V
12V 100Ah Deep Cycle Volthium Lithium Battery- Quantity: 1
Description: 
This battery model includes the low temp cut off protection, in a smaller size (group 24), with the same power as the group 31. A 100% Canadian design that allows for 100% optimization of the energy to space ratio.
This model offers an LCD screen, whose management of the charge status is controlled by the BMS. This is an exclusivity and a major improvement compared to the competition.

* Note that the display managed by the BMS will be calibrated after 2 complete cycles (discharge/recharge).
Never before has a lithium battery given such an amazing performance as those offered by our product line.

The profitability is assured for at least 10 years, and certainly more!
The BMS is easily accessible to guarantee an extended life for the entire battery park. This makes the battery easily repairable in case of accidental misuse, and avoids having to replace the entire battery bank for a single battery to be replaced.
In addition, the isolated BMS in a private chamber extends the operating range of the battery in terms of temperature, as the heat generated by the BMS will not reach the cells.
Access to the BMS also allows the addition and customization of additional parameters over time.
Our BMS technology (powered by TexasInstrument) specially designed for the harsh Canadian environment, coupled with our Grade A+ Cells (supplier famous for its contracts with LG Chem, Audi, BMW, and Tesla), ensures you have the best battery in North America in your hands.
Easy and quick to install, thanks to their weight 2X LIGHTER than a conventional battery, our lithium batteries offer you a shorter charging time and an energy capacity that does not run out over the years.
Volthium, has a mission to bring together the best parts available from each of the industries and put them together in one battery! Cells, BMS, assembly engineering, it's all there.
KEY FEATURES
BMS driven LCD display (highly improved accuracy)

25lbs weight

BMS access

Cold load protection

Quebec engineering

10 year limited warranty

Peak 200A (30s)

Peak 300A (3sec)

Up to 4 batteries in series (up to 51.2V)
#10-2 MARINE WHITE CABLE - PER INCH (240 inches / 20 feet of cable) - Quantity: 1
SPECIFICATIONS
Marque / Brand
Non-applicable / Not-applicable
Garantie / Warranty
Longueur / Length
12 M / 39.37'
Numéro de pièce/modèle / Part/Model Number
10-2AWG-MA-WT12
QC509612-2001 FUSE HOLDER 30A BLADE FH12AWP WATERPROOF 1 SOCKET - Quantity: 1
Ampères / Amps
30A
Marque / Brand
Quick Cable
Garantie / Warranty
Numéro de pièce/modèle / Part/Model Number
QC509612-2001
Volts
32
MC4-PAIRE CONNECTOR MC4 PAIR MALE/FEMALE Quantity: 1
MC4-2 SOLAR PANEL MULTI-CONTACT CONNECTORS
EASY AND FAST INSTALLATION OF YOUR SOLAR PANEL WITH MC4-PAIRE CONNECTORS
Today, most solar panels come with approximately 3 ft. of Positive ('+') and Negative ('-') wire. One end of each wire is connected to the junction box of the panel. In most solar panels, the other end of each wire is terminated with an MC4 connector. The Positive ('+') wire has a Female MC4 Connector and the Negative ('-') wire has a Male MC4 Connector.
To extend the length of the wires of these solar panels for connection to a charge controller, combiner box or grid-connected inverter, an extension wire is required with corresponding Male and Female MC4 Connectors.
QUICK ASSEMBLY
The MC4-PAIRE KIT contains 1 male and 1 female MC4 solar panel connector. This type of connector system is easy to install and uses "snap-in" safety locking tabs to lock two mating connectors, thereby avoiding unintentional disconnection.
Once the connectors locked, the mating contacts are sealed against ingress of dust and water.
CONNECTOR COMPONENTS
The Male and Female MC4 Connectors consist of the following components:
Outer insulated housing with locking arrangement.

Tin-plated Copper metallic male & female mating contacts. The wire is placed in the crimping area and crimped with a special crimping tool, such as the PV-FMC4

Nut & internal rubber bush. When the nut is tightened, the internal rubber bush is compressed around the outer jacket of the cable and thus, provides water-tight sealing.
CABLE GAUGE
The MC4 connectors provided are compatible for use with AWG #10 or AWG #12 wire with outer insulation diameter 3
SPECIFICATIONS
Marque / Brand
Non-applicable / Not-applicable
Garantie / Warranty
25 ans
25 years
Numéro de pièce/modèle / Part/Model Number
MC4-PAIRE
Marques de certifications / Regulatory Certification Marks
UR
Poids / Weight (kg)
0.02
MC4-OUTIL ASSEMBLY TOOL FOR MC4 CONNECTORS Quantity: 1
Marque / Brand
Non-applicable / Not-applicable
Garantie / Warranty
25 ans
25 years
Numéro de pièce/modèle / Part/Model Number
MC4-OUTIL
Poids / Weight (kg)
0.02
NOCO GENIUS10 AUTOMATIC CHARGER 6/12V 10A AGM/LITHIUM - Quantity: 1
Introducing the all-new GENIUS10, one of our most powerful, highest-performing, energy-efficient, and compact chargers yet. The GENIUS10 is a 6-volt and 12-volt battery charger, battery maintainer, and battery desulfator rated at 10-amp for lead-acid automotive, marine, and deep-cycle batteries, including flooded, gel, AGM, and maintenance-free, plus lithium-ion batteries.
Meet the GENIUS10 - Similar to our G7200, just better. It's 17% smaller and delivers 115% more power. And it's simpler and easier to use than ever before.
Do more with Genius - Designed for 6-volt and 12-volt lead-acid automotive, marine, and deep-cycle batteries, including flooded, gel, AGM, and maintenance-free, plus lithium-ion batteries.
Enjoy precision charging - An integrated thermal sensor detects the ambient temperature and alters the charge to eliminate over-charging in hot climates and under-charging in cold climates.
Charge dead batteries - Charges dead batteries as low as 1-volt. Or use the all-new Force Mode that allows you to take control and manually begin charging dead batteries down to zero volts.
Simple to set up and use - Plug-in, connect to the battery, select a charge mode, and start charging your battery. A fully-automatic, worry-free battery charger for year-round use.
Restore your battery - Detects sulfation and acid stratification and restores lost performance for stronger engine starts and extended battery life.
Compatible with all types of vehicles - Charge and maintain cars, motorcycles, lawnmowers, ATVs, tractors, trucks, SUVs, boats, classic cars, hot rods, and more - you name it.
Multi-Voltage. Multi-Chemistry. Multi-Battery Type.





A multi-functional design that allows you to charge in more ways. Effortlessly charge multiple battery voltages (6-Volt and 12-volt lead-acid and lithium-ion batteries) chemistries (Flooded, gel, maintenance-free and AGM batteries) and types (Starter, deep-cycle, marine, powersport and more).





Our Most Powerful, Efficient, and Compact Charger, Yet Compact, yet powerful battery charger. A mix of electrical engineering and industrial design pack a powerful battery charger into a tiny footprint. The GENIUS10 uses high-frequency switch-mode technology to efficiently convert A/C power into safe D/C power for battery charging. And its onboard microcomputer precisely controls the charging to minimize power loss to create an incredibly compact form factor.





Improved Start Voltage Sensor. All-New Force Mode.




The all-new start-voltage sensor allows the GENIUS to detect and charge dead batteries as low as 1-volt. For extremely dead batteries lower than 1-volt, manually turn on force mode to detect and charge batteries all the way down to zero volts.




More Precise Charging in Any Climate.




The new integrated thermal sensor automatically monitors and adjusts the charging cycle based on fluctuations of ambient temperature, limiting the chance of under-charging or over-charging, providing a more accurate and fully charged battery. Avoids under-charging in cold weather down to -4 F and avoids over-charging in hot weather up to 104 F.




Auto Detection. Auto Repair. Improved Performance.




The GENIUS10 automatically detects sulfation/acid stratification. If any is found, the GENIUS10 will automatically repair and reverse the damage done to the battery, extending the usable life and increasing the performance.




Year-Round Charging. Zero Overcharge. Auto Memory.




Finally a charger from start to finish that's completely automatic. No special modes, no technical knowledge required. Genius will safely charge any battery. Detect damaged batteries and intuitively repair them. And actively monitor for long-term battery maintenance and extend battery life. This system allows for continuous operation without user intervention, and zero risk of overcharging your battery.




Improved Clamping Range. Improved Clamping Force.




Genius clamps are built with needle-nose profiles for smaller terminal applications and detachable integrated eyelets for permanent mounting the accessory to battery. Designed to fit battery terminals of any shape and size. Engineered for improved clamping range, clamping force, and higher conductivity.
Warranty
You are protected by our 30 Day Money Back Guarantee and Specific FULL REPLACEMENT Warranty Options: BRS Super Gas Pumps: 1 Year Full Replacement Warranty. BRS Super Battery: 30 Days, 2 Years, or 10 Years Full Replacement Warranty with NO PRORATION. BRS Super Charger: 1 Year Full Replacement Warranty. Fisher Price Power Wheels / Peg Perego Batteries and Chargers: 6 Months Full Replacement Warranty. Please contact us for all other product specific warranty options.