Fisher Price Power Wheels 12V 9.5AH Grey Orange Top Battery
$109.00
$102.99
You Save:

$6.01 CAD

(5.51%)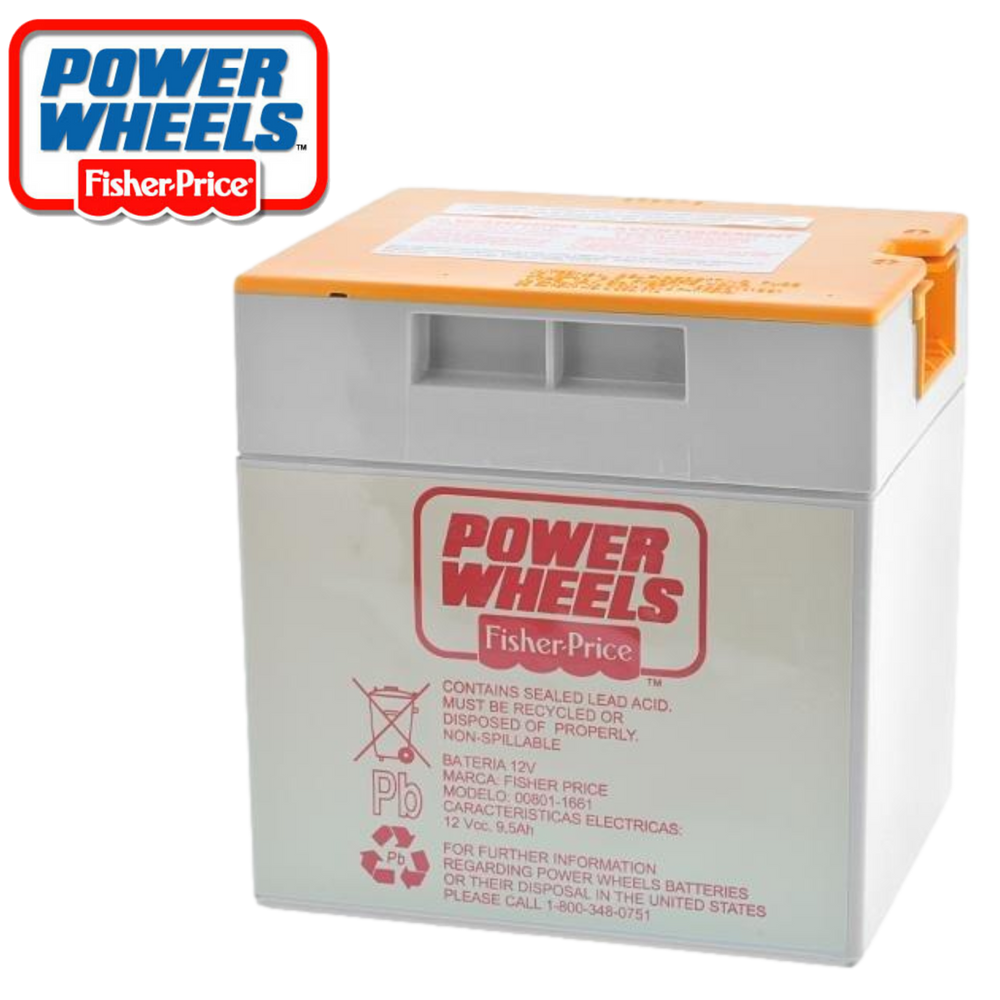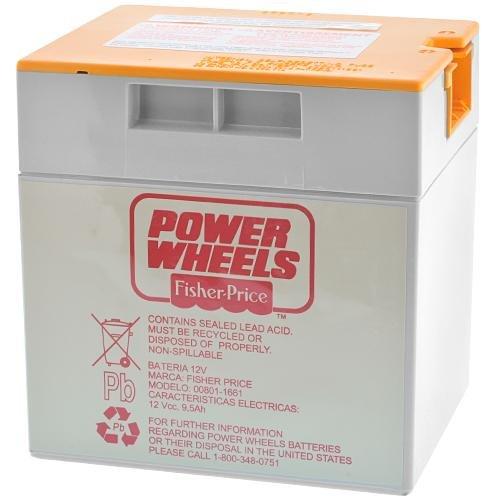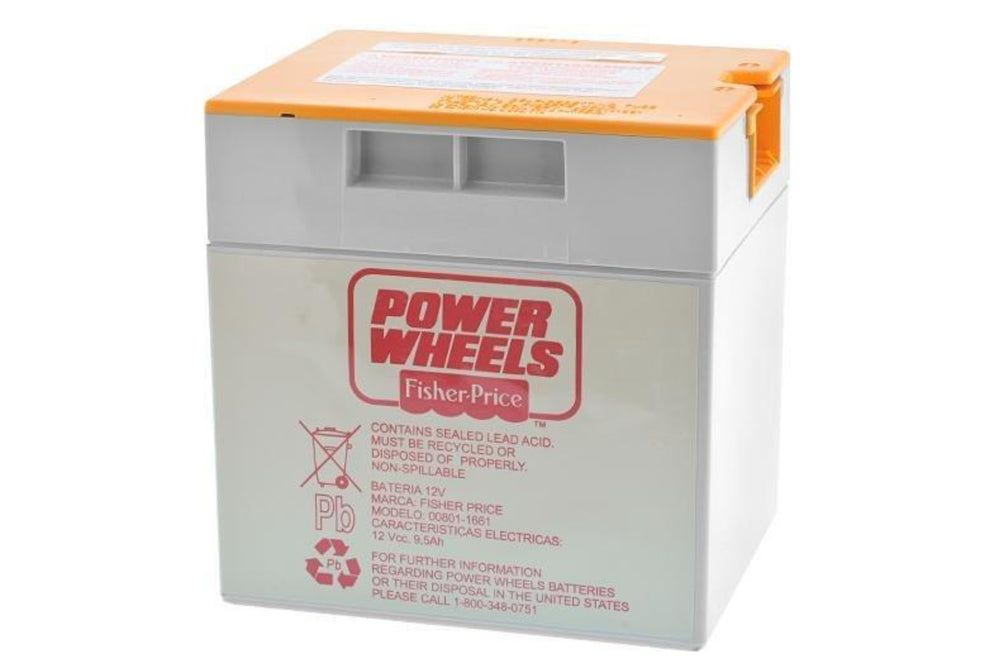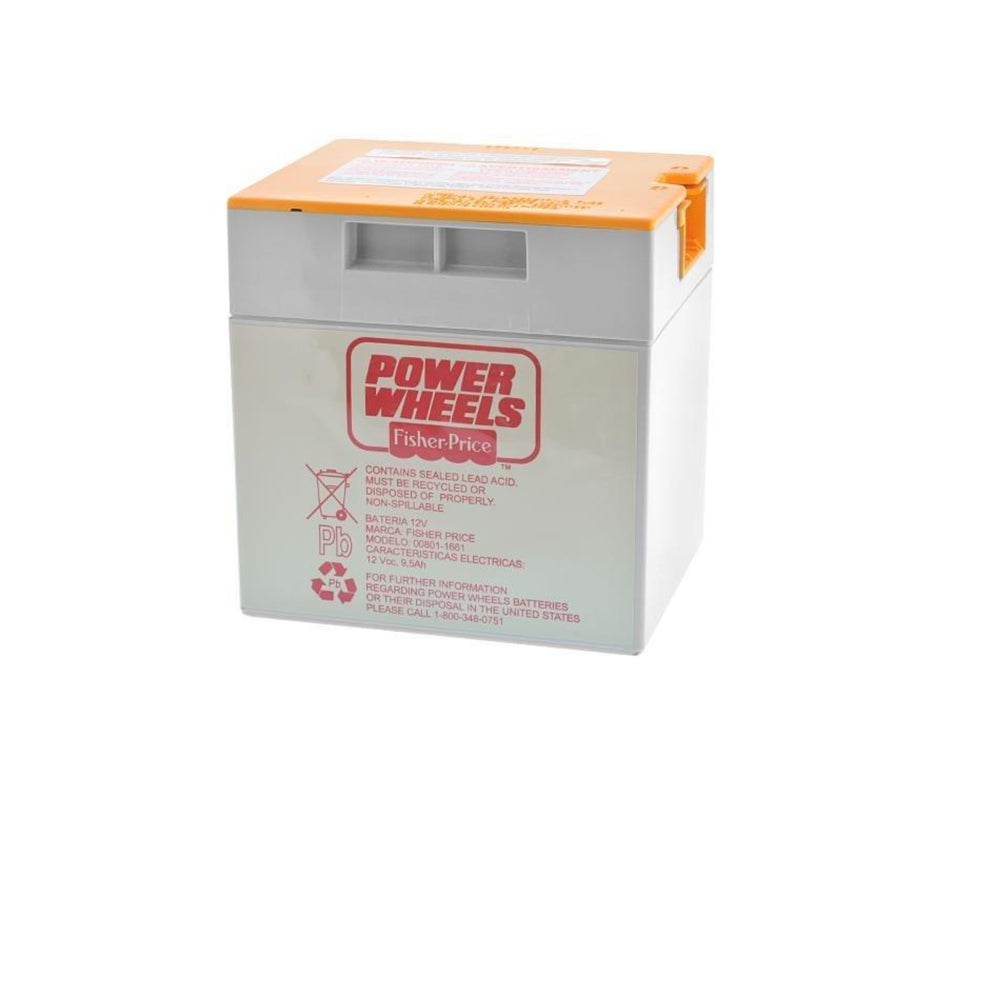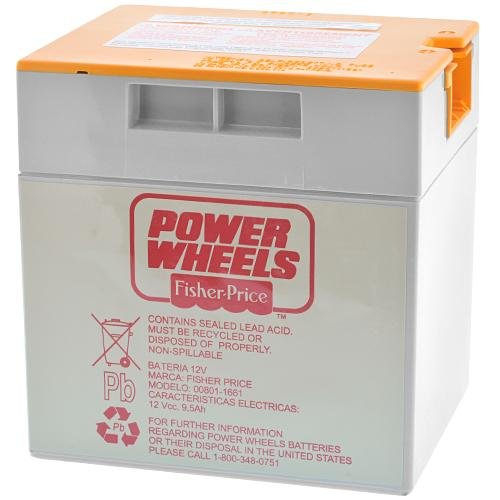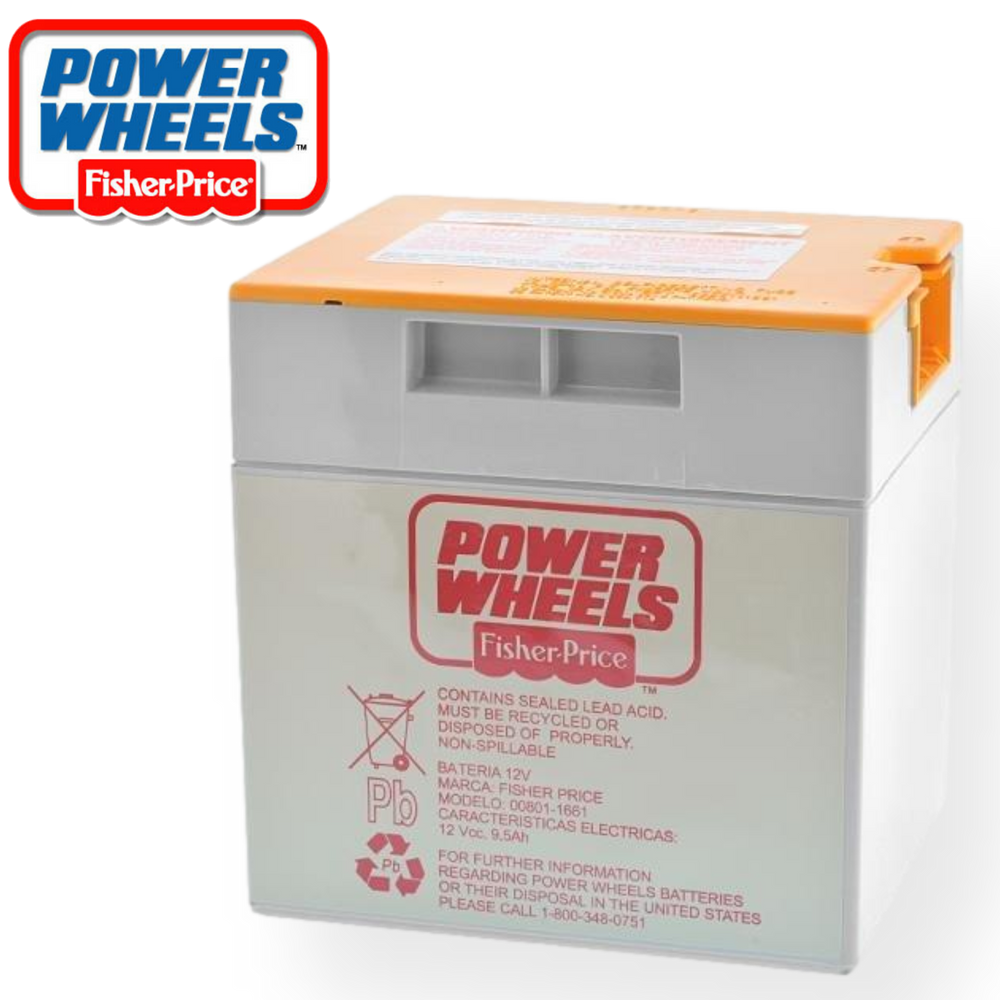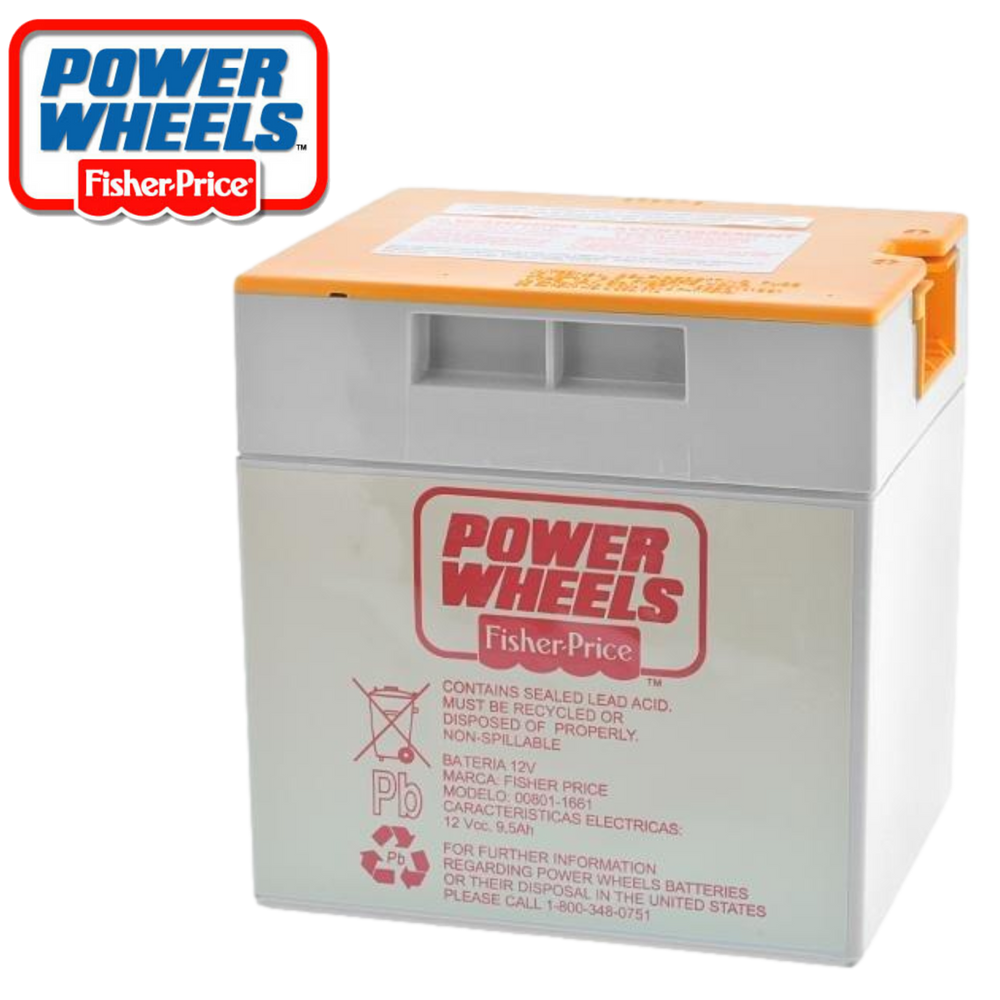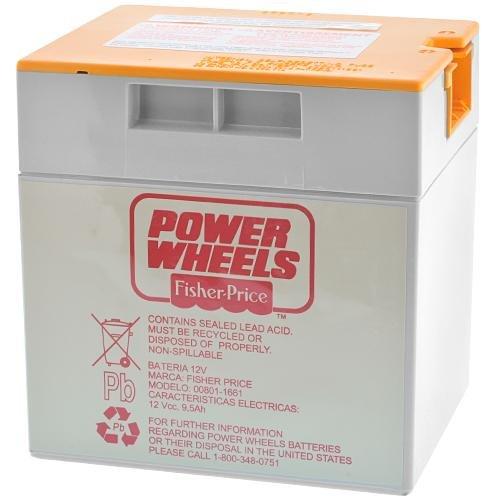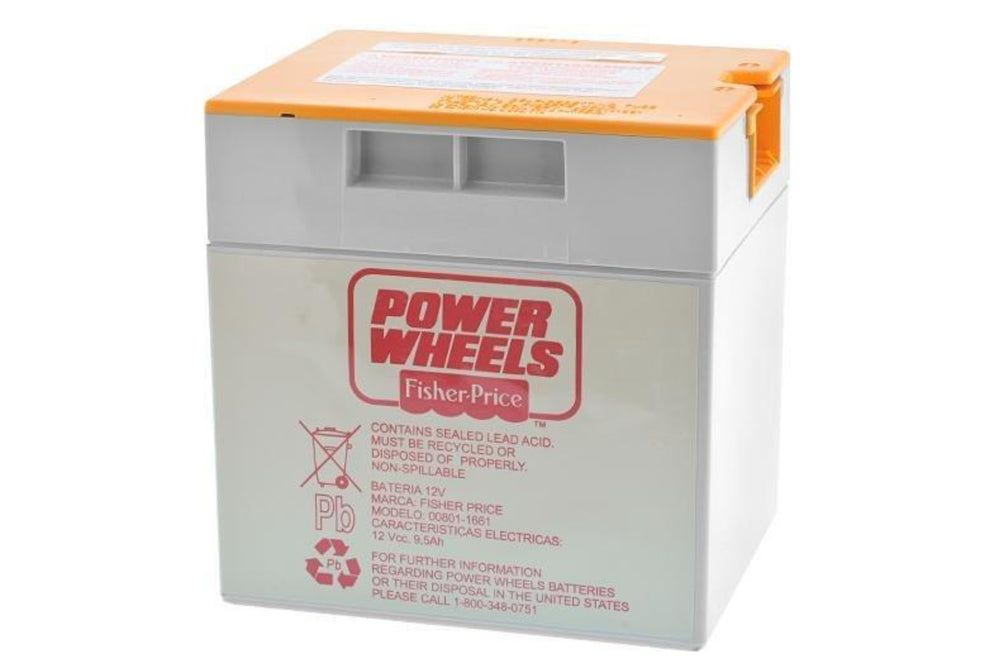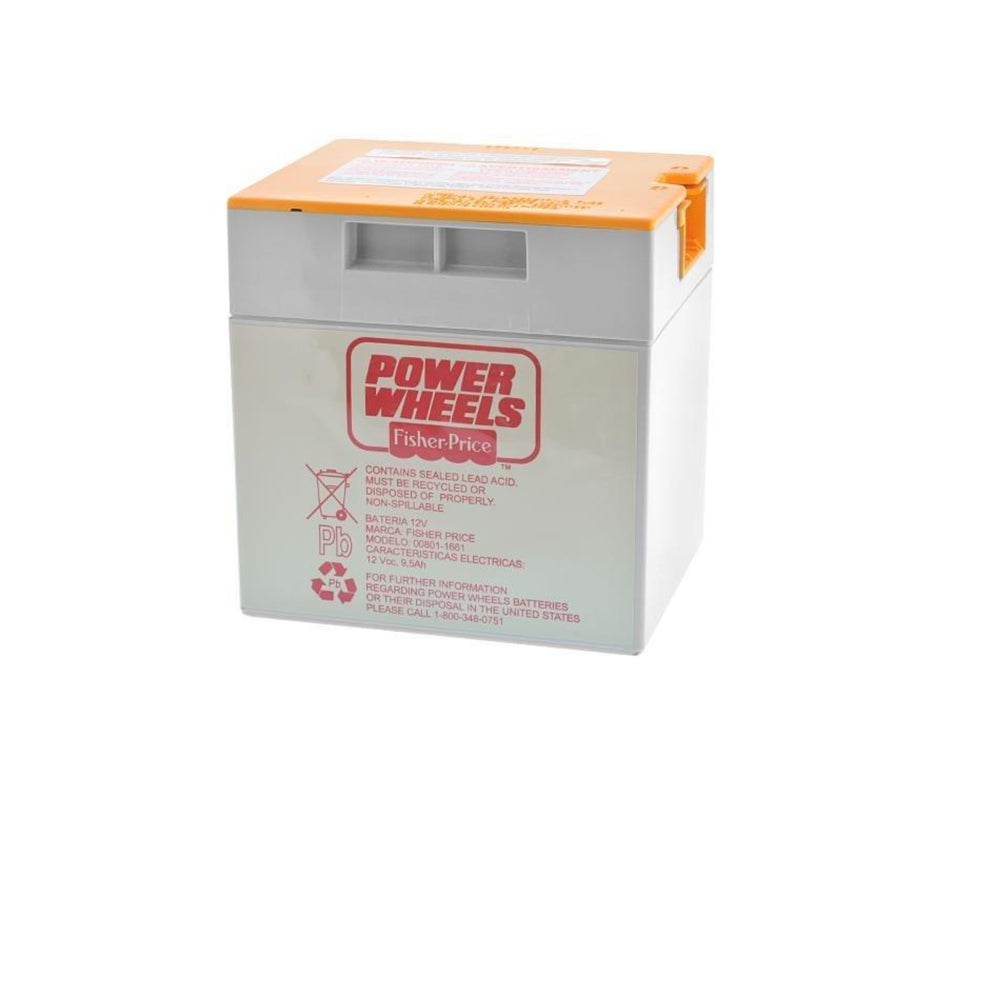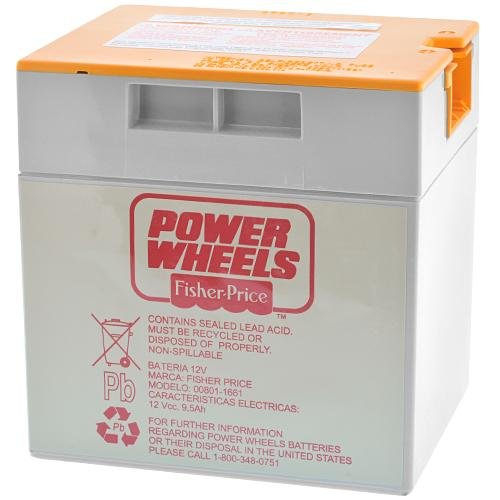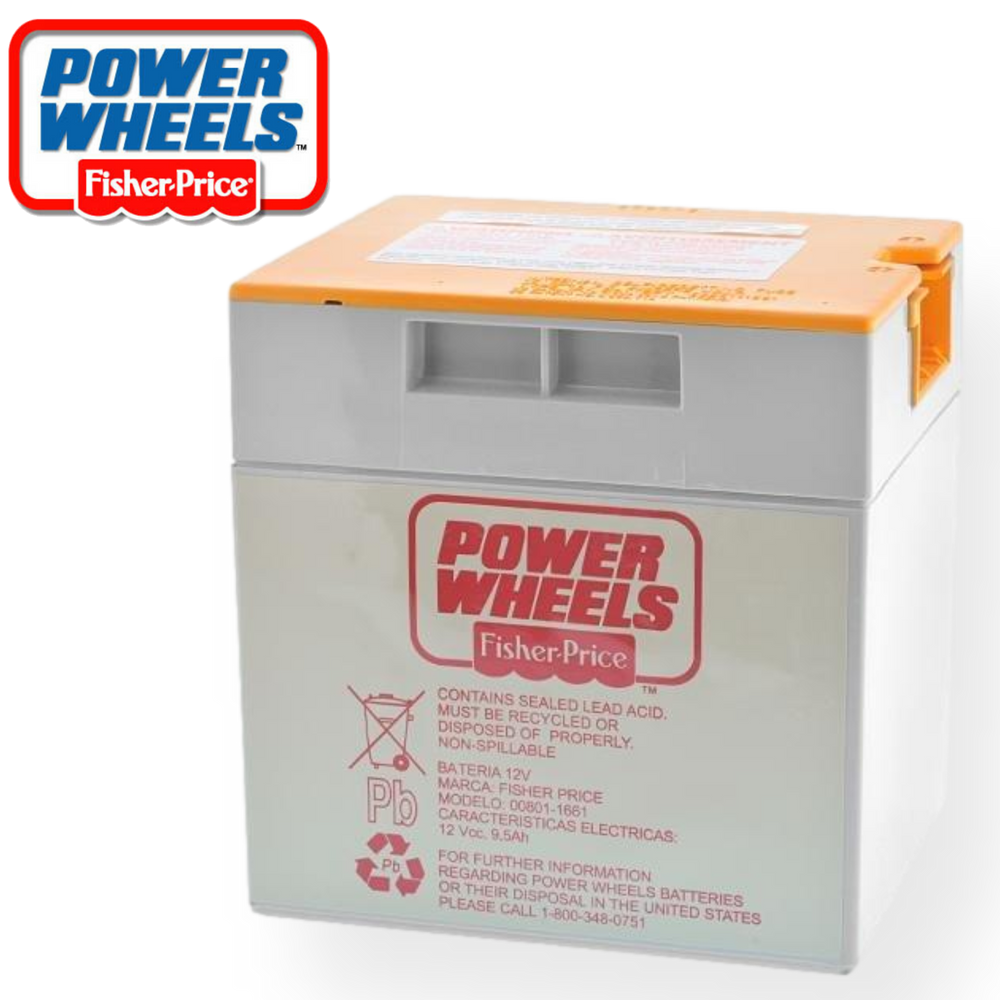 Fisher Price Power Wheels 12V 9.5AH Grey Orange Top Battery
$109.00
$102.99
You Save:

$6.01 CAD

(5.51%)
Product Description
Description
Get your kid's car up and running again with this Factory Direct OEM 12 Volt Fisher Price Power Wheels Rechargeable Toy Car Battery. 

You are going to love seeing the smile on your little one's face while they have fun cruising around.  
This Battery is Compatible With The Following Models: 
Barbie Smart Car (Model T5407)

Ford F150 Extreme Sport (Model CDF54)

Hurricane (Model T3264)

Jeep Hurricane (Model X6645)

Jeep Hurricane TRU (Model Y6239)

Jeep Hurricane: Blue (Model J4394)

Jeep Hurricane: Green (Model K7112)

Jeep Hurricane: Green (Model K7112)

Jeep Hurricane: Rust (Model N2273)

Smart Car (Model P2896)

and more... if you need help, please let us know.
Specifications: 
Part Number: 00801-1661 / 
00801-1776
Voltage:
 12
Capacity:
 9.5AH
Battery Cell Type:
 Sealed Lead Acid
Length:
 15cm 
Width:
 15cm 
Height:
 15cm 
Weight:
 4.20 kg
Terminal Type:
Insert 
Features: 
Rechargeable

Recyclable

No Memory Effect: Maintains Original Charge Capacity and Holds A Strong Charge With Each Use. 

Internal, Self Resetting Fuse

OEM Factory Direct Battery

6 Month Warranty 

30 Day Money Back Guarantee
Their toy will feel like new again once you install your new battery. 
Remember, the battery should be fully charged before taking the car out for its first spin. 
IMPORTANT: 
This battery is for use with Fisher Price Power Wheels 12-Volt 9.5 Amp Hour vehicles.
Be sure to read the enclosed instruction booklet for important safety information before installation and use.
For use with a Power Wheels vehicle that requires a 12V, 9.5 AH lead acid battery
This product does not include a charger. Please use the charger that was included with your Power Wheels vehicle to charge the battery or you can purchase an OEM charger from us. 
Before first time use, you must charge the battery at least 18 hours (but no more than 30 hours)
Always recharge for at least 14 hours (but no more than 30 hours)
IMPORTANT:

 

Prevent premature battery failure by fully charging battery before storage 
Using the wrong battery on your Power Wheels may cause serious damage or injury, please confirm that this is the correct part for your model before purchasing and installing. 
(BATTERY IS FOR ADULT USE ONLY)
How To Keep Your Fisher Price Power Wheels Battery Healthy
We recommend you use the correct charger with your new battery. 
Additionally… to help you extend the life of your battery, after each use, you should charge it immediately. 
You should never run down batteries and let them sit in a discharged condition for long periods of time. 
It's a good idea to recharge the battery every three months when the toy is not in use. 
This is important during the winter when the toy might not be used for a while. 
Also, be sure to store your battery inside your home or in a warm dry place during winter, rain, and cold days.
If your battery sits for too long, there's a possibility the battery will lose its capacity to hold a strong charge. So, be sure to keep your battery charged to maximize its lifespan. 
Keeping the battery maintained and properly charged will ensure that when the toy is being used it will run strong.
There is limited stock available, don't delay and place your order today.
battery for ride on toys toy car charger
Warranty
You are protected by our 30 Day Money Back Guarantee and Specific FULL REPLACEMENT Warranty Options: BRS Super Gas Pumps: 1 Year Full Replacement Warranty. BRS Super Battery: 30 Days, 2 Years, or 10 Years Full Replacement Warranty with NO PRORATION. BRS Super Charger: 1 Year Full Replacement Warranty. Fisher Price Power Wheels / Peg Perego Batteries and Chargers: 6 Months Full Replacement Warranty. Please contact us for all other product specific warranty options.