5 Awesome Ontario Snowmobile Trails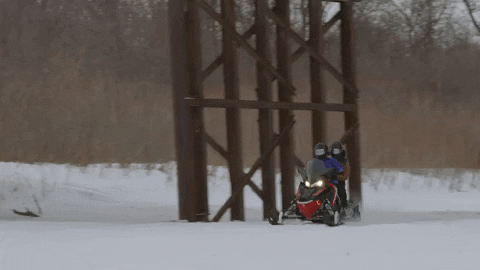 Introduction 
During the long winter season, Ontario is considered a wonderland for avid snowmobilers and is home to the worlds largest interconnected trail network. With over 30,000 KM of well maintained trails to explore, it is easy to discover and fall in love with the great outdoors during winter. Deciding where to spend your valuable time is important but don't worry... luckily for you we have broken down a list of some awesome trails in Ontario. 
1. The Chiniguchi Wolf Loop
The Chiniguchi Wolf Loop will have you and your snowmobile buddies travelling through some of Ontario's oldest growth forests which are home to massive red pine trees that are all over 200 years old. One of the trees discovered by university scientists was over 310 years old! This scenic tour located in Sudbury Ontario is also popular because of the Wolf Mountain lookout that provides an amazing view of Ishpatina Ridge, the highest point in Ontario at 693m. The Chiniguchi Loop is well known for its unique scenery that was created by both active and inactive mining areas within the Sudbury Basin, these areas where created by a meteor impact that resulted in an abundance of nickel and other minerals. It is not uncommon to see stunning wildlife like Timberwolves and Lynx families along this tour as well. If you are an adventurous snowmobiler that enjoys plentiful amounts of snow, beautiful scenery, and consistent riding conditions then the Chiniguchi Wolf Loop trail is where you need to be. 
2. Ontario's Cartier Moose Loop 
If unique wildlife, history , and stunning views sound fascinating to you then Ontario's Cartier Moose Loop is the perfect destination . At 254 km long this interesting trail located in Sudbury Ontario is intriguing to many because along the loop lies the deserted sawmill town of Sellwood , which had a population of 1500 before becoming abandoned in 1930. In 1947 the town was levelled to make room for an iron ore mine that operated until 1978 then closed for good. This historical area is also home to a large population of Moose that use the hard packed trails for travel during the winter season. Remember to always keep your distance and not disturb these majestic animals in their natural habitat. It is also not uncommon to see Lynx families along the groomed trails as it is easier for their young with little paws to travel. Don't forget to bring your camera as you are guaranteed to have a memorable experience along Ontario's Cartier Moose Loop trail. 
3. Algoma North Shore Loop 
Thanks to its serene surroundings and 3700km of some of the best trails in Ontario, the Algoma North Shore Loop is a favourite for trail riders from the United States and Canada. This area offers many benefits including no traffic, beautiful off road vehicle trails, and loads of snowmobile friendly accommodations. One of its biggest draws is that the snowmobile season lasts longer than many other areas, typically lasting well into March. There are also several small towns close by including the popular retirement community Elliot Lake in the east, and Saulte St Marie in the west. Less than a six hour drive from the greater Toronto area, the Algoma North Shore Loop is an easily accessible and exciting trail that can be enjoyed by all. 
4. The Gold Rush Tour
Located in Northeastern Ontario the Gold Rush Tour is one of the premier touring routes in Ontario, offering some of the best scenery and diverse trails in the world. Created in 1990 by club pacesetter Mike Fam and fellow volunteers, this 710km long tour will take you through deep rugged forests, impressive industrial mining spectacles , and the wide open expanses of Temiskaming Shores. This unforgettable trail is diverse and ever changing , creating many opportunities for photos that are sure to garner attention on your social media feeds. The Gold Rush Tour is guaranteed to provide a day of adventure and lifelong memories for the whole family. 
5. Round Algonquin Park Loop 
Known as one of the best trails in Ontario, Round Algonquin Park Loop is famous for its wildlife sightings  and stunning views. This scenic loop offers a bit of everything as you can adventure through evergreen forests and places where great tectonic quakes once took place. If you are looking for a scenic trail with proper grooming, plenty of accommodations , and amazing Instagram worthy views the Round Algonquin Park Loop is a place you should check out. 
 -----------------------------------
If You're Looking To Upgrade Your Battery This Season Check Out The BRS Super Battery: