Snowmobile Battery
SNOWMOBILE BATTERY
When the snow is deep and your destination is far, it's important to have a reliable battery to keep you on the road. The best way to choose a maintenance-free battery is to first measure your snowmobile's voltage requirements. The engine type is very important, for instance, if you have a 4-stroke, then you will need a 7 or 8-cell battery with a capacity of more than 55 Ah. Always look for new battery options that have these amps listed for you to experience great performance. Snowmobile season is upon us, and there is always a new set of challenges for snowmobile enthusiasts. Everyone loves the sport of snowmobiling, but sometimes it can be a hassle. The biggest maintenance worry for snowmobilers is the battery charge. Snowmobiling is a sport that only becomes more popular in cold weather, so people are constantly having to make sure their snowmobile batteries don't die.
How to choose a snowmobile battery
Most snowmobiles can use either lithium-ion batteries, lead-acid, or AGM batteries with appropriate cold-cranking amps.
Lithium-ion batteries are good for storing power for your devices. They are the smallest and lightest battery, but they cannot provide as much power as other types of batteries. Lithium battery is one of the most common types of rechargeable battery found today. Lithium ions are what allow them to work so well because they can be easily charged and discharged. Most importantly they are small, lightweight batteries that produce a lot of power for your devices depending on their capacity.
They are the cheapest but have many downfalls and so not the best option during winter, however, through advanced lead-calcium technology they are giving off a discharge that is more powerful. The sealed lead-acid battery is not the most efficient or long-lasting when it comes to powering your device. Depending on capacity, they were once used in automobiles but today are mostly reserved for smaller devices like snowmobiles, motorcycles, lawnmowers, ATVs, and other power sports vehicles. A standard lead-acid battery comes either in wet cells or in sealed (maintenance-free) form.  
These are the most ideal types of batteries for snowmobiles and the best choice for your budget pick. They are better for use in cold climates than other batteries because of the thicker plates inside of them which makes them able to withstand colder temperatures more effectively, which is why they are more suitable for use in cold climates and completely maintenance-free. These cold-resistant features make them a better choice for cold climate applications. It is wise to choose an AGM battery with an appropriate CCA to give you enough power to start your engine. AGM Battery can be used in various snowmobile brands e.g Arctic Cat, Ski-Doo Kawasaki Polaris, or Yamaha. The downfall is that they are a bit pricier and require a special charger.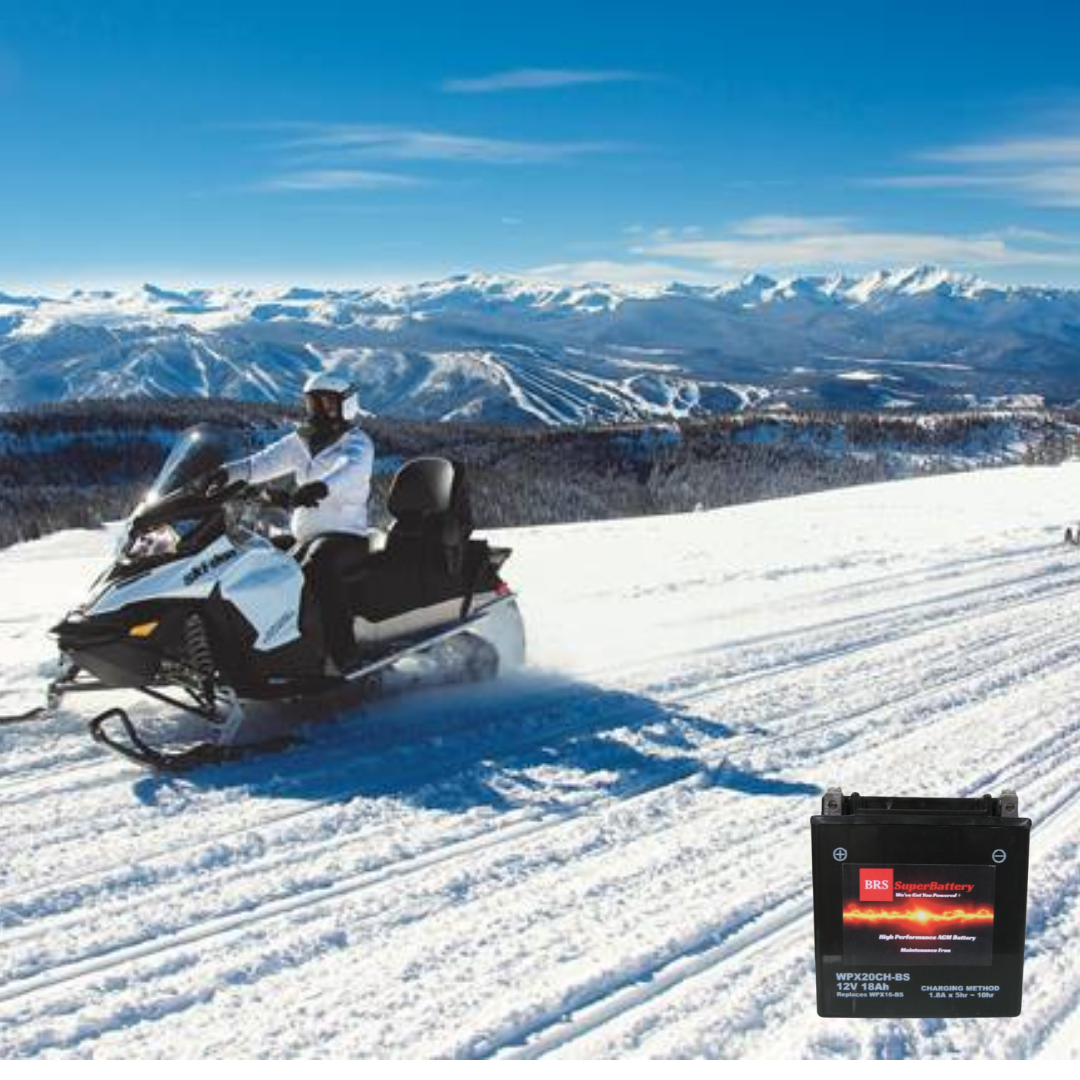 SNOWMOBILE BATTERIES THAT DELIVER MAXIMUM PERFORMANCE AND UNRIVALLED RELIABILITY
The performance of cold start batteries is essential and worth spending. The BRS SUPER BATTERY provides unmatched reliability at extreme temperatures. They are AGM (absorbed glass mat) batteries that require little or zero maintenance and are ready to be installed. Also, they are high-performance batteries that are easily rechargeable, spill proof and, vibration resistant in all weather conditions. Then, if you want to keep your snowmobile running all the time and especially in cold mornings, BRS SUPER BATTERY which comes pre-charged right from the factory is the best battery option for you. A snowmobile is an excellent recreation vehicle for outdoor enthusiasts of all ages, and fully charged batteries that power these machines are absolutely essential for a successful day on the slopes and trail riding. No matter what you ride, we have a replacement for your machine
Many snowmobilers have a difficult time deciding which perfect battery is the best for their machine. While it may sound simple to just buy the most expensive battery possible, there are many factors that can affect a snowmobiler's experience on the machine. It is true that a more expensive battery will last longer than one that is cheaper, but some are built to charge faster and provide more power to the vehicle. Importantly, fully charging the battery using a trickle charger can also help prolong its life.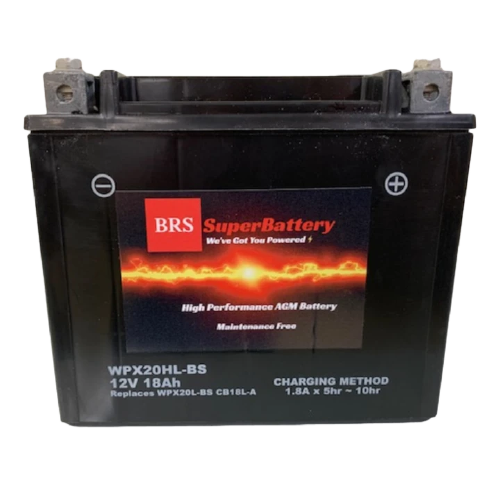 If you live in a snowy climate and you require batteries for your snowmobiles, you should invest in a battery that will make sure your sled starts in all weather conditions. The best-trusted brands batteries for 2022 are those that use the latest technology, have high cranking power, which does not quickly discharge and lose power.
The Best 2022 Replacement Battery for your Snowmobile in different Capacities
The winter season is here and as a snowmobiler, you require a good battery that will guarantee you high performance. The cold winter months can be an exciting time for those who love to ride snowmobiles, but it may also be a cause of anxiety for the riders who know there is a chance they might break down. Luckily, there are plenty of things you can do before and during your ride to make sure that you stay safe and avoid any unwanted breakdowns. Check out the BRS Super Battery with the unbeatable 2 or 10 year warranty options www.brssuperbattery.com