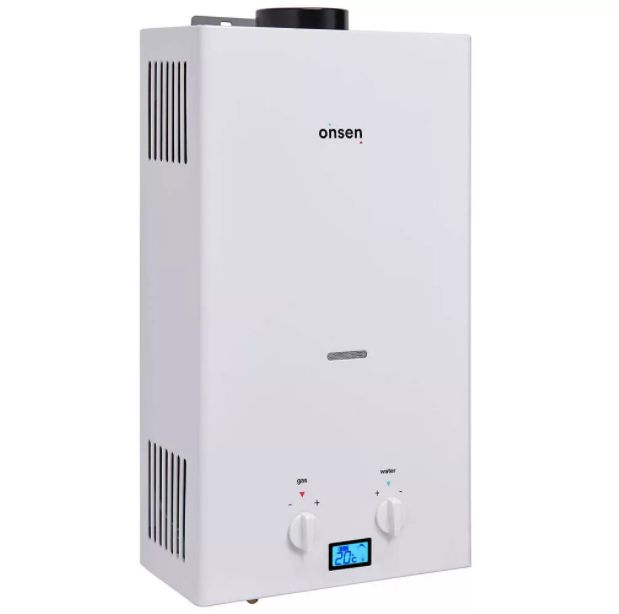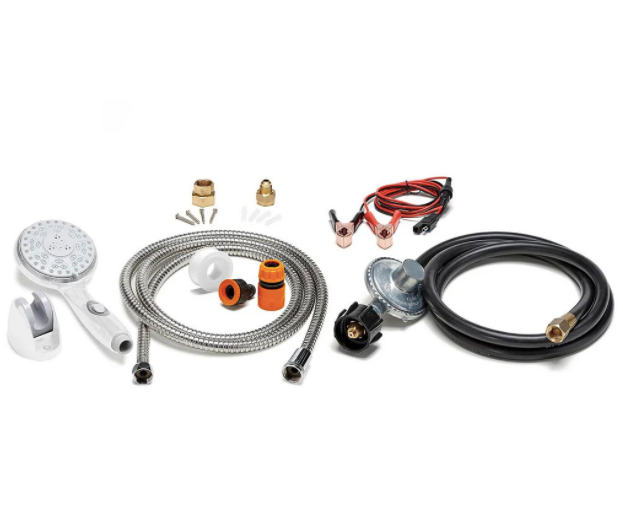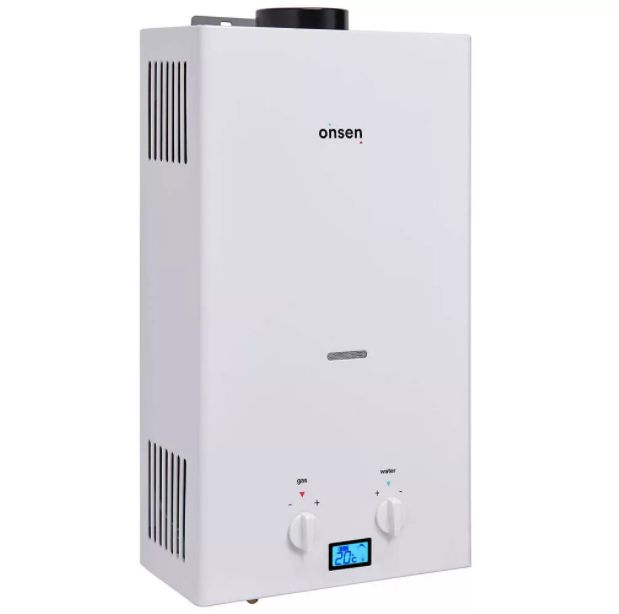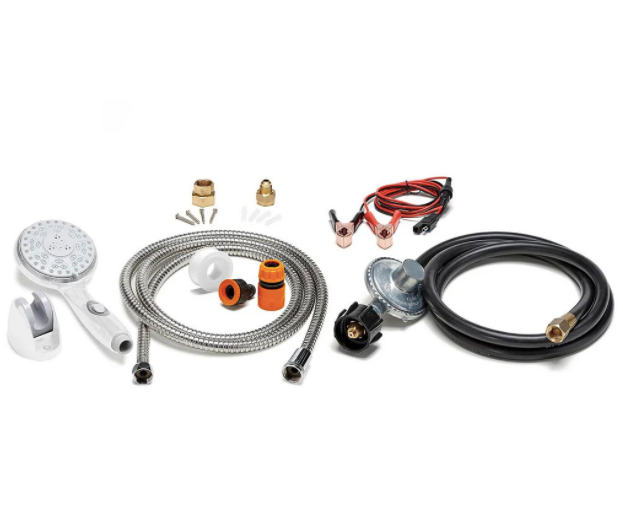 Product Description
Description
Onsen 10L Tankless Portable Water Heater
 The Onsen 10-L portable tankless water heater is Onsen's most powerful portable water heater and can turn freezing cold water into instant hot water so you can enjoy a hot shower on all your outdoor adventures.
Featuring a premium shower head, digital screen and included 12V battery clips, this tankless water heater runs on a standard propane tank and is perfect for hunting camps, off-grid cabins, camping, boating, pet grooming, horse trailers, stables or simply rinsing off by the pool.
Working in combination with the Onsen 3.0 diaphragm RV and marine 12 V water pump, the Onsen 10-L will provide the comfort of instant, pressurized, hot water in any off-grid situation.
The addition of the Onsen 1-L accumulator tank, which ensures even water flow by acting as a pressure buffer for the pump, enhances the experience by providing better control of hot water temperatures. Please note that pump water hoses shown in the image are not included.
Outdoor use only 75,000 BTU Includes gas regulator and hose for standard barbecue propane tank Gas and water control knobs for temperature adjustment Ignition powered by two D cell batteries or 12 V battery connection Digital screen displaying outgoing water temperature and battery life.
What's in the box

• Water heater
• On/Off showerhead and holder
• Gas regulator for 20-pound propane tank
• Female ¾-inch adapter for garden hose
• Gas compression fitting
• Quick Connect adapter
• Teflon tape
• Hardware set
• 12-volt alligator clips
Garantie / Warranty
24 mois
24 months
Numéro de pièce/modèle / Part/Model Number
Marques de certifications / Regulatory Certification Marks
I have been using this pump all summer to keep my boat, lawn tractor and a whole bunch of other stuff filled up around here. I still use 5 gallon containers for their portability and even with 10 of those I'll have to fill them twice to get through the summer. This pump has been great for my needs. If you are sick and tired of having to hold a 5 gallon container of fuel in the air while attempting to get those funky nozzles to work, buy this pump.
Brad
So far it's working as well as I had hoped. Nothing is perfect when trying to transfer gas, but this does a very decent job. You need to make sure to lift the nozzle and hose up at the end of the fuel transfer to allow any residual fuel to run back into the tank or it will dribble out all over. It empties most of a five gallon gas can in a couple minutes without having to lift and hold the can up which is exactly what I wanted.
V. Thomas