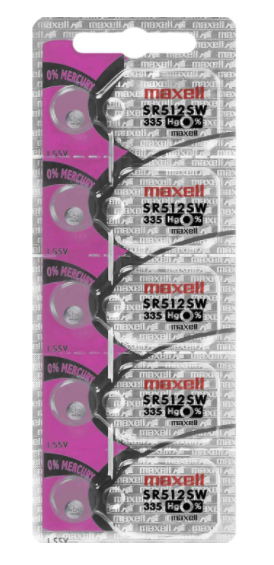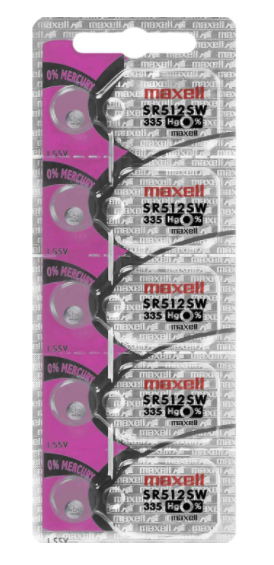 Product Description
Description
Maxell 335 Coin Cell Battery
The Maxell 335 Coin Cell Battery is a tiny but capable primary battery designed to function in small electronics like calculators, watches, and medical instruments. Featuring a stable Silver Oxide chemistry, this impressive coin cell hold a 5.5 mAh charge, providing steady, long-lasting power to ensure you get the most use out of your low-drain device. With a shelf life of over 5 years, these cells are perfect to keep around the house or office for when you need them most.
Associated Battery Sizes: 335, 622, 9948, AWI S60, Citizen 280-68, SP335, SR512, SR512SW, Seiko SB-AB, V335
Features and Specifications:
Typically used in watches, calculators, medical devices and other small electronics
Provides stable, high performance power for low drain devices
Battery Size:

 

335 (SR512SW)
Battery Chemistry:

 

Silver Oxide (Alkaline)
Voltage:

 

1.55V
Capacity:

 

5.5 mAh
Shelf Life:

 

5 Years
Dimensions (Diameter x Height):

 

0.23" x 0.06" (5.8 mm x 1.6 mm)
Warranty
You are protected by our 30 Day Money Back Guarantee and Specific FULL REPLACEMENT Warranty Options: BRS Super Gas Pumps: 1 Year Full Replacement Warranty. BRS Super Battery: 30 Days, 2 Years, or 10 Years Full Replacement Warranty with NO PRORATION. BRS Super Charger: 1 Year Full Replacement Warranty. Fisher Price Power Wheels / Peg Perego Batteries and Chargers: 6 Months Full Replacement Warranty. Please contact us for all other product specific warranty options.