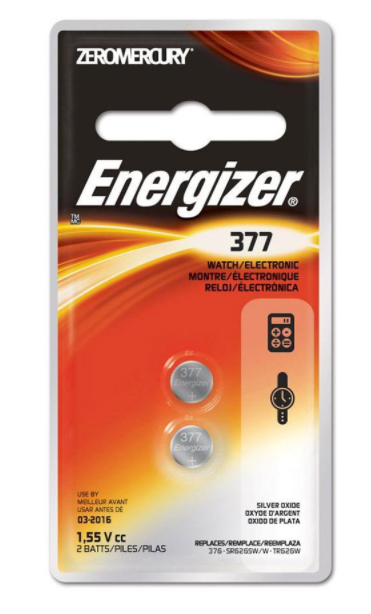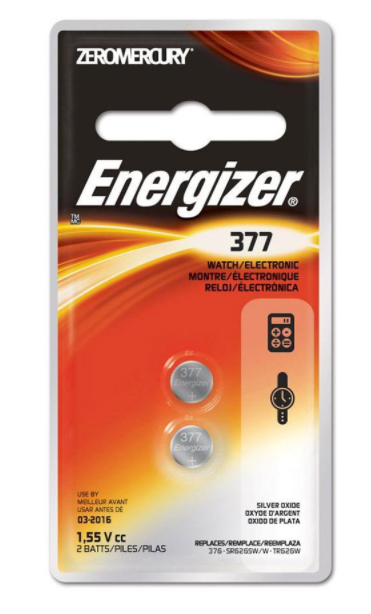 Product Description
Description
Energizer 377 Button Cell Batteries - No Mercury
Energizer silver oxide batteries are designed for use in small electronic devices, such as watches, toys and calculators. These 377 coin cells are sold as a 6-pack, which has attractive retail packaging. The multi-drain silver oxide batteries offer a 24 mAh capacity that is perfect for small-sized electronics.
Compatible Battery Types: 280-39, 376/377, 377, 377BP, D377, KS377, R377/37, SB-AW, SR626SW, SR66, V377
Features:
Chemistry: Silver Oxide
Voltage: 1.5V
Battery size: 377
Capacity: 24 mAh
Diameter: 6.80mm
Height: 2.60mm
6 Pack 
377BPZ 
Warranty
You are protected by our 30 Day Money Back Guarantee and Specific FULL REPLACEMENT Warranty Options: BRS Super Gas Pumps: 1 Year Full Replacement Warranty. BRS Super Battery: 30 Days, 2 Years, or 10 Years Full Replacement Warranty with NO PRORATION. BRS Super Charger: 1 Year Full Replacement Warranty. Fisher Price Power Wheels / Peg Perego Batteries and Chargers: 6 Months Full Replacement Warranty. Please contact us for all other product specific warranty options.