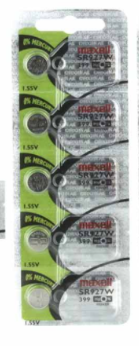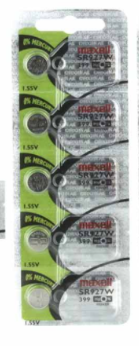 Product Description
Description
As a silver oxide battery, the Maxell 399 SR927W is perfectly suited for any task. With low self-discharge, stable output voltage, and the ability to work with high current demands, the Maxell 399 is a reliable battery in any state.
As a coin cell battery, the Maxell 399 is perfect for keyless remote entry systems for cars and homes, watches, calculators, digital thermometers, glucometers, heart-rate monitors, and small electronic toys.
Not to mention that the Maxell 399 is operable in temperatures ranging from hot to cold and has a shelf life of 5 years.
Brand / Type:

 

Maxell
Model:

 

399 SR927W
Chemistry:

 

Silver Oxide
Output Voltage:

 

1.55V
Height:

 

2.73mm
Weight:

 

0.375lbs
Diameter:

 

9.5mm
Capacity:

 

57-60 mAh
Equivalent Battery Types:
CR927, Energizer / Eveready 399, Rayovac 399, Renata 399, 35, Varta V399, V543, Seiko SB-BP, Citizen 280-44, Timex W, New Tec SR927PW, Duracell D399, Bulova 613, GP GP399, IEC SR57, SR927, SR927SW, SR 927, SR927W
Warranty
You are protected by our 30 Day Money Back Guarantee and Specific FULL REPLACEMENT Warranty Options: BRS Super Gas Pumps: 1 Year Full Replacement Warranty. BRS Super Battery: 30 Days, 2 Years, or 10 Years Full Replacement Warranty with NO PRORATION. BRS Super Charger: 1 Year Full Replacement Warranty. Fisher Price Power Wheels / Peg Perego Batteries and Chargers: 6 Months Full Replacement Warranty. Please contact us for all other product specific warranty options.