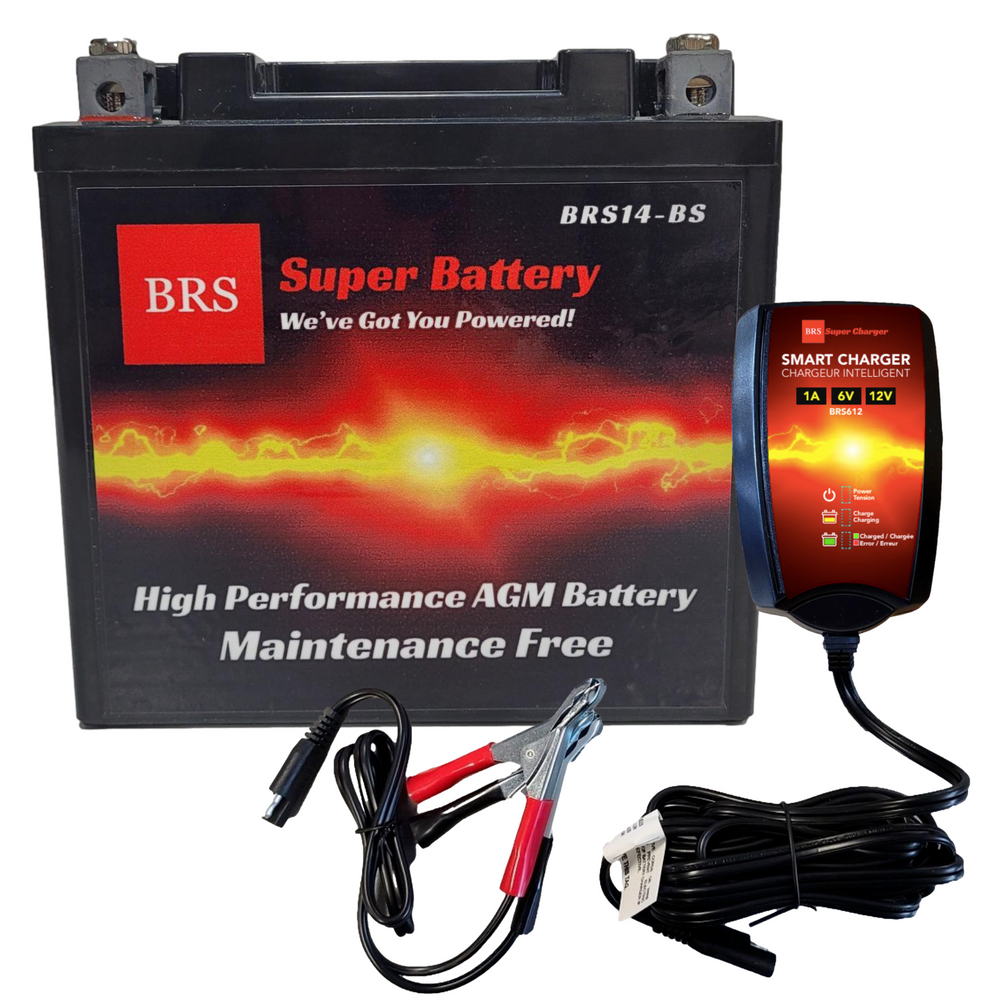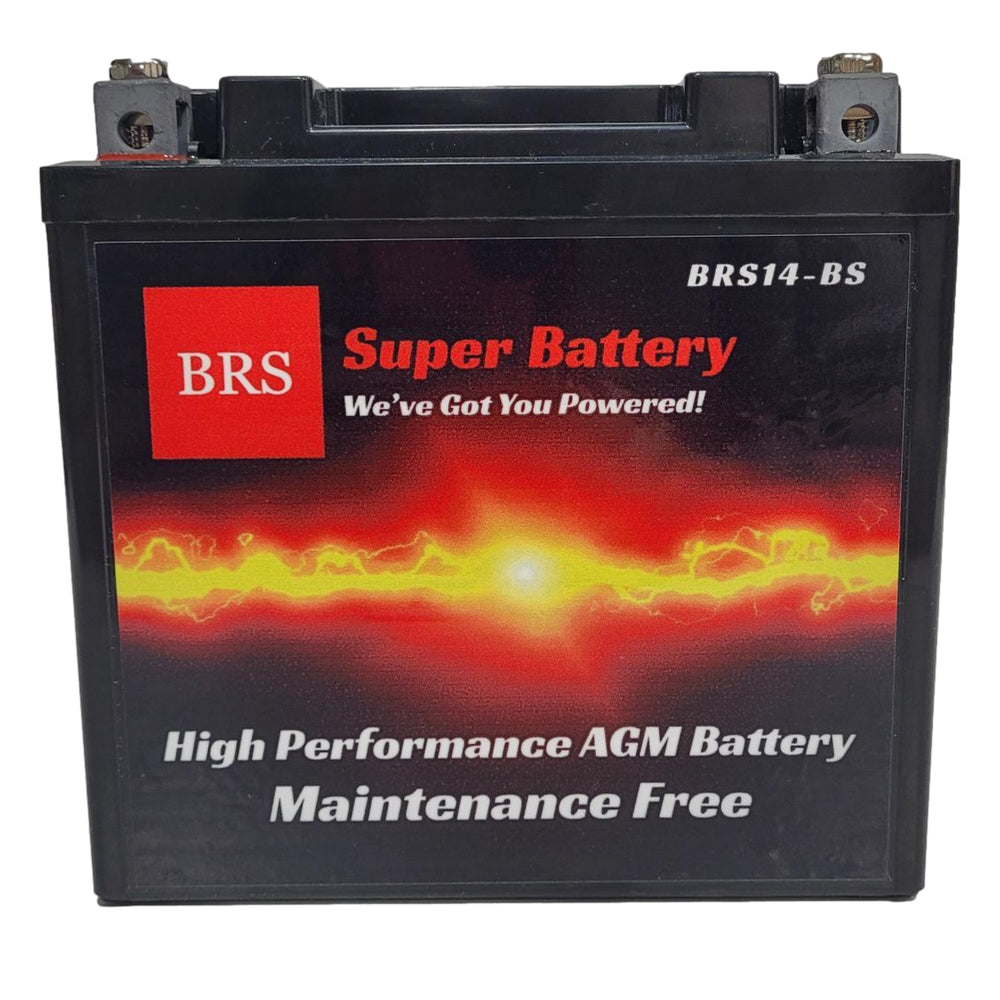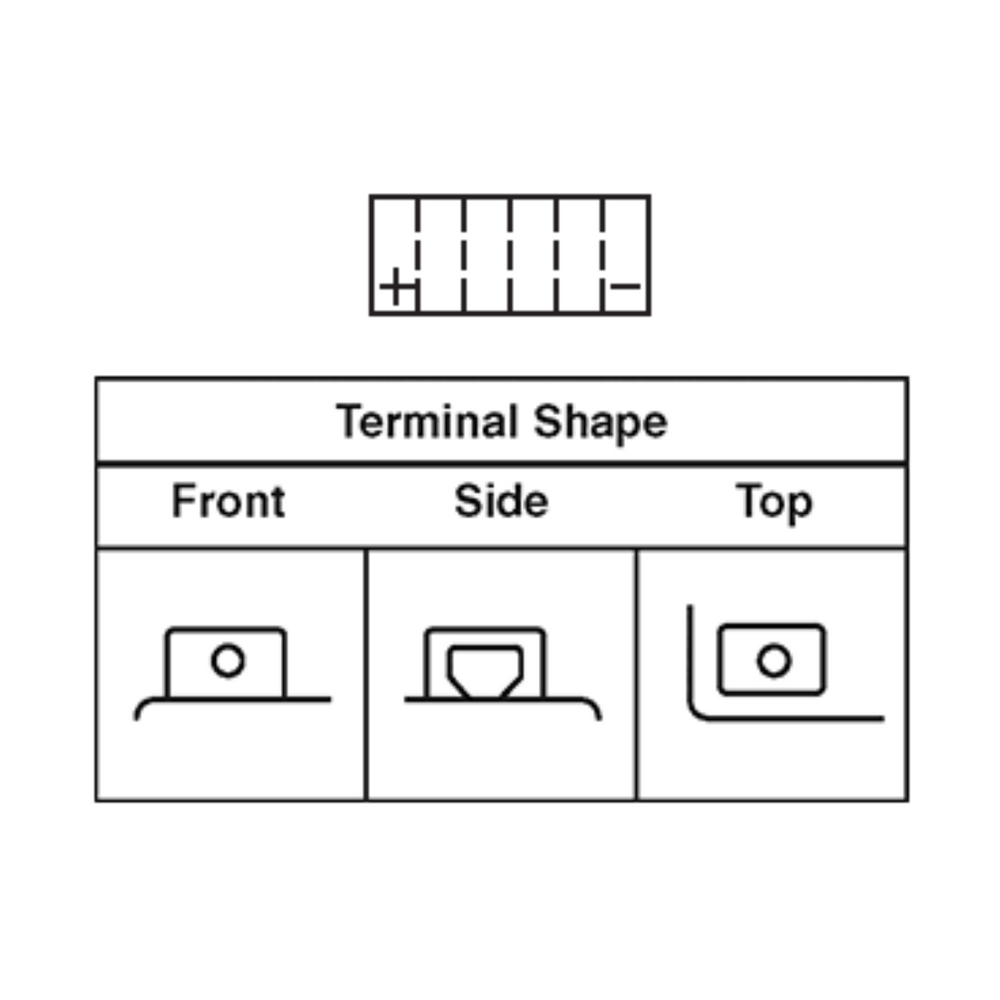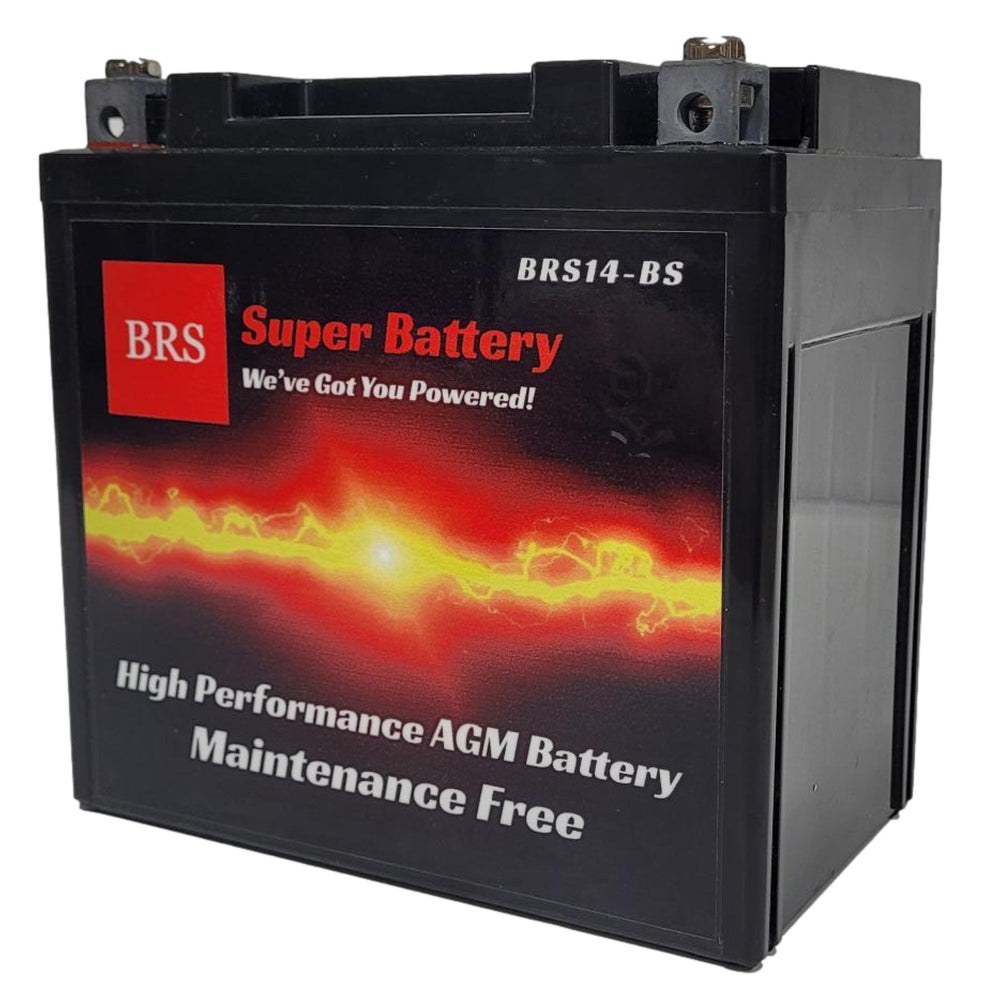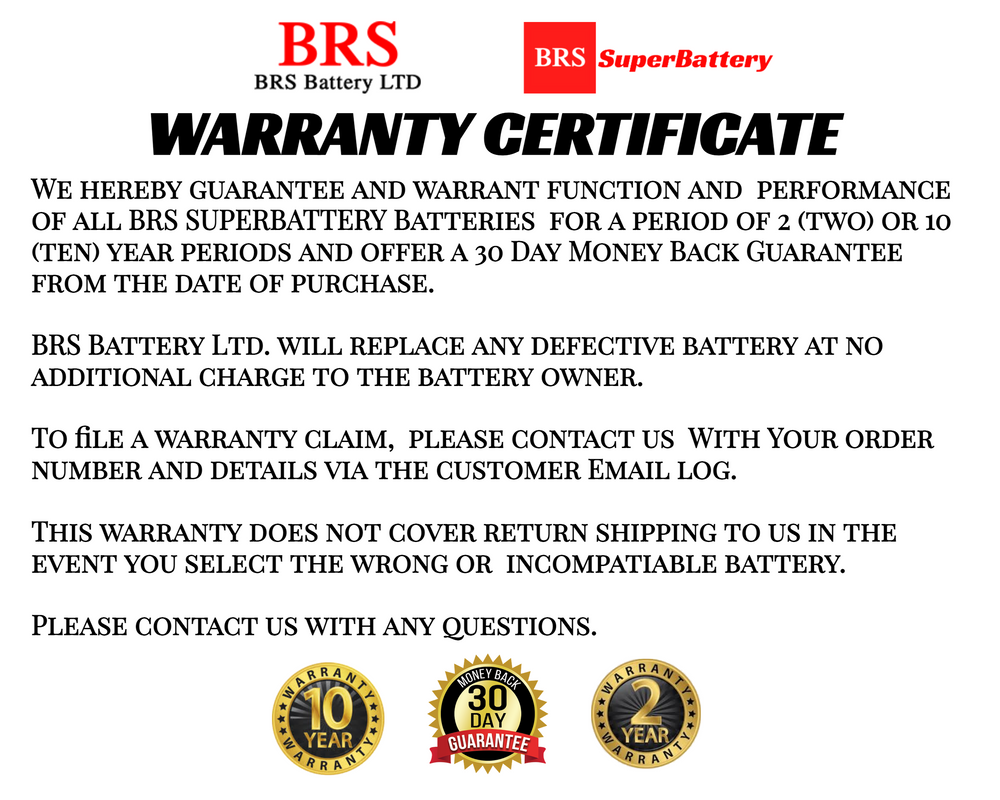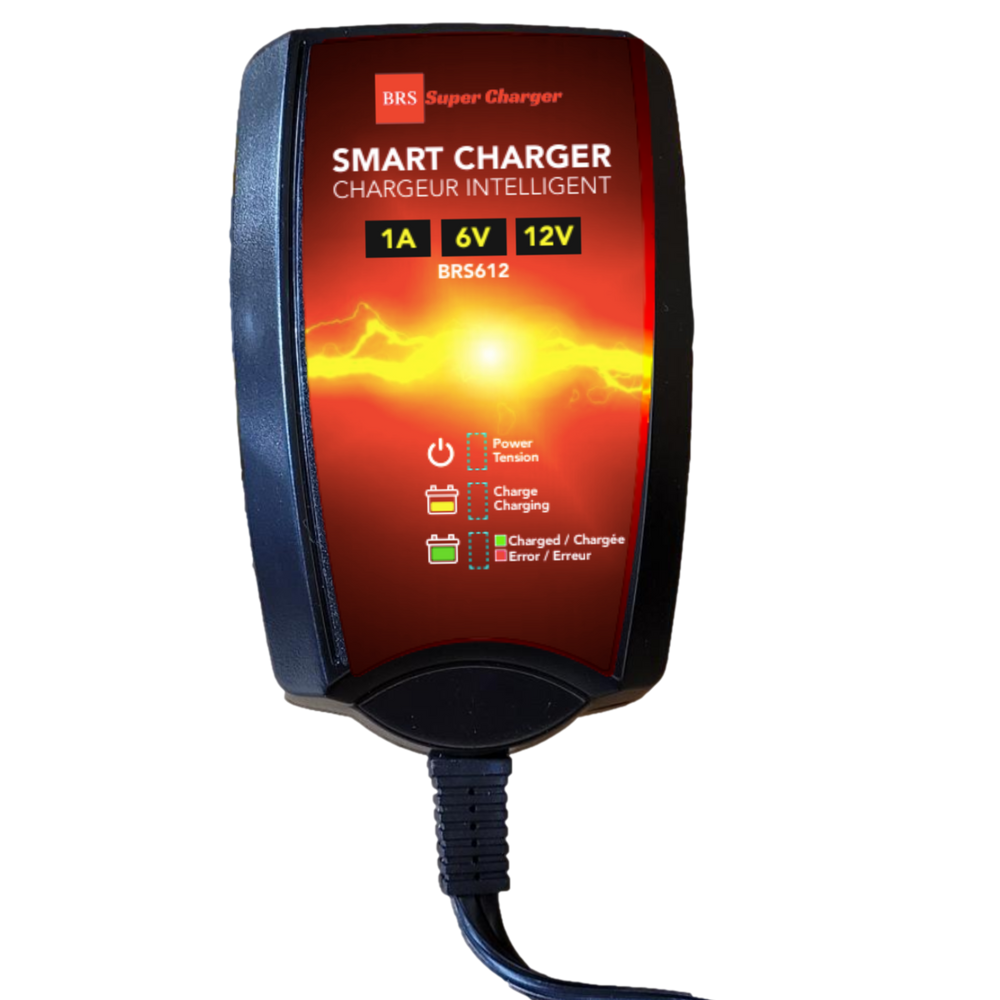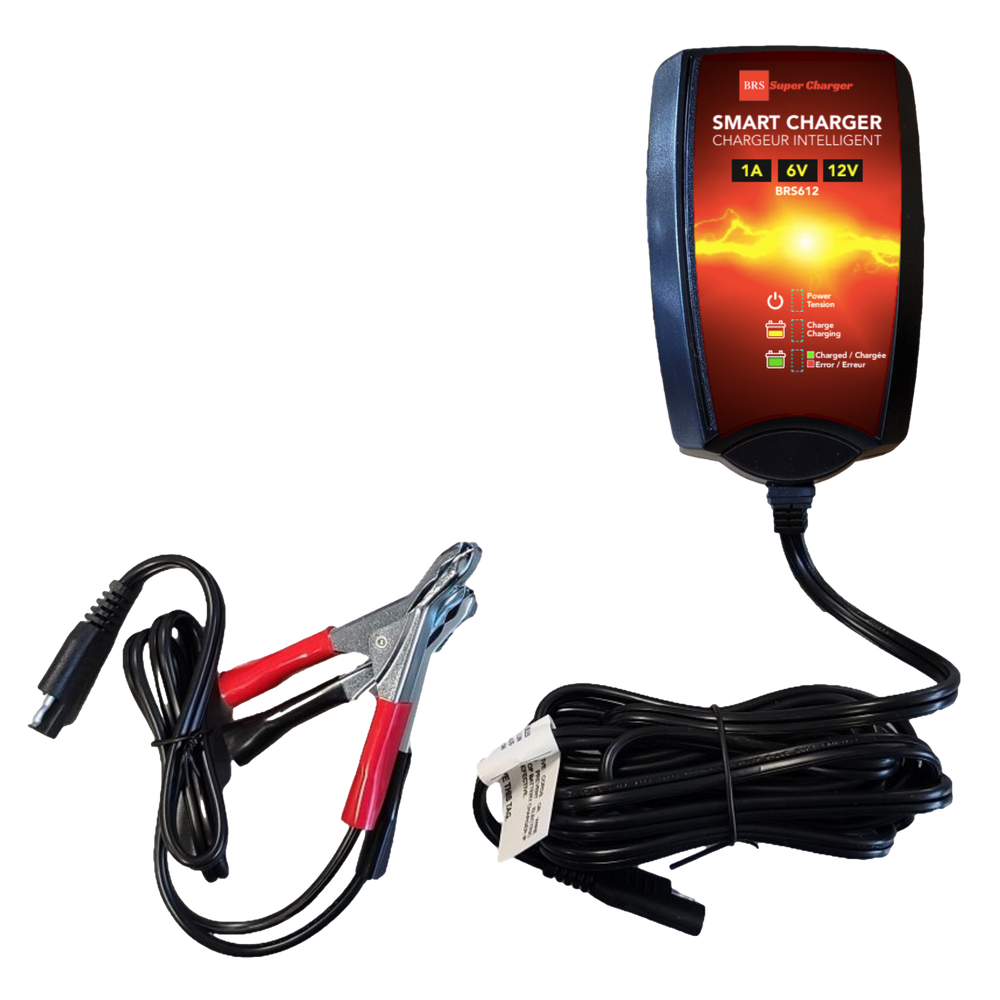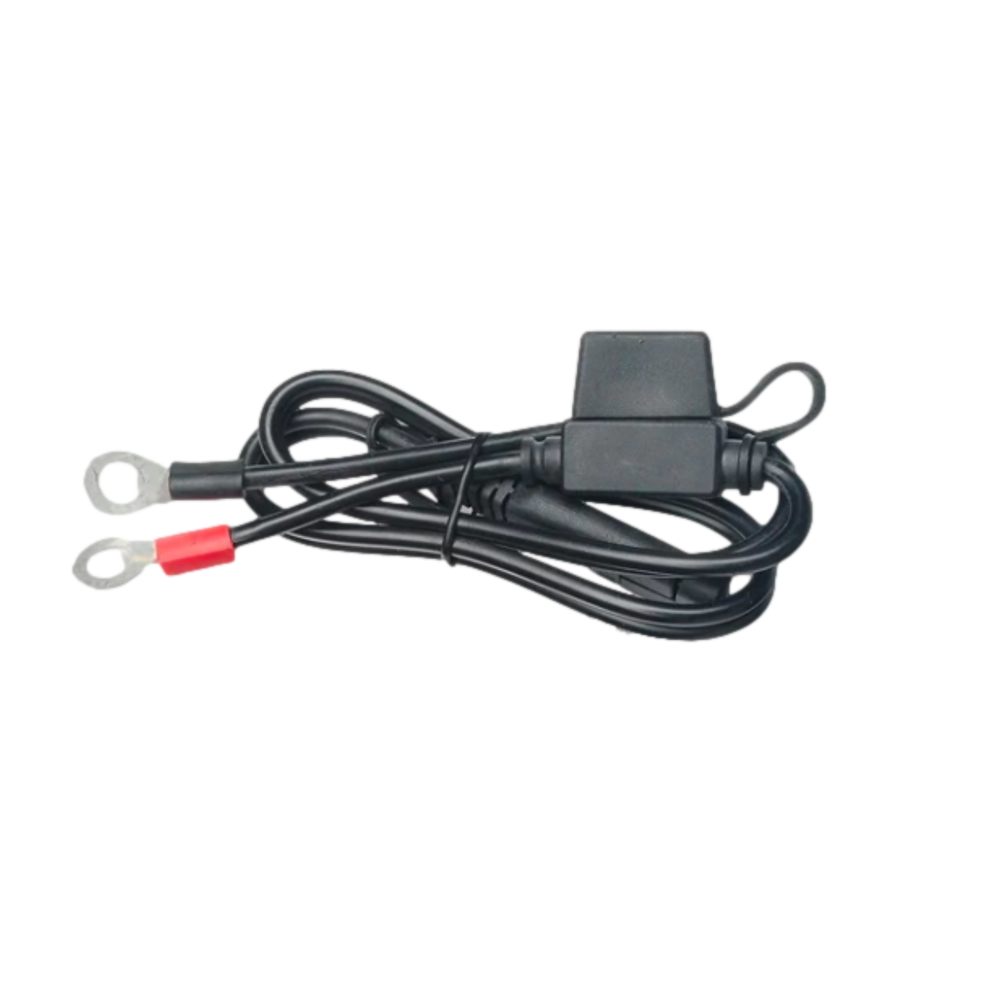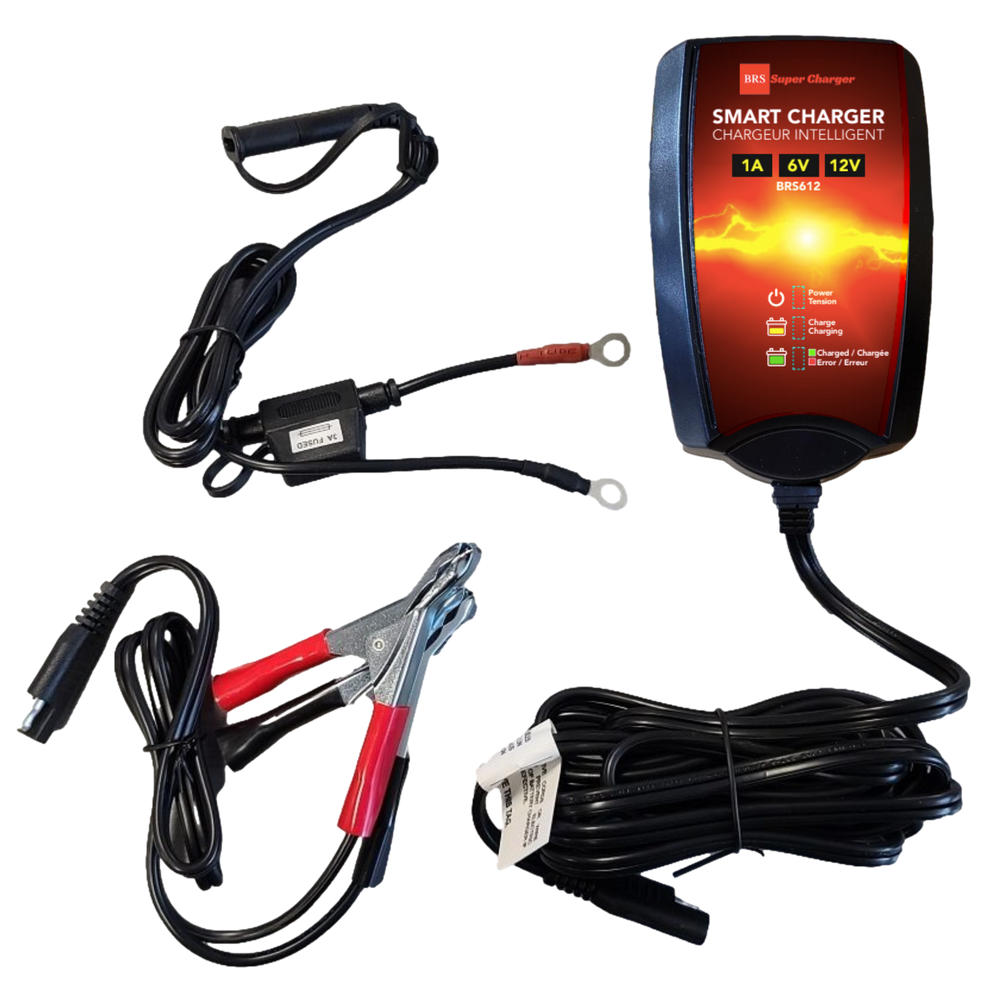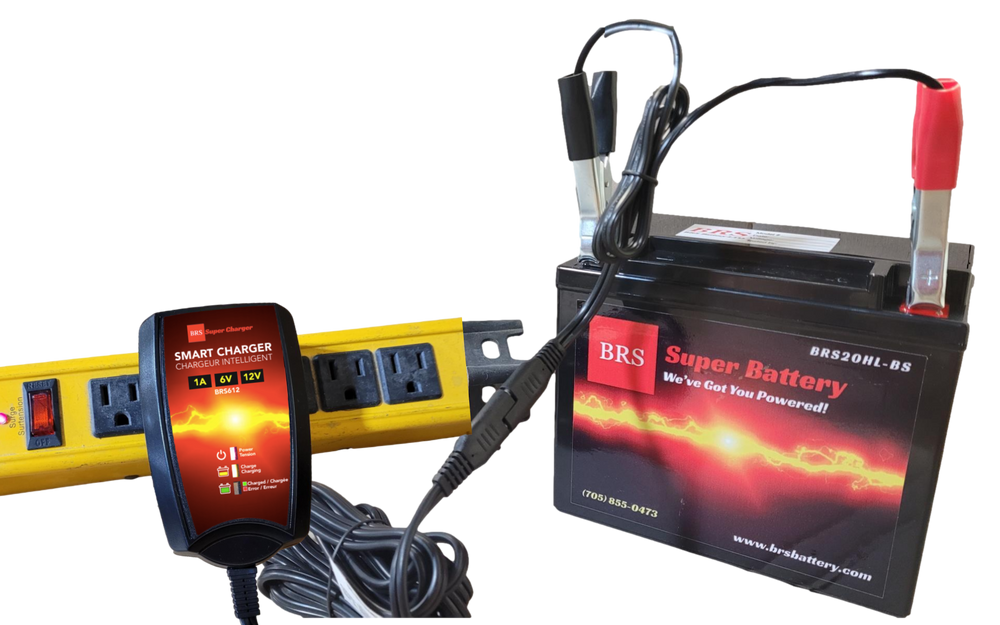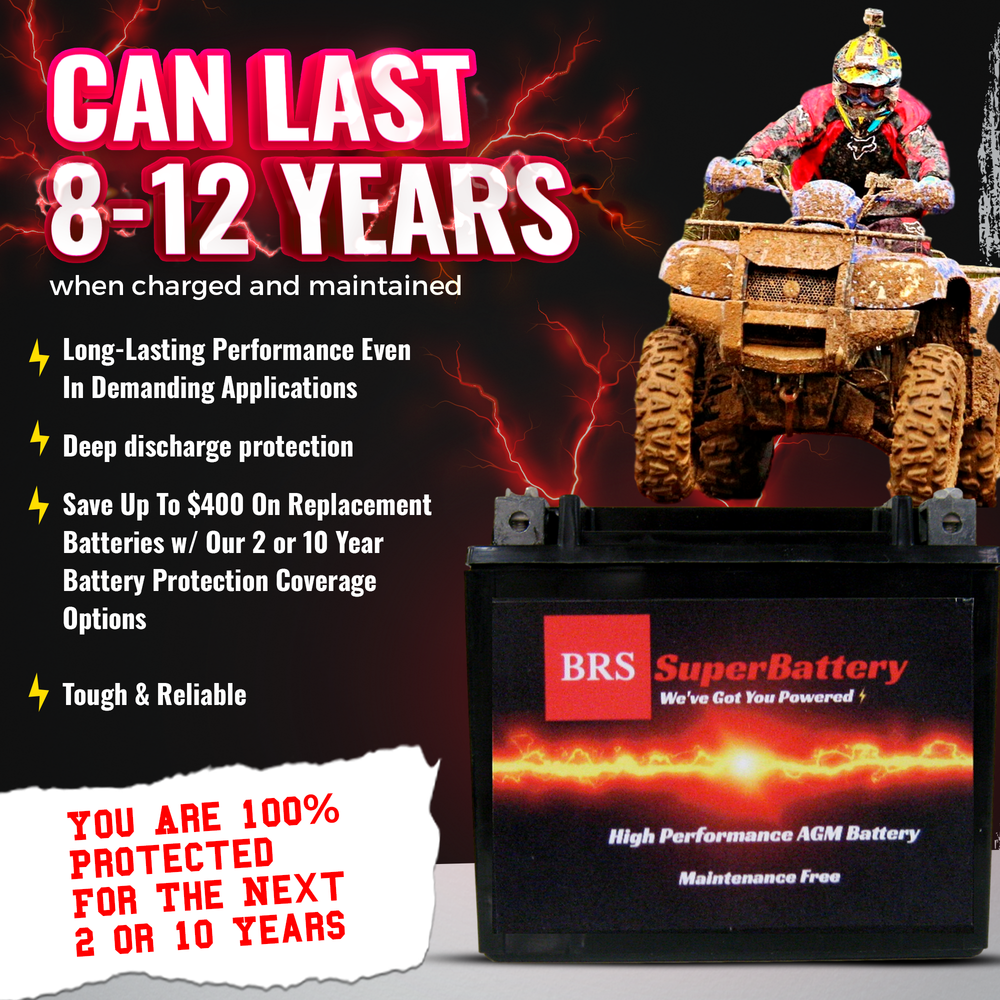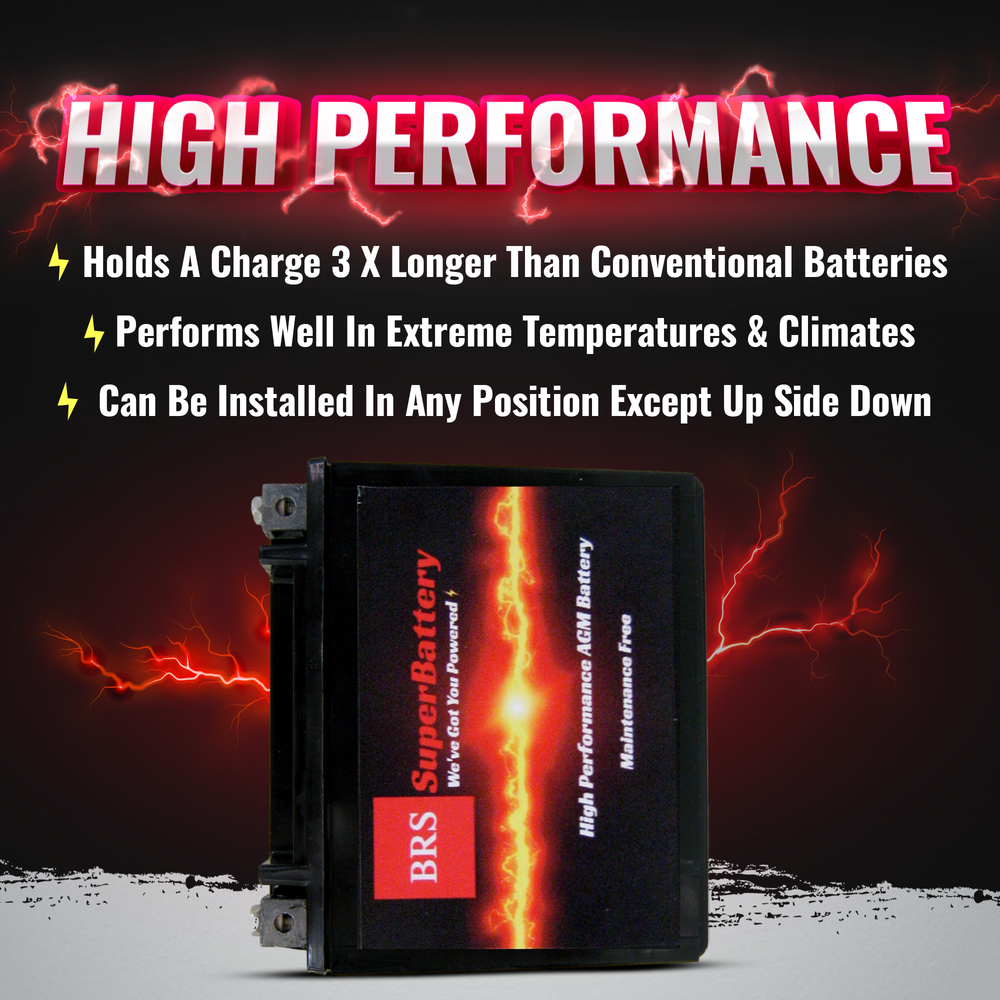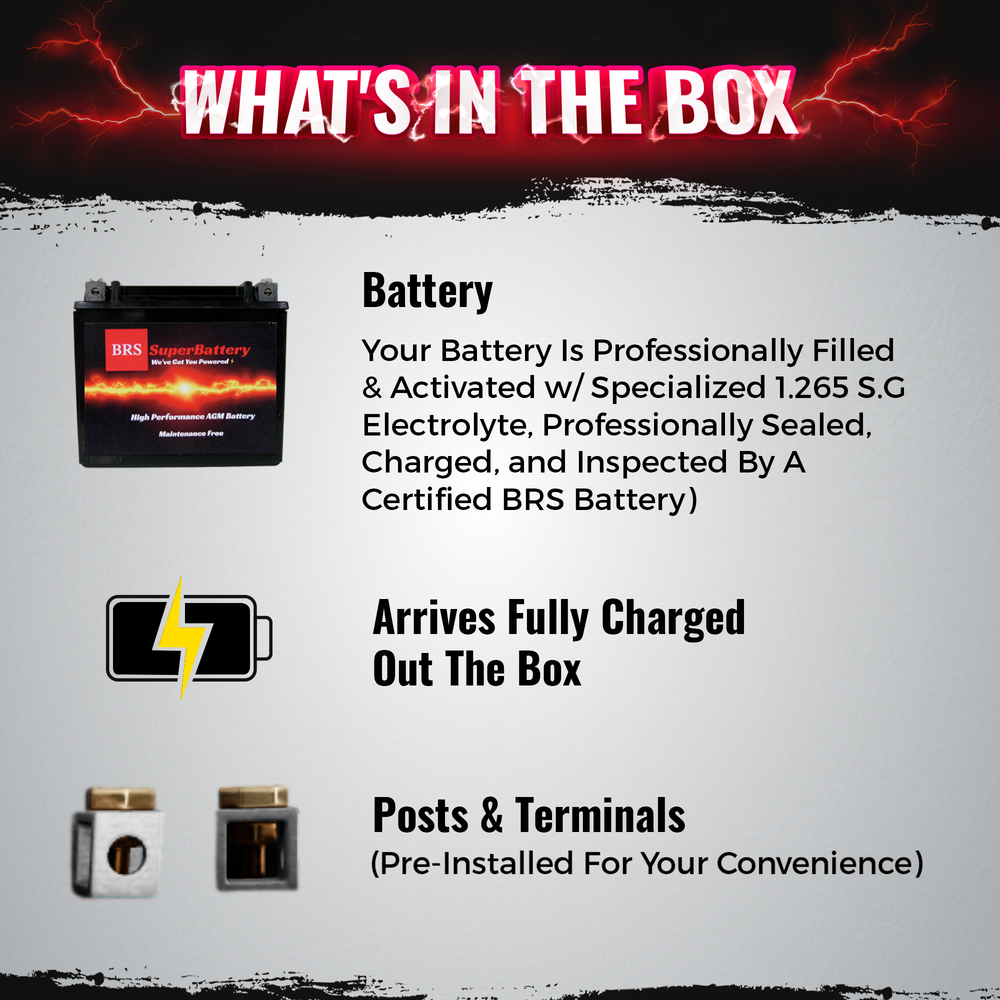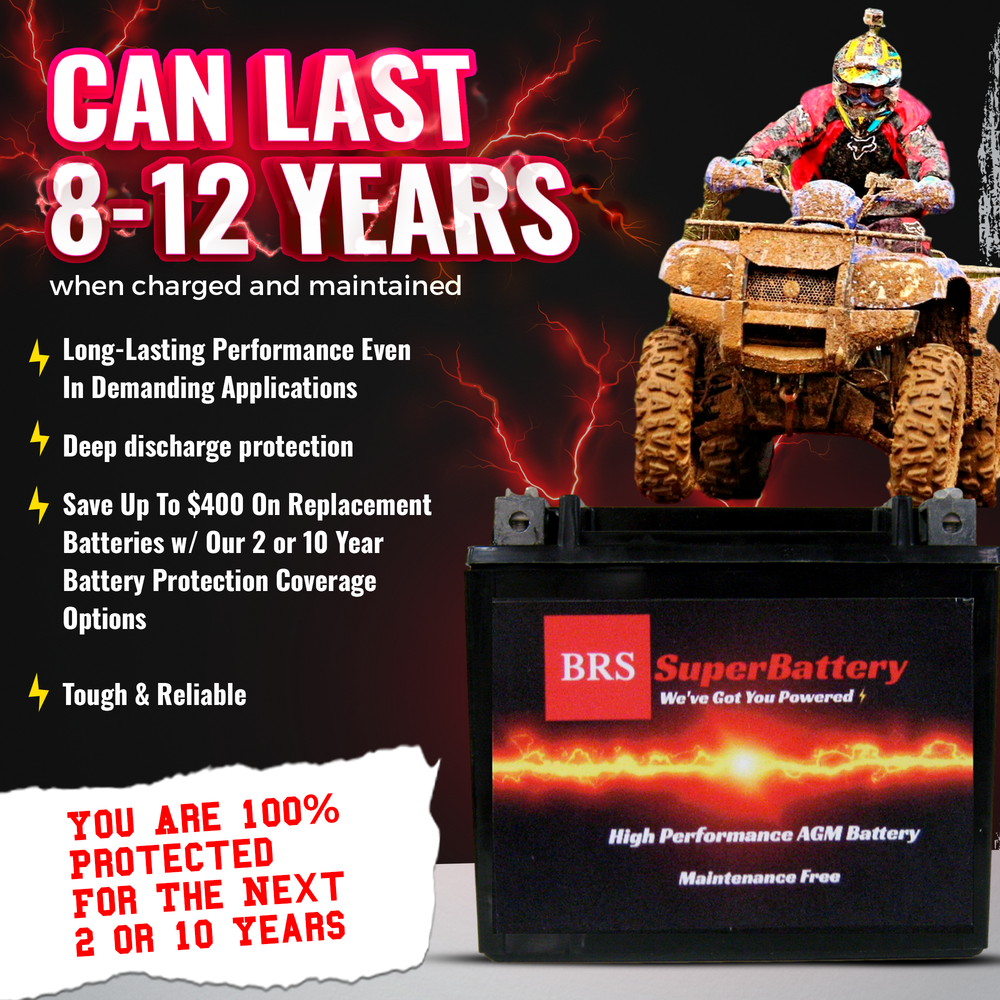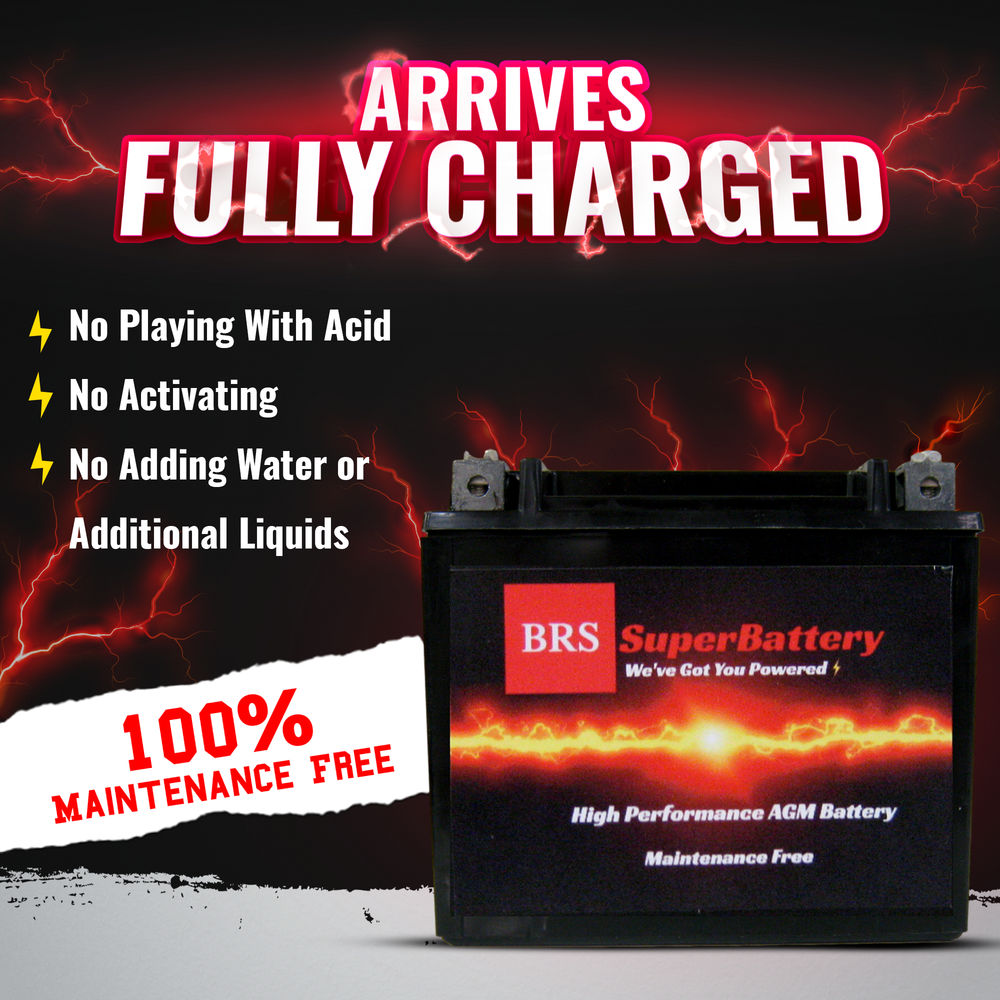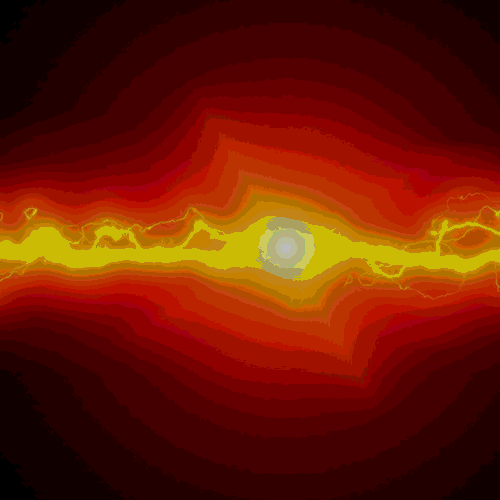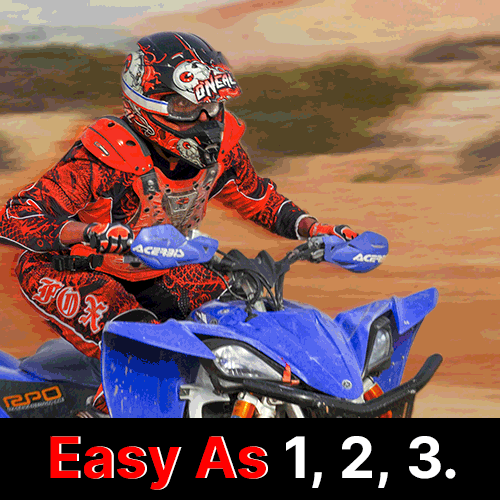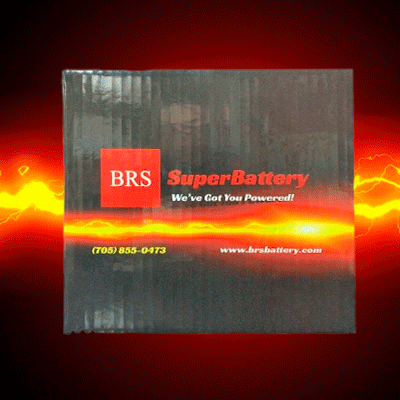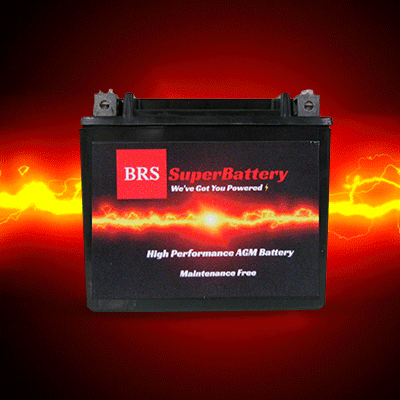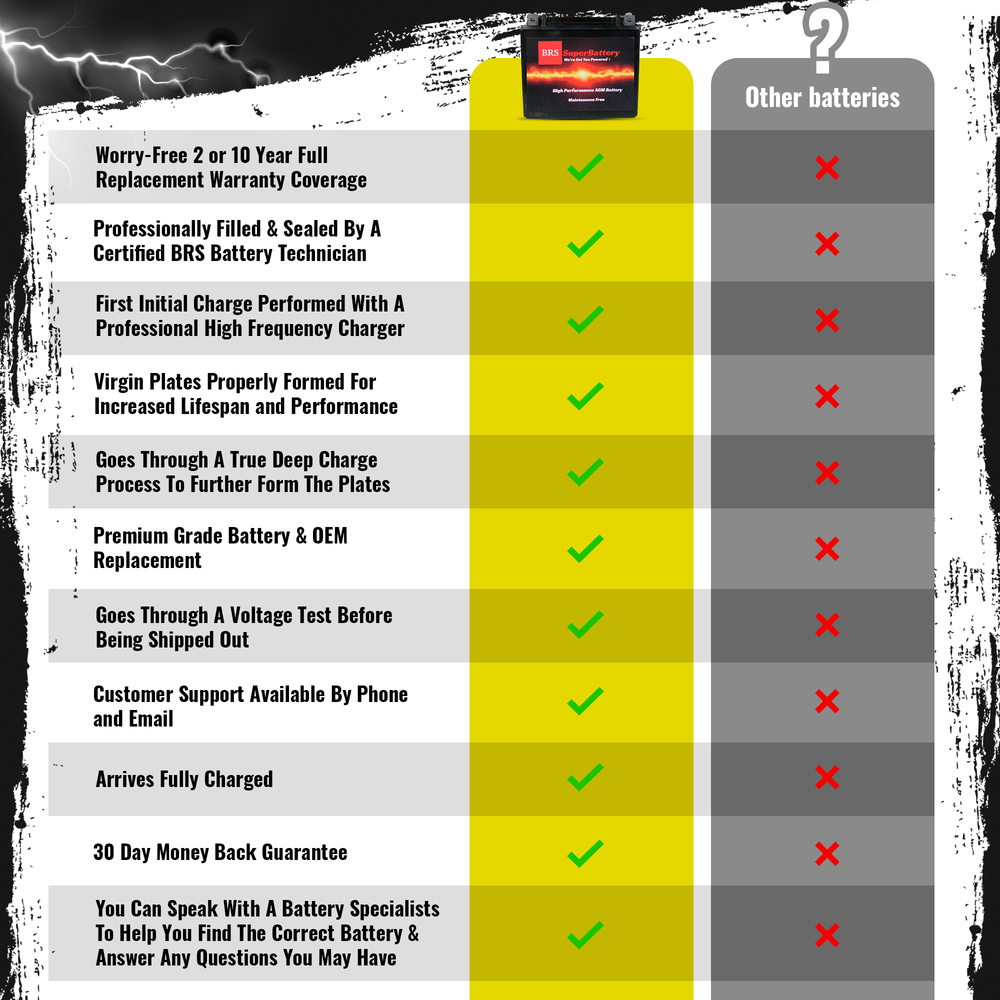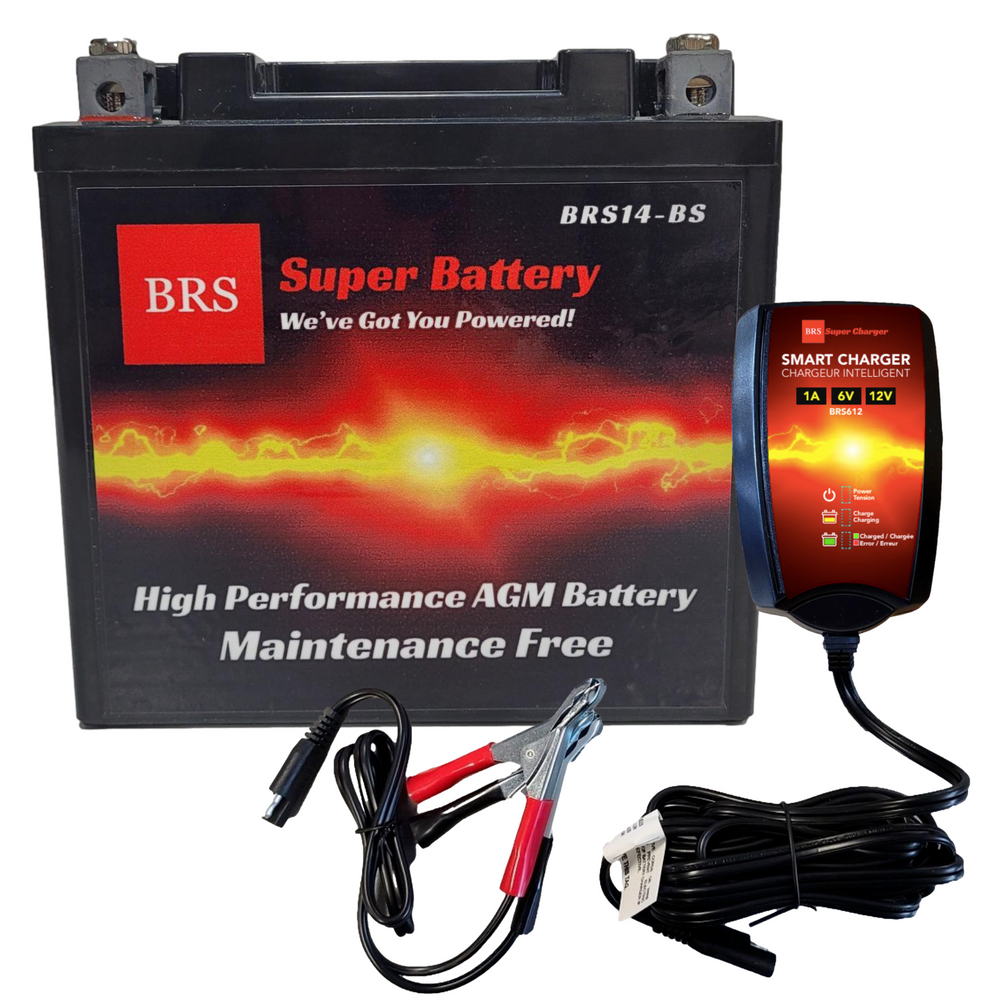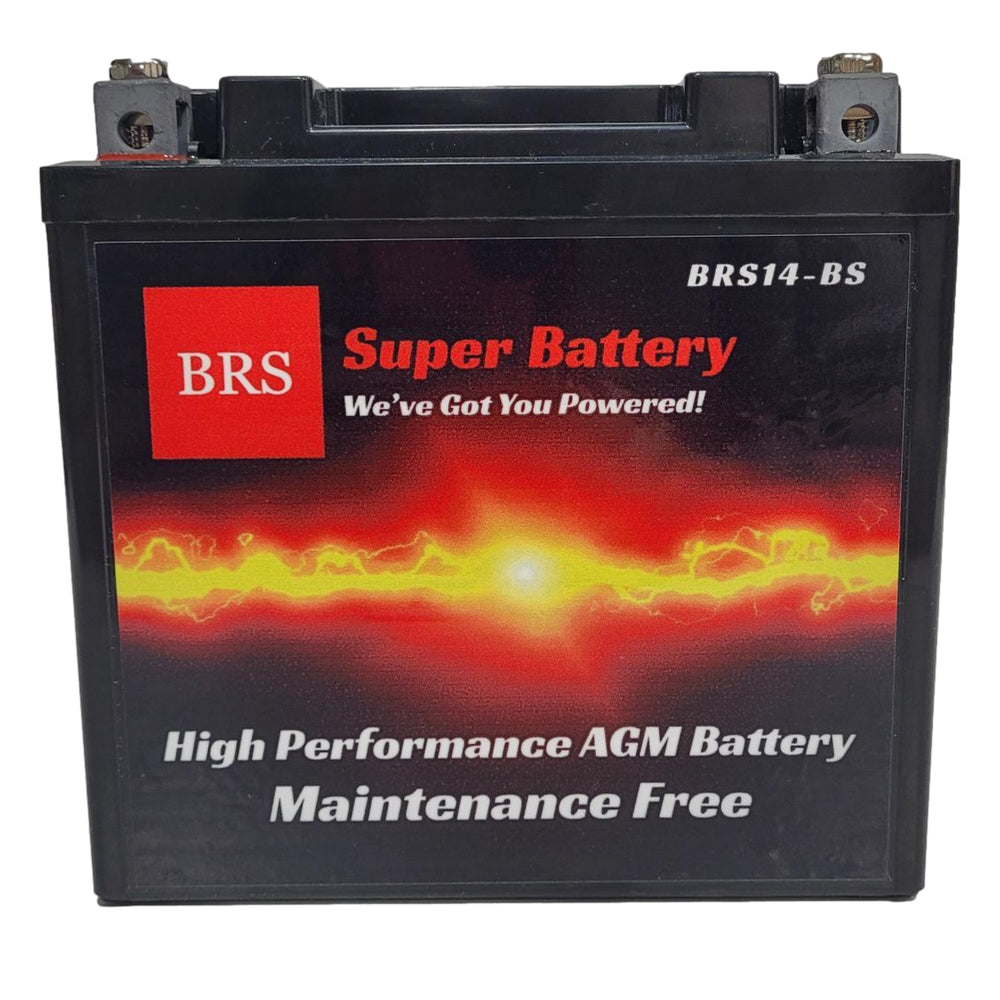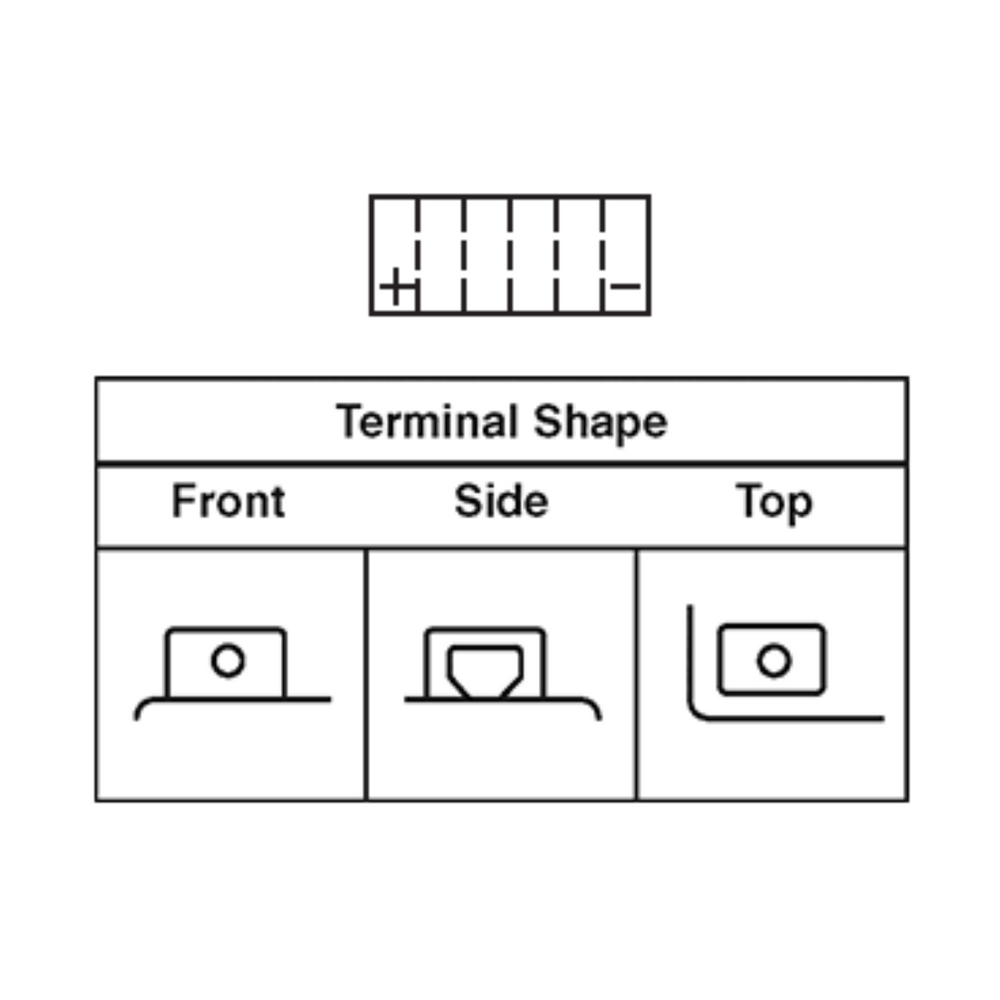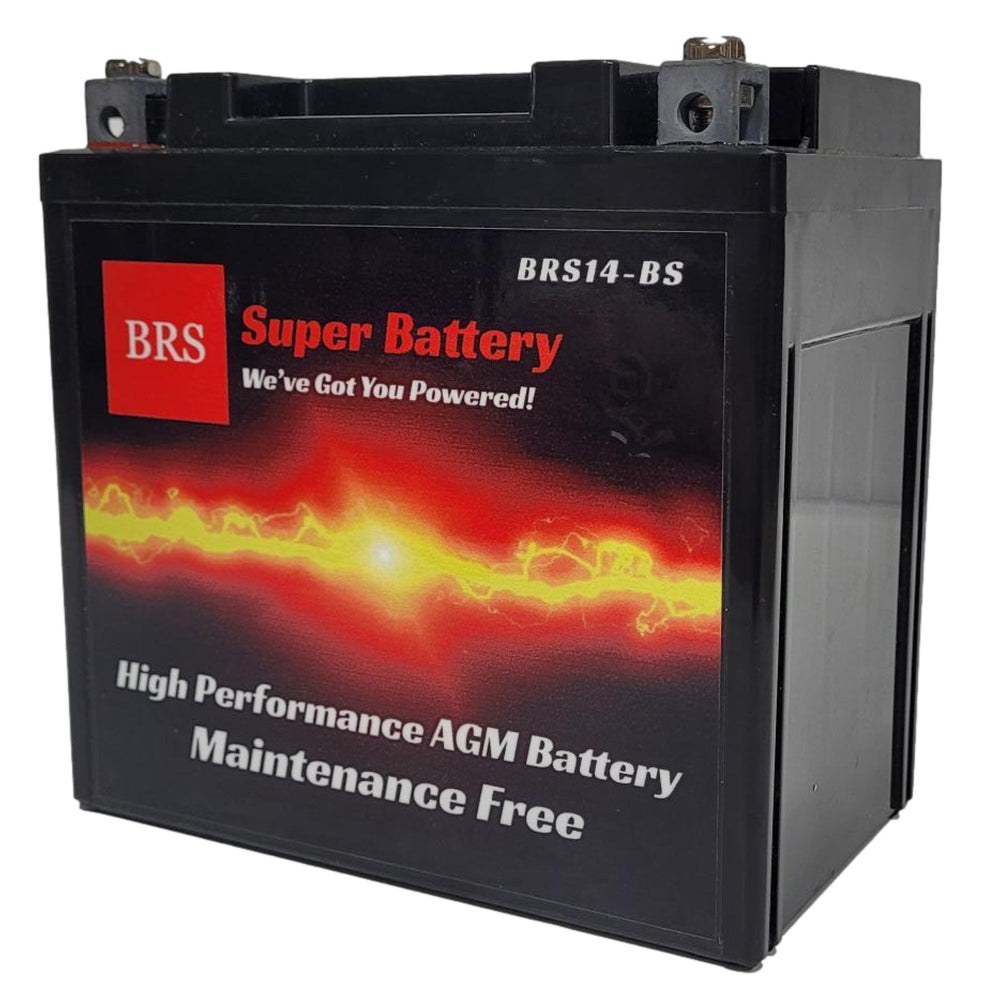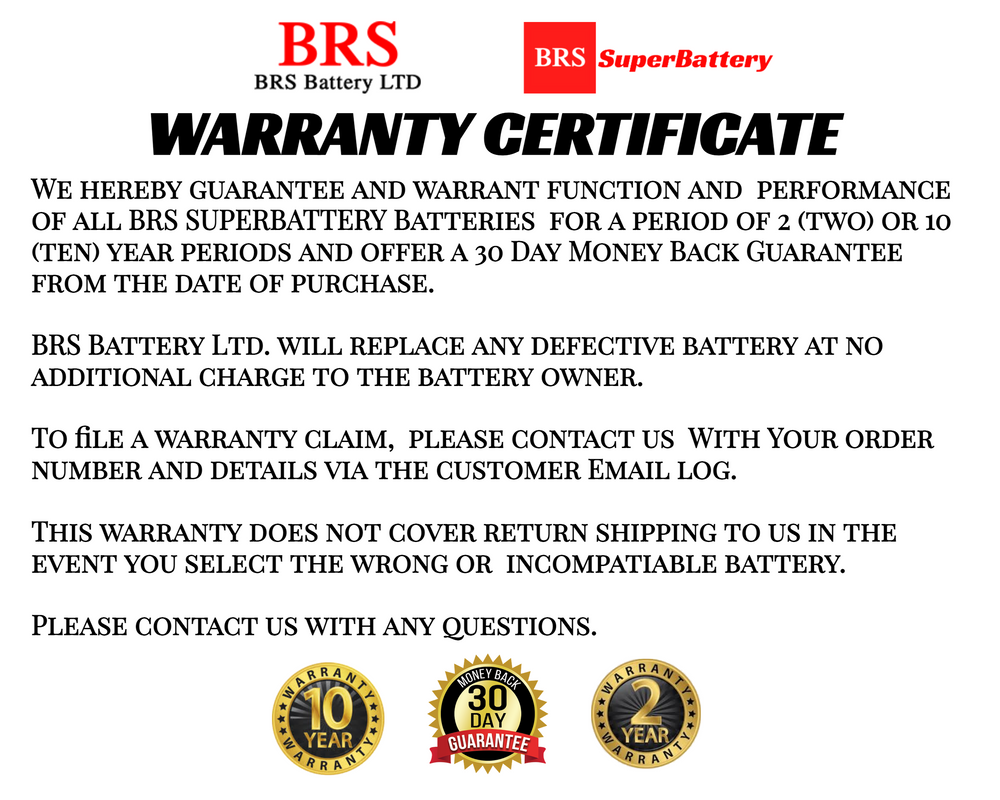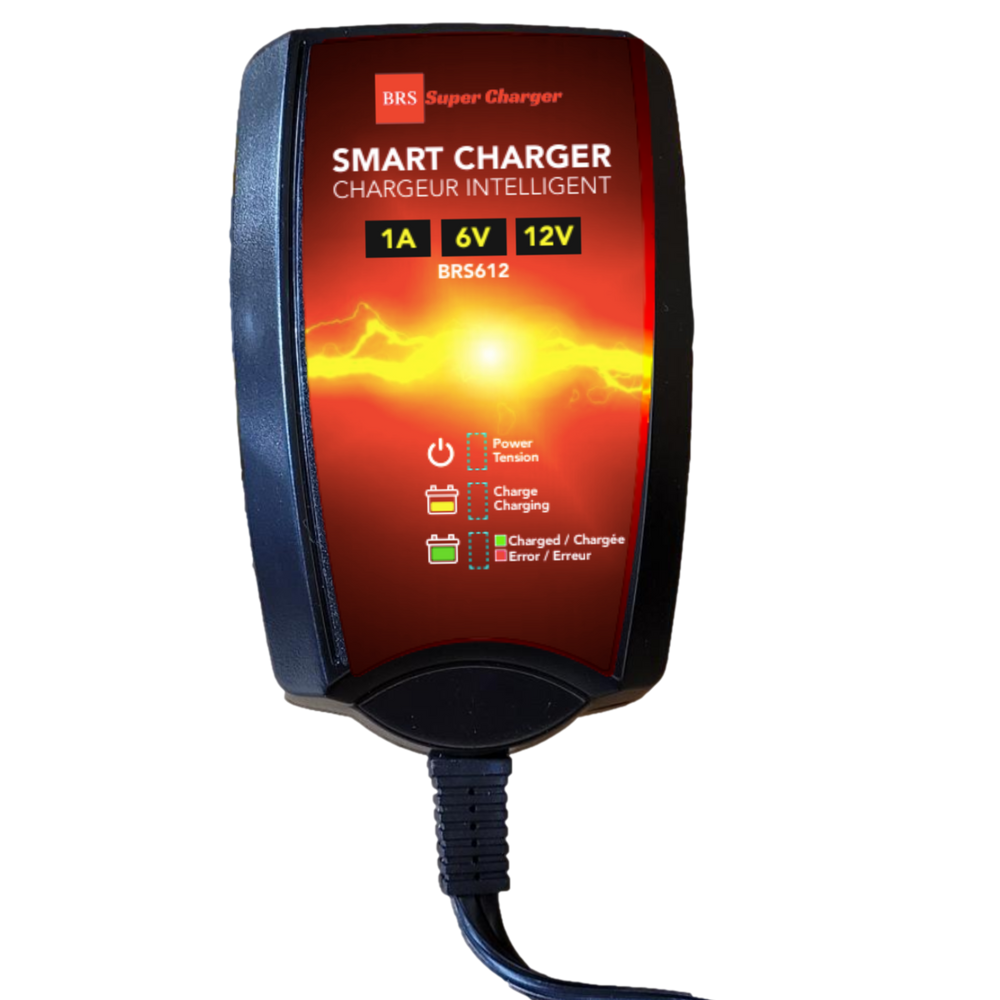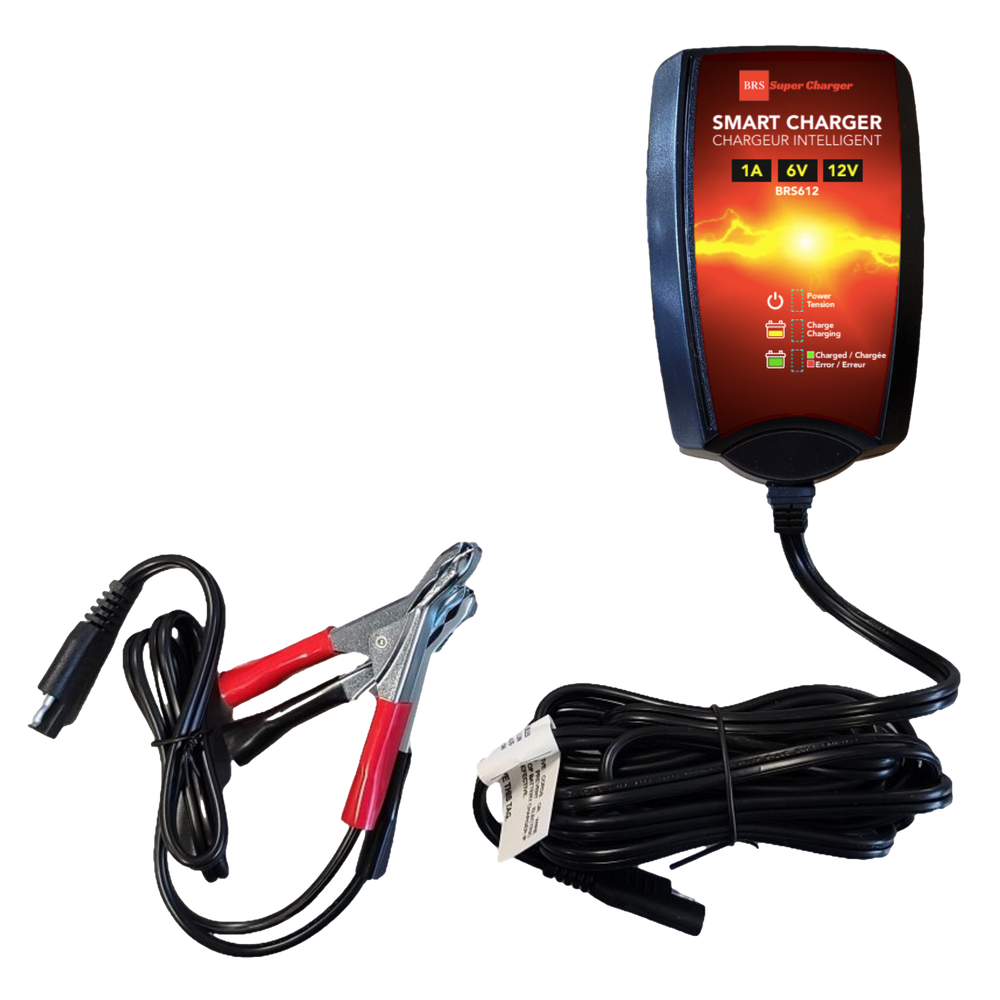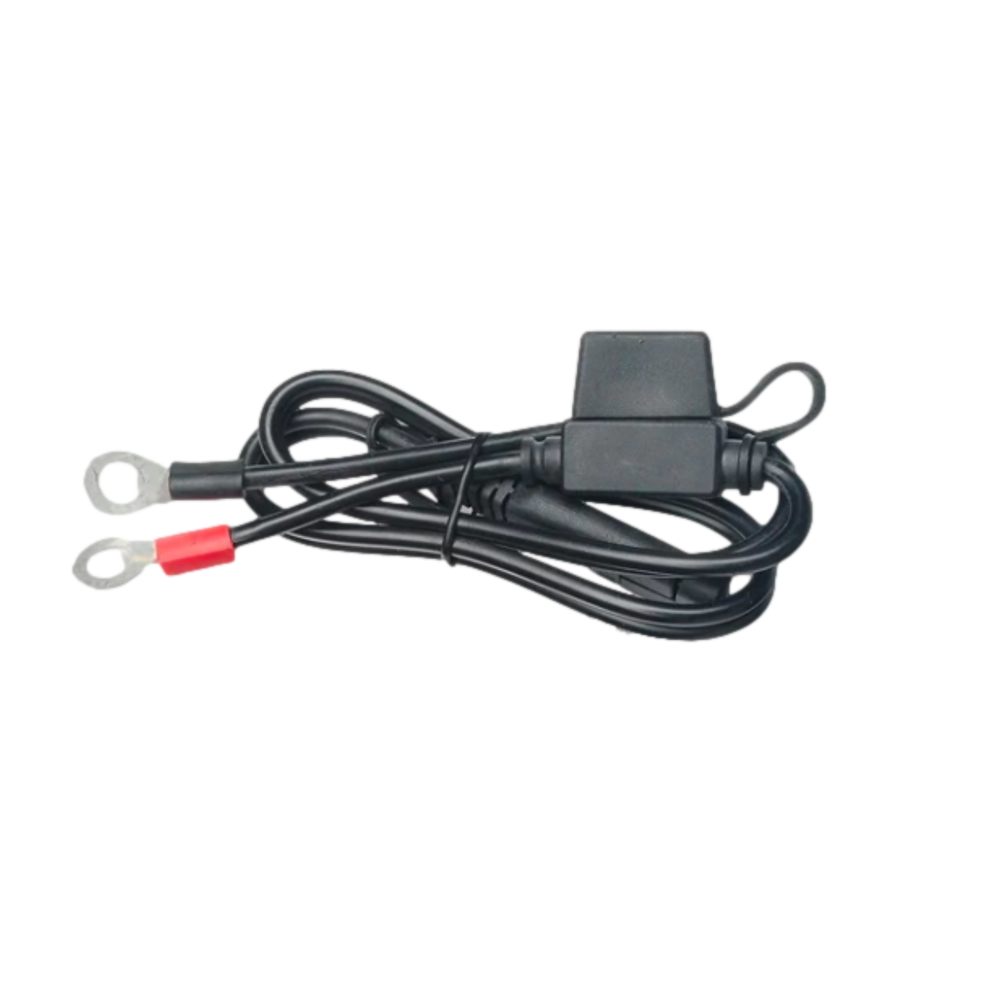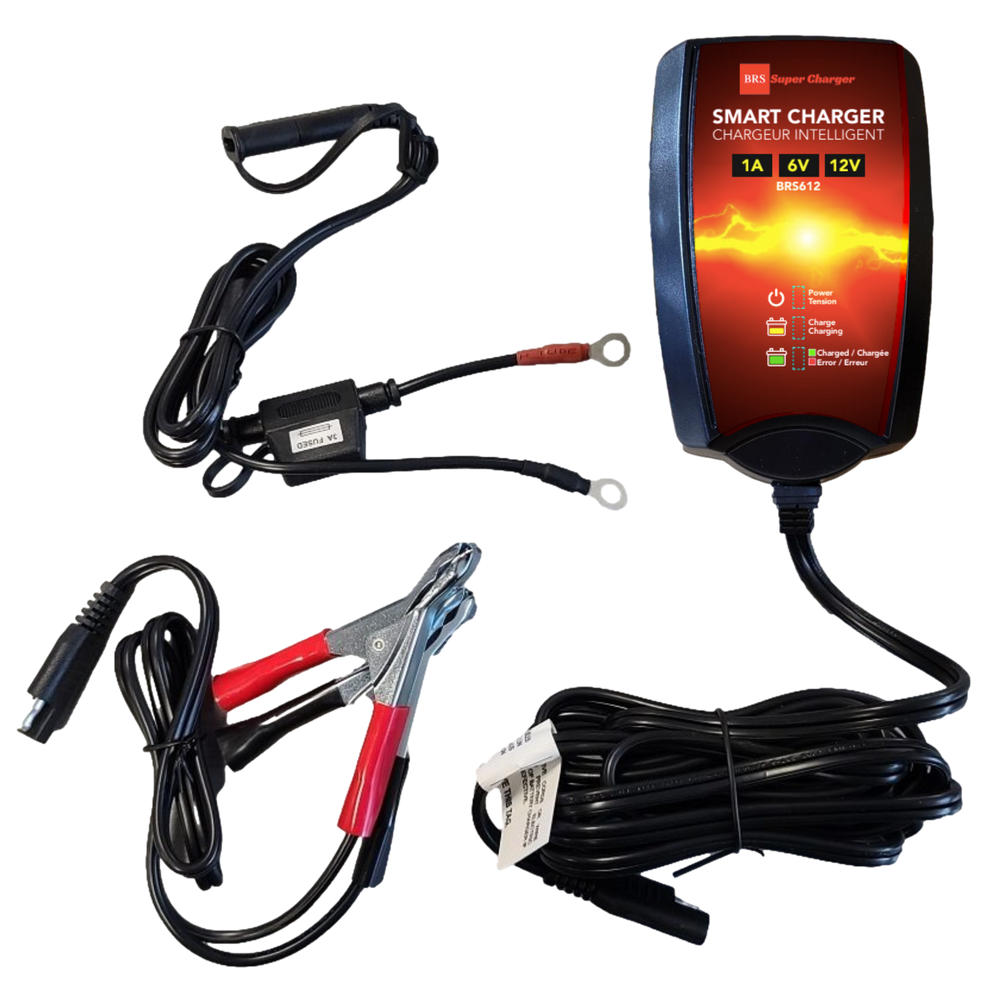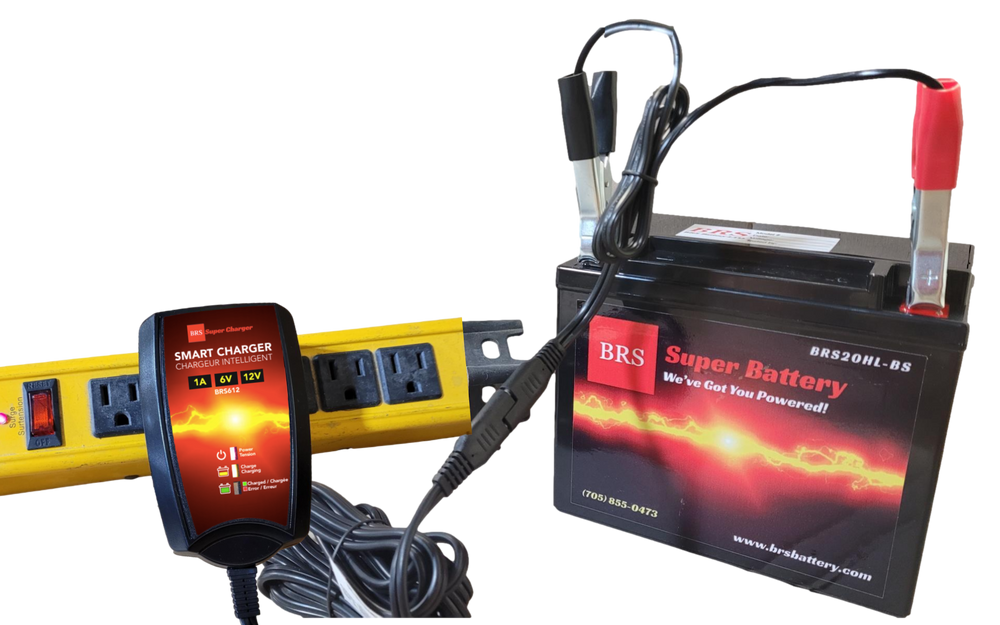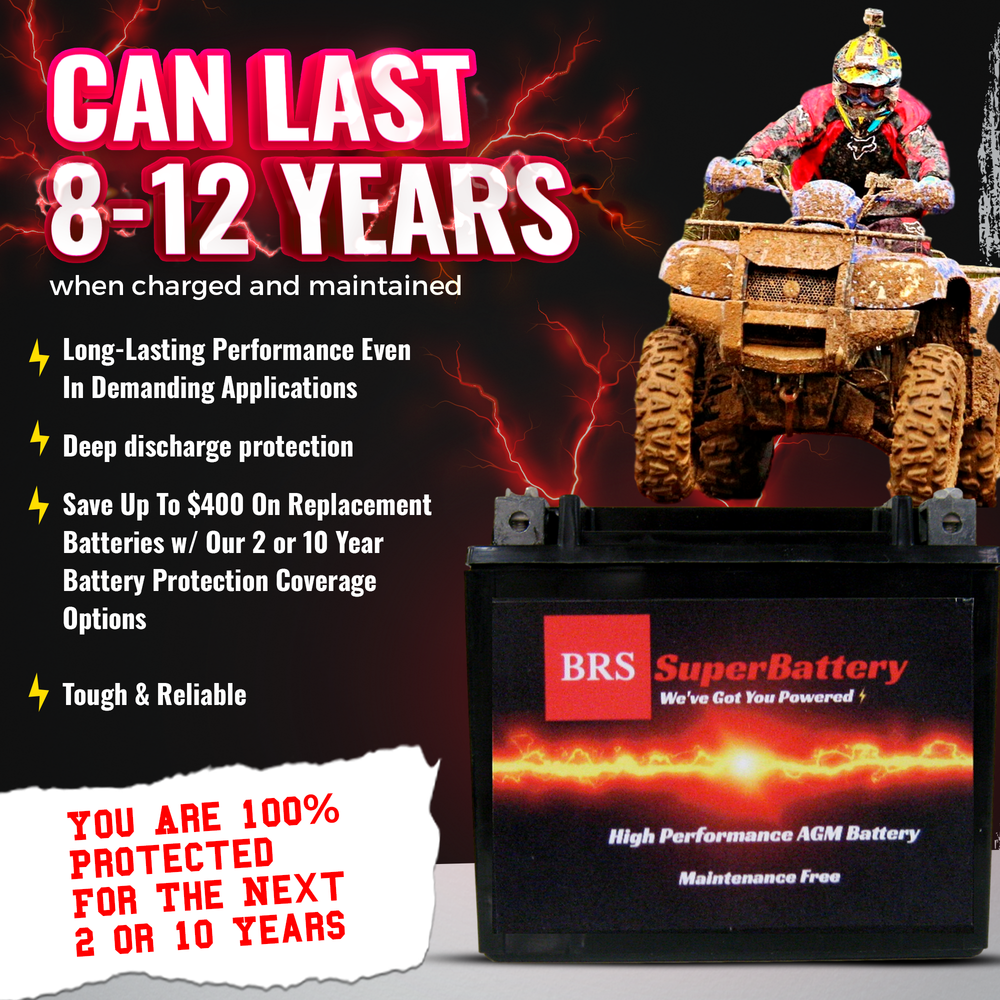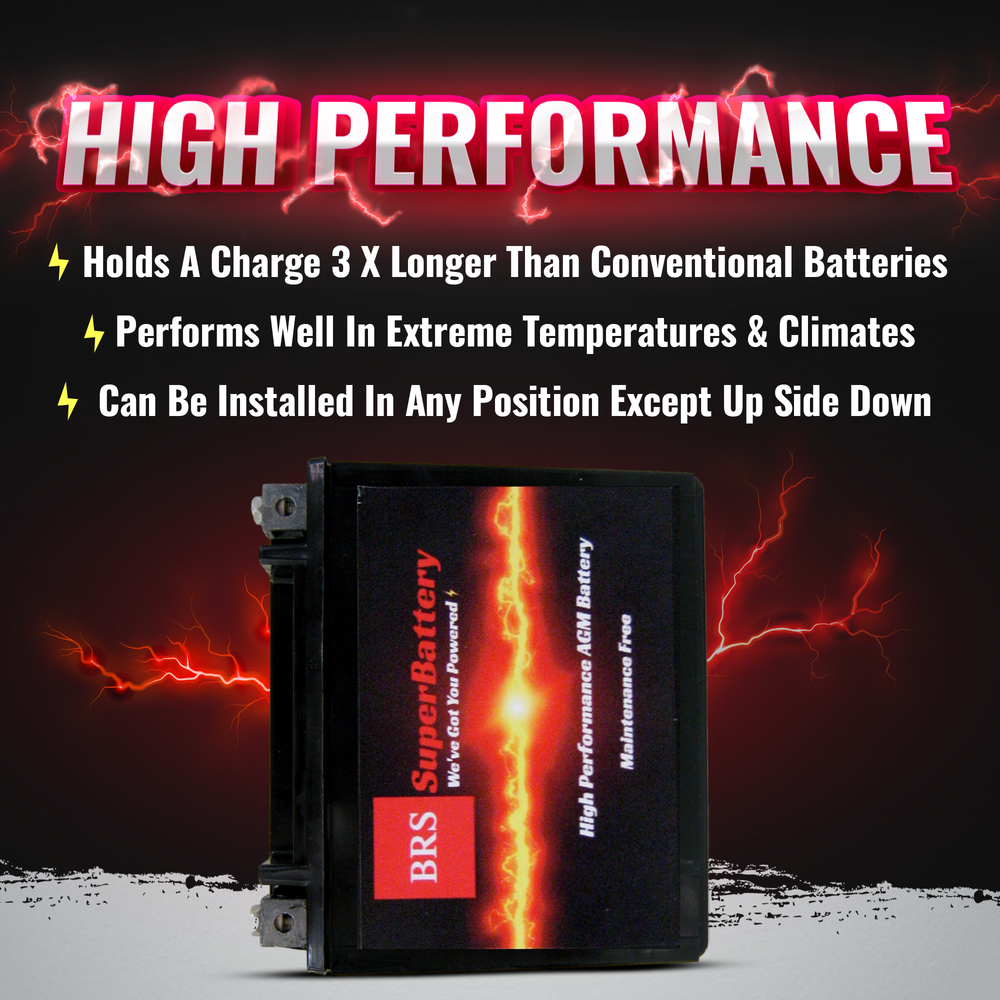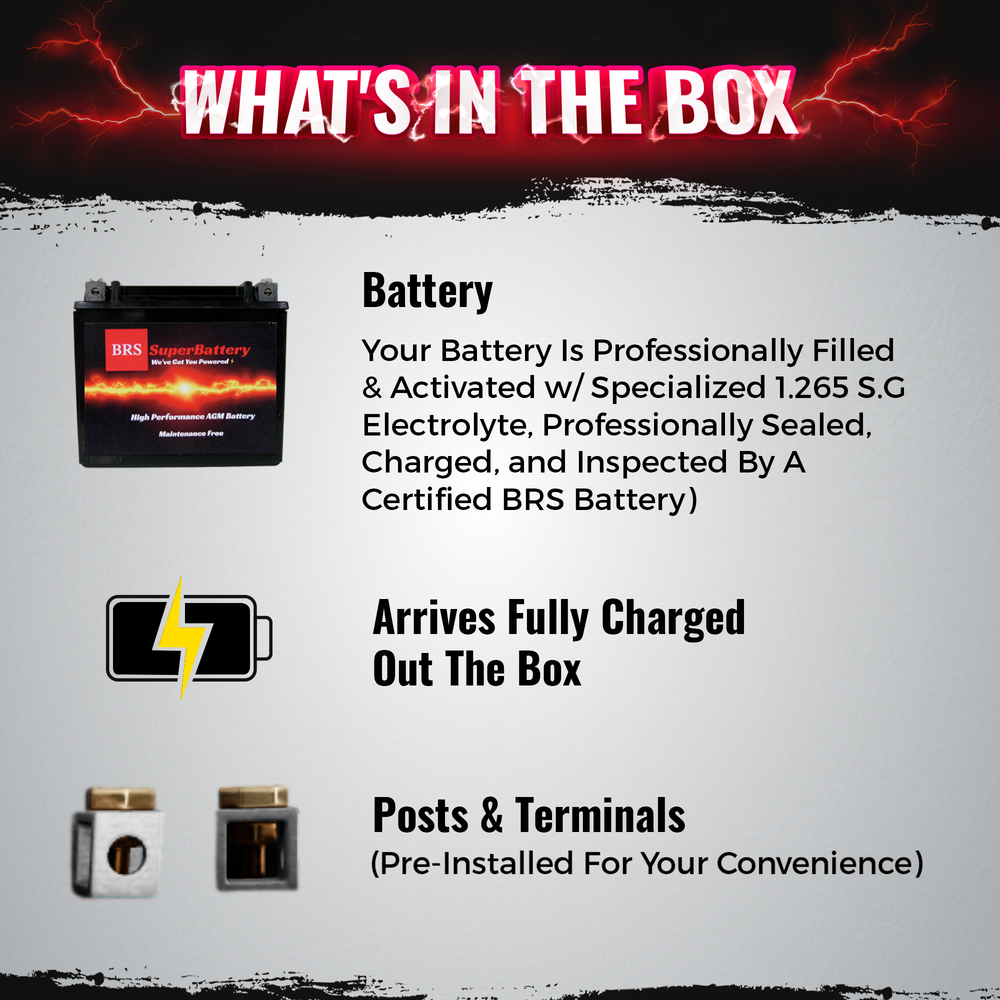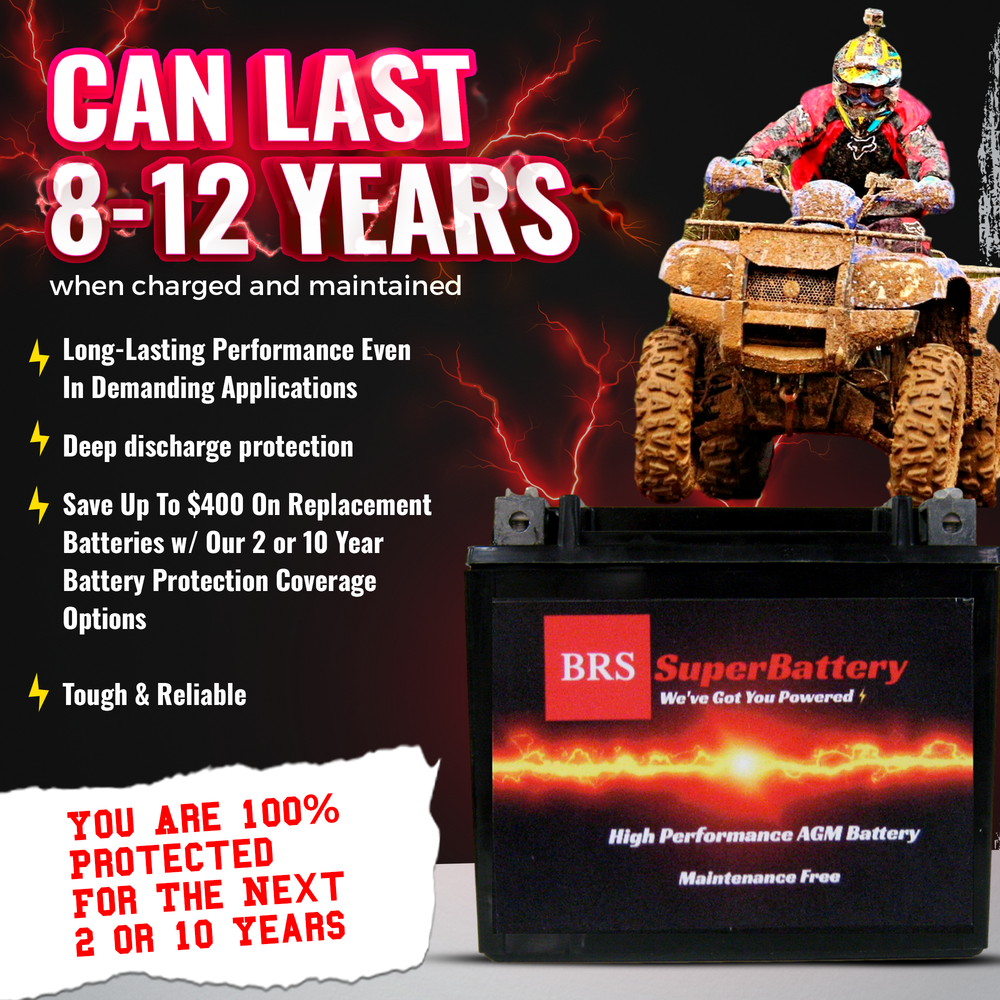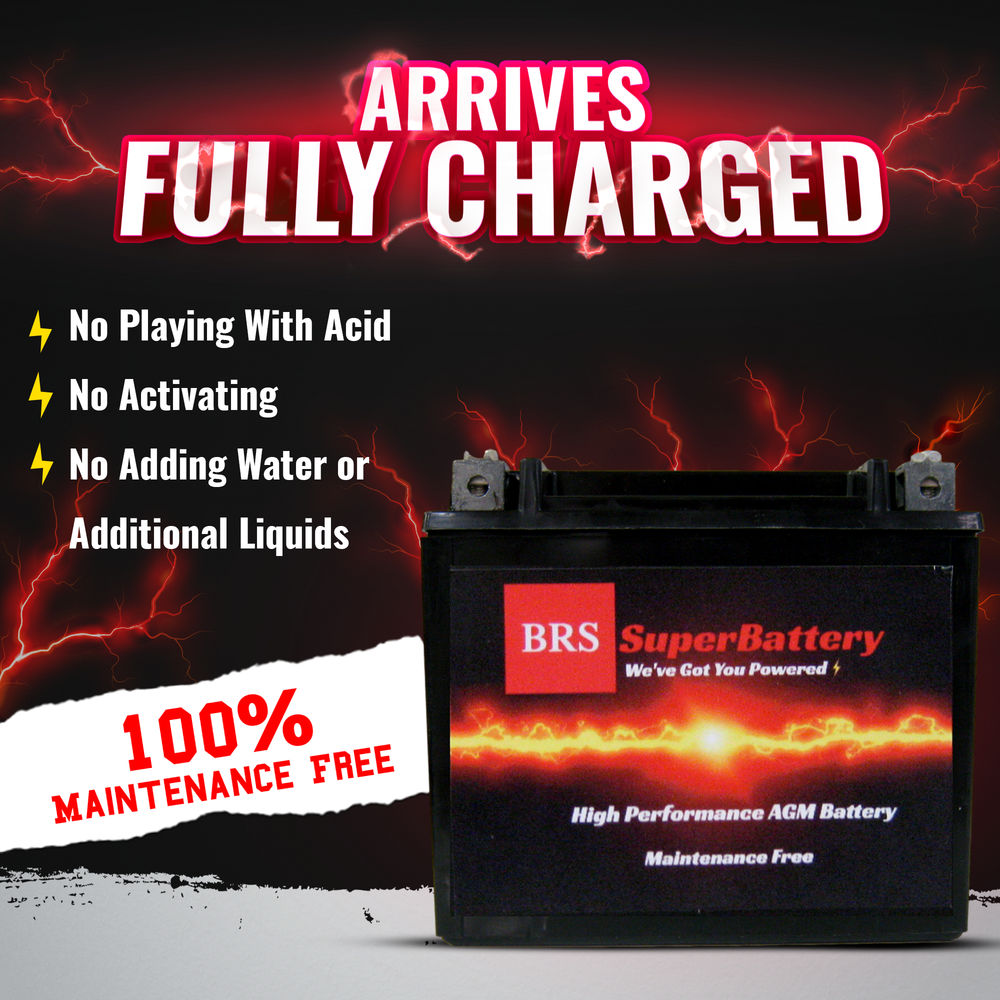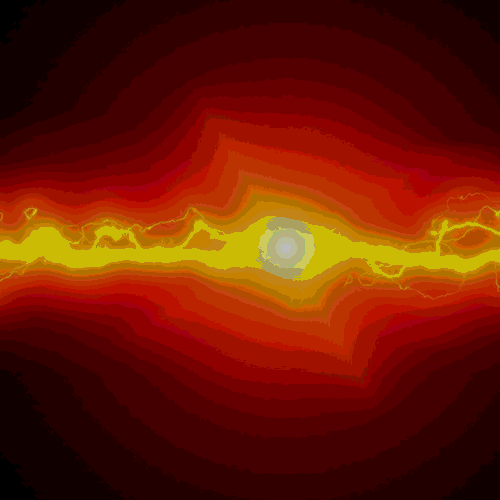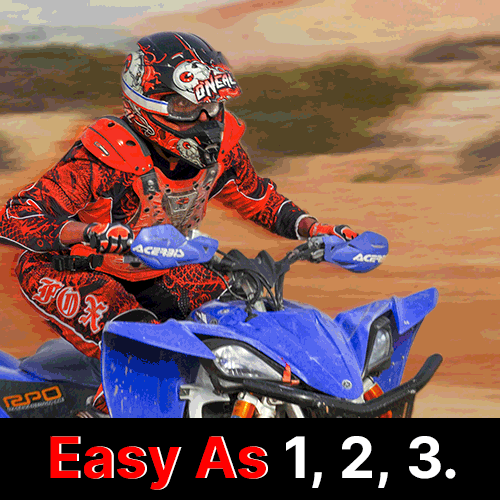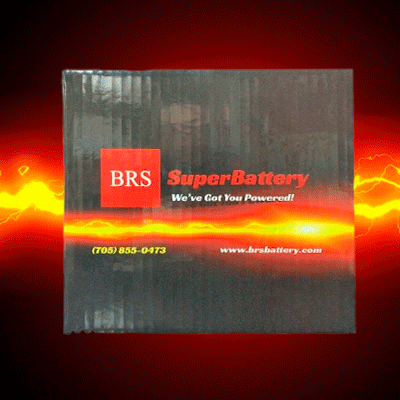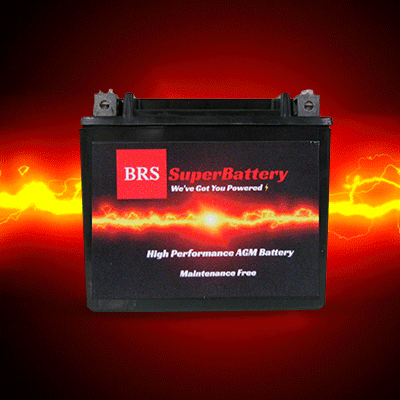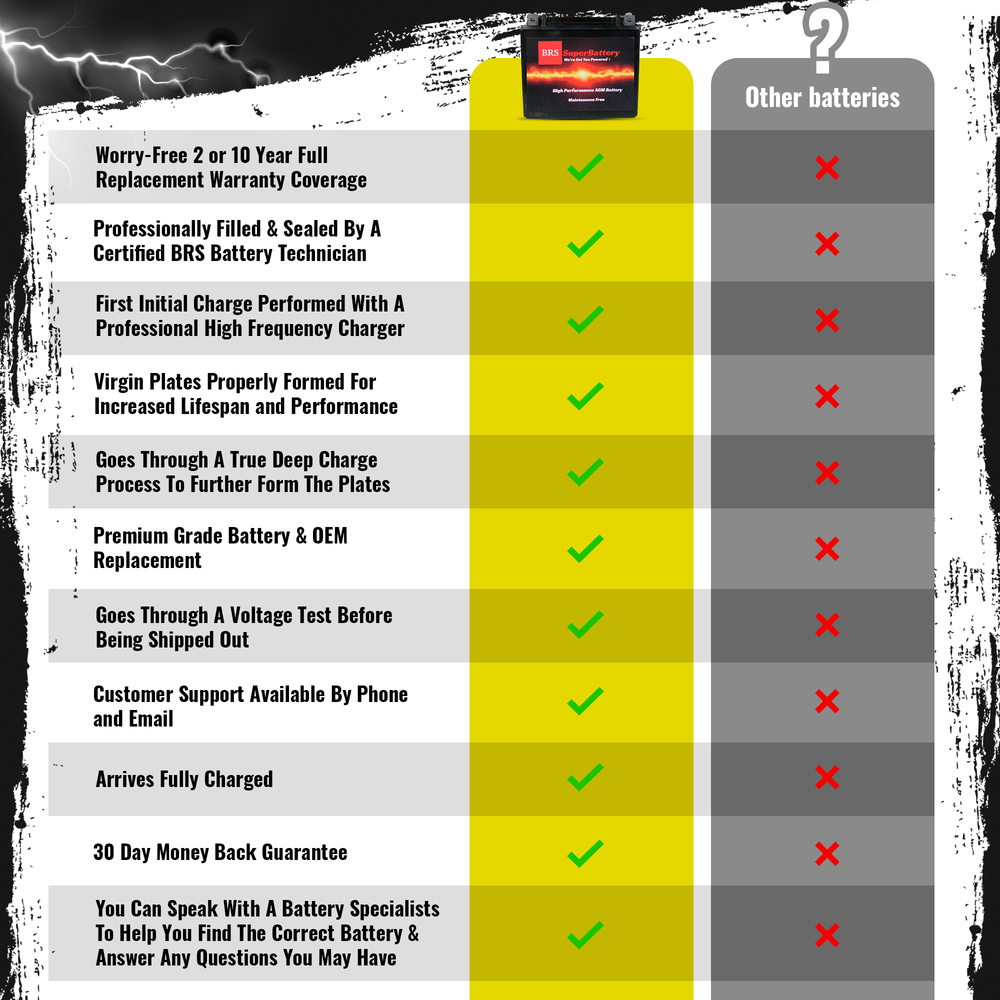 Product Description
Description
FREE & FAST SHIPPING INCLUDED!


Specifications:
BATTERY CHEMISTRY: Lead Acid AGM / VRLA (Pb)

BATTERY TYPE: Maintenance-Free

VOLTAGE: 12V

C.C.A. (-18°C / 0°F): 200

AMP HOUR RATED CAPACITY (10HR) (AMPS): 14AH

COLOR: Black

DIMENSIONS: 5.87" L x 3.43" W x 5.75" H

LENGTH: 5.87" (149.09 mm)

WIDTH: 3.43" (87.12 mm)

HEIGHT:

 

5.75" (146.05 mm)
BRAND: BRS BATTERY LTD. / BRS SuperBattery
WEIGHT:
9.35
 lb. / 4.24
 kg.
  
Replacement Battery  for CTX14-BS, YTX14-BS, APTX14, ES-TX14, GTX14-12B, GTX14-BS, PTX14, STX14-BS, SC14BS, SC14FA and many more…
Listen To What Luke From Dirt Trax TV Had To Say... 


✅   Experience High Performance Power When You Start Your ATV, Snowmobile, Motorcycle, UTV/ SXS, Jet-Ski, Dirt bike, or Scooter. The BRS Super Battery can handle anything you can throw at it:


✅  Rough terrain, hill jumps, muddy swamps, rough waters, and long rides are no problem. 


✅  Your toys will start and run strong without a problem. 


✅  The BRS Super Battery is built to last and that's why we stand behind our batteries 100% for a FULL 30 Days With No Proration! That means if your battery does not perform as promised we will replace it at no additional cost to you.
 

Stop Wasting Money On Batteries
You may not know this... but the problem with most  batteries on the market is that the plates are damaged and "fried" before you even install it.
It doesn't matter if you buy them from your local auto parts store or online, there is a chance that you are buying a "low performing" battery.
Here's why... most stores, retailers, and distributors unknowingly damage your battery because they do 4 things:
1. They "fast drain" the electrolyte into the battery.
2. They do not let the electrolyte fully absorb into the plates completely.
3. They do not fully form the virgin plates.  
4. They "fast charge" the battery which damages the plates from Day 1. 
This is reason why most batteries don't last and have subpar performance.
What makes the BRS Super Battery different is that we invented a 5 step process to increase the performance and lifespan of your battery.
We've been in the battery business since 2003 and our company was founded on rejuvenating and repairing locomotive and industrial batteries, so we've seen everything you can think of when it comes to batteries. 
That's why we are so confident in our batteries that we stand behind them with a peace of mind, worry-free, full replacement warranty. 
Now, let's talk about something you and others might consider when looking for a new battery. 
You see some people choose a battery by price.
Some people believe that you just find the cheapest battery, install it, and ride for years.
But things might not work out like that, in some cases this cheap battery doesn't last very long and you are stuck buying replacement batteries, it adds up over the years...
"We know we aren't the cheapest batteries on the market but we can guarantee you are 100% protected for a full 30 Days, this means that if your battery does not perform as promised we will replace it at NO ADDITIONAL COSTS TO YOU...  with NO PRORATION on your warranty, so you are 100% Covered." - Andy Mainville, BRS Battery President
As you know the cheapest price means you sacrifice quality and you don't get a peace of mind, worry-free, no-hassle, full replacement warranty.
If you're ready to stop wasting money on replacement batteries, it's time to upgrade to a BRS Super Battery. 
You can save up to $400 on replacement batteries when you upgrade to a High Performance BRS Super Battery. 
"My name is Andy Mainville, President of BRS Battery Ltd.  I created the BRS Super Battery for power sports riders like us because I was tired of wasting money on cheap batteries that don't last. My focus is to provide you with a battery that gives you 100% Peace of Mind." 

Meet The BRS Super Battery: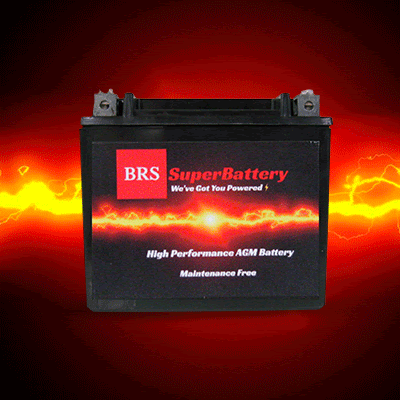 ✅  Experience High Performance Power When You Start Your ATV, Snowmobile, Motorcycle, UTV/ SXS, Jet-Ski, Dirt bike, or Scooter. The BRS Super Battery can handle anything you can throw at it:


✅ Rough terrain, hill jumps, muddy swamps, rough waters, and long rides are no problem. 


✅ Your toys will start and run strong without a problem. 



✅  The BRS Super Battery is built to last and that's why we stand behind our batteries 100% with a No-Hassle, Peace of Mind, Full Replacement Warranty  With No Proration! That means if your battery does not perform as promised we will replace it at no additional cost to you. 


 


Features:


✅  100% Charged and Ready To Go When It Arrives To You!


✅  Non-Spillable Sealed Design


✅  AGM Technology Allows Repeated Charges and Discharges Without Diminished Performance


✅  Long-Lasting Performance Even In Demanding Applications


✅ Shock & Vibration Resistant


✅ High Performance Maintenance-Free OEM Battery For All Power Sports Vehicles such as Motorcycles, ATV's, Side by Sides, UTV's, Jet Skis, Snowmobiles, Dirt Bikes, and more.


✅  Permanently sealed special absorbed-glass mat battery eliminates water loss. No need to add any liquid to the battery


✅ Holds charge three times longer than conventional batteries


✅ High performance active material with anti-sulfation additive


✅  High capacity and cranking performance


✅ Maintenance Free – No additional water needed


✅ Sealed Valve Regulated


✅ Spill and Leak Proof


✅  Deep discharge protection


✅  Plate grids from lead-calcium alloy, free of antimony


✅ Long Shelf – Charged and ready for use


✅  Excellent starting and cycling


✅ Installs in any position except upside down 
This bundle includes the BRS Super Charger BRS612 6V/12V Fully Automatic Battery Maintainer & Rejuvenator






Specifications:

Type: Automatic
Input voltage range: 100-120 
Vac Input frequency: 50/60 Hz 
Output: 1000 mA @ 6 V/12 V 
Size (L*W*H): 105 x 68 x 35 mm 
Weight: 0.5 kg 
Approvals: UL/cUL, FCC, CEC
Warranty: 12 months Manufacturer's Warranty (1 Year)


Features:



Automatic Three Step Charge Control


Automatic Maintenance ; Never Overcharges Your Battery


Output Protection Against Short Circuit, Reverse Polarity and Overload


The BRS Super Charger BRS612 Smart Charger is designed for hassle free charging and rejuvenation of your AGM battery. 


Always keep your AGM Super Battery maintained & fully charged for peak performance and longevity. 


This intelligent charger is 100% fully automatic and shuts off when the battery is fully charged. 


Using the 
BRS Super Charger BRS612  
is very simple to use: 


Connect the clamps to your battery and plug it into an outlet. 


The 
BRS Super Charger BRS612 
will stop charging the battery when the voltage is reached to avoid overload.


Proper battery maintenance is essential in prolonging the life of your batteries. 


If nothing is done, your battery will lose its power… usually  around 0.5 to 1% every day. 


In approximately 3 months if you allow your  battery to completely discharge, you could damage it. It may freeze or sulphate. 


This phenomenon occurs when the electrons do not move fast enough in the battery, sulphate then glues to the plates and cannot be removed.  


This smart charger is equipped with protection against reversed polarity. 


For conventional and sealed batteries. 3 LED lights indicating the state of charge of the battery. 




This kit also includes the Eyelet Plug Adapter for your
BRS Super Charger BRS612 
Smart Charger / Maintainer. 


   
This adapter is a life saver because you can fasten it to your battery under your seat panel to feed out from under the seat so you can plug in the battery maintainer without taking the battery out of those hard to reach spaces.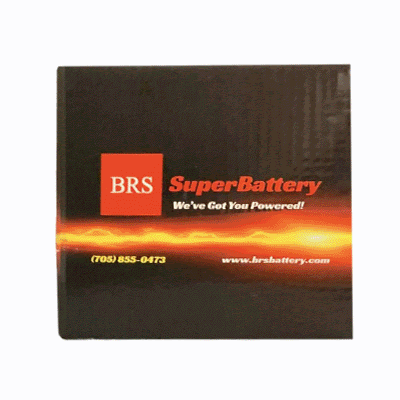 Again… You Are Covered By Our Free Replacement 30 Days Warranty
 

Our Worry Free, No Hassle 30 Day Warranty Protects You 100% In Event You Need Your Battery Replaced For Performance Issues. 



Stop Wasting Money On Replacement Batteries and Install A BRS SuperBattery! 
THIS IS THE LAST BATTERY YOU WILL HAVE TO BUY FOR YOUR TOYS!




Click Buy Now To Order Your BRS Super Battery Today While We Still Have Inventory. 
BRS Super Battery Frequently Asked Questions / FAQs



Do I have to charge this before use?


Your Super Battery arrives fully charged and ready to go on arrival, right out of the box. To keep your battery in optimal condition and peak performance, we recommend keeping your battery on a

smart charger / maintainer

, when not in use.



Is it the same battery for all warranties?
Yes, all of our batteries are supercharged high performance AGM batteries. The only difference is the warranty period. 


Why do you have 3 types of warranty for the same quality battery? 
We try to accommodate all budgets in these hard times.


Do I still need a maintainer?
Yes, in order to maintain your battery performance we recommend keeping your battery on a smart charger / maintainer when not in use. We use the 

BRS Super Charger - BRS612


Is it difficult to process a warranty claim?


No, not at all. It's super easy. Simply complete the short

warranty claim form

here

and we will help you troubleshoot any issues or replace your battery at no additional costs to you.


Where can I find the model # of my battery?
On the face of the battery you should see a combination of letters or numbers for example; YTX20CH-BS =

BRS20CH-BS

 


How does it compare to YUASA and other batteries on the market?


The BRS Super Battery is an OEM Replacement Battery. What makes our batteries special is the way we prepare the batteries before they leave our shop… 
The real secret behind our batteries is how we "prep" our batteries and the breakthrough supercharger technology
We have developed a proprietary super charging system and it's the secret technology behind our batteries and it's what makes a super battery different from every other battery on the market. 
Our patented high frequency algorithms deliver a specific frequency to the virgins plates which creates "craters" that increase the surface area of the plates, resulting in an increase in cranking capacity (amperage) - lifespan, and performance. 
The end result is a battery that's unlike anything else on the market and it's truly what makes our batteries - super batteries. 
All of our batteries are super charged before leaving the shop so it arrives to you fully charged and ready to go. Just install, start your engine, and go.
We invented a specialized 5 step process to properly prepare a battery 
Here's what we do to ensure the quality, performance, and lifespan of each BRS Super Battery:


Step 1: Fill battery to the correct levels with 1.265 SG Electrolyte


Step 2: Let sit for extended time so the Glass Mat plates are able to absorb the electrolytes properly.


Step 3: Charge battery with high frequencies at 900 Mah Amps until the virgin plates are fully formed.


Step 4: Let sit for an extended period of time and record voltage. Has to maintain 12.6-12.8V to pass.


Step 5: If it passes the voltage test, it's ready for you
Yes...This process takes more time and effort but that's what makes our batteries special. 


Again, this is a process that was invented by us - BRS Battery Ltd. 


How can you offer a 10 year warranty?


You can read more about how we came up with the idea

here

. We wanted to provide you with peace of mind so you don't have to worry about batteries. Our goal is to help you save money on batteries over the long haul. 


What's the coldest temperature this battery will work in? 


AGM batteries like the BRS Super Battery can work in temperatures around -30C. Keeping your battery fully charged will help performance in colder temperatures. 
I have been using this pump all summer to keep my boat, lawn tractor and a whole bunch of other stuff filled up around here. I still use 5 gallon containers for their portability and even with 10 of those I'll have to fill them twice to get through the summer. This pump has been great for my needs. If you are sick and tired of having to hold a 5 gallon container of fuel in the air while attempting to get those funky nozzles to work, buy this pump.
Brad
So far it's working as well as I had hoped. Nothing is perfect when trying to transfer gas, but this does a very decent job. You need to make sure to lift the nozzle and hose up at the end of the fuel transfer to allow any residual fuel to run back into the tank or it will dribble out all over. It empties most of a five gallon gas can in a couple minutes without having to lift and hold the can up which is exactly what I wanted.
V. Thomas