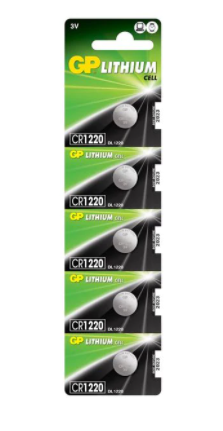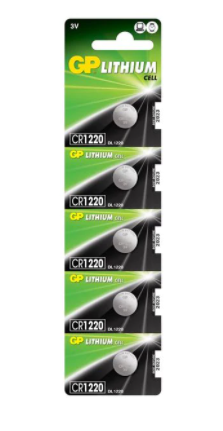 Product Description
Description
The GP CR1220 is a disposable button cell lithium battery that performs well in extreme weather conditions and offers a long shelf life along with remarkable power density.
These GP coin cell batteries have a nominal voltage of 3.0 Volts and a capacity of 36mAh.
Power is generated via manganese dioxide chemistry.
Each cell measures 12.5mm x 2mm and weighs 2g.

With an operating temperature range of between -10°C and 60°C, these GP batteries are particularly well suited for outdoor use, being ideal to power anything from digital cameras to mp3 players and including wrist watches, calculators, and remote controls.
In addition, they can also be used as CMOS batteries.
The GP CR1220 come in packs of 5 cells each and boast a long storage life of up to 10 years.
BATTERY SIZE:

CR1220 Batteries

MANUFACTURER:

GP

EAN NUMBER:

4891199001345

WEIGHT:

10

VOLTAGE:

3V

BATTERY TECHNOLOGY:

Lithium

DIMENSIONS:

Diameter: 12mm Height: 2mm

ITEM CODES:

DL1220, CR1220, CR220, ECR1220, L04, 1220, CR1220-1W, KCR1220, LM1220, 5012LC, SB-T13, L04

MANUFACTURER PART NUMBER:

GPPBL1220001

PACK SIZE:

5

PRODUCT TYPE:

Batteries

RECHARGEABLE Y/N:
I have been using this pump all summer to keep my boat, lawn tractor and a whole bunch of other stuff filled up around here. I still use 5 gallon containers for their portability and even with 10 of those I'll have to fill them twice to get through the summer. This pump has been great for my needs. If you are sick and tired of having to hold a 5 gallon container of fuel in the air while attempting to get those funky nozzles to work, buy this pump.
Brad
So far it's working as well as I had hoped. Nothing is perfect when trying to transfer gas, but this does a very decent job. You need to make sure to lift the nozzle and hose up at the end of the fuel transfer to allow any residual fuel to run back into the tank or it will dribble out all over. It empties most of a five gallon gas can in a couple minutes without having to lift and hold the can up which is exactly what I wanted.
V. Thomas