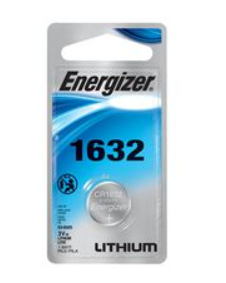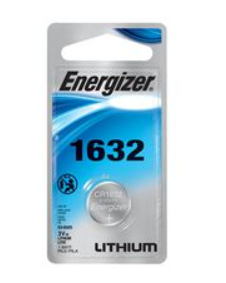 Product Description
Description
Energizer Coin Cell Battery For Car Remotes, Medical Devices and Garage Door Openers
Series: ECR1632BP
Chemical System: Lithium,
3 V Nominal,
130 mAh Nominal,
1632,
2 V Discharge Cut-Off,
1 mA Charge Current,
8 Years Shelf,
0.63 in Diameter,
0.126 in Width,
-30 TO 60 deg C,
UL Listed, 209 mW hr/g,  
Pack of 6
ECR1632BPZ
Warranty
You are protected by our 30 Day Money Back Guarantee and Specific FULL REPLACEMENT Warranty Options: BRS Super Gas Pumps: 1 Year Full Replacement Warranty. BRS Super Battery: 30 Days, 2 Years, or 10 Years Full Replacement Warranty with NO PRORATION. BRS Super Charger: 1 Year Full Replacement Warranty. Fisher Price Power Wheels / Peg Perego Batteries and Chargers: 6 Months Full Replacement Warranty. Please contact us for all other product specific warranty options.