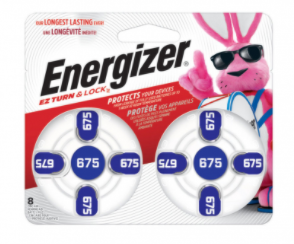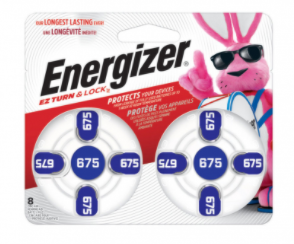 Product Description
Description
You'll love hearing this: Energizer has its longest-lasting hearing aid batteries ever, and trust us, we know a thing or two about ears. Our PowerSeal Technology protects your devices against leakage, and our zero-mercury design means less impact on the environment. These batteries deliver consistent sound quality across their life span for a better hearing experience. The EZ Turn & Lock technology is easy to use: Just spin the wheel to access the battery, install using our extra-long tabs, and reseal the package to keep the other batteries safely inside. Get our best performance and enjoy hearing everything the world has to offer.
Longer tabs are coloured and clearly marked with the size to make it easy for shopping, handling and inserting hearing aid batteries
Long lasting zero-mercury hearing aid batteries
EZ TURN and LOCK(TM) keeps unused zinc air hearing aid batteries safe and secure
Batteries are easily removable from the access tab on the back of the package
Recyclable packaging and zero-mercury batteries responsibly power you with less impact on the environment
Perforated top lets you fold the package for easy travel and storage
8 pack
I have been using this pump all summer to keep my boat, lawn tractor and a whole bunch of other stuff filled up around here. I still use 5 gallon containers for their portability and even with 10 of those I'll have to fill them twice to get through the summer. This pump has been great for my needs. If you are sick and tired of having to hold a 5 gallon container of fuel in the air while attempting to get those funky nozzles to work, buy this pump.
Brad
So far it's working as well as I had hoped. Nothing is perfect when trying to transfer gas, but this does a very decent job. You need to make sure to lift the nozzle and hose up at the end of the fuel transfer to allow any residual fuel to run back into the tank or it will dribble out all over. It empties most of a five gallon gas can in a couple minutes without having to lift and hold the can up which is exactly what I wanted.
V. Thomas