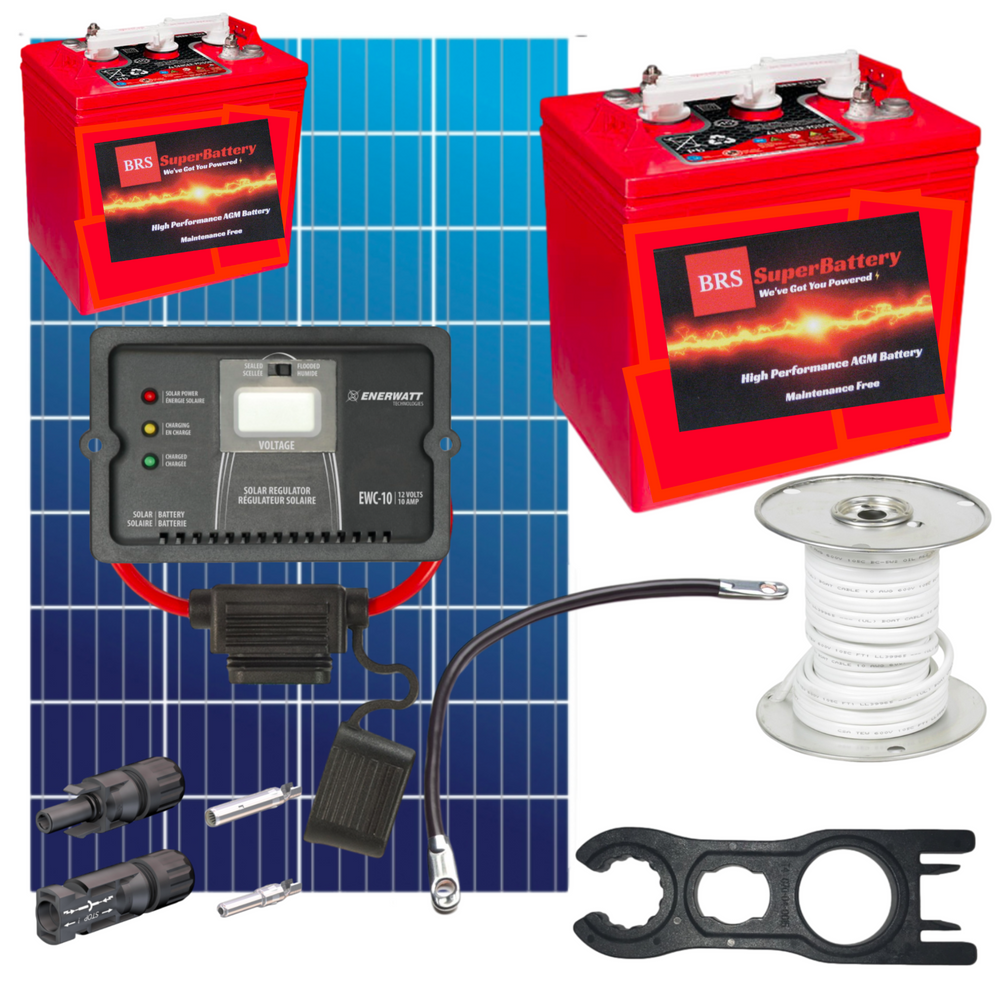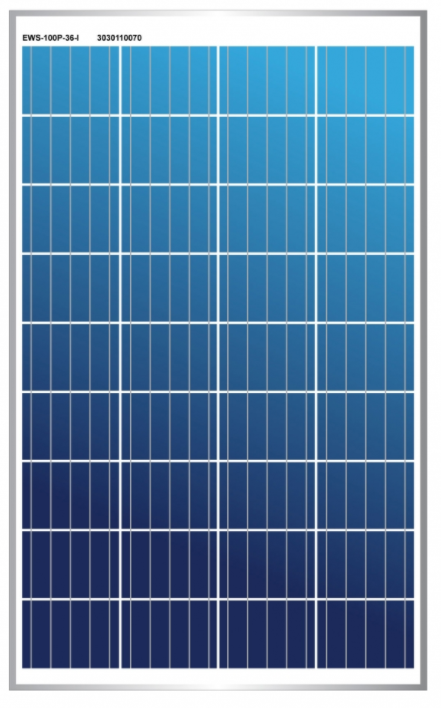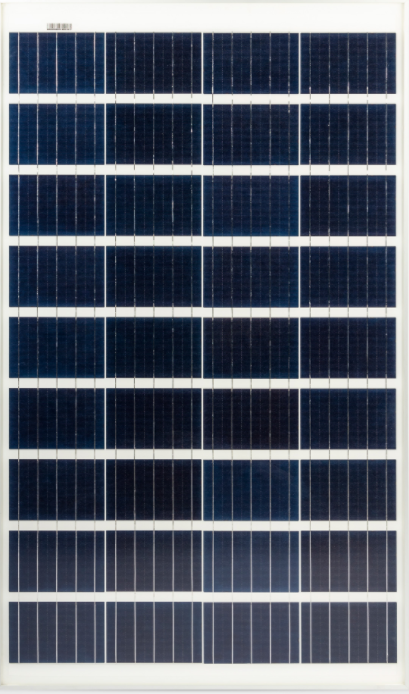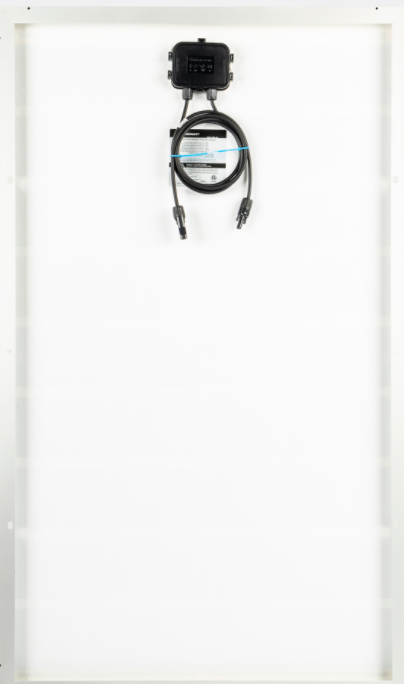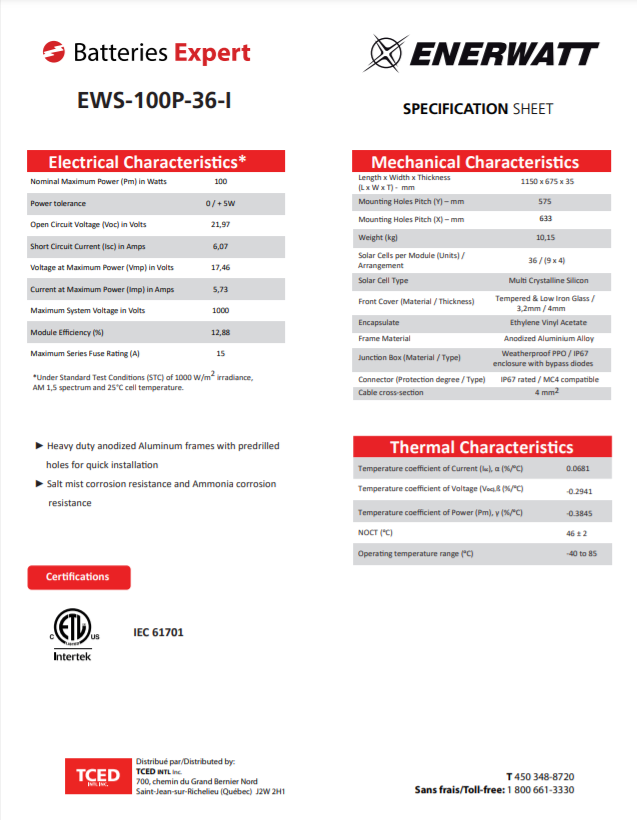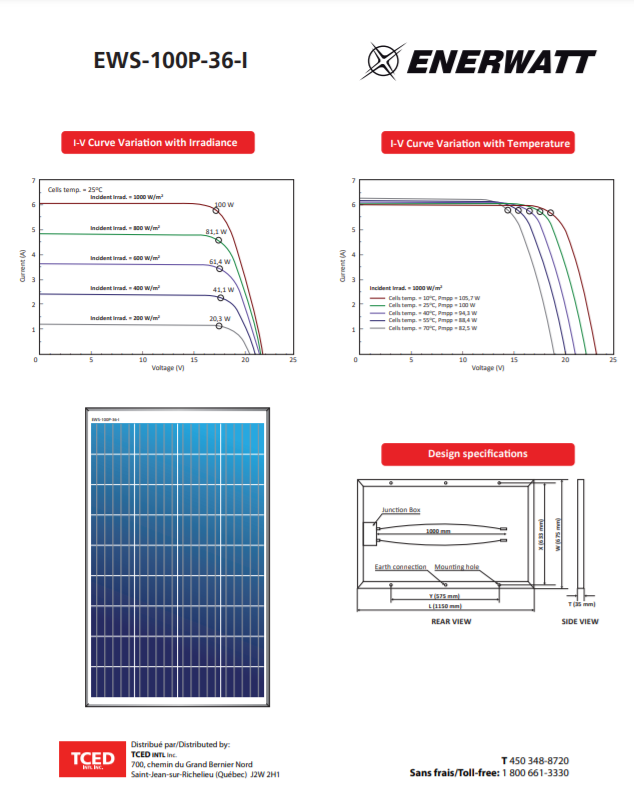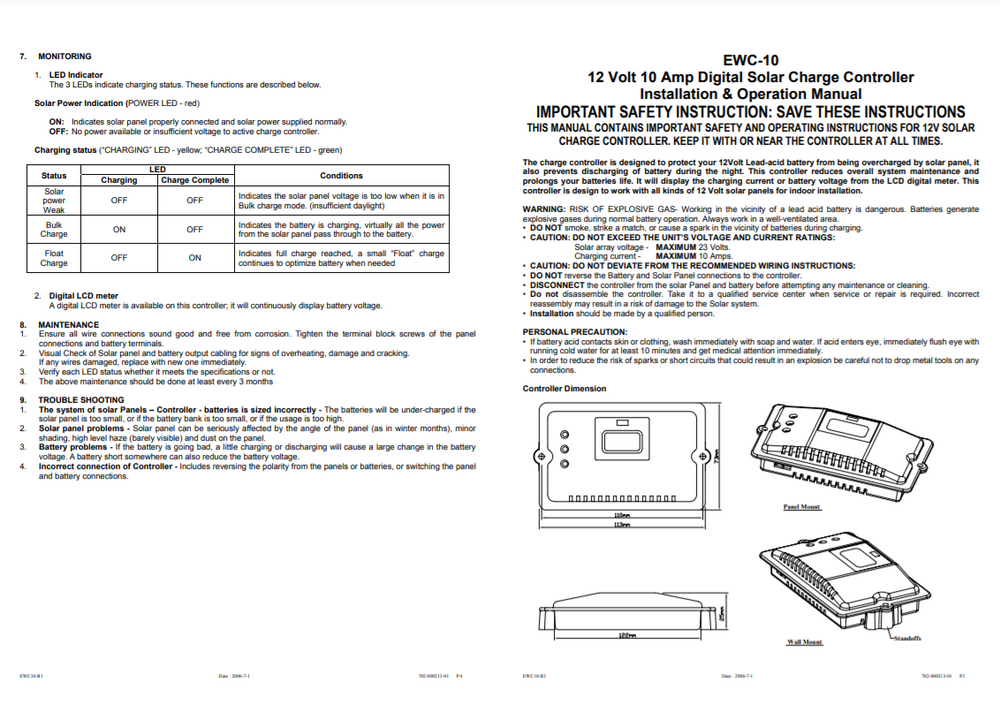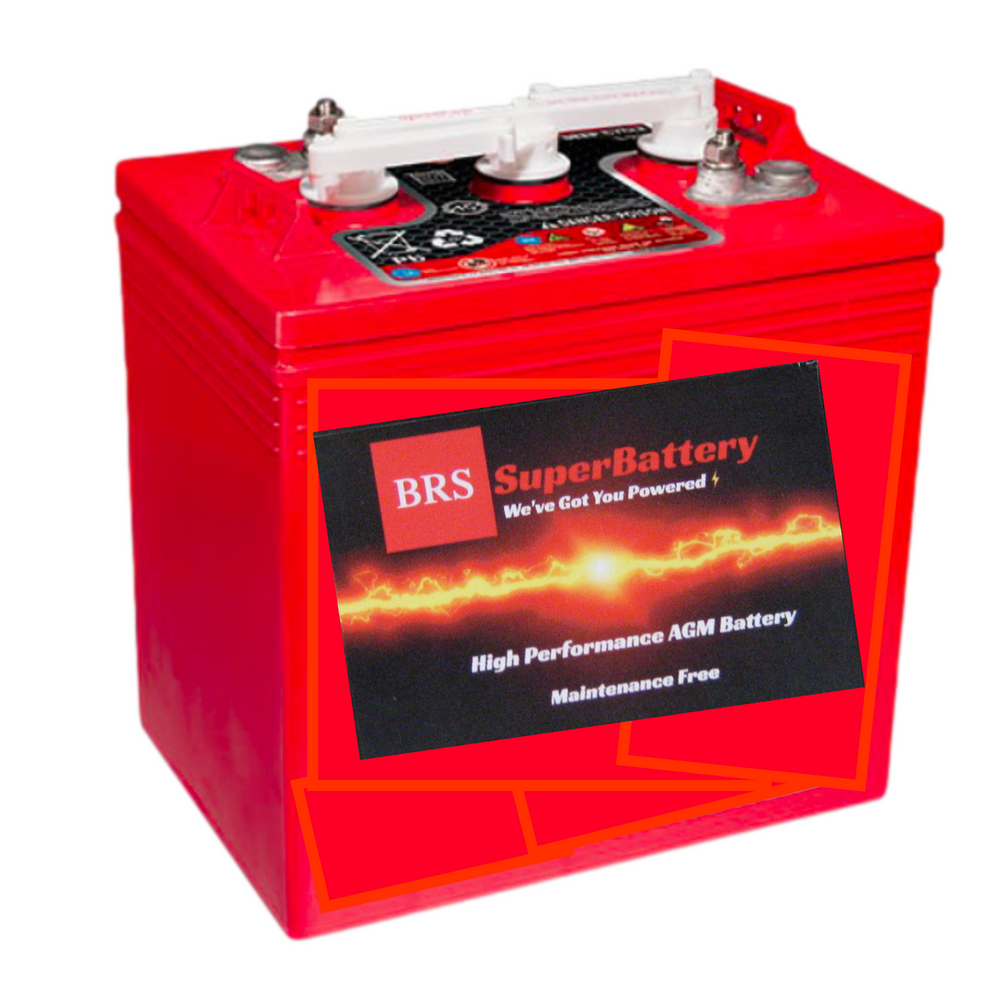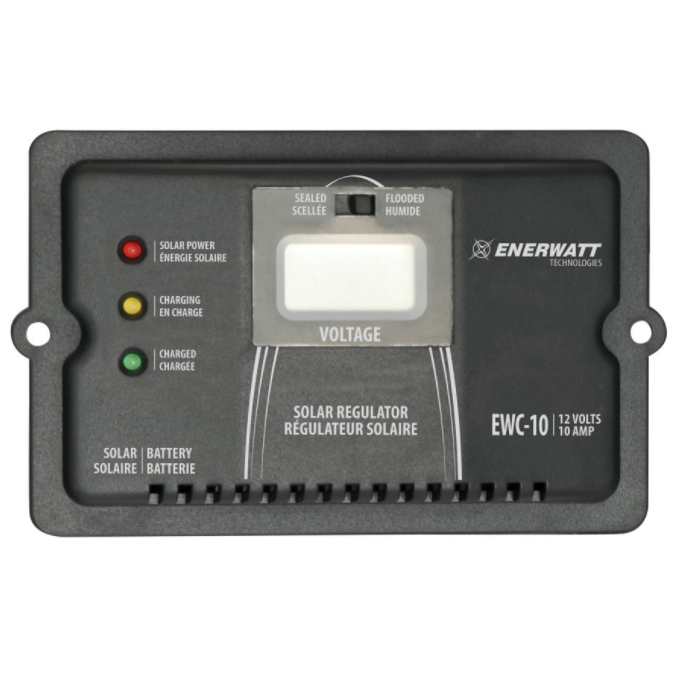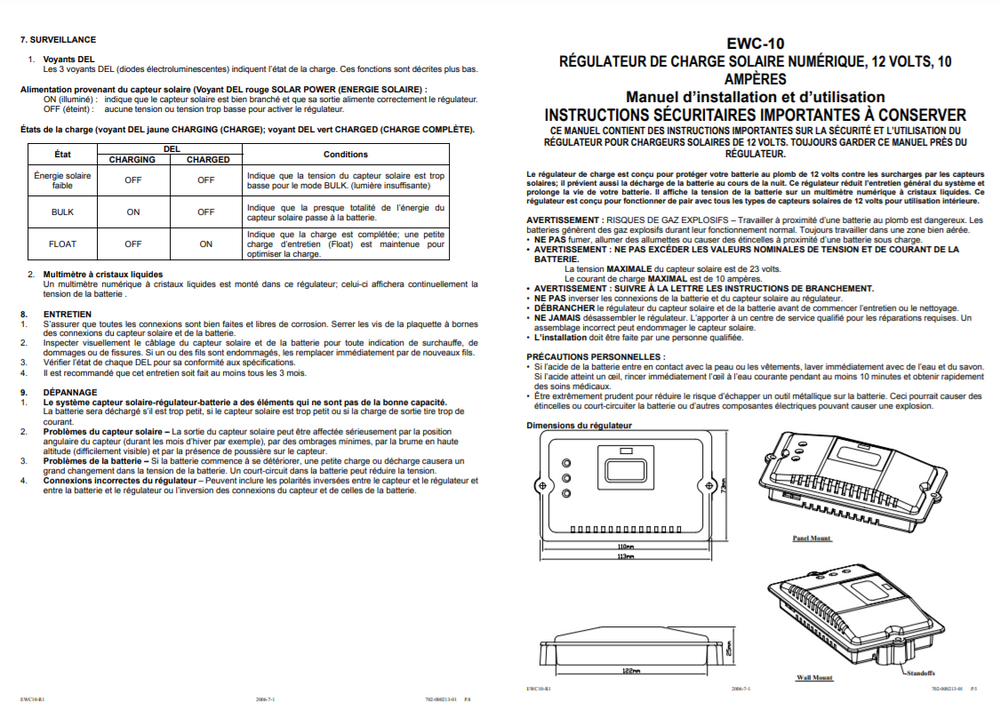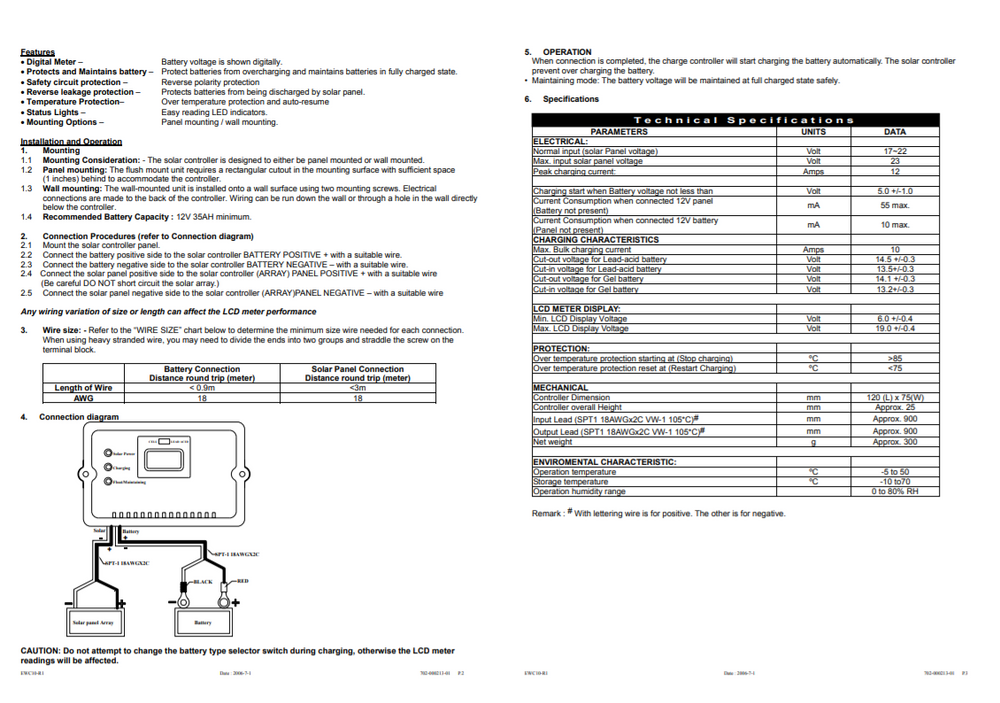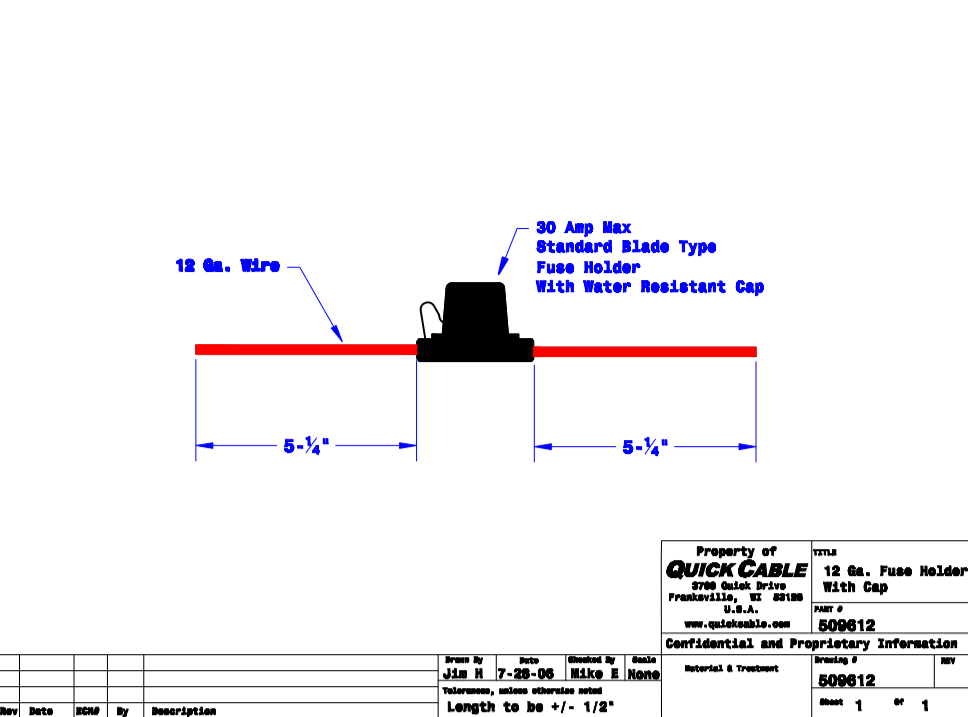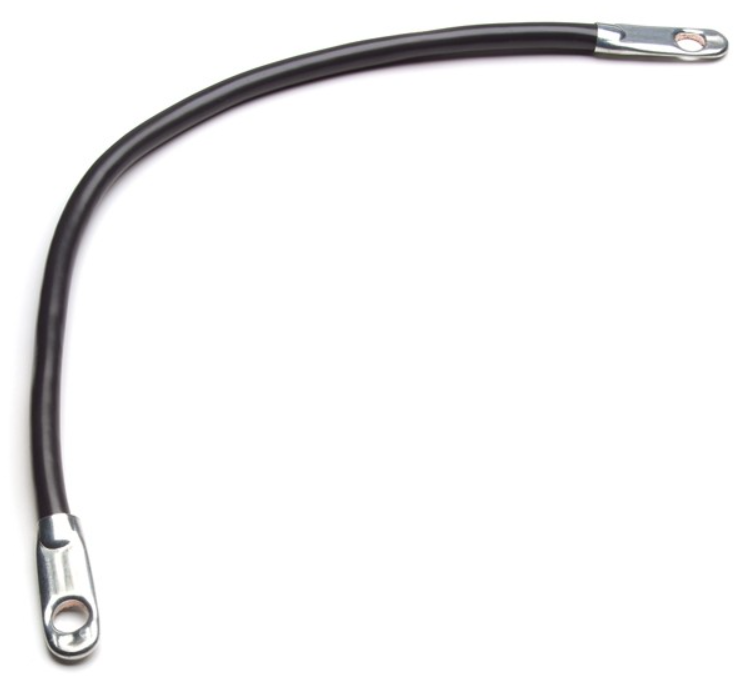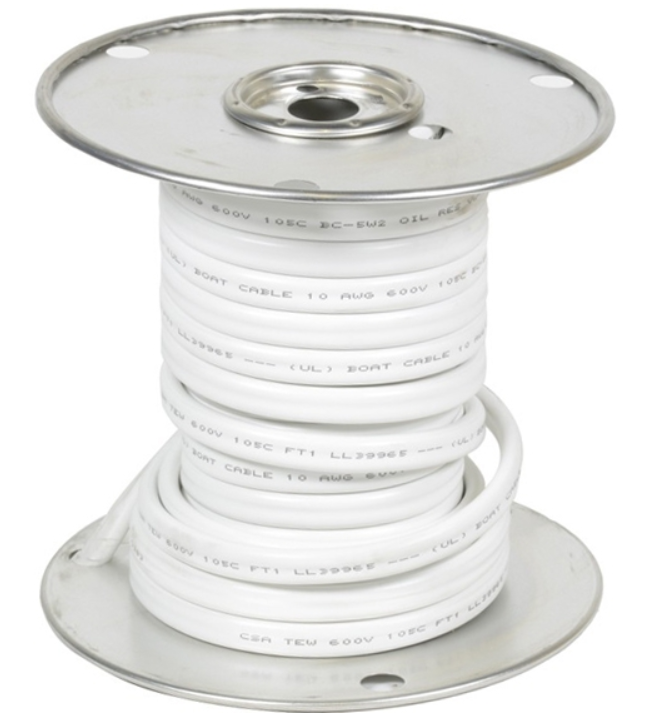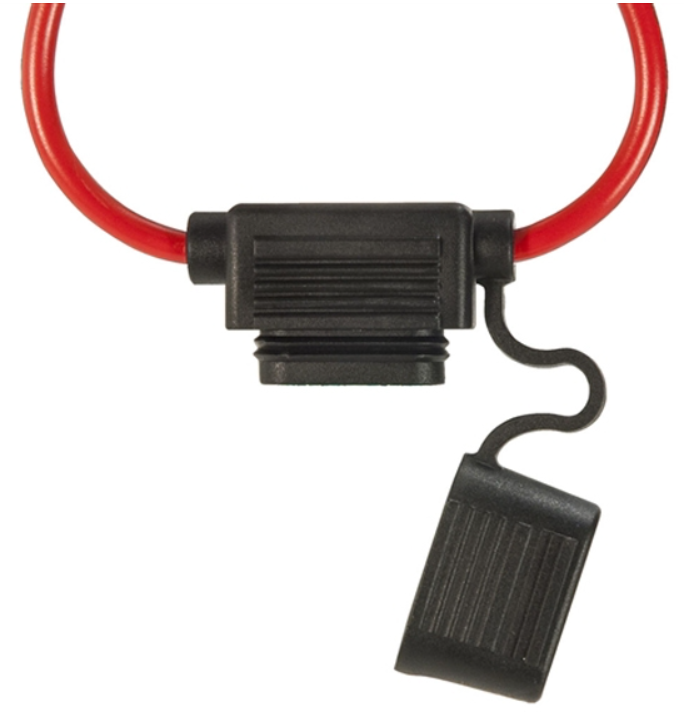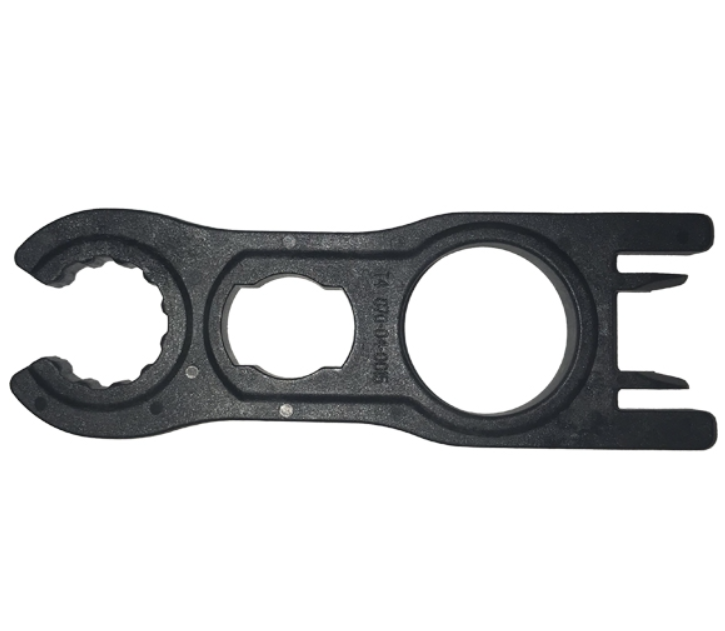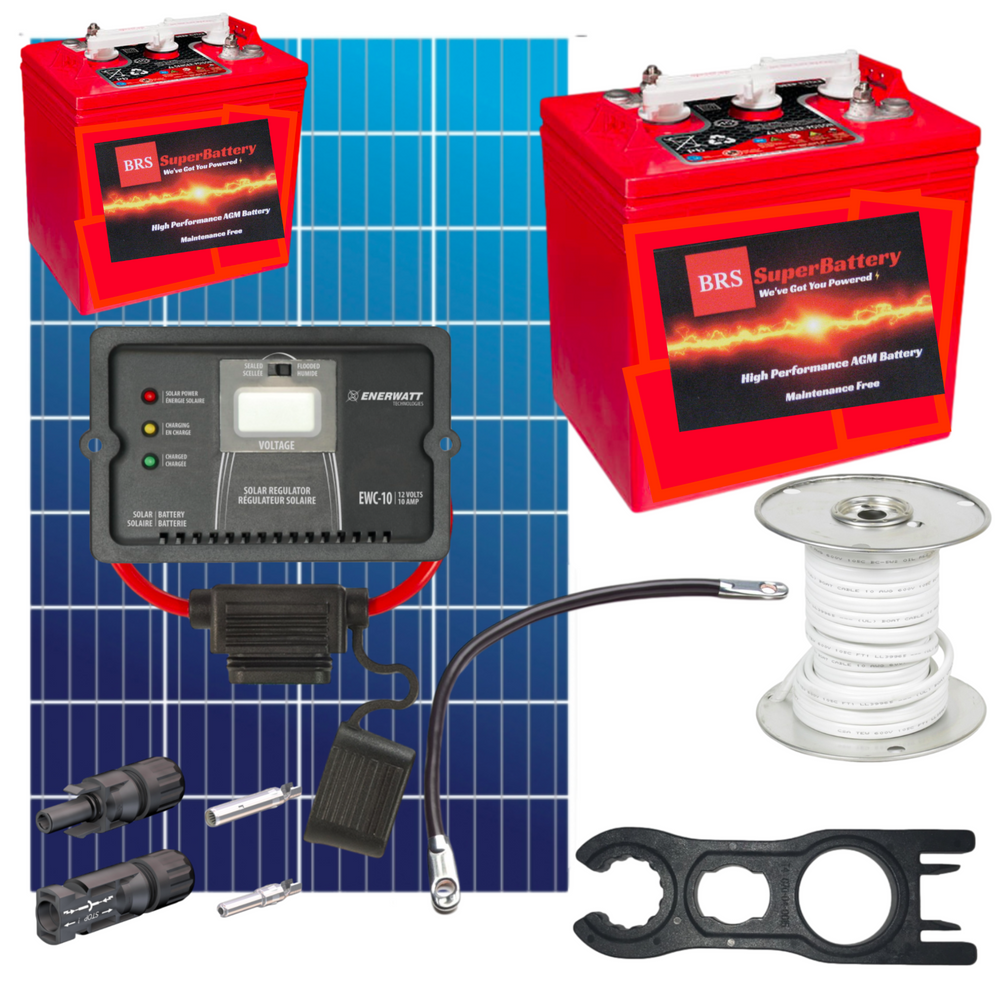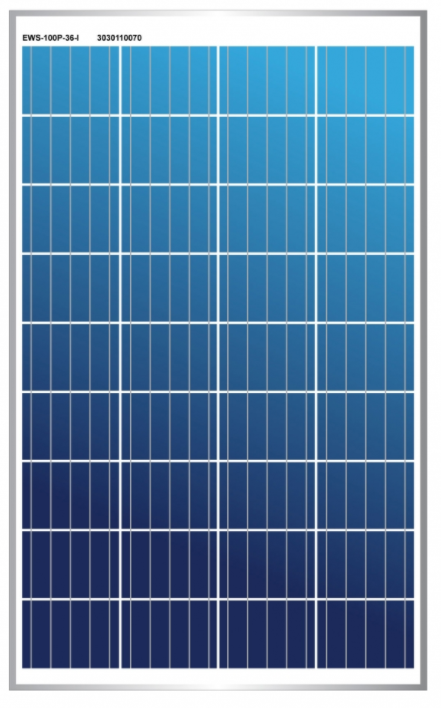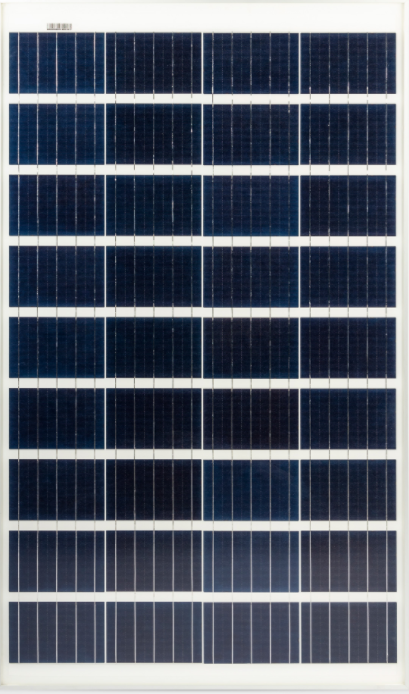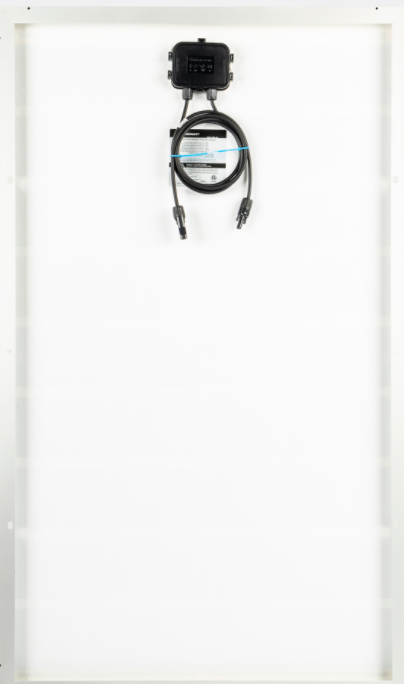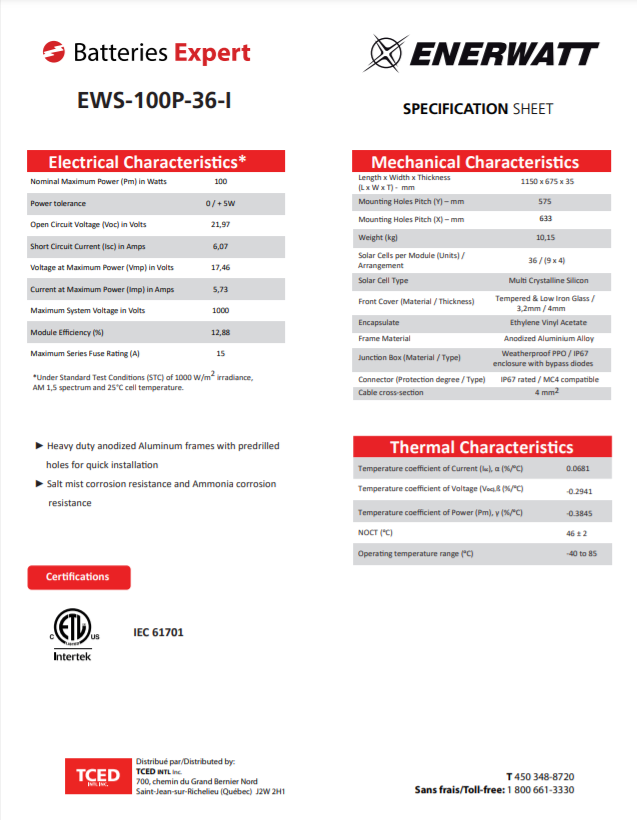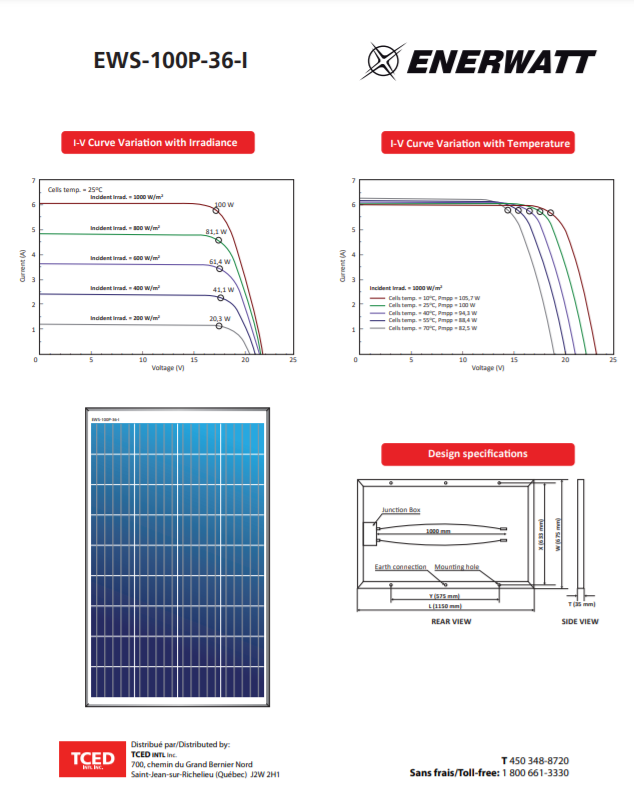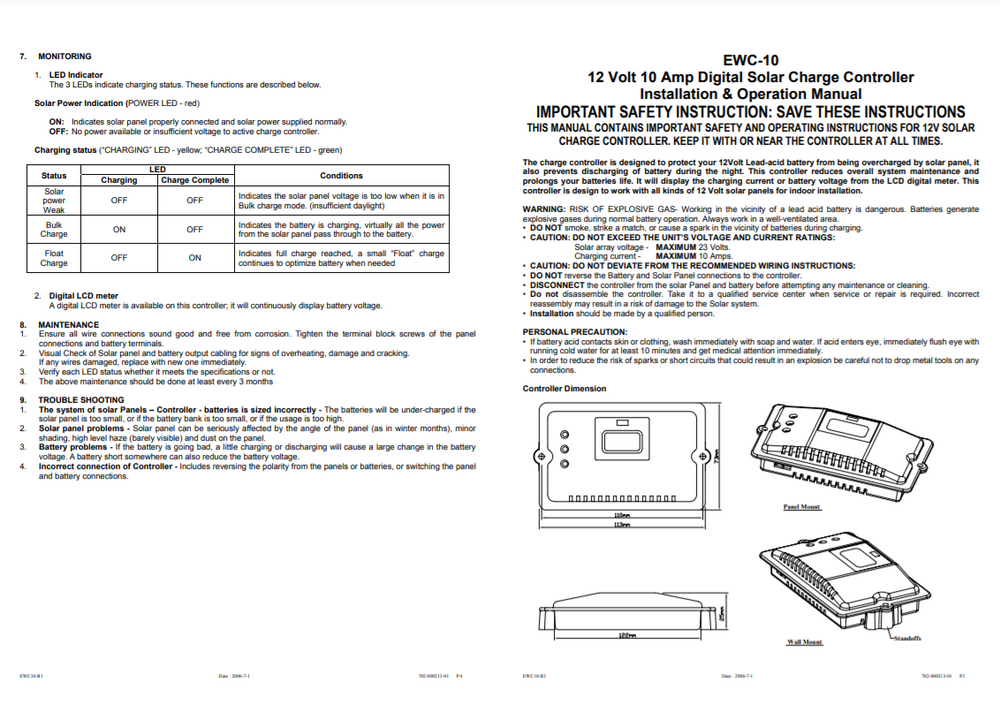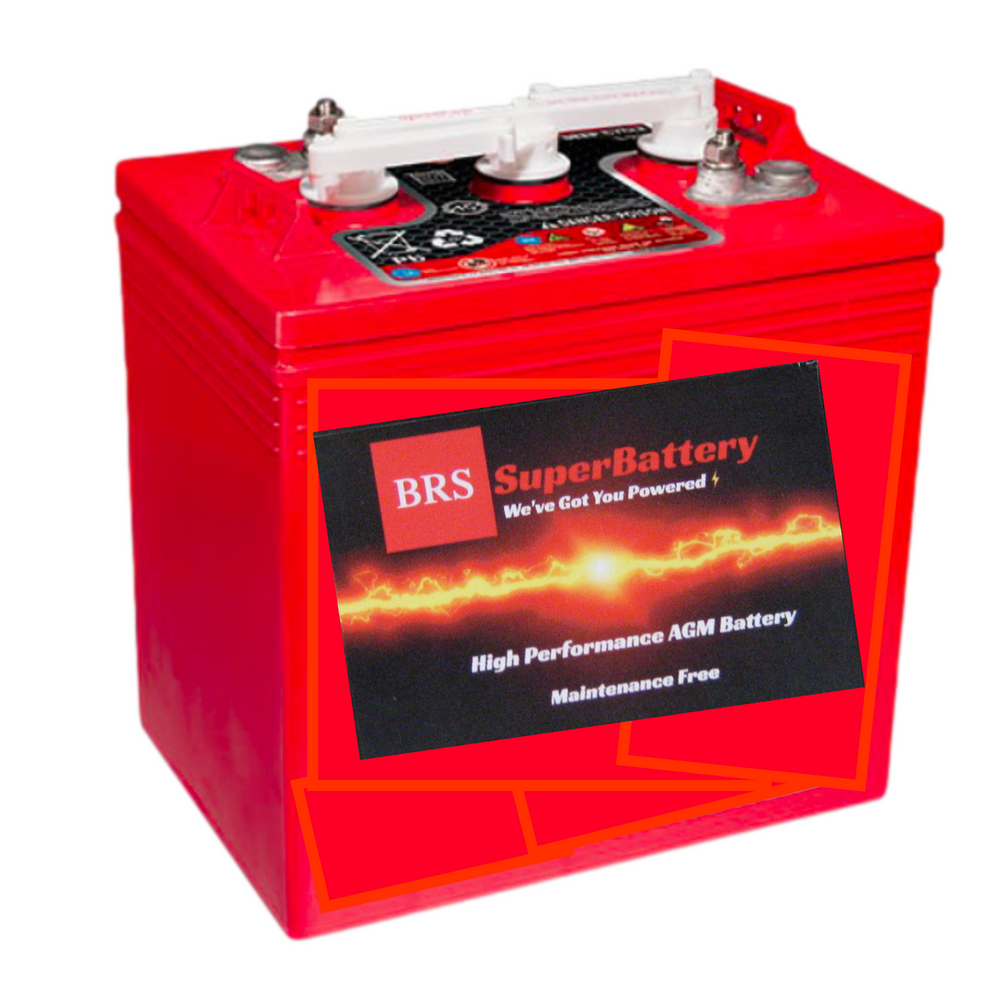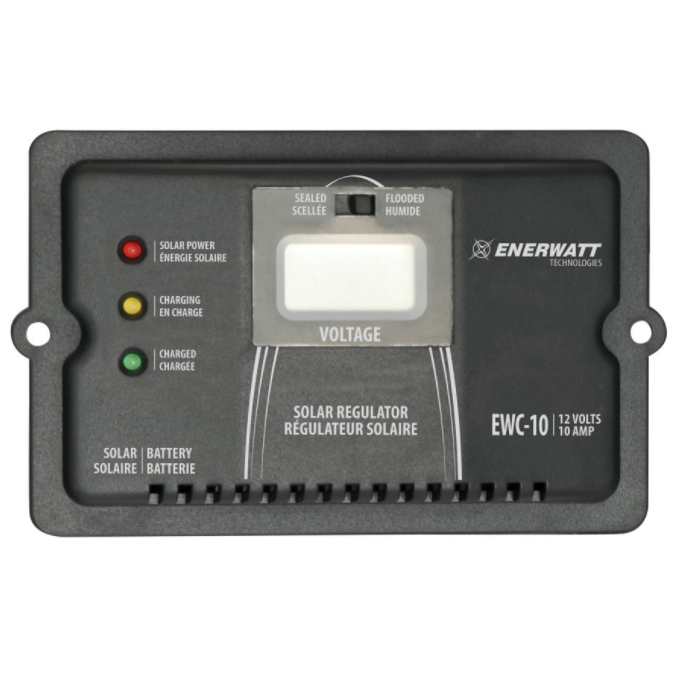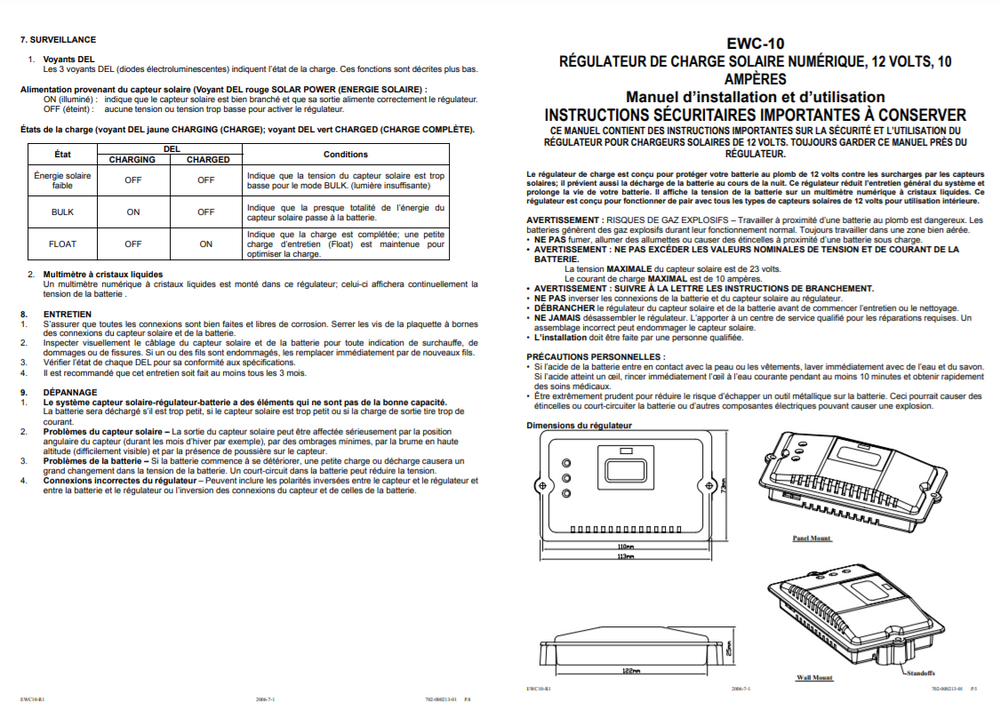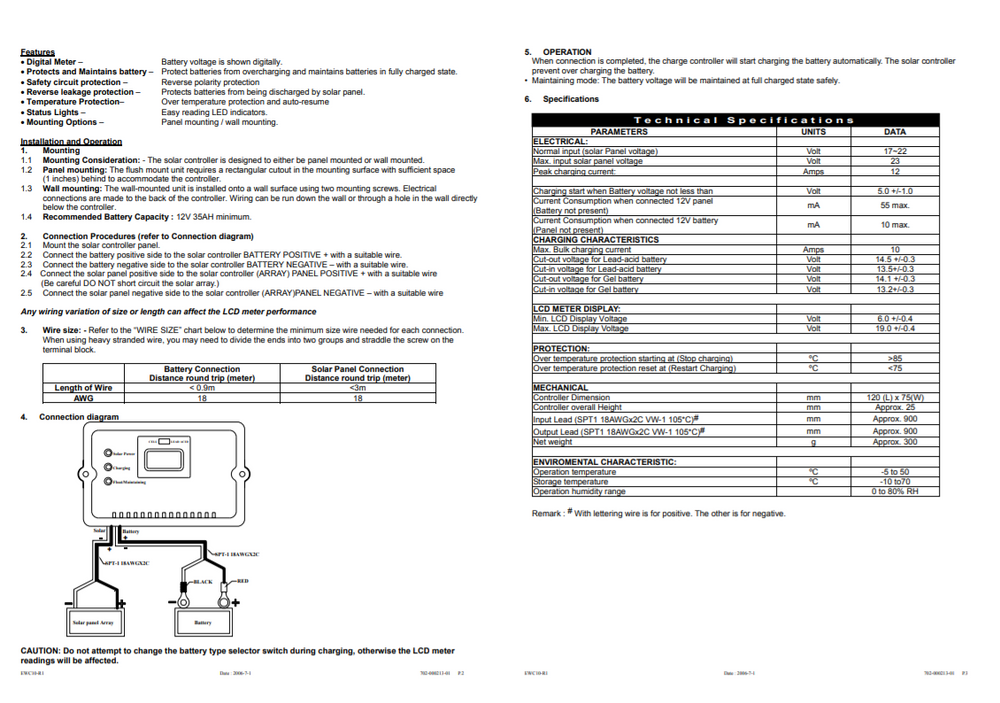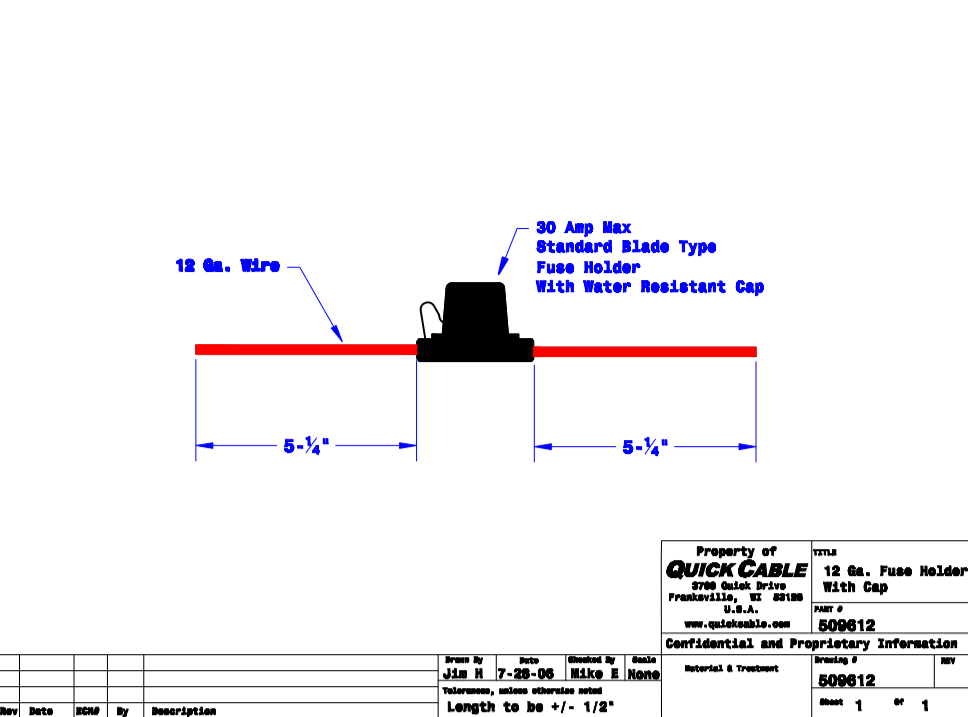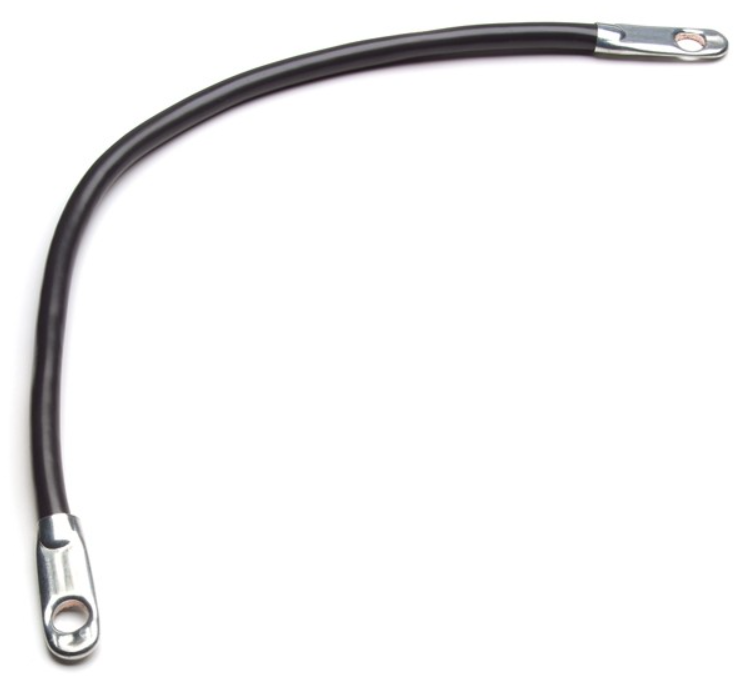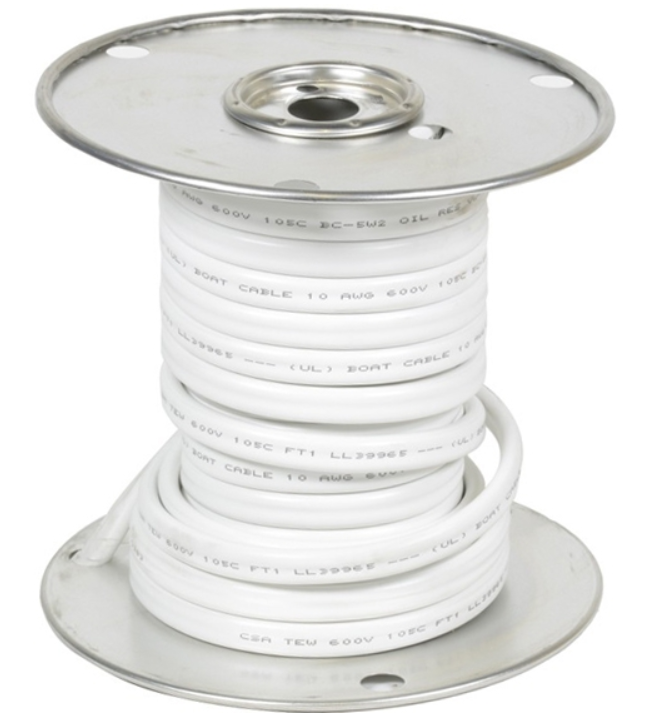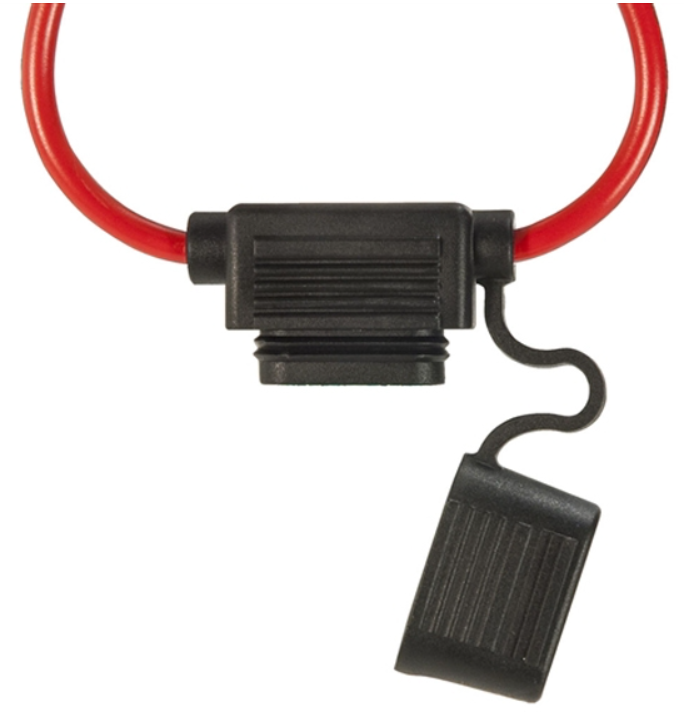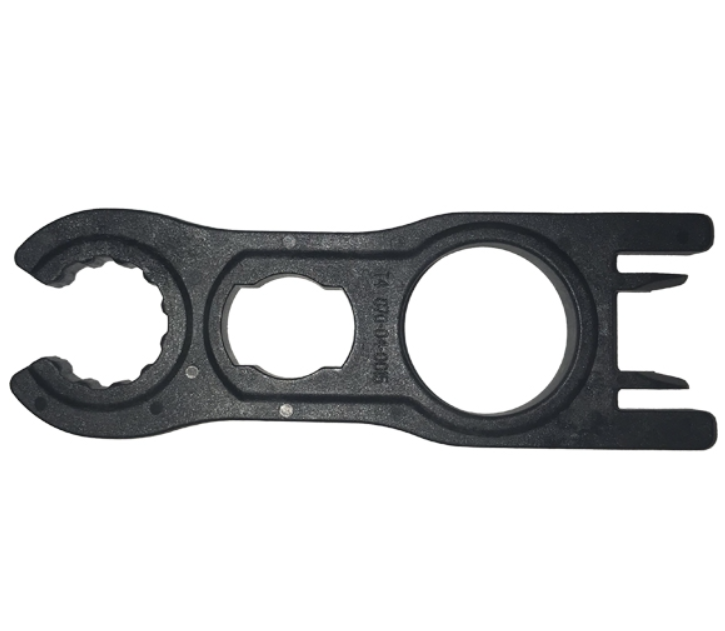 Product Description
Description
EWS-100P-36 Solar panel polycristalline 12V 100W 
 EWS-100P-36 SOLAR PANEL POLY 100W 5.56AMP CETL 

- Quantity: 1
Ampères / Amps
Garantie / Warranty
30 ans
30 years
Numéro de pièce/modèle / Part/Model Number
Type de terminal / Terminal Type
Watts
EWC-10 CONTROLLER 12V 10A METER ENERWATT 12V10AMP DIGITAL SOLAR REGULATOR EWC-10 - Quantity: 1
Garantie / Warranty
36 mois
36 months
Numéro de pièce/modèle / Part/Model Number
Marques de certifications / Regulatory Certification Marks
Volts


6V 220AH 440MCA DEEP CYCLE 2 YEAR WARRANTY - Quantity: 2
High performance deep cycle batteries. Listed as being the best performance battery on the market. For the more demanding consumer or those who want a higher rate of autonomy. This series has the highest demand. Even its red color distinguishes it from others!
CABLE #1 SWITCH -TO -STARTER 15" QC7515-1  Quantity: 1
Numéro de pièce/modèle / Part/Model Number
Type de terminal / Terminal Type
CONNECTOR MC4 PAIR MALE / FEMALE MC4-PAIRE - Quantity: 1
MC4-2 SOLAR PANEL MULTI-CONTACT CONNECTORS

EASY AND FAST INSTALLATION OF YOUR SOLAR PANEL WITH MC4-PAIRE CONNECTORS

Today, most solar panels come with approximately 3 ft. of Positive ('+') and Negative ('-') wire. One end of each wire is connected to the junction box of the panel. In most solar panels, the other end of each wire is terminated with an MC4 connector. The Positive ('+') wire has a Female MC4 Connector and the Negative ('-') wire has a Male MC4 Connector.

To extend the length of the wires of these solar panels for connection to a charge controller, combiner box or grid-connected inverter, an extension wire is required with corresponding Male and Female MC4 Connectors.

QUICK ASSEMBLY
The MC4-PAIRE KIT contains 1 male and 1 female MC4 solar panel connector. This type of connector system is easy to install and uses "snap-in" safety locking tabs to lock two mating connectors, thereby avoiding unintentional disconnection.
Once the connectors locked, the mating contacts are sealed against ingress of dust and water.

CONNECTOR COMPONENTS
The Male and Female MC4 Connectors consist of the following components:
• Outer insulated housing with locking arrangement.
• Tin-plated Copper metallic male & female mating contacts. The wire is placed in the crimping area and crimped with a special crimping tool, such as the PV-FMC4
• Nut & internal rubber bush. When the nut is tightened, the internal rubber bush is compressed around the outer jacket of the cable and thus, provides water-tight sealing.

CABLE GAUGE
The MC4 connectors provided are compatible for use with AWG #10 or AWG #12 wire with outer insulation diameter 3
Specifications
Marque / Brand
Non-applicable / Not-applicable
Garantie / Warranty
25 ans
25 years
Numéro de pièce/modèle / Part/Model Number
Marques de certifications / Regulatory Certification Marks
Poids / Weight (kg)
FUSE HOLDER 30A BLADE FH12AWP WATERPROOF 1 SOCKET - Quantity: 1 
Garantie / Warranty
6 mois
6 months
Numéro de pièce/modèle / Part/Model Number
MC4-OUTIL ASSEMBLY TOOL FOR MC4 CONNECTORS  - Quantity: 1 
Garantie / Warranty
25 ans
25 years
Numéro de pièce/modèle / Part/Model Number
#10-2 MARINE WHITE CABLE - PER INCH (240 inches / 20 feet of cable)
I have been using this pump all summer to keep my boat, lawn tractor and a whole bunch of other stuff filled up around here. I still use 5 gallon containers for their portability and even with 10 of those I'll have to fill them twice to get through the summer. This pump has been great for my needs. If you are sick and tired of having to hold a 5 gallon container of fuel in the air while attempting to get those funky nozzles to work, buy this pump.
Brad
So far it's working as well as I had hoped. Nothing is perfect when trying to transfer gas, but this does a very decent job. You need to make sure to lift the nozzle and hose up at the end of the fuel transfer to allow any residual fuel to run back into the tank or it will dribble out all over. It empties most of a five gallon gas can in a couple minutes without having to lift and hold the can up which is exactly what I wanted.
V. Thomas