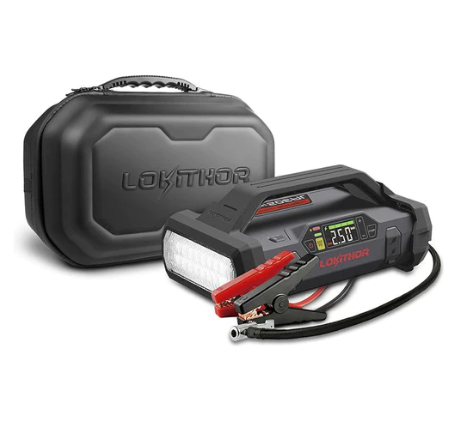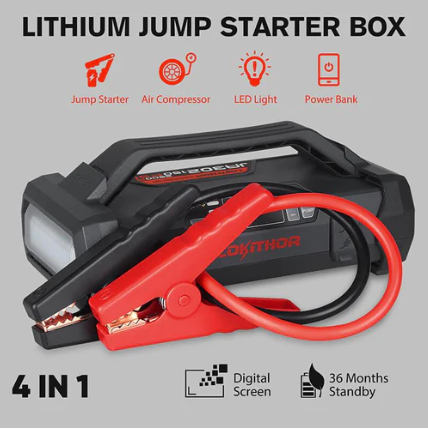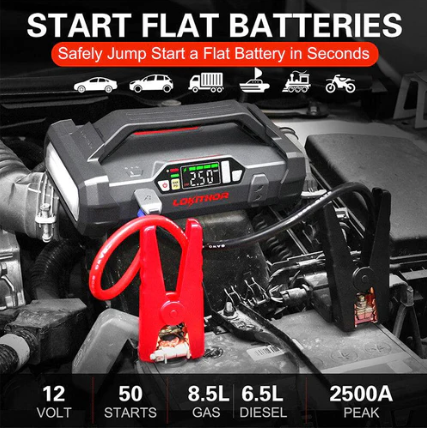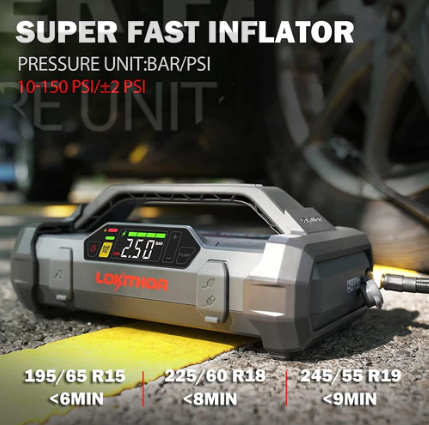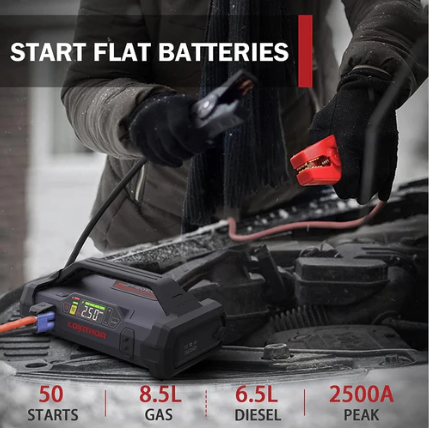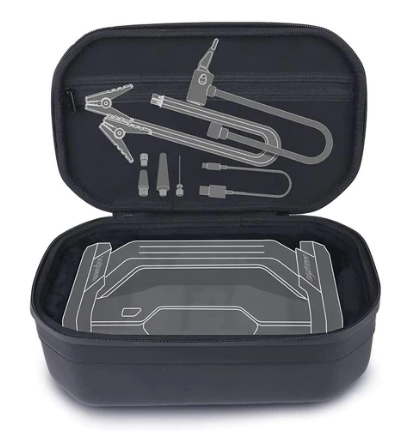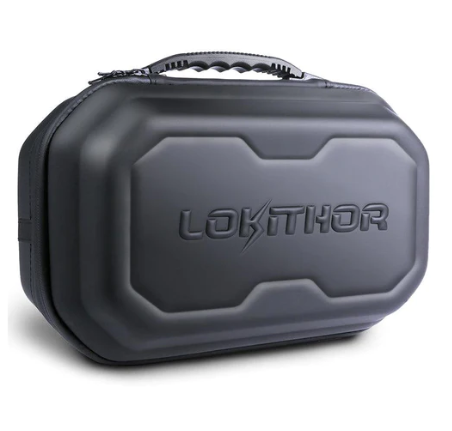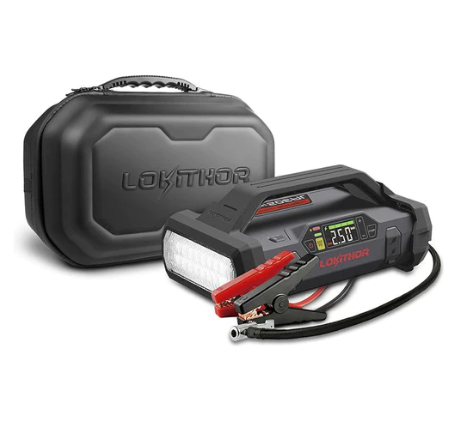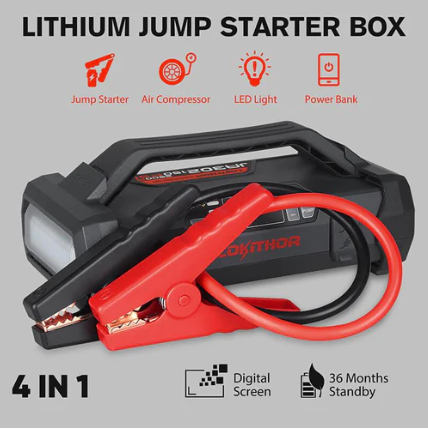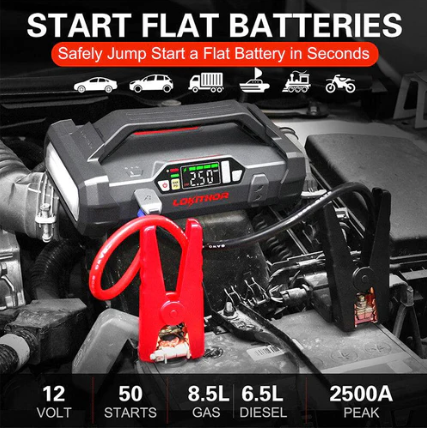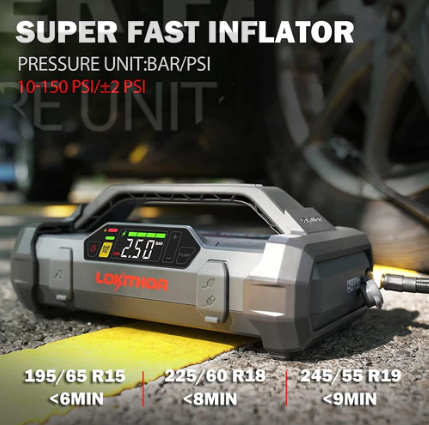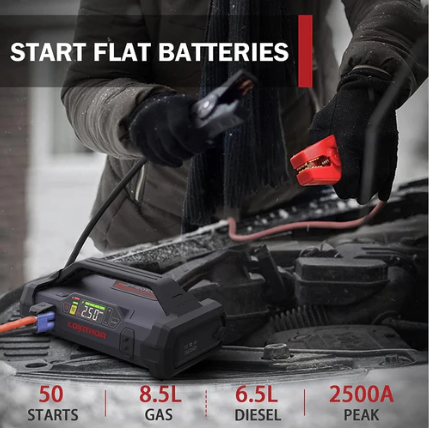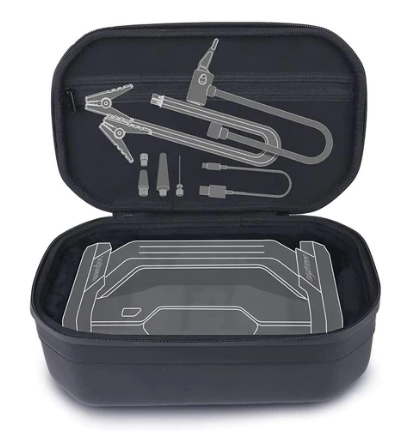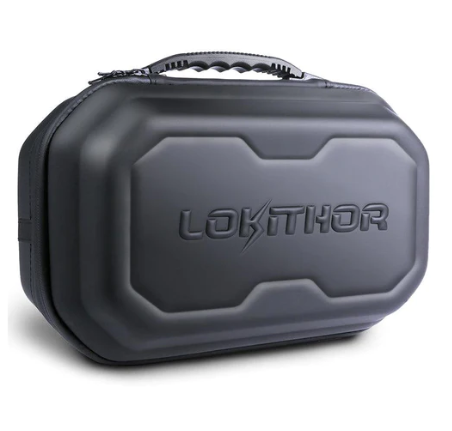 Product Description
Description
2500A Super Starting Current
LOKITHOR JA302 
portable jump start pack
with super starting current 2500A can re-start your car in 1-3 seconds and up to 50 starting times for normal use.
Fit for gasoline engines under 8.5L & diesel engines under 6.5L. Besides, this very low standby power 0.21mAh makes an ultra-long standby time of up to 1080 days.
The JA302 applies the latest premium-quality cell chips, has a large capacity 23800mAh, and gives our starter more than 1000 cycle life.
Maximum pressure of 150 PSI and airflow of 35L/Min
LOKITHOR JA302 12v jump box's digital air pump is manufactured with the unique Turbocharged Movement, which is more powerful, more stable and less noisy.
It can provide a maximum pressure of 150 PSI and airflow of 35L/Min, supports tire-pressure detection, Preset values stopping and unit switching (BAR/PSI).
You only need 5 mins to fully Inflate the 195/65/R15 car tire from 0 to 35 PSI. Professionally calibrated to always about the Digital-display within 1.0% of the tire's pressure.
Detect voltage in real-time
 LOKITHOR JA302 battery power pack jump starter can detect voltage in real-time and alarm for abnormal conditions.
Built-in Latest BMS power management system, provides short-circuit protection, over-current protection, reverse connection protection, over-heat protection, over-charging protection and clip falling off protection.


UL-2743 listed makes the ultimate protection for you and your car safety
.
300-lumen LED flashlight
LOKITHOR JA302 jump starts a starter is not only a car battery booster, and a Tire Pumper but also a portable power bank, and a LED flashlight.
Support fast charging/USB 3.0, adapt smartphones, tablets and other USB devices.
Input:5V/3A and 9V/2A,
Output:5V/3A and 9V/2A.

The integrated 300-lumen LED flashlight has 3 lighting modes, constant lighting, flash and SOS.

SPECIFICATIONS
| | |
| --- | --- |
| Jump Starter Peak Amps | 2500Amps |
| Air Pump | 150PSI-35L/Min |
| Power Bank | 76Wh |
| LED Flashlight | 300 Lumens |
| Engine Rating | 8.5L Gas / 6.5L Diesel |
| Battery Cell Composition | Lithium Polymer |
| Voltage | 12 Volts |
| Item Dimensions LxWxH | 9.99 x 5.57 x 4.07 inches |
| Vehicle Service Type | Passenger Car    |
In The Box:
1*JA302 Jump Starter
1*

Inflatable Hose
1*

Jump Starter Clamp Set
3*Nozzle Adapters
1*USB-C Cable
EVA Protection Case

Water-proof, Shockproof & Dust-proof.
 The water and dust resistance of LO-CASE001 is IP65 rating, which provides your jump starter a shield from splash, drips and moisture during outdoor activities.


Made of rugged and durable EVA material, this premium leather can effectively shield accidental collisions, dents, and scratches and has a waterproof/shockproof/dustproof function.

Non-slip Handle.
 The non-slip handle makes it easy to keep your jump starter and accessories together and take them everywhere.

2 Functional Compartments.
The top layer can hold accessories, and the bottom perfectly fits a jump starter.

Perfect Craftsmanship.
 Heavy-duty reverse coil zipper secures the case, a built-in reinforced handle, and reinforced stitching at stress points for durability.
Specially designed for JA300/JA301/JA302. The jump starter has a dedicated slot and is thoroughly protected.
| | |
| --- | --- |
| Brand | LOKITHOR |
| Item Dimensions LxWxH | 12.01 x 8.5 x 5.75 inches |
| Item Weight | 580.6 Grams |
I have been using this pump all summer to keep my boat, lawn tractor and a whole bunch of other stuff filled up around here. I still use 5 gallon containers for their portability and even with 10 of those I'll have to fill them twice to get through the summer. This pump has been great for my needs. If you are sick and tired of having to hold a 5 gallon container of fuel in the air while attempting to get those funky nozzles to work, buy this pump.
Brad
So far it's working as well as I had hoped. Nothing is perfect when trying to transfer gas, but this does a very decent job. You need to make sure to lift the nozzle and hose up at the end of the fuel transfer to allow any residual fuel to run back into the tank or it will dribble out all over. It empties most of a five gallon gas can in a couple minutes without having to lift and hold the can up which is exactly what I wanted.
V. Thomas