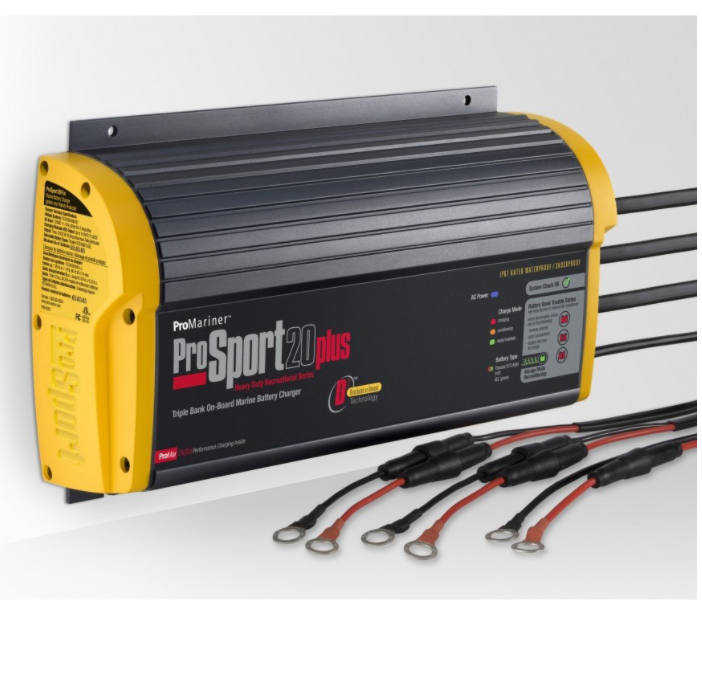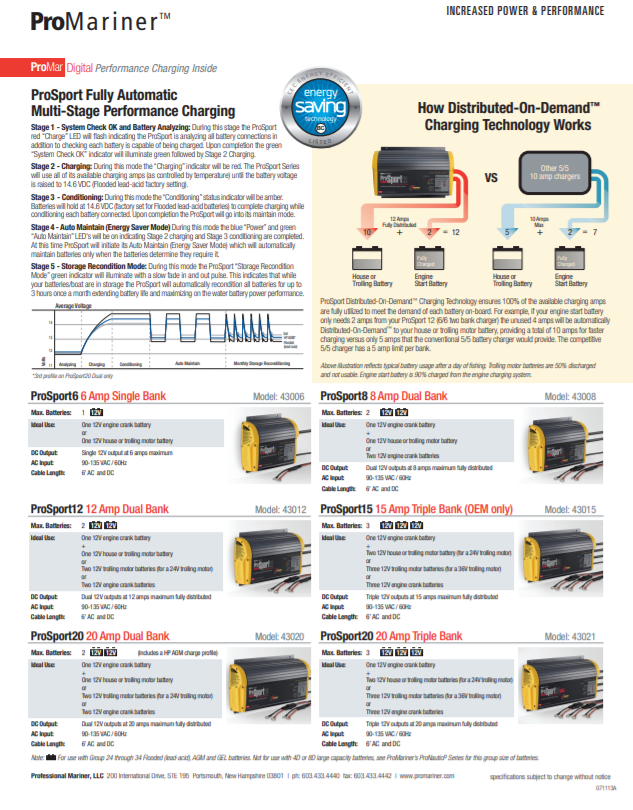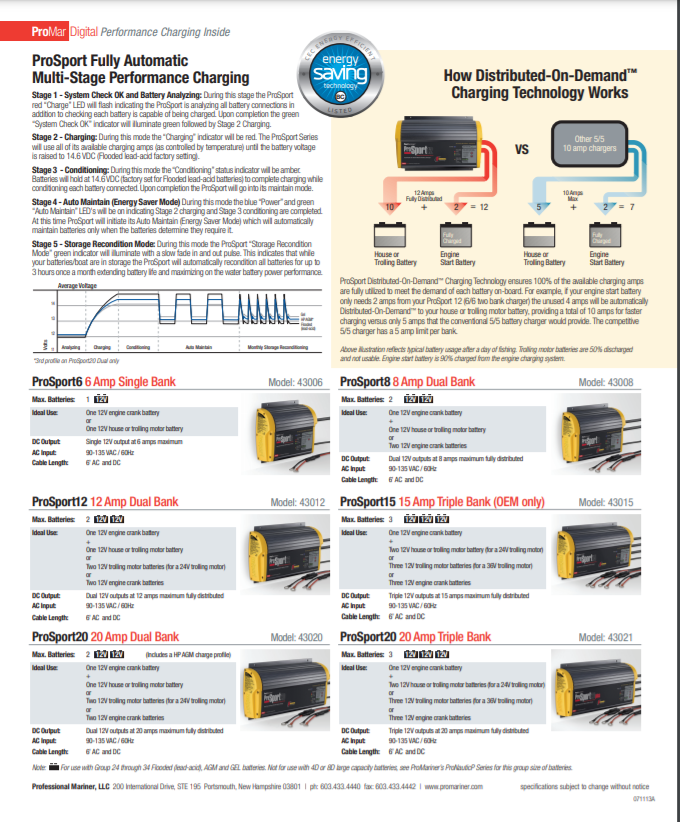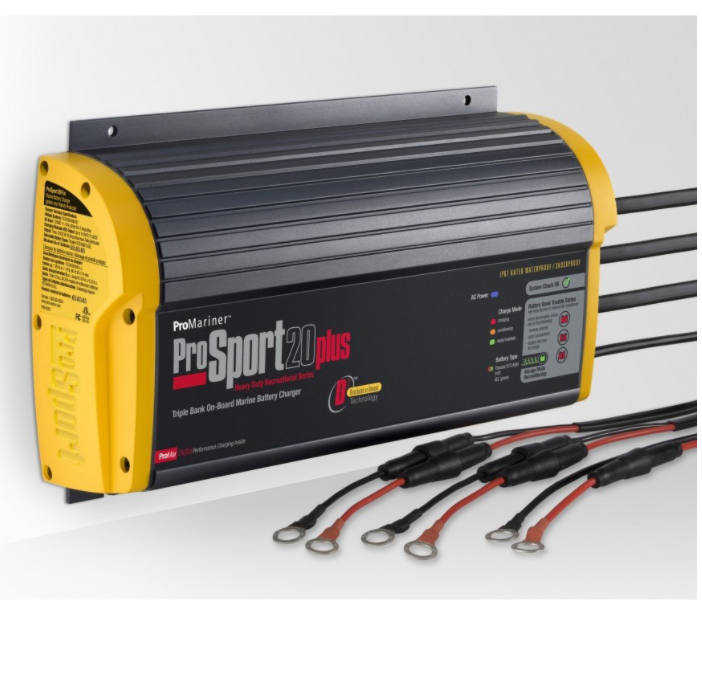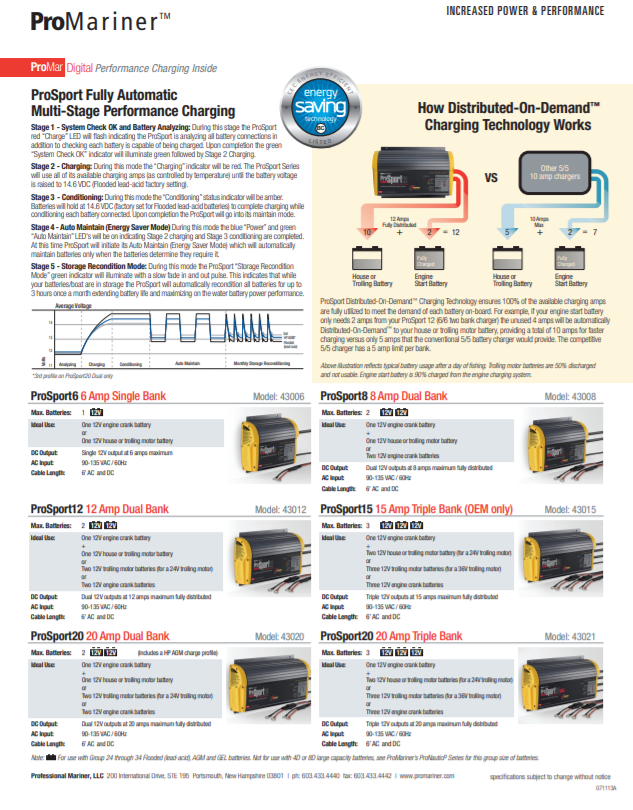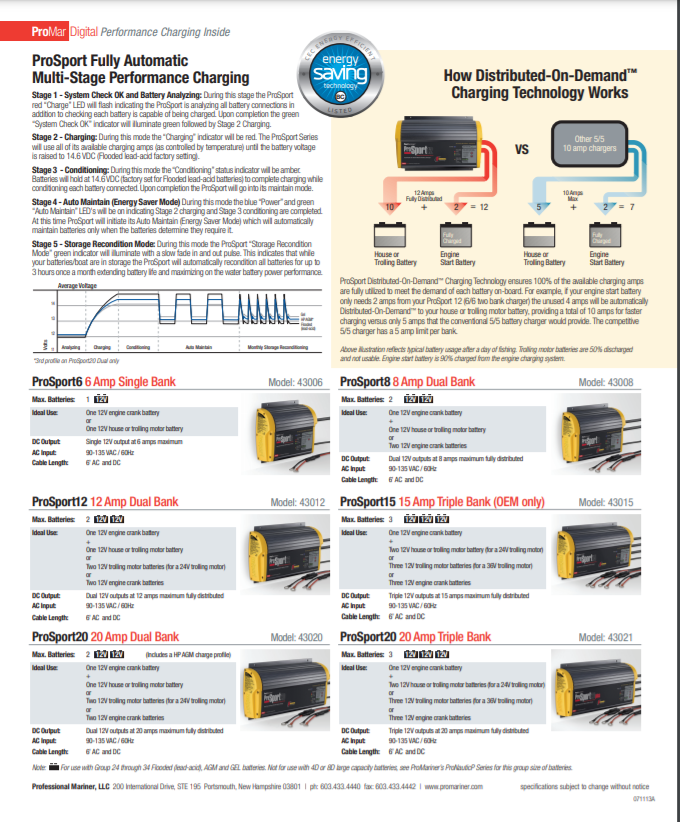 Product Description
Description
High-technology mobile chargers. Extremely resistant to vibrations and dust. Some models are water resistant, even to salt water: ideal for RV's, boats, utility trucks and fire trucks. Available in 12, 24, 32, 36 and 48 Volts with 5 to 50 Amp capacities.
ProSport Generation 3 On-Board Marine Battery Chargers incorporate all-digital microprocessor control. Like no other, the new ProSport Series provides automatic installation feedback with its exclusive "System Check OK" and individual "Battery Bank Trouble" LED indicators, and also has the most advanced energy saving mode. After fully charging and conditioning batteries, ProSport's Energy Saver Mode will monitor and Auto Maintain batteries only when needed to maintain a full state of charge, resulting in maximum reserve power performance and lower AC power consumption and operating costs. ProSport incorporates Distributed-On-Demand Charging technology, taking 100 percent of the available charging amps and distributing them to any one or combination of all batteries as needed for faster charging. ProSport is 100 percent waterproof and shockproof, weighing 40 percent lighter than older technology epoxy filled chargers providing cooler operation and greater reliability.
ProMar Digital Technology: Microprocessor and software controlled pulse charging technology delivering a 40 percent lighter design than the previous generation of epoxy filled chargers, cooler charger operation and faster charging
System OK and Battery Bank Trouble Status Indicators: Advanced technology eliminates time consuming troubleshooting by clearly indicating system and battery connections are OK or if a fault is present on a specific battery bank
Digital Multi-Stage Performance Charging: Fully charge and extend the life of your batteries - automatically charges, conditions and safely maintains all batteries on board for maximum time on the

water
Energy Saver Mode: After fully charging and conditioning batteries, ProSport's Energy Saver Mode will monitor and Auto Maintain batteries only when needed, maintaining a full state of charge. This significantly reduces AC power consumption, lowers operating costs and maximizes reserve power performance.
Storage Recondition Mode: During short or long-term storage, ProSport automatically reconditions all batteries on board once a month for maximum battery life and performance
Distributed-On-Demand Technology: Automatically charges and maintains your engine crank battery while distributing all remaining charging amps to trolling motor or house battery(s)
Digital LED Display and Battery Type Selector: LED indicators for Charging, Conditioning and Auto Maintain modes in addition to AC power and selected battery type (2 charge profiles to choose from with a 3rd high performance AGM HP profile on the ProSport20 Dual only)
2 digitally selectable charge profiles including a once-a-month storage reconditioning mode for extending battery life
Built-in Quality and Safety: Compact and rugged extruded aluminum design, dual in-line DC safety fuses for trolling motor and house battery banks. Built-in over-voltage, overload, over-temperature, reverse polarity and ignition protection
Pre-wired for Easy Installation
Specifications
Ampères / Amps
Garantie / Warranty
24 mois
24 months
Numéro de pièce/modèle / Part/Model Number
Marques de certifications / Regulatory Certification Marks
I have been using this pump all summer to keep my boat, lawn tractor and a whole bunch of other stuff filled up around here. I still use 5 gallon containers for their portability and even with 10 of those I'll have to fill them twice to get through the summer. This pump has been great for my needs. If you are sick and tired of having to hold a 5 gallon container of fuel in the air while attempting to get those funky nozzles to work, buy this pump.
Brad
So far it's working as well as I had hoped. Nothing is perfect when trying to transfer gas, but this does a very decent job. You need to make sure to lift the nozzle and hose up at the end of the fuel transfer to allow any residual fuel to run back into the tank or it will dribble out all over. It empties most of a five gallon gas can in a couple minutes without having to lift and hold the can up which is exactly what I wanted.
V. Thomas