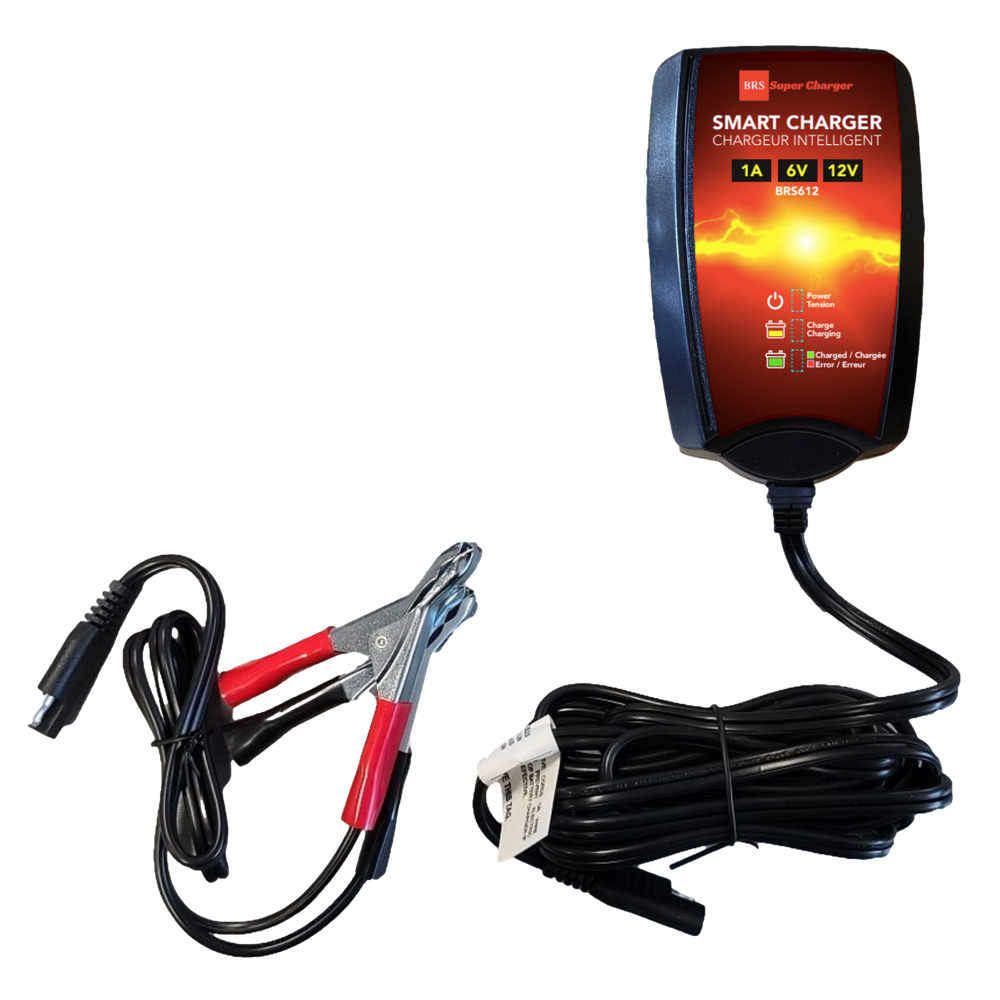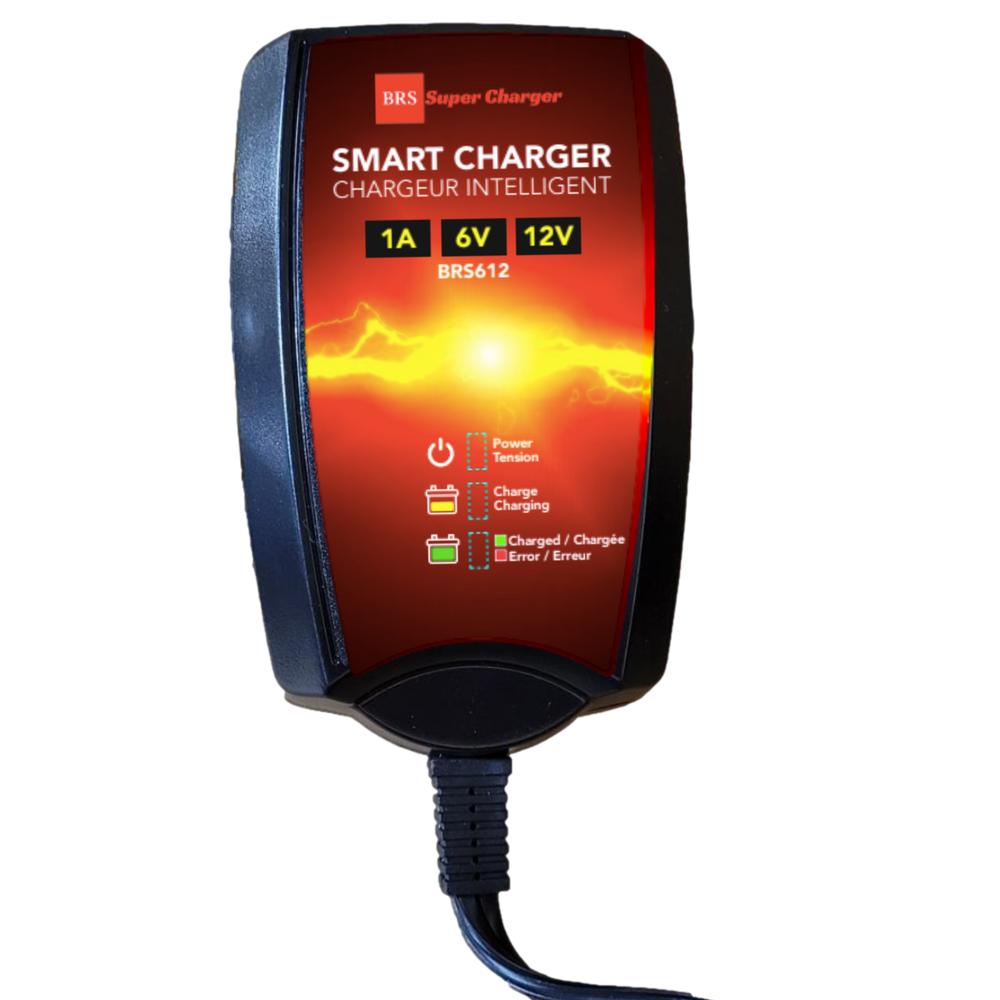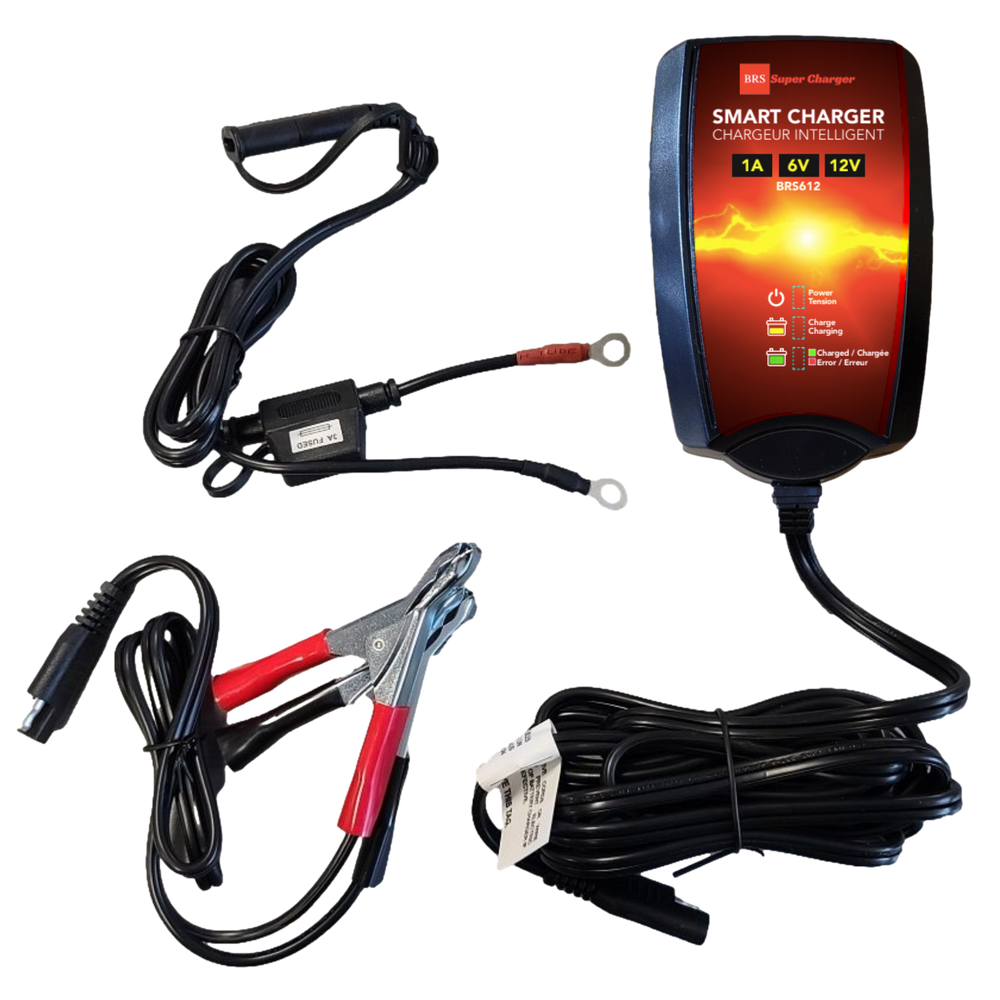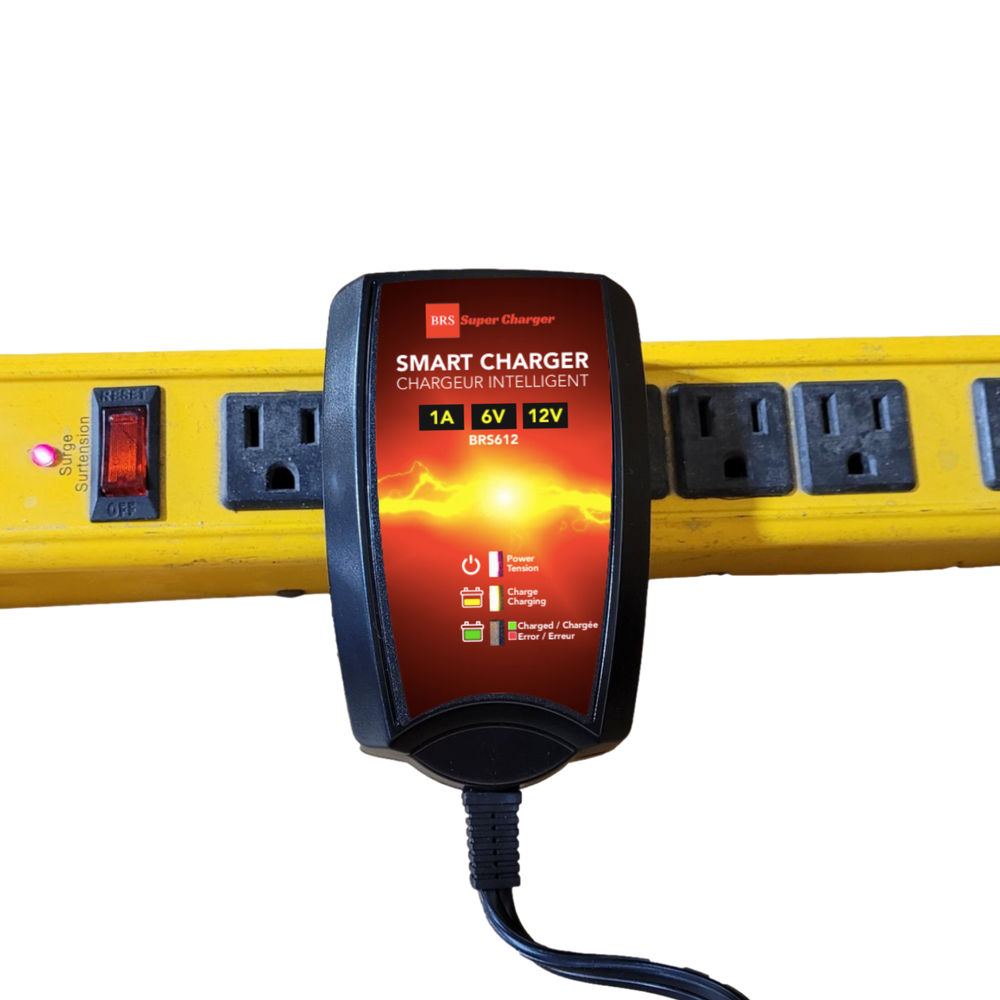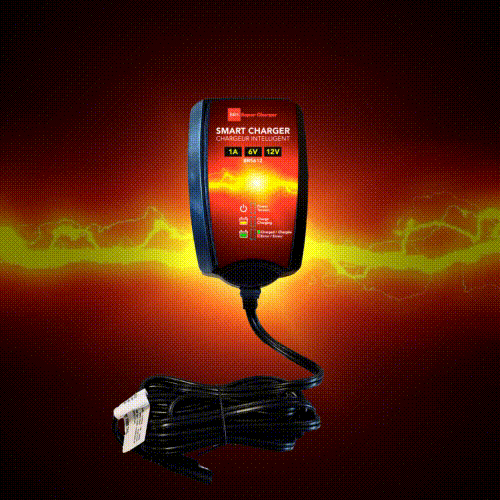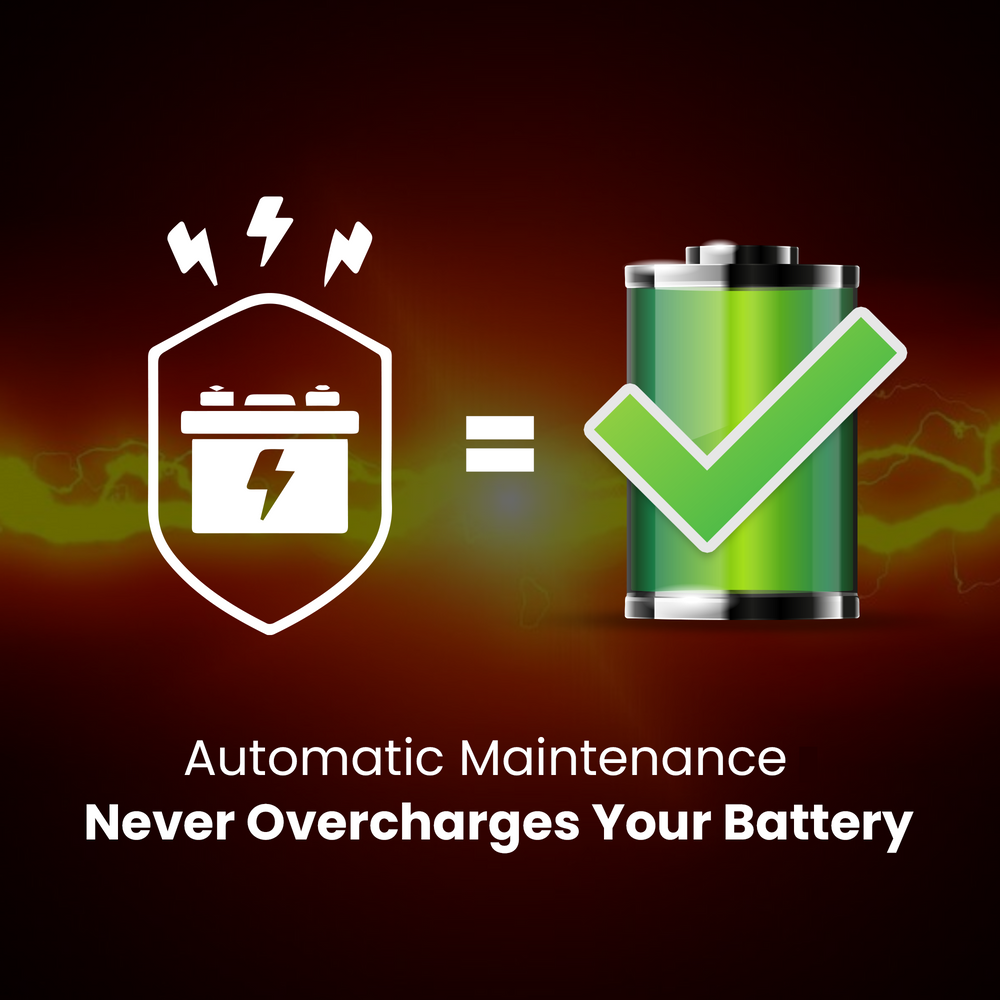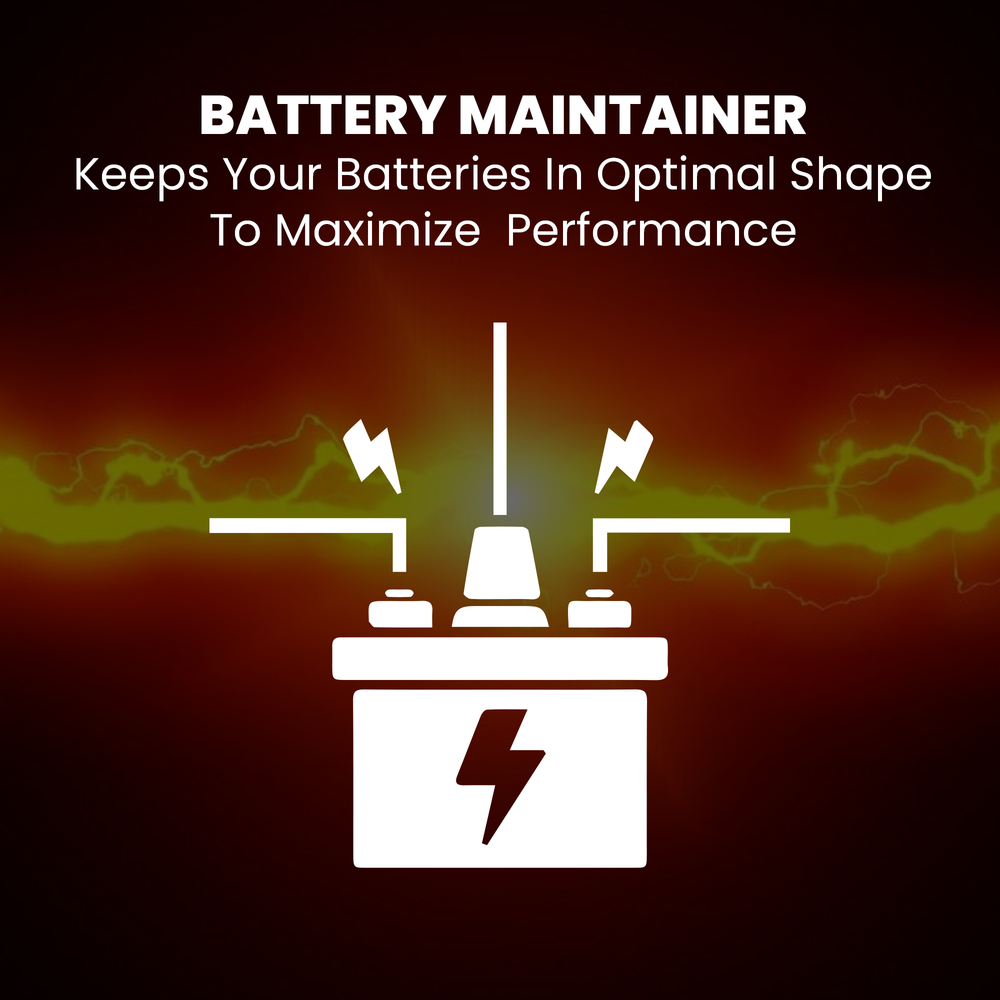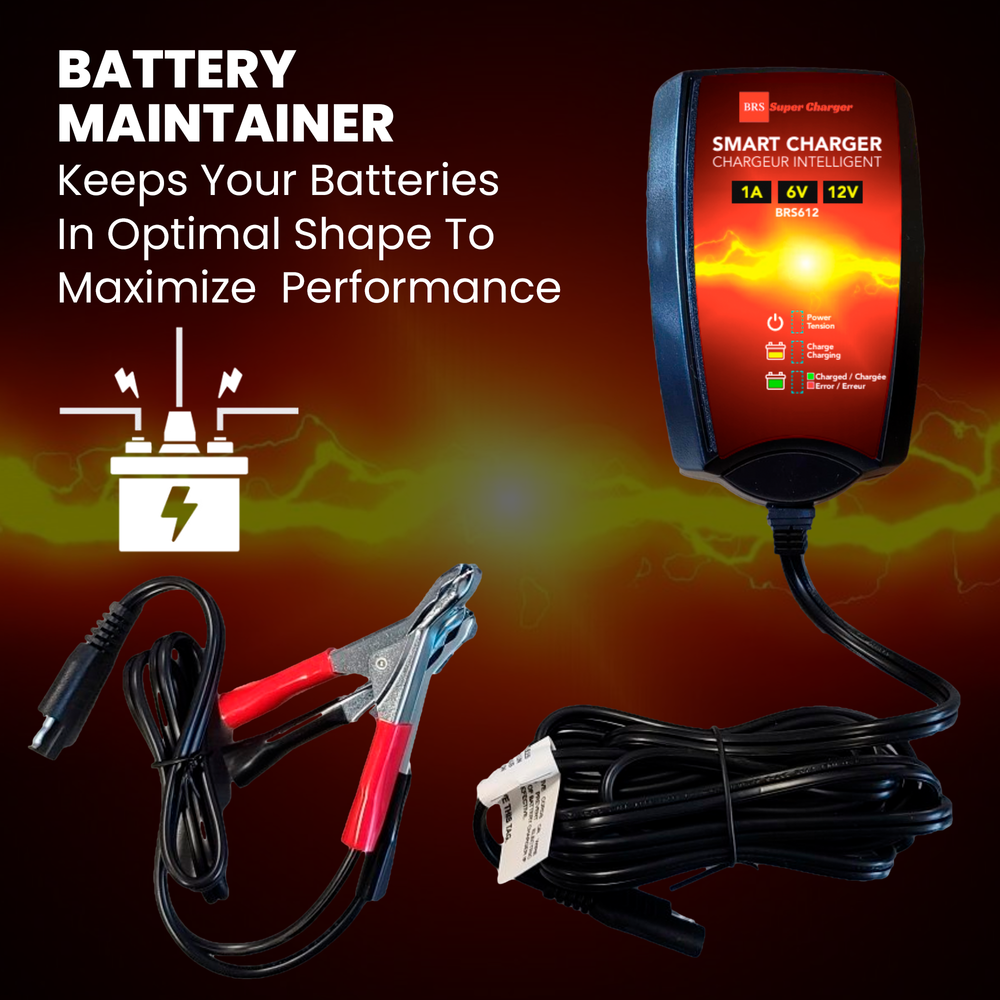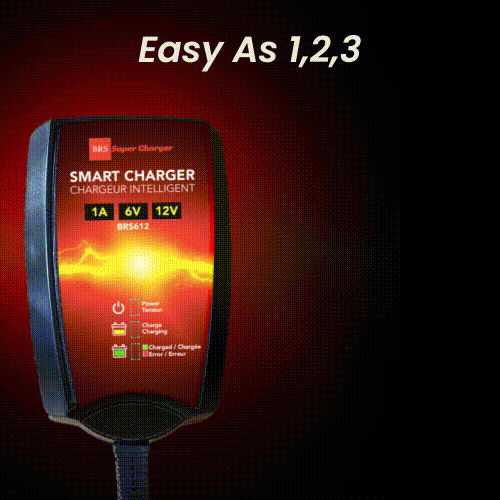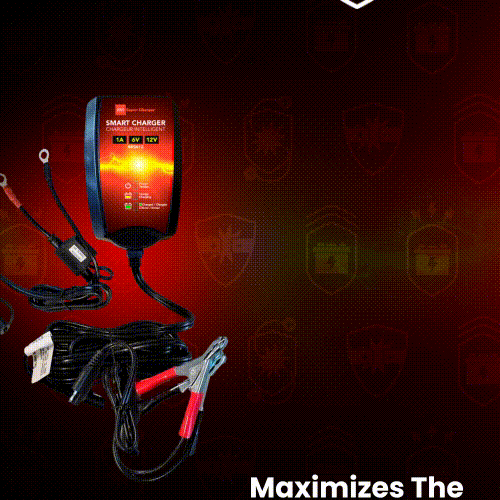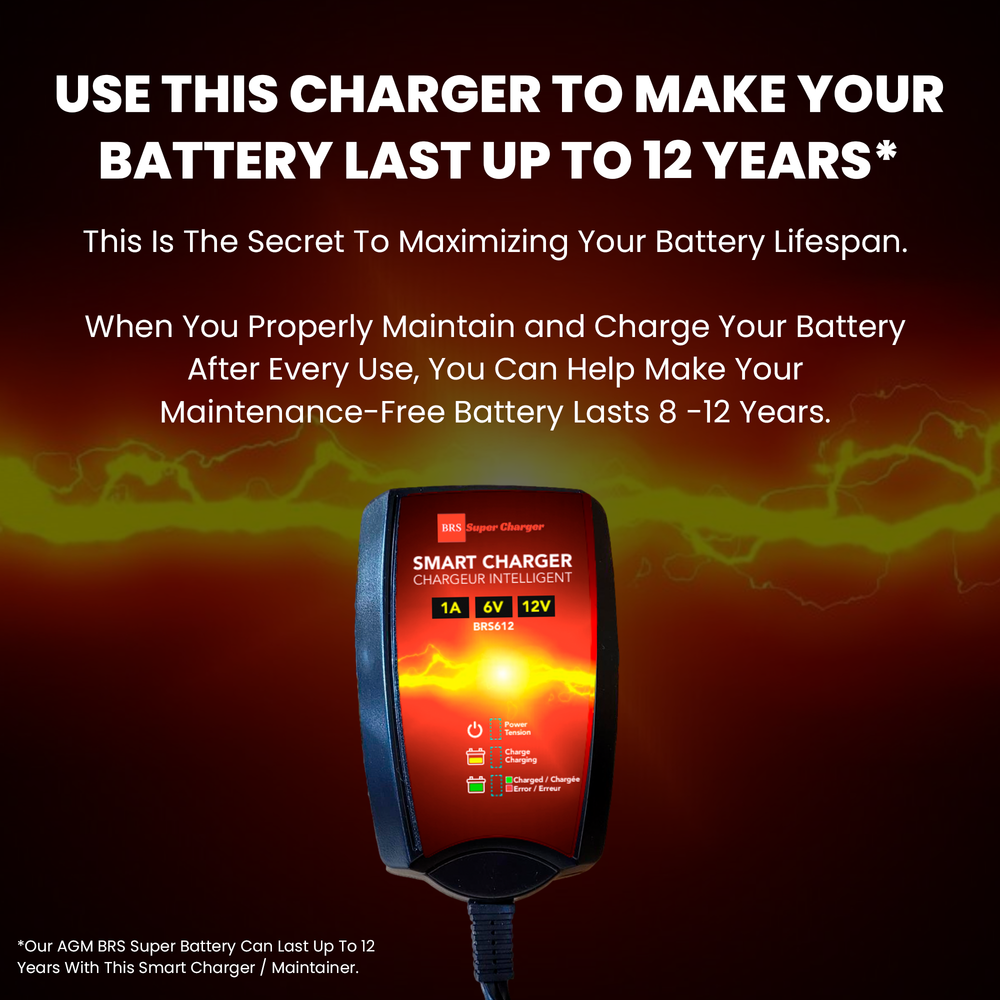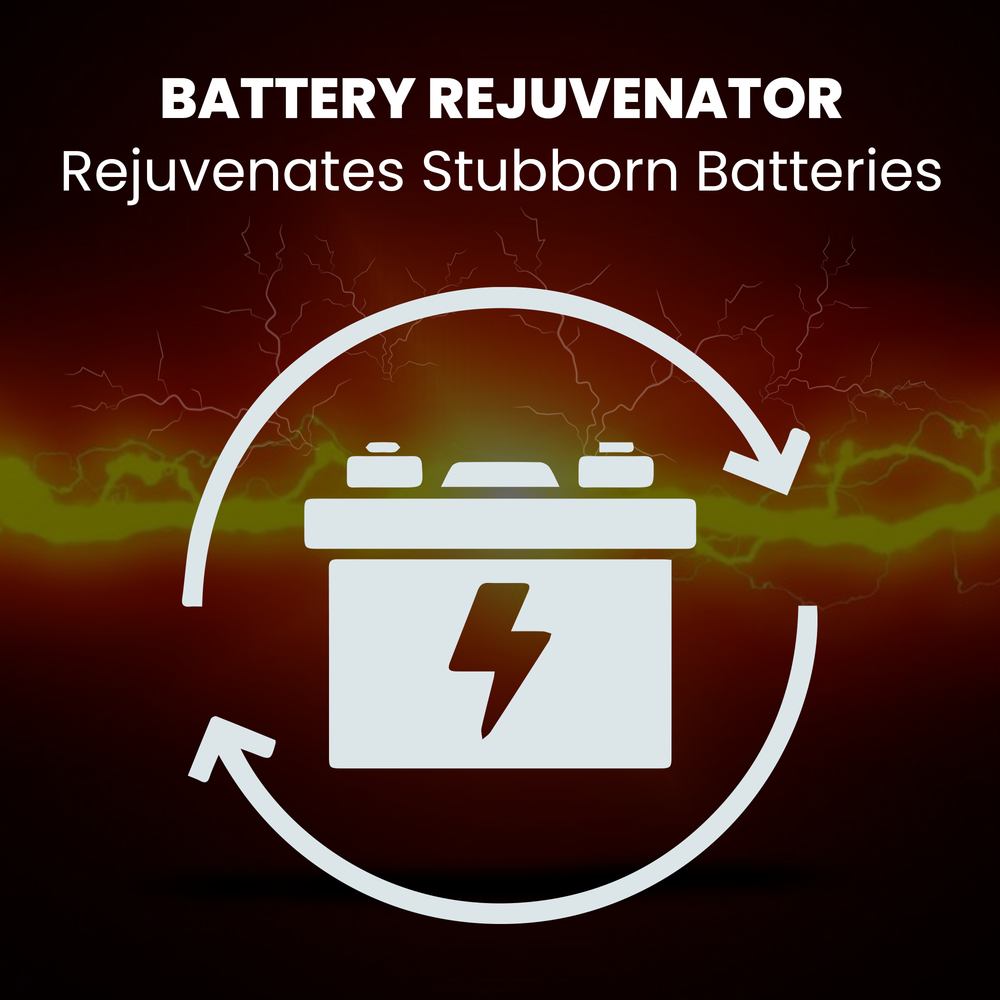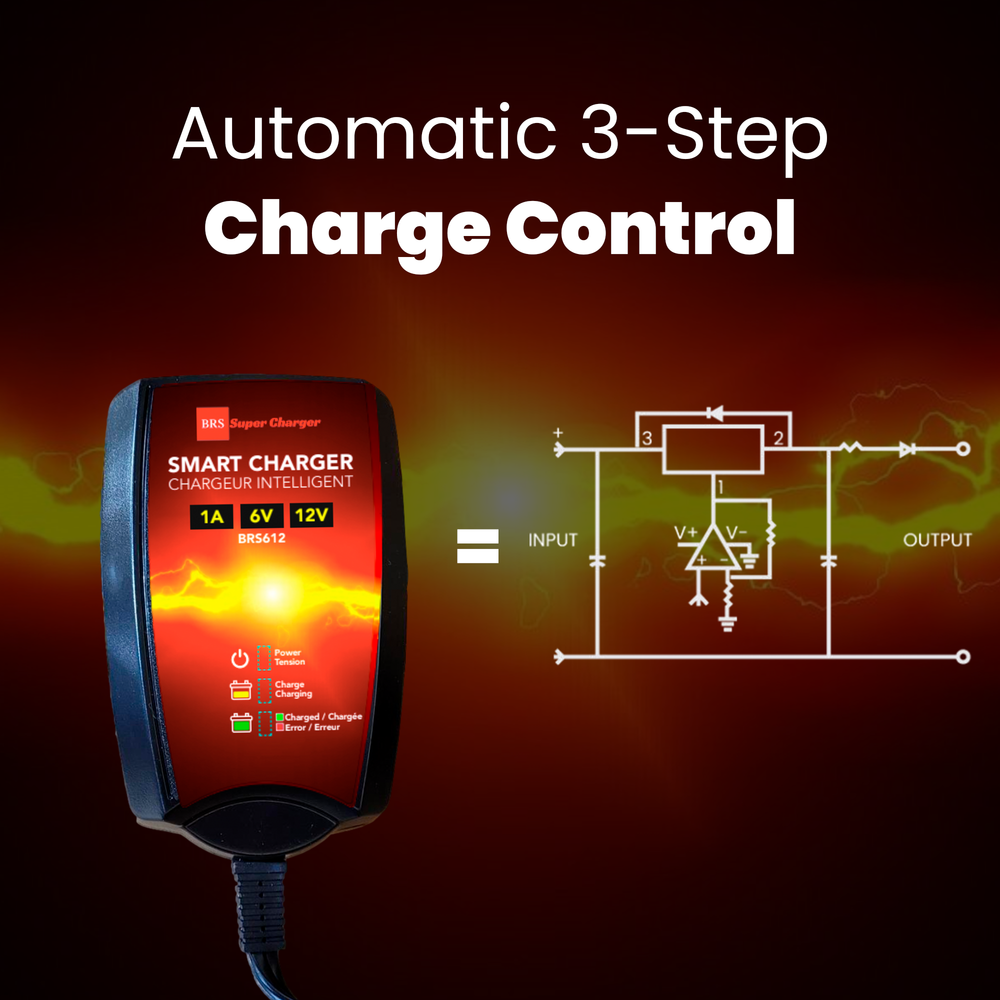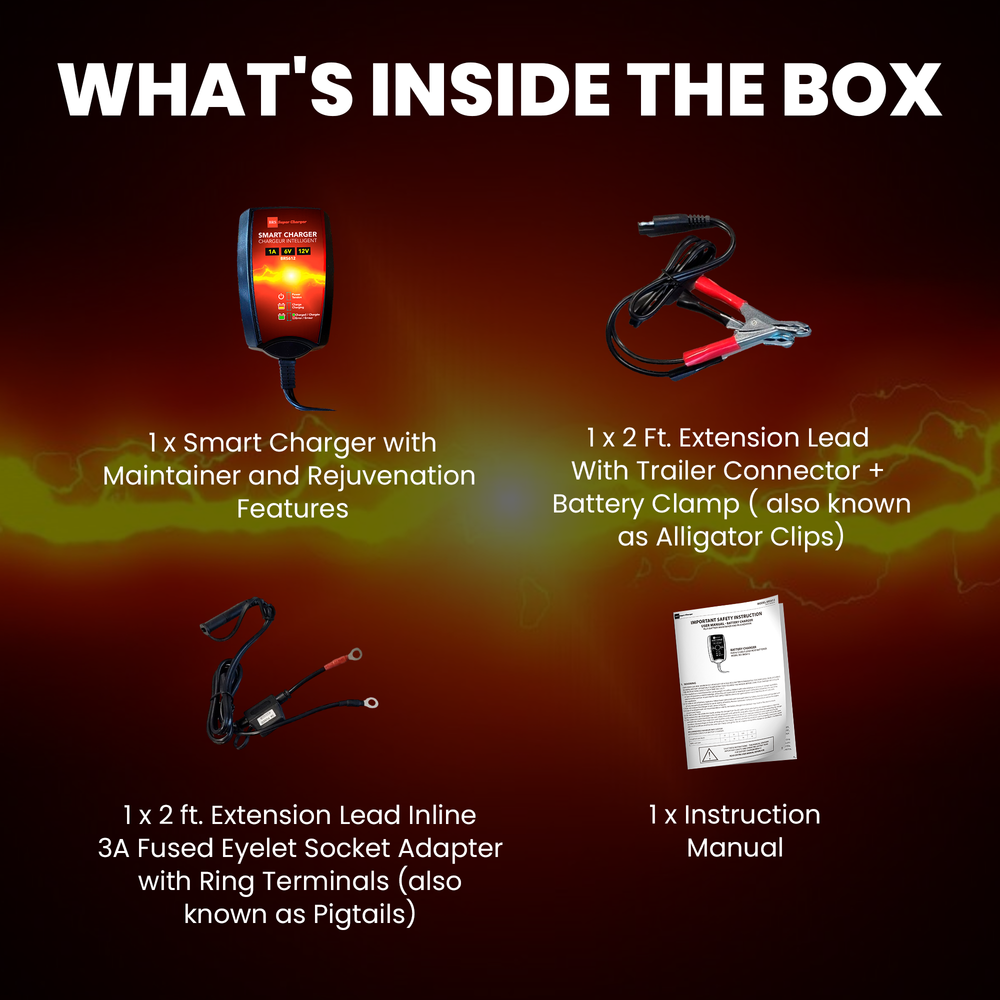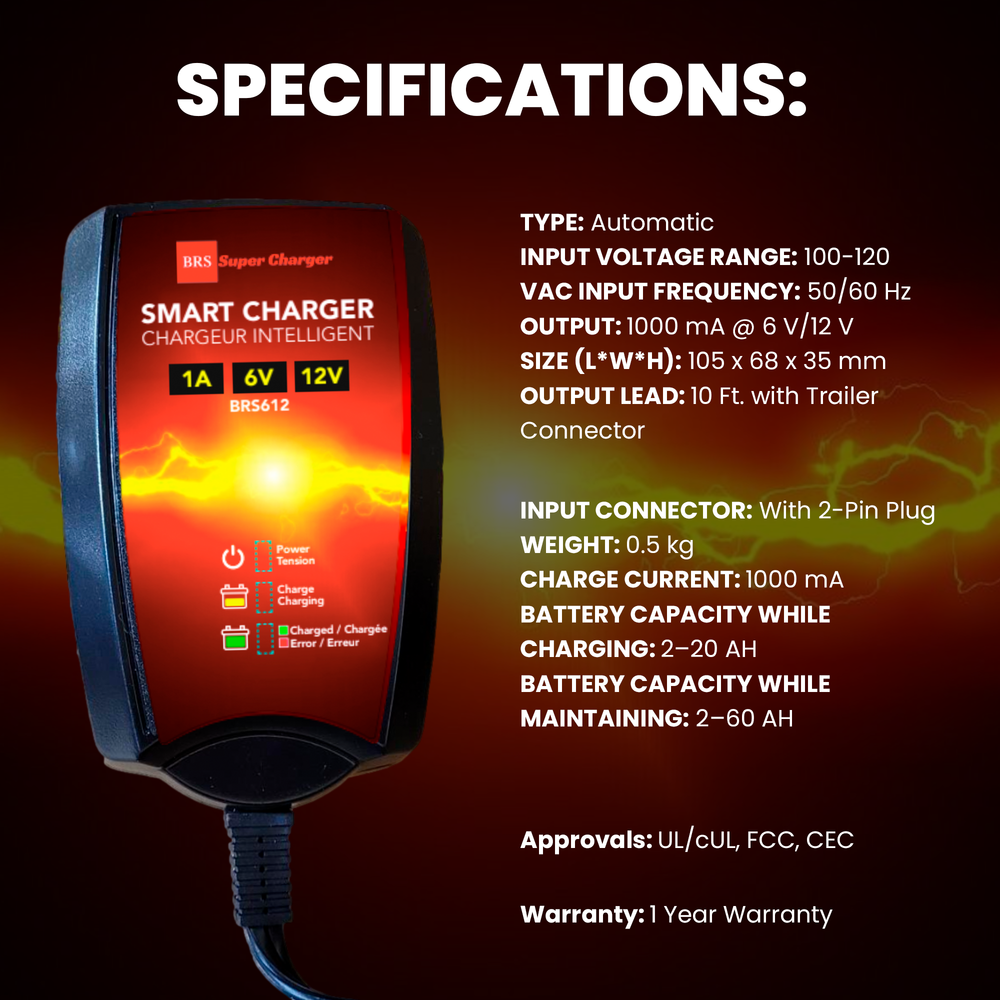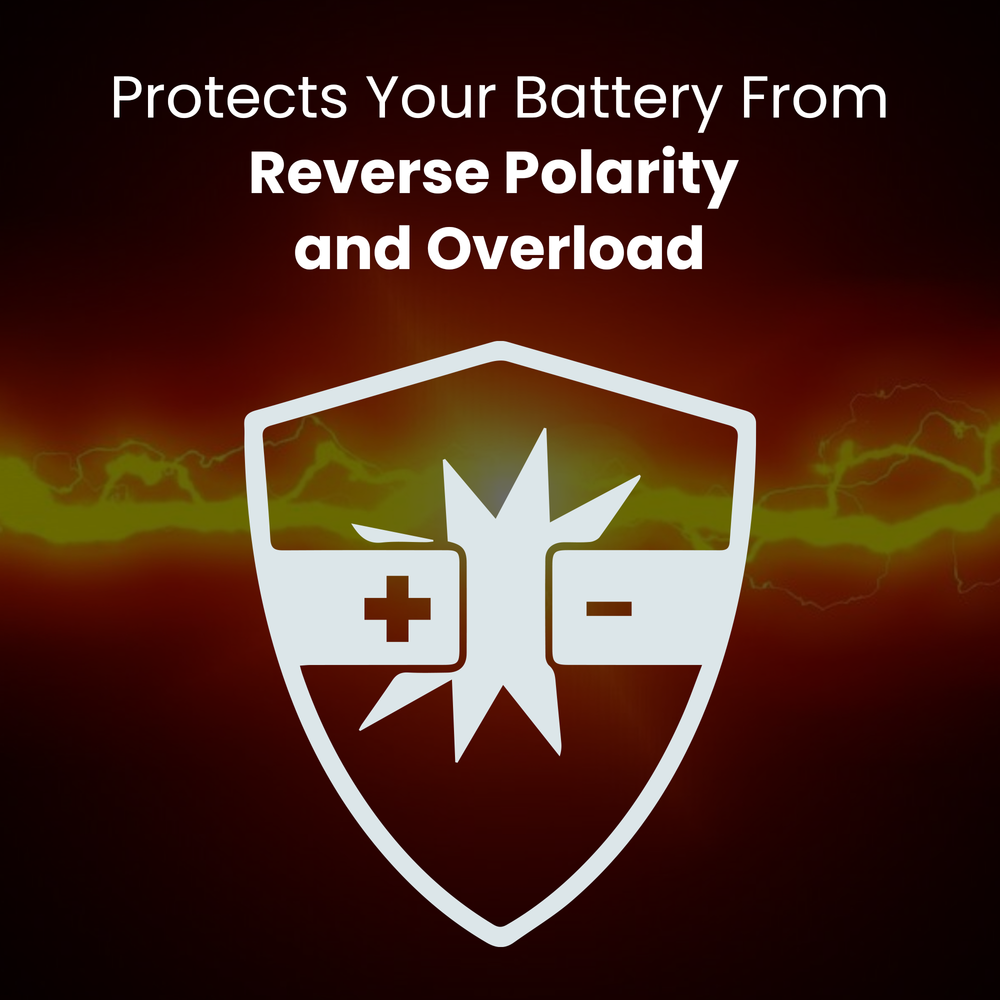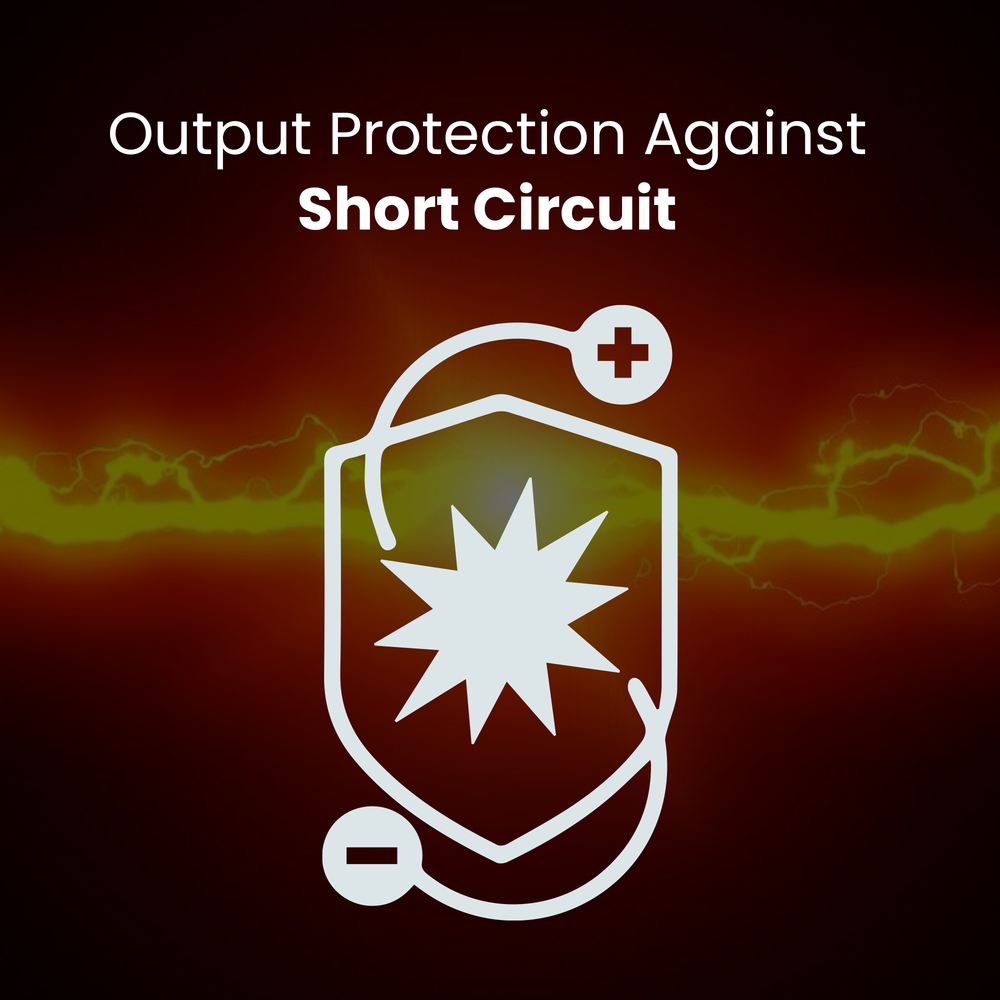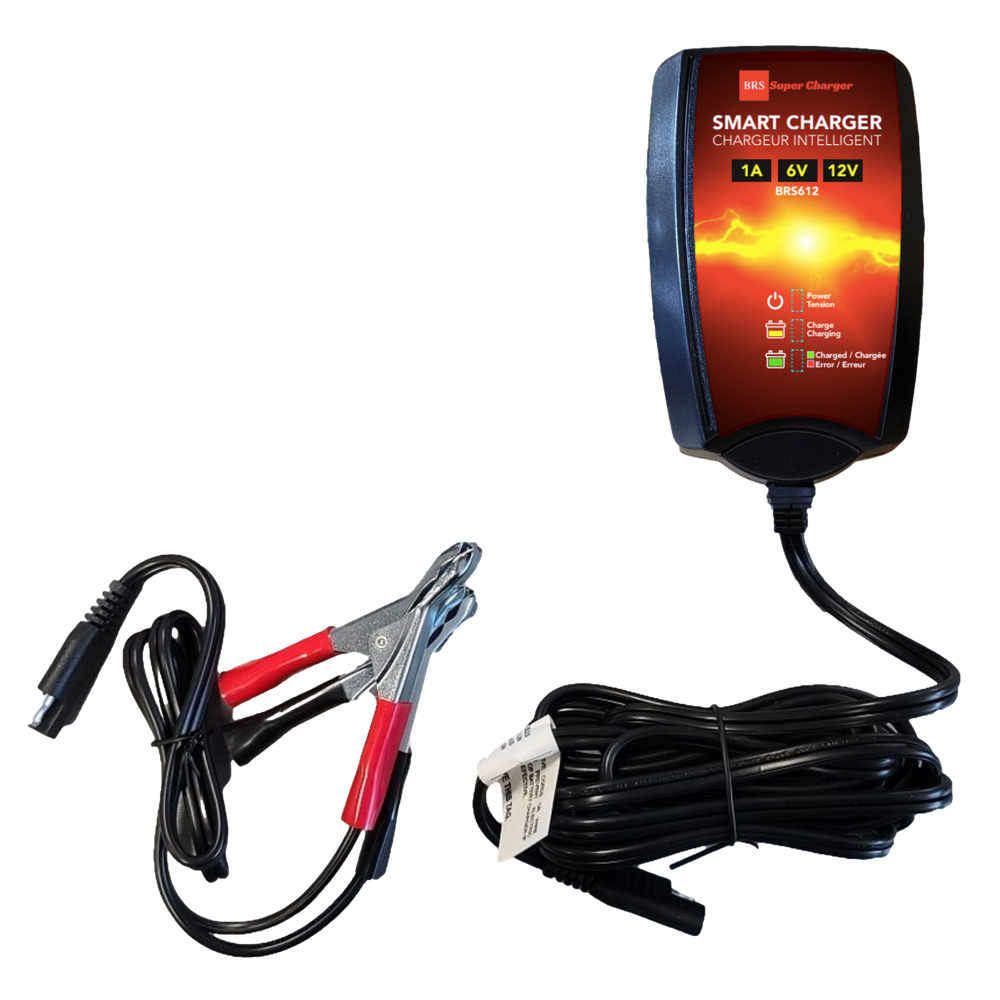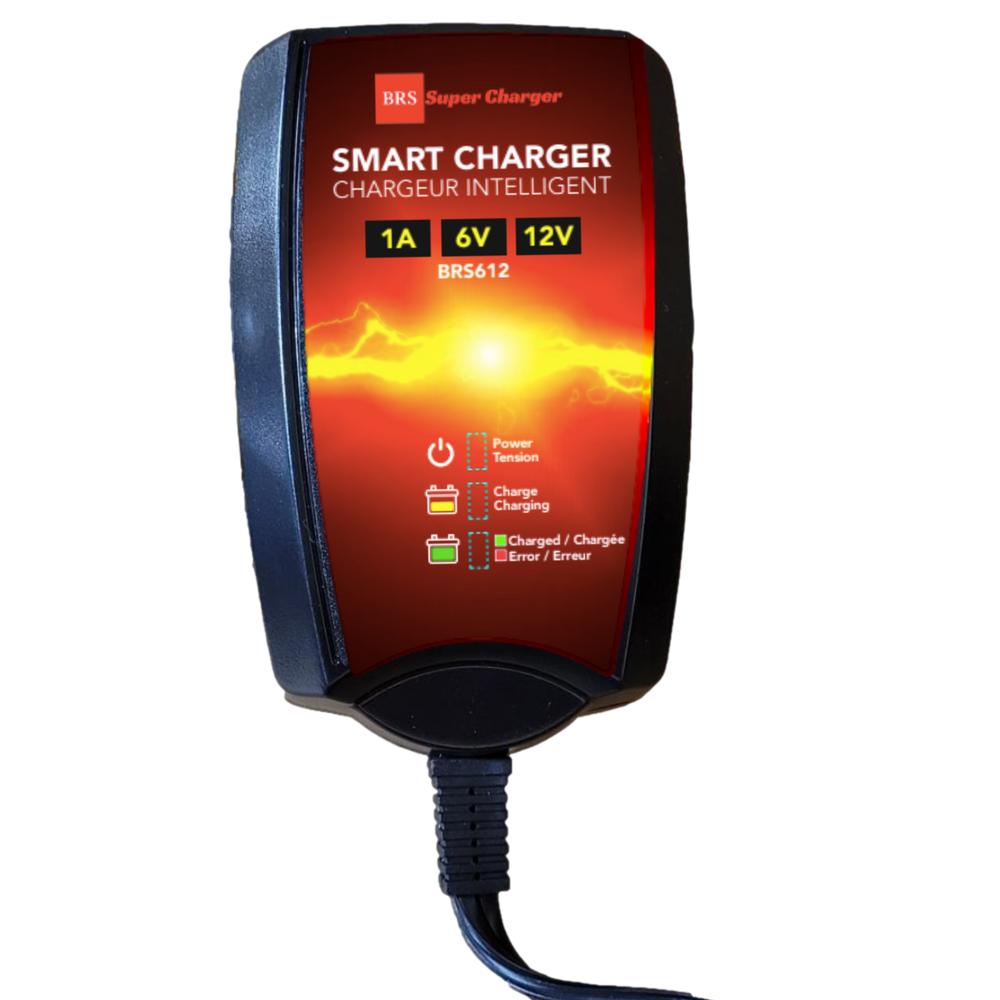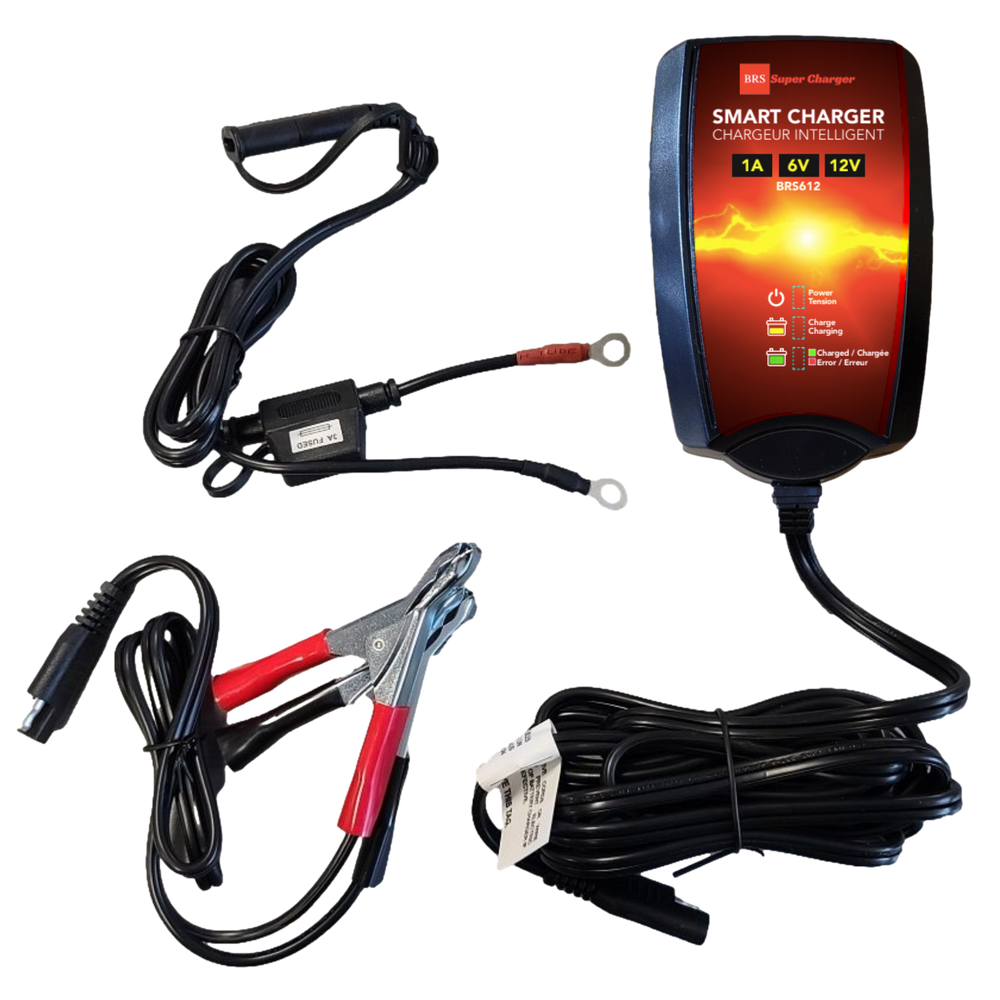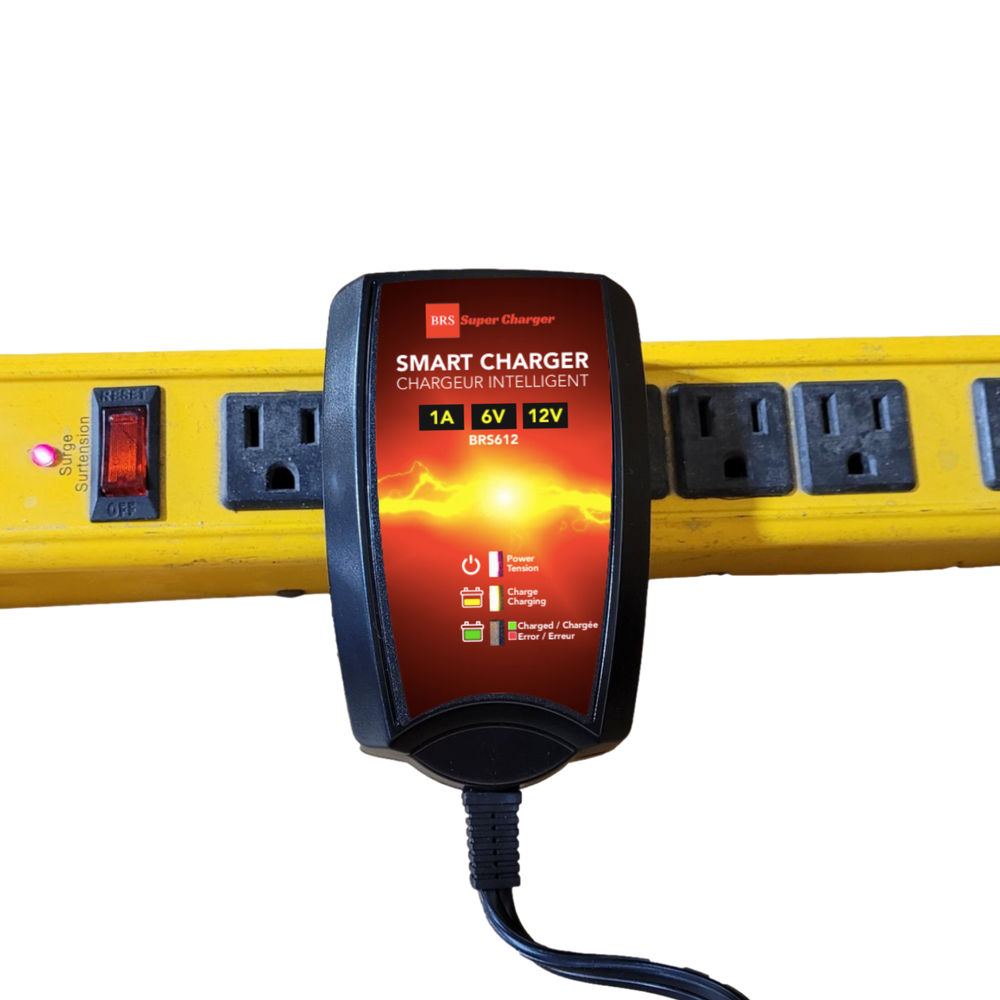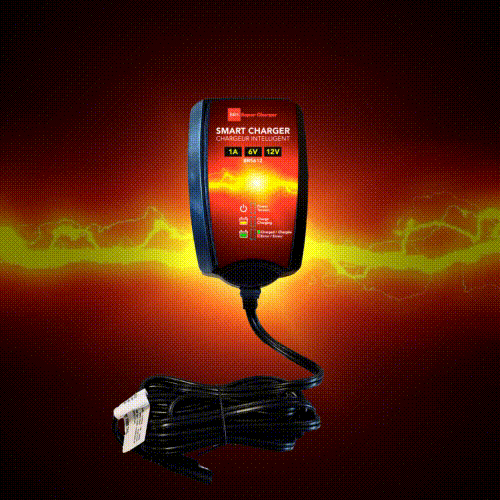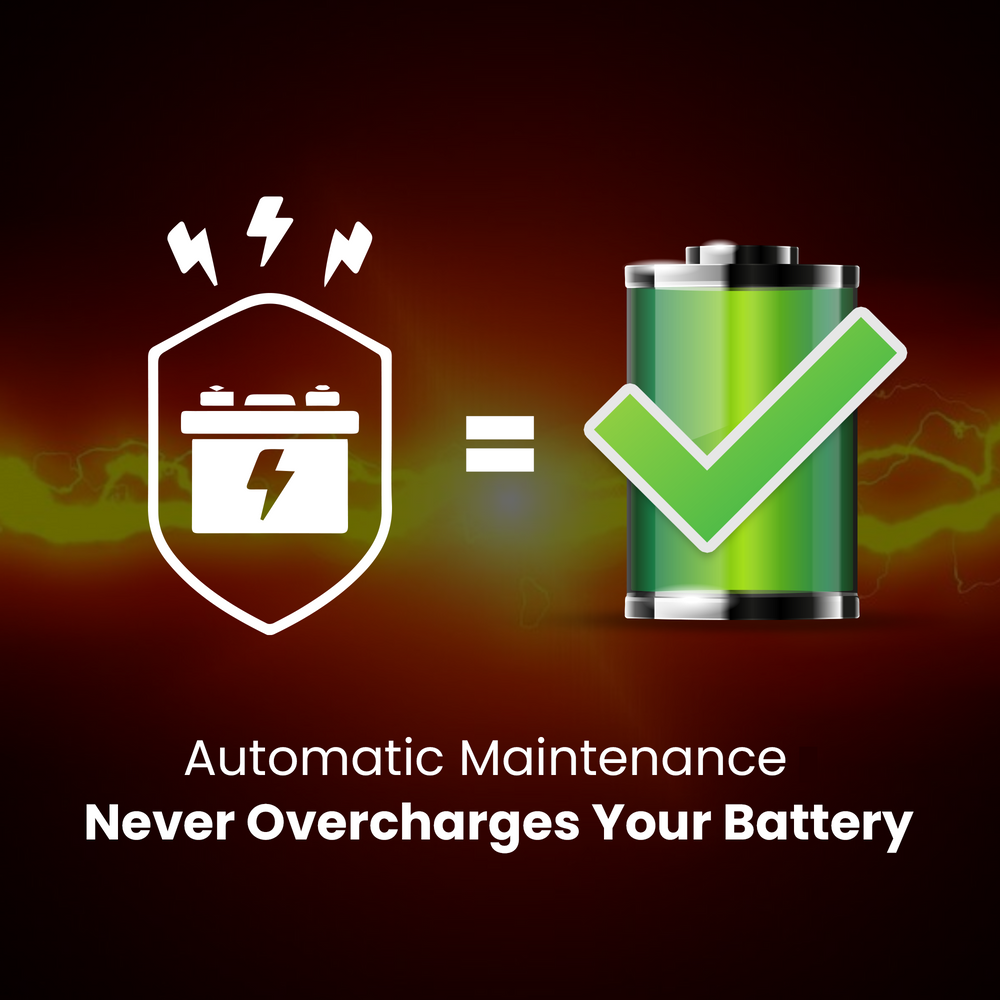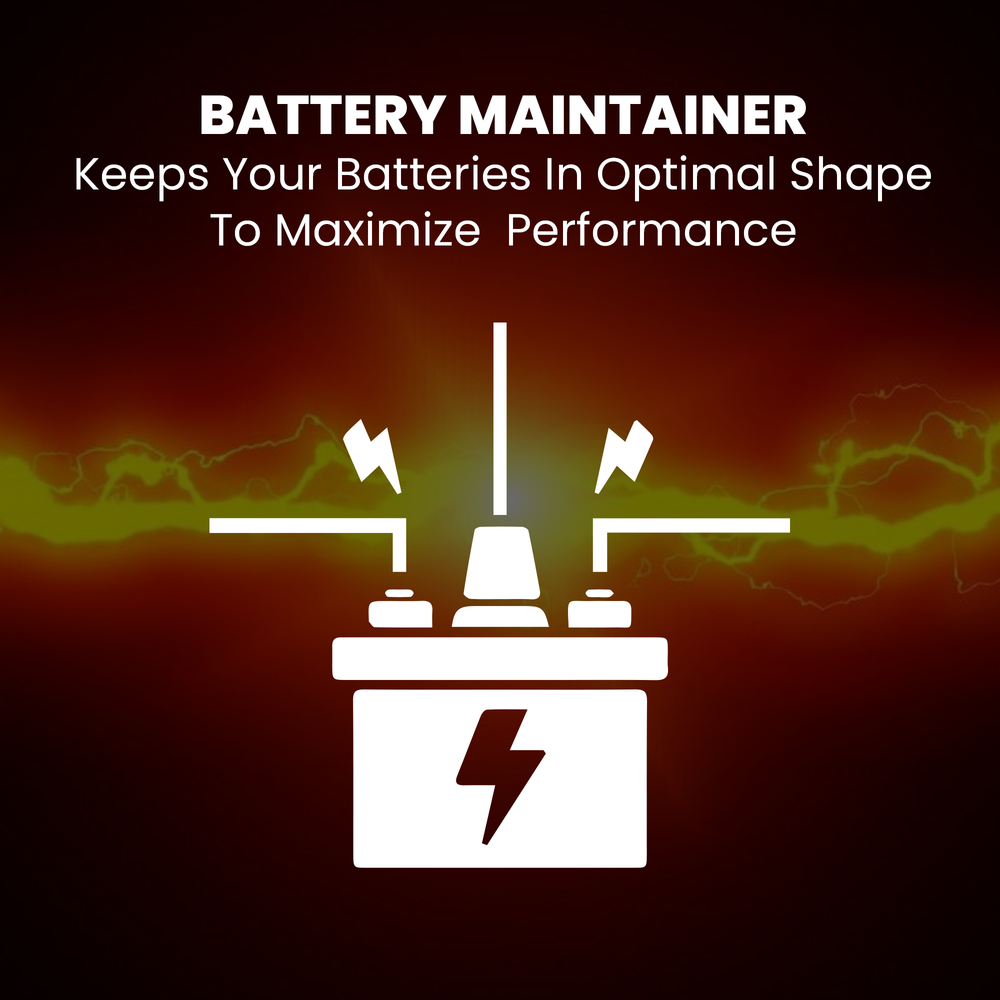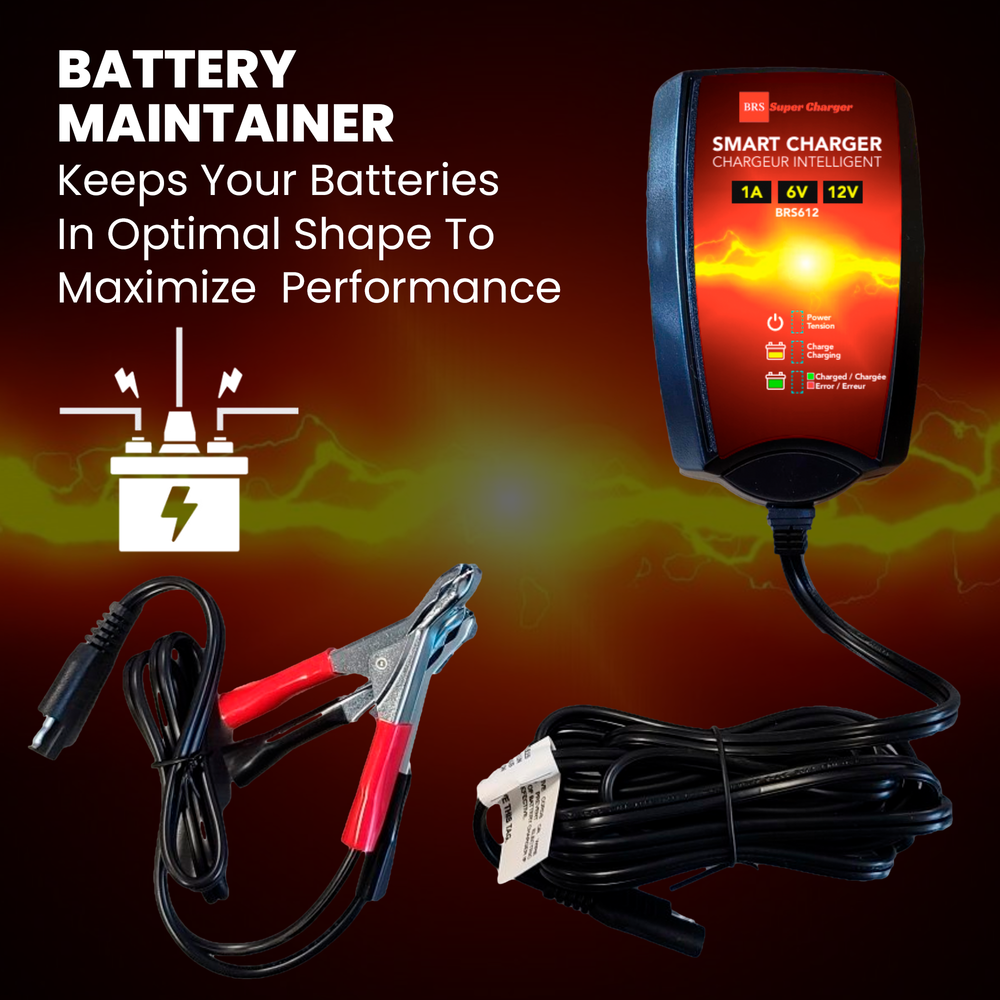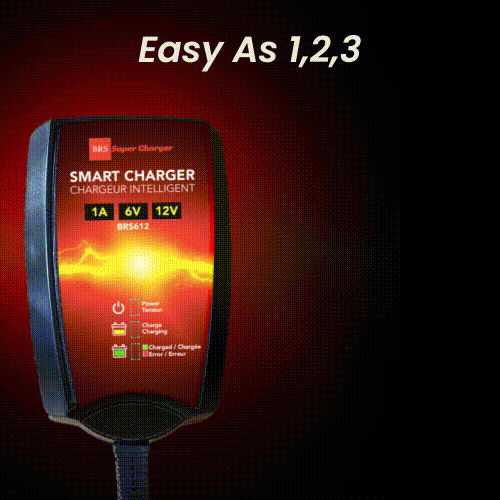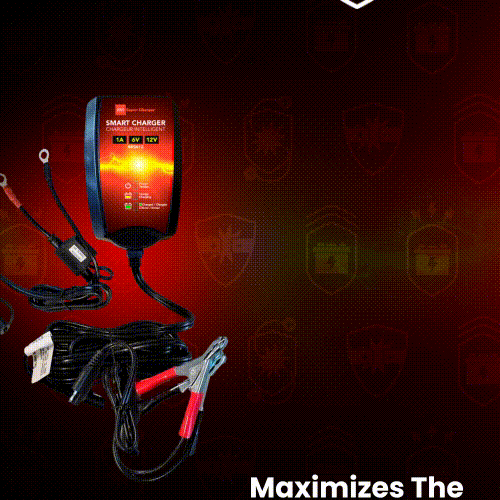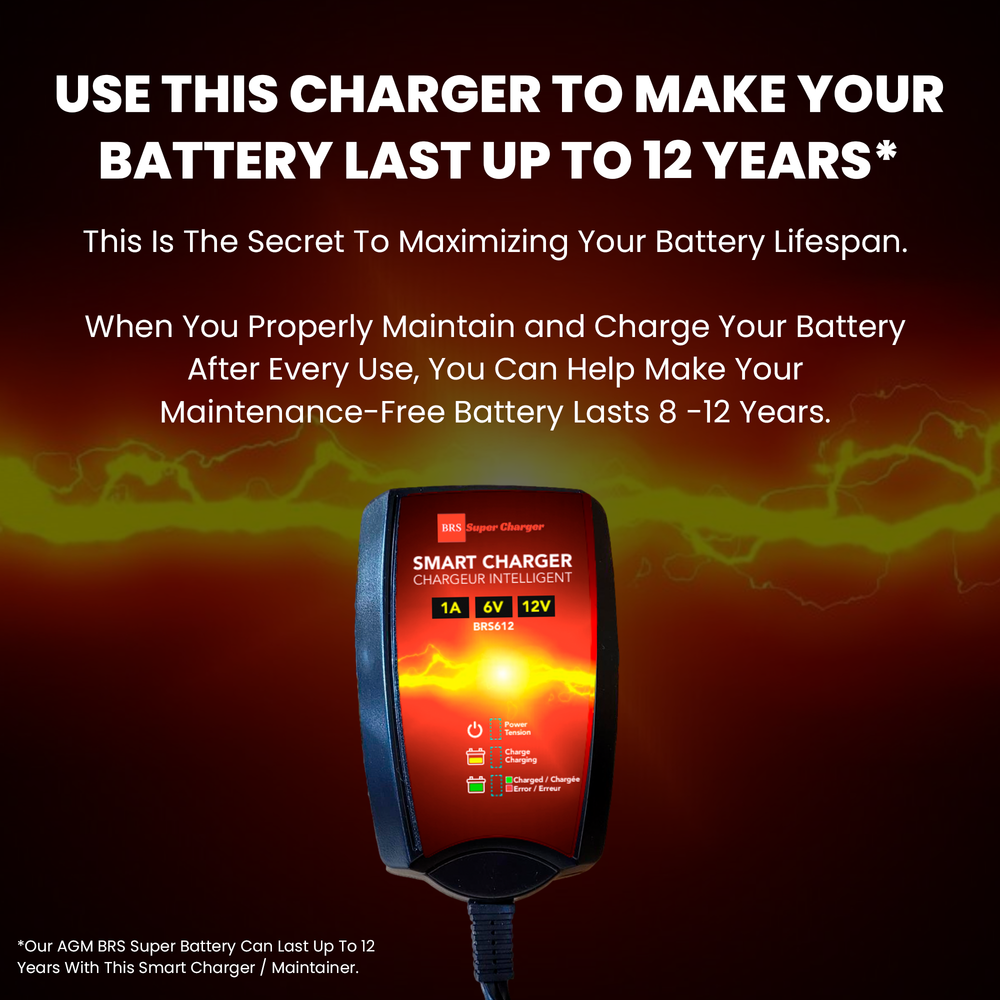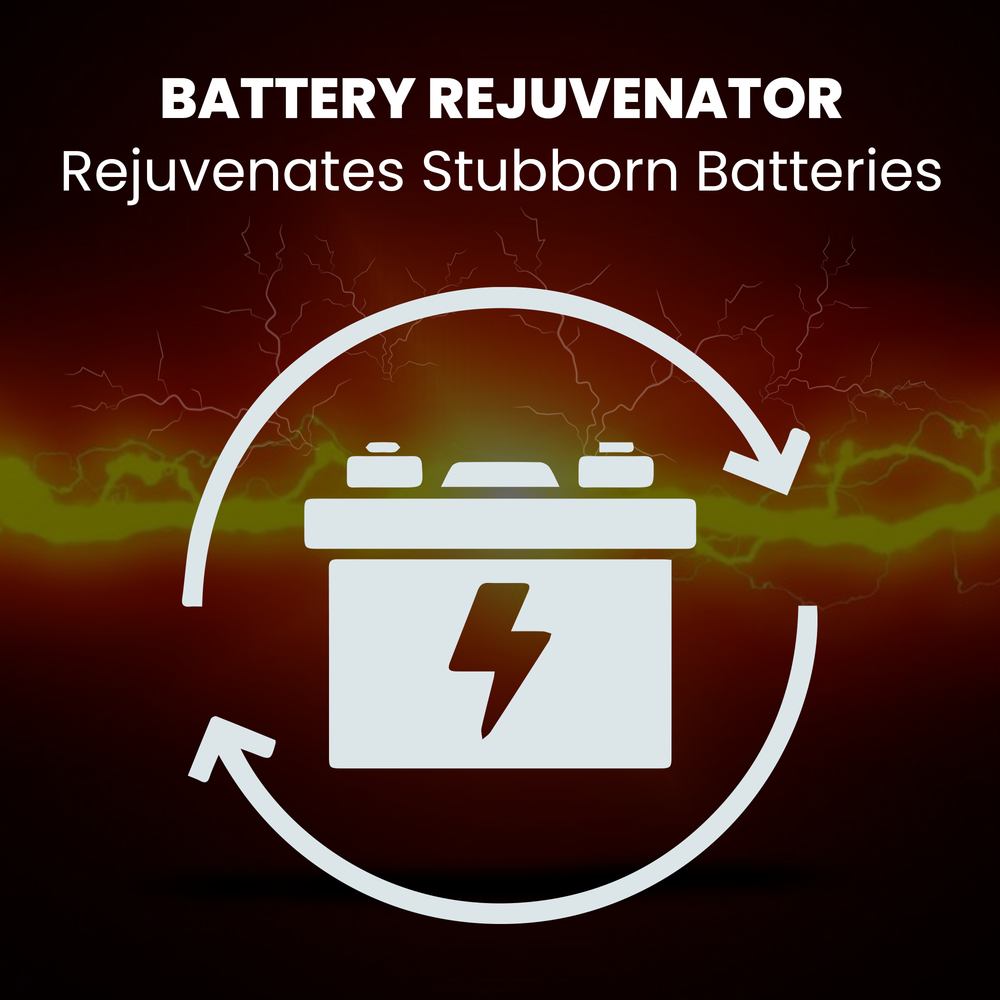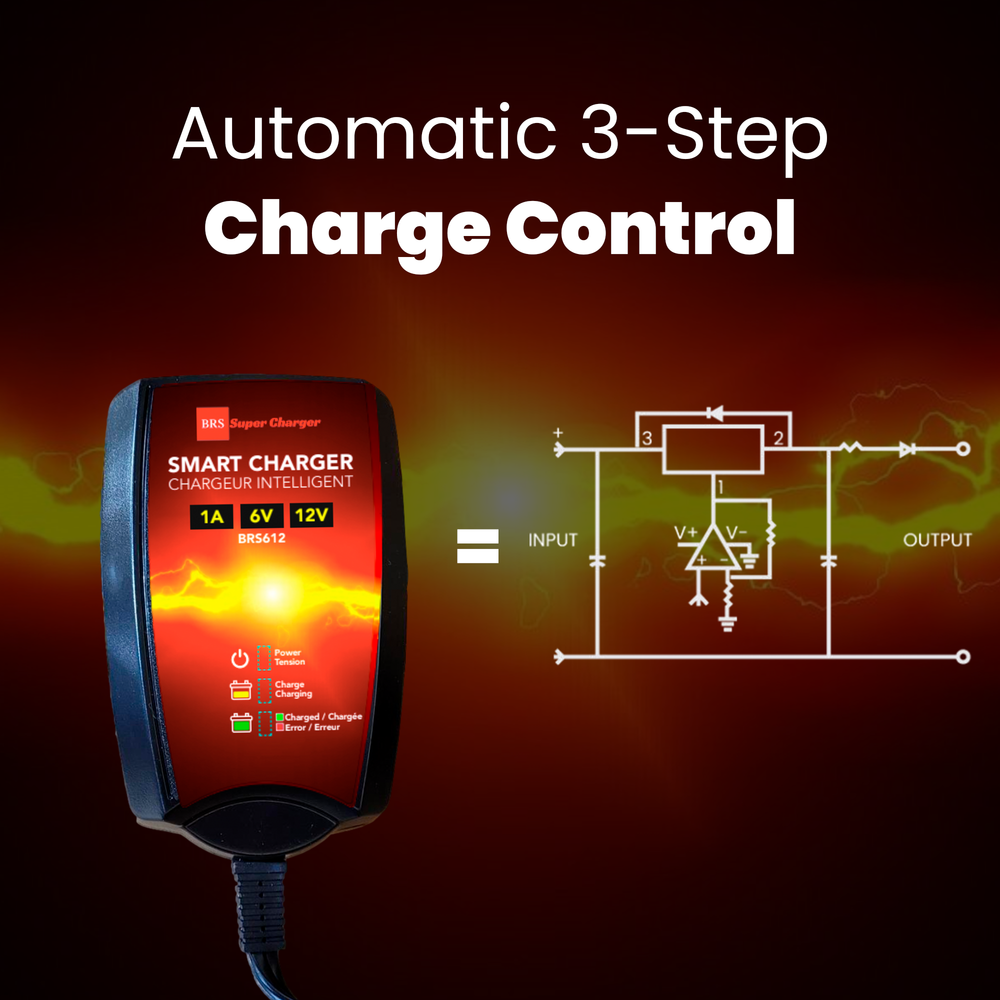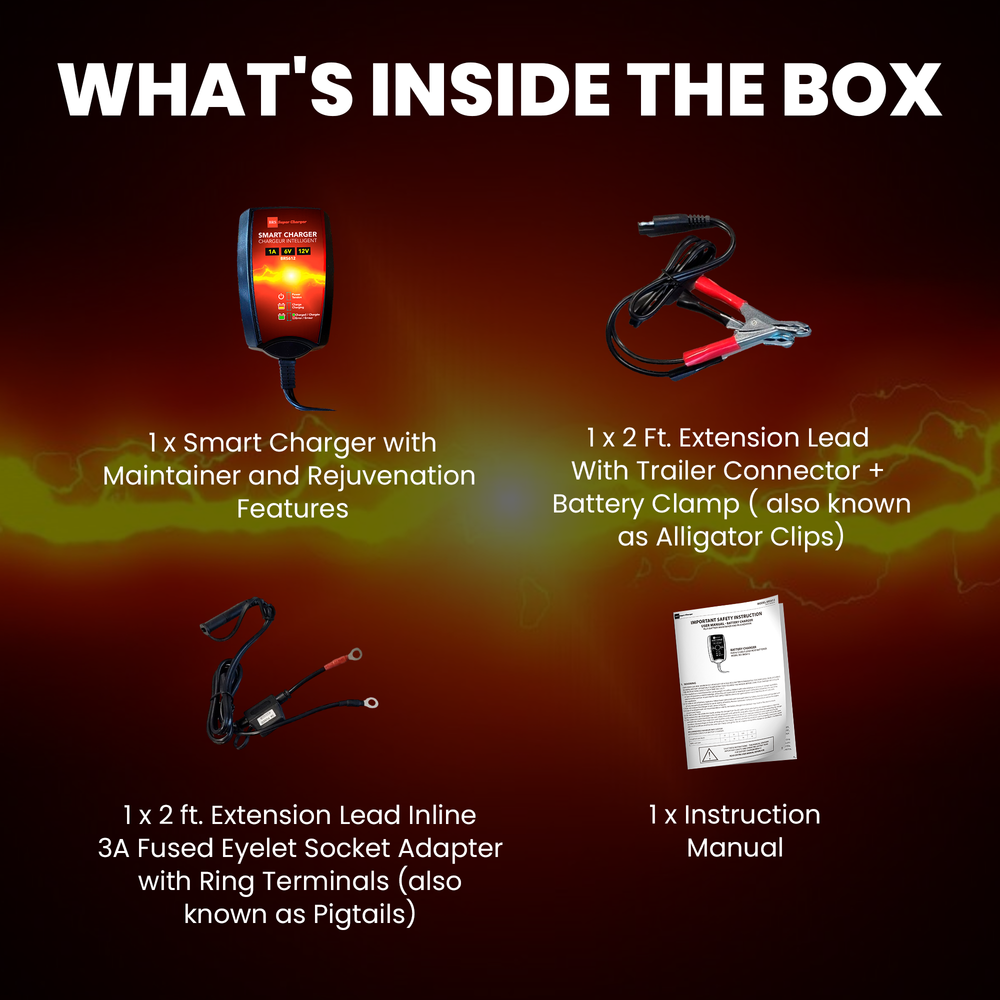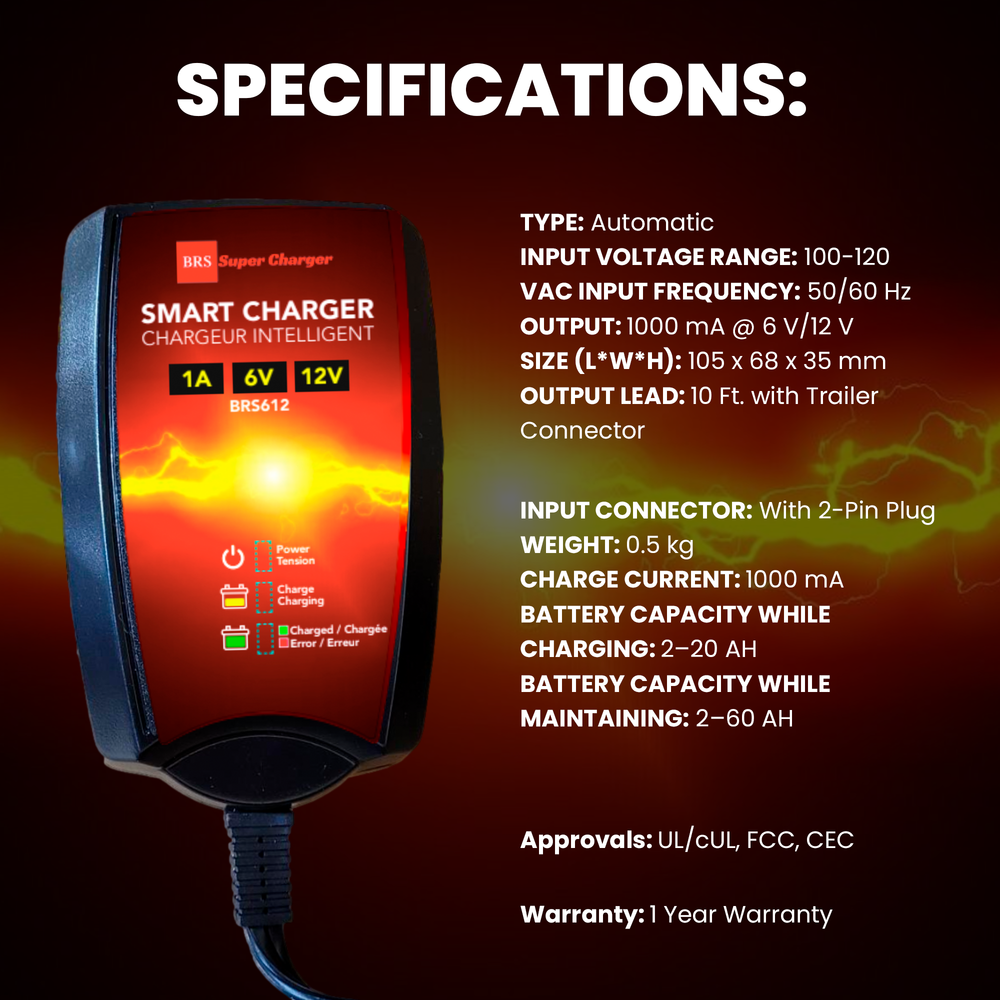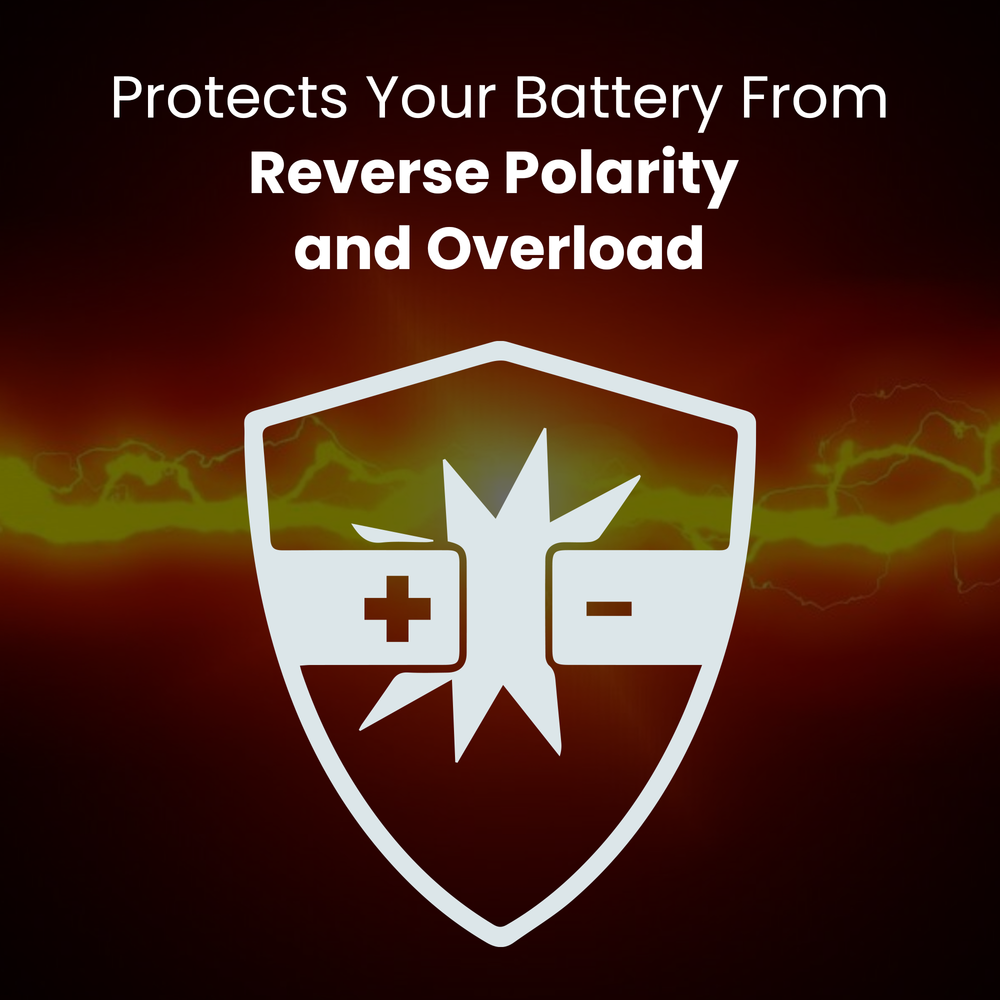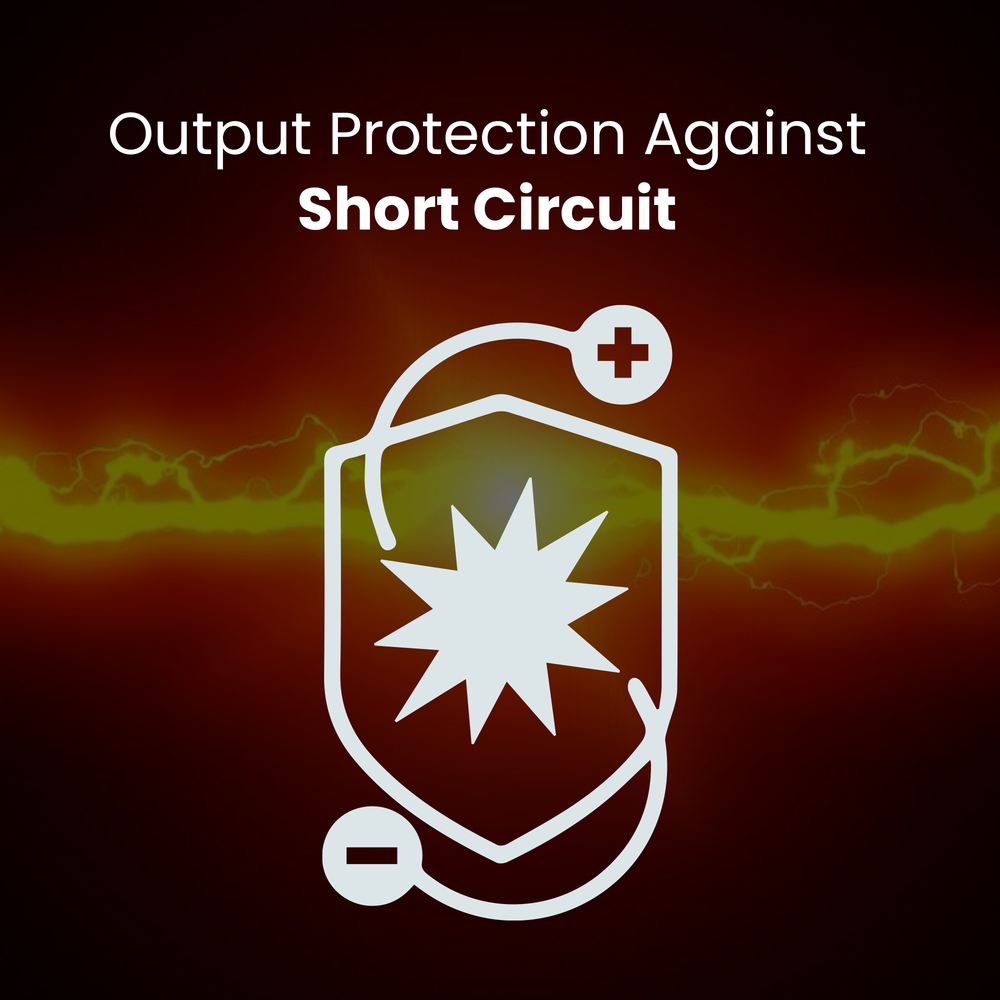 Product Description
Description
Keep Your Battery Running Strong

This Charges and Maintains Powersports Vehicle Batteries and 
Maintains Boat, RV, and Tractor Batteries (when not in use)
The BRS Super Charger - BRS612 - 6V/12V Fully Automatic Battery Maintainer & Rejuvenator is the solution you need to keep your battery running strong for up to 8-12 years.
With its automatic three-step charge control and maintenance mode, you can be sure that your battery is always fully charged and ready to go when you are.
Say goodbye to stubborn batteries that won't hold a charge, as the BRS Super Charger can even rejuvenate them for optimal performance.

SPECS:
Type: Automatic
Input voltage range: 100-120 
Vac Input frequency: 50/60 Hz 
Output: 1000 mA @ 6 V/12 V 
Size (L*W*H): 105 x 68 x 35 mm 
Weight: 0.5 kg 
Approvals: UL/cUL, FCC, CEC


Features:
Automatic Three Step Charge Control
Automatic Maintenance ; Never Overcharges Your Battery
Output Protection Against Short Circuit, Reverse Polarity and Overload
Warranty: 1 Year Warranty
Easy to Use and Safe
Using the BRS Super Charger is incredibly simple and safe. With its automatic shut-off feature, you can rest easy knowing that it won't overcharge your battery. The charger also has output protection against short circuits, reverse polarity, and overload. The spare leads make it easy to hook up to your battery, and with a weight of only 0.5 kg, it's easy to handle and store.
Battery Maintainer Feature 
Equipped with maintenance mode, this charger acts as a battery tender and trickle charger. The advanced circuitry provides you with protection from overcharging your battery.
Always keep your battery maintained & fully charged for peak performance and longevity. 
This intelligent charger is 100% fully automatic and shuts off when the battery is fully charged. 
EASY TO USE: 
Using the BRS Super Charger is very easy: 


Easy As 1, 2, 3...
Step 1: Make Sure The Charger Is Not Plugged In and Set At Correct Voltage (12V for 12 Volt Batteries)
Step 2:  Hook-Up The Positive Cable On The Charger To The Positive Terminal On The Battery -  Then Connect The Negative Cable On The Charger To The Negative Terminal On The Battery
Step 3: Plug In Charger, Yellow Light Should Be On. When Green Light Is Activated Battery Is 100% Charged.
The BRS Super Charger will stop charging the battery when the voltage is reached to avoid overload.
Proper battery maintenance is essential in prolonging the life of your batteries. 
If nothing is done, your battery will lose its power… usually  around 0.5% to 1% every day. 
In approximately 3 months if you allow your  battery to completely discharge, you could damage it. It may freeze or sulphate. 
This phenomenon occurs when the electrons do not move fast enough in the battery, sulphate then glues to the plates and cannot be removed.  
This smart charger is equipped with protection against reversed polarity. 
For conventional and sealed batteries. 3 LED lights indicating the state of charge of the battery.
High-Quality Design and Certifications
The BRS Super Charger is designed with the highest quality materials and meets all the necessary certifications, including UL/cUL, FCC, and CEC. Its compact size of 105 x 68 x 35 mm makes it easy to store and transport. With a manufacturer's warranty of 12 months, you can trust that this charger will meet all your battery charging needs.
Compatibility:
✅ This charger works with both 6V and 12V batteries in powersports vehicles, and any application that uses a conventional, sealed lead acid, or AGM battery. 
🛑 Not Compatible with lithium batteries - Please check out our full line of chargers here
What's included inside the box? 
1x charger
1x alligator clips 
1x pigtails
1 x instruction manual 
It is imperative that a battery maintainer is used in todays Powersports. There is parasitic drain on the battery all the time because of sophisticated electronics. This will drain you battery to 0V if not monitored.
Also with some units the Alternator/Stator is not sufficient to recharge the battery after use. Especially with winches/plows and high demand electronics (stereos/amps).
Another reason for battery failure is short run times between start and stops. If you start your units and only run it for 15-30 min to recharged battery., This is not long enough especially if running accessories.
This maintainer gives you peace of mind that your battery is 100% ready to go before you leave!
The kit include wire terminals that can be permanently connected to the battery so no need to remove covers or seat to connect to battery. Makes it that much easier. That means the easier it is to connect ..the more often you will!
Also comes with extra alligator clips to recharge other small batteries.
If battery voltage is lower than 11v the battery has been sitting too long without a charge. The charger will not recharge the battery as it is too low. You will need to hookup another battery in parallel to recharge.
AUTOMATIC SWITCHING MODE BATTERY CHARGER AND MAINTAINER
Charge and maintain – automatic charge: On power-up, the charger will automatically go to the charging system.
Charge and Maintain – Automatic Maintenance: When the battery is fully charged, the charger automatically switches to maintain the battery. It will monitor the battery voltage and continue to peak performance to the battery.
Short circuit protection: The charger will automatically turn off when the output short-circuits to prevent damage.
Reverse polarity protection: The charger can automatically shut off without damage when the output polarity is reversed. 
This charger will never overcharge your battery.

Output short circuit protection.
Output overload protection: The charger uses a "solid state circuit interrupter" that opens under severe overload.
This condition may occur if attempting to charge a severely discharged or heavily sulfated battery.
Once the interrupter opens, the charger will stop charging for a short period and then resume charging automatically.
Reverse battery/overload condition: The charger has reverse battery and short circuit protection.
Internal overheat protection: Chargers have an internal overheat protection.
The power will be reduced if the ambient temperature increases.                                        
Corrosion-resistant output connectors.
Output clamps and ring terminals provided: The charger comes with a quick-connect fly lead and two different kinds of connectors, battery clamps and ring terminals.
The ring terminals are perfect for permanent connection to your battery.
Y
ou can connect the lead to the battery and tuck the lead away while you are using your vehicle.
When you get back to your garage, simply plug the lead back into the charger.
I have been using this pump all summer to keep my boat, lawn tractor and a whole bunch of other stuff filled up around here. I still use 5 gallon containers for their portability and even with 10 of those I'll have to fill them twice to get through the summer. This pump has been great for my needs. If you are sick and tired of having to hold a 5 gallon container of fuel in the air while attempting to get those funky nozzles to work, buy this pump.
Brad
So far it's working as well as I had hoped. Nothing is perfect when trying to transfer gas, but this does a very decent job. You need to make sure to lift the nozzle and hose up at the end of the fuel transfer to allow any residual fuel to run back into the tank or it will dribble out all over. It empties most of a five gallon gas can in a couple minutes without having to lift and hold the can up which is exactly what I wanted.
V. Thomas