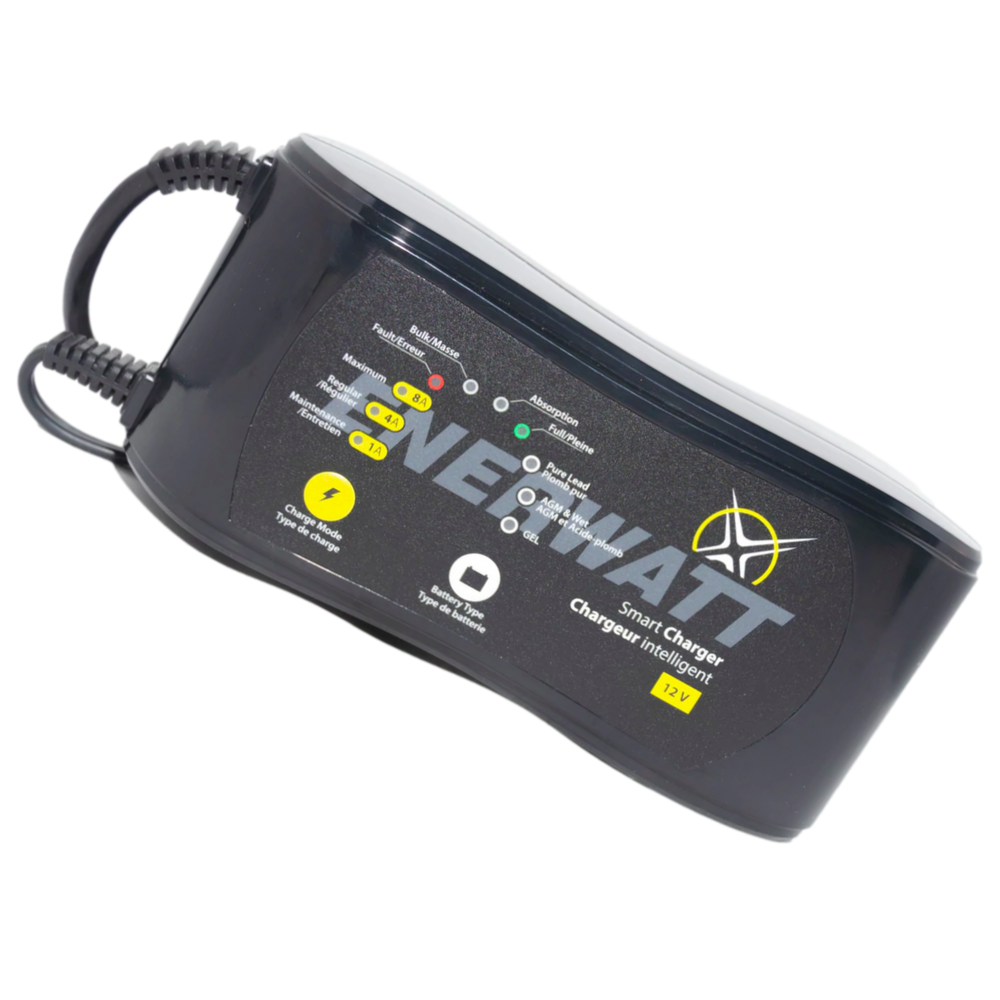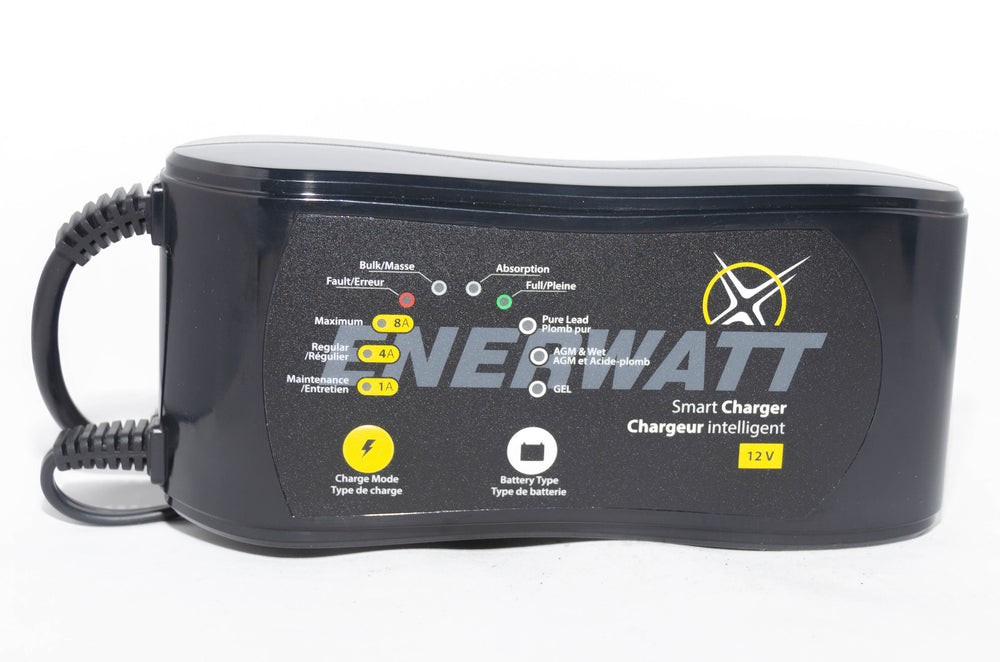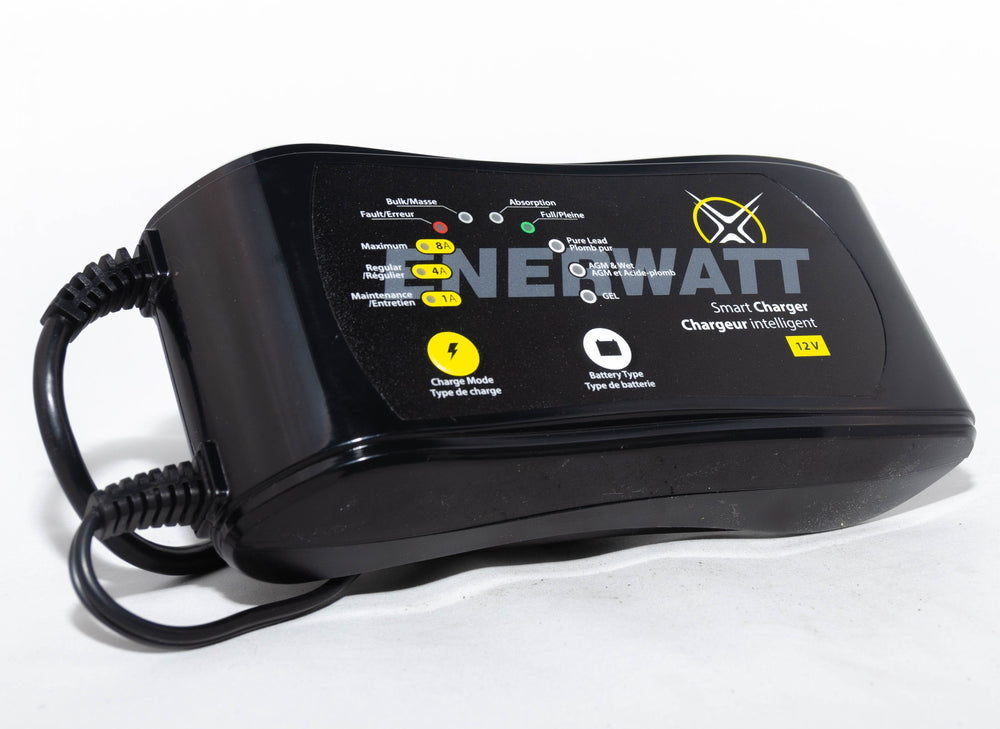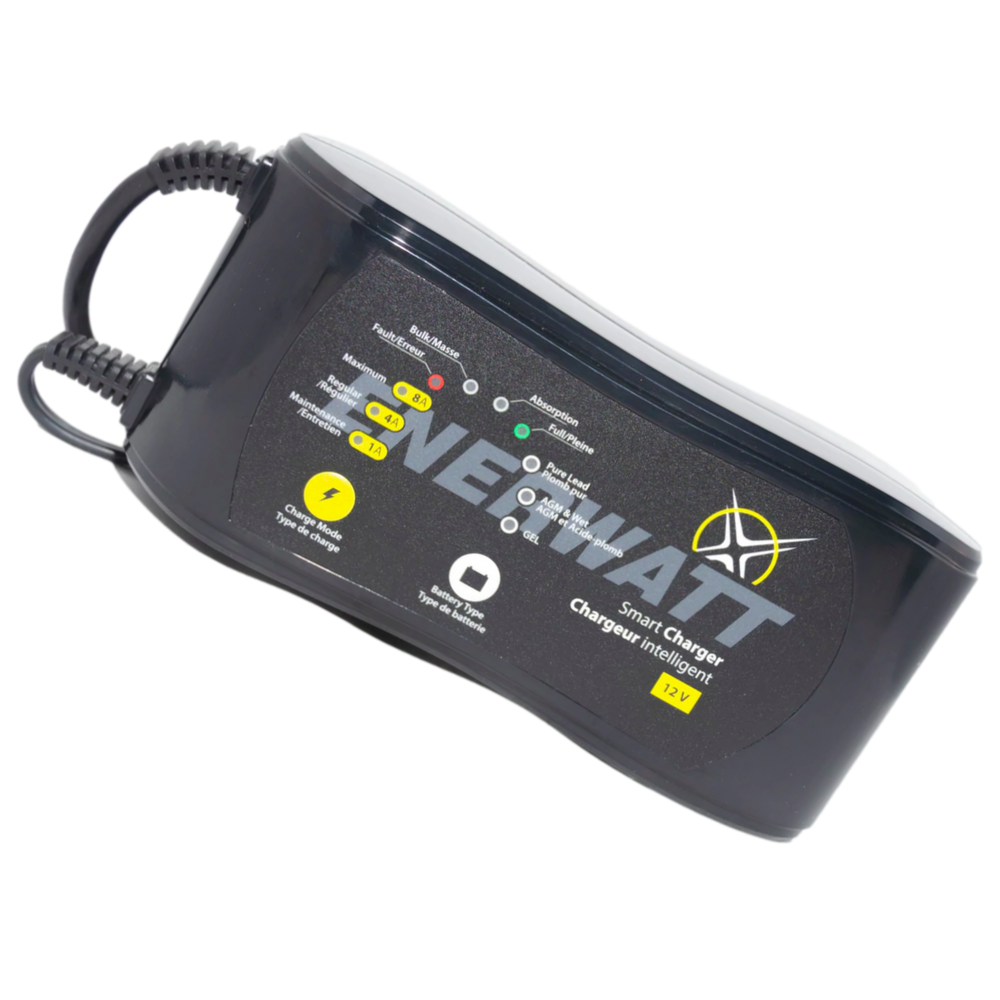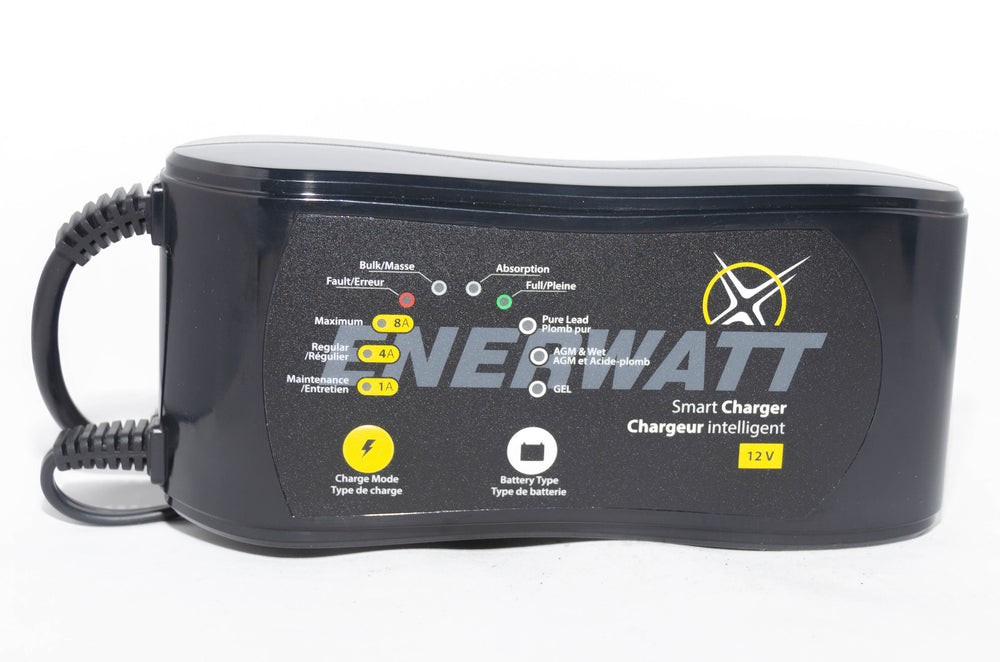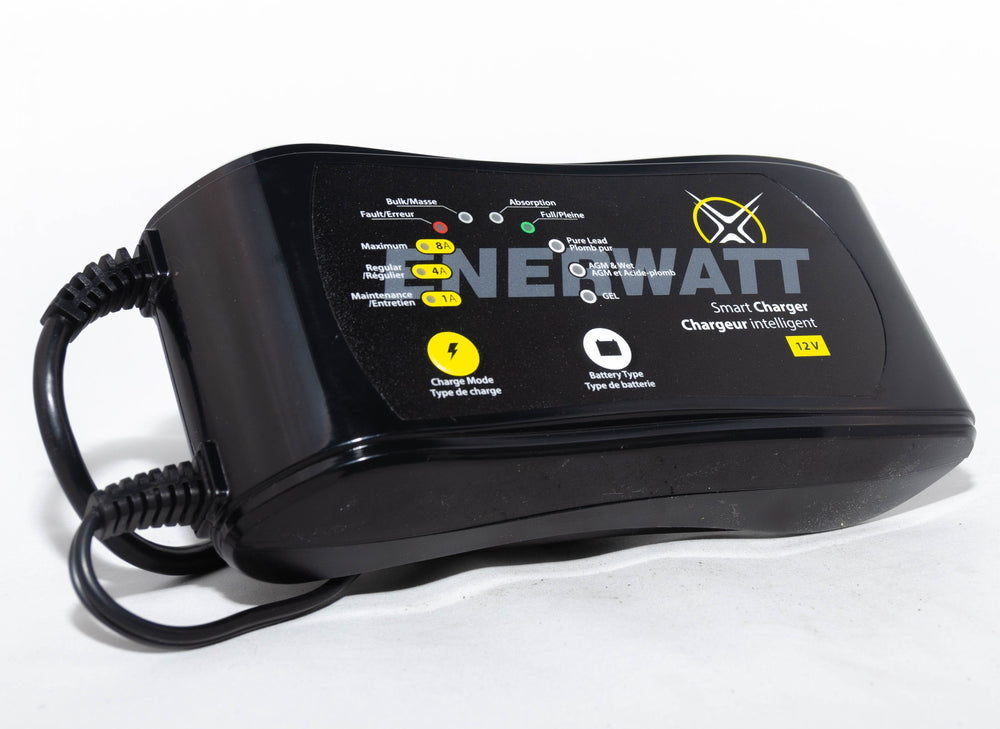 Product Description
Description
ENERWATT EWC12-148 12V 100% Automatic Smart Charger
Technical Specifications: 
Model Number:
EWC12-148
Type:
Smart
Input Voltage Range:
100 - 120Vac
Input Frequency:
50/60Hz
Output:
8A @ 12V
Start Voltage:
2V
Charge Voltage:
GEL - 14.1V / AGM & WET - 14.4V / Pure Lead - 14,7V
Equalizing Voltage:
AGM & WET - 15.5V / Pure Lead - 16.2V
Float Voltage:
13.2V
Rejuvenation Voltage:
16.0V
Rejuvenation Current:
0.5 - 1.0A
Size (L * W * H) in mm:
217 * 104 * 58
Weight:
1.1kg
Approvals:
CE, UL/cUL, FCC, AS, NZS, DOE
BATTERY TYPES & CAPACITY
Suits all Lead Acid Type Batteries. (GEL, WET, AGM, Pure Lead)

Adjustable charge rate: 12V volt battery
| | | | | |
| --- | --- | --- | --- | --- |
| | Deep Cycle (AH) | Automotive (CCA) | Marine (MCA) | Time (Hours) |
| 1Amp  | 7-20  | 40-120 | 55-165 | 7-24 |
| 4Amp | 30-80 | 180-480 | 250-650 | 7-24 |
| 8Amp | 60-160 | 360-1000 | 500-1300 | 7-24 |
ENVIRONMENTAL CHARACTERISTICS
Operating Temperature: 0 to 40° C

Storage Temperature: -10 to 80°C

Operating Humidity Range: 90% RH Max

Cooling: natural cooling
Features: 
- LED display of the state of charge and selected options.
- Protection against reversed polarity, overload and short-circuit.
- 2 types of connectors included: clamps and eyelets.
- Corrosion resistant.
The EWC12-148 fully automatic high frequency charger features a  microprocessor which charges conventional 12V batteries (car, motorcycle), deep cycle (RV, boat), gel, AGM (electric bike) and pure lead batteries. 
It has an easy to set interface with a selection of three charge levels: 1, 4 and 8 amperes and two optional charge modes to prolong the life of your battery: equalizing and conditioning.
A Rapid Charger That Prolongs The Life of Your Battery 
The EWC12-148 is a pulse charger, it uses fast variations of high voltage (pulses), higher than the average constant load chargers.
Result:  a faster charge, perfect every time, causes less evaporation than regular chargers, prolongs the life of your batteries and needs less maintenance.
Moreover, the conditioning mode reverses the accumulation of sulphates on the plates of the battery, which may give more power to an old battery.
For acid batteries, the equalization mode is used to level each cell of the battery for a balanced operation which optimizes performance.
Perfect For Charging In Storage
Perfect for the storage of batteries, it itself detects if batteries need charging or not. 100% safe and hassle free.
A Complete Intelligent Charger
Practical interchangeable cables for a permanent installation on a motorcycle or a deep cycle battery or for an easy connection when maintaining or storing batteries.
I have been using this pump all summer to keep my boat, lawn tractor and a whole bunch of other stuff filled up around here. I still use 5 gallon containers for their portability and even with 10 of those I'll have to fill them twice to get through the summer. This pump has been great for my needs. If you are sick and tired of having to hold a 5 gallon container of fuel in the air while attempting to get those funky nozzles to work, buy this pump.
Brad
So far it's working as well as I had hoped. Nothing is perfect when trying to transfer gas, but this does a very decent job. You need to make sure to lift the nozzle and hose up at the end of the fuel transfer to allow any residual fuel to run back into the tank or it will dribble out all over. It empties most of a five gallon gas can in a couple minutes without having to lift and hold the can up which is exactly what I wanted.
V. Thomas