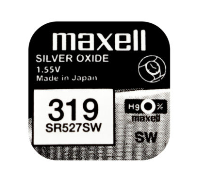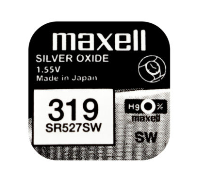 Product Description
Description
High Energy & Continuous Voltage Supply
Long shelf Life, Ideal Temperature Resistance
Superior Storage capacity
Maxell durability and engineering
Maxell Watch Battery Button Cell SR527SW 319.
Maxell is a worldwide leader in small electronics batteries. Maxell offers a full line of Watch Electronic Specialty Batteries for applications used in precision engineering tools to power a wide variety of small electronic devices.
Maxell batteries are used in home health devices such as glucose monitors, blood pressure cuffs and digital ear thermometers.
Also, button cells can be used in keyless remote entry systems for cars and homes. Hand held electronic devices also use batteries in calculators, watches, photo camera, computers, audio books, games, toys and more.
Made in Japan.
Warranty
You are protected by our 30 Day Money Back Guarantee and Specific FULL REPLACEMENT Warranty Options: BRS Super Gas Pumps: 1 Year Full Replacement Warranty. BRS Super Battery: 30 Days, 2 Years, or 10 Years Full Replacement Warranty with NO PRORATION. BRS Super Charger: 1 Year Full Replacement Warranty. Fisher Price Power Wheels / Peg Perego Batteries and Chargers: 6 Months Full Replacement Warranty. Please contact us for all other product specific warranty options.