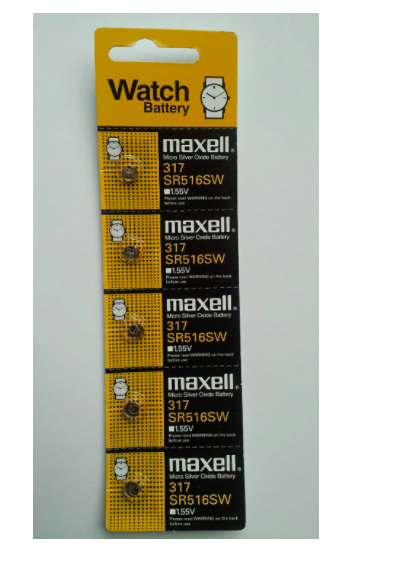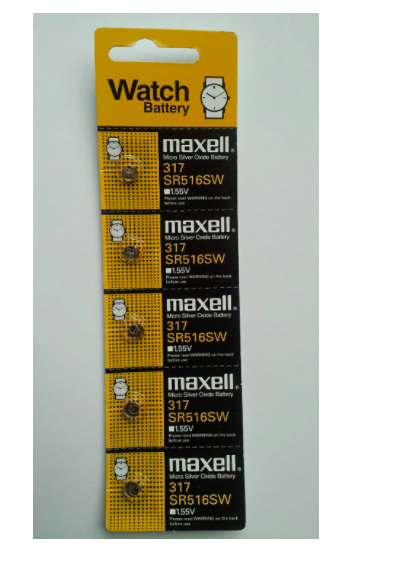 Product Description
Description
Maxell 317 Button Cell Battery
This silver oxide button-type battery works best when powering low-drain electronic devices, such as watches and calculators. When compared with other non-rechargeable chemistry, a silver oxide battery offers a flatter discharge current. Instead of slowly lowering the voltage over time, like with alkaline batteries, a silver oxide button cell maintains its voltage until the end of the discharge cycle. This means that your electronic device will receive the same voltage from start to finish, therefore maintaining operation efficiently. The Maxell 317 button cell battery also features a leak-resistance design that keeps your devices protected and safe from accidental leakage. Finally, this silver oxide watch battery, also known as the SR516SW, is free of mercury. This means that the disposable cell has less of an effect on the environment.
Features:
5-year manufacturer's warranty protects against defective product
Flat discharge current maintains the 1.55 voltage throughout the entire cycle of the battery
Chemical makeup is best suited for powering low-drain devices
Leak-protection prevents damage to your expensive electronics
Mercury-free formula is safer for the environment
Equivalent Battery Types:

 

Energizer 315, 314, Duracell D315, Renata 315, 40, Varta V315, V530, Seiko SB-AT, Citizen 280-56, Timex HA, Sony SR716SW, Maxell SR 716, SR716W, SR716, Berec B-315L, Omega 9937, Bulova 614, Waltham N, LR67, SR67, 530, B315L, GP315, HA, RW315, RW316, etc.
Specifications:
Battery Size:

 

317 / SR516SW
Battery Chemistry:

 

Silver Oxide
Nominal Voltage:

 

1.55V
Nominal Capacity:

 

12.5mAh
Nominal Discharge Current:

 

20μA
Dimensions:

Length

 

- 0.065" (1.65 mm)
Diameter

 

- 0.228" (5.8 mm)

Weight:

 

0.007 oz. (0.2 g)
I have been using this pump all summer to keep my boat, lawn tractor and a whole bunch of other stuff filled up around here. I still use 5 gallon containers for their portability and even with 10 of those I'll have to fill them twice to get through the summer. This pump has been great for my needs. If you are sick and tired of having to hold a 5 gallon container of fuel in the air while attempting to get those funky nozzles to work, buy this pump.
Brad
So far it's working as well as I had hoped. Nothing is perfect when trying to transfer gas, but this does a very decent job. You need to make sure to lift the nozzle and hose up at the end of the fuel transfer to allow any residual fuel to run back into the tank or it will dribble out all over. It empties most of a five gallon gas can in a couple minutes without having to lift and hold the can up which is exactly what I wanted.
V. Thomas