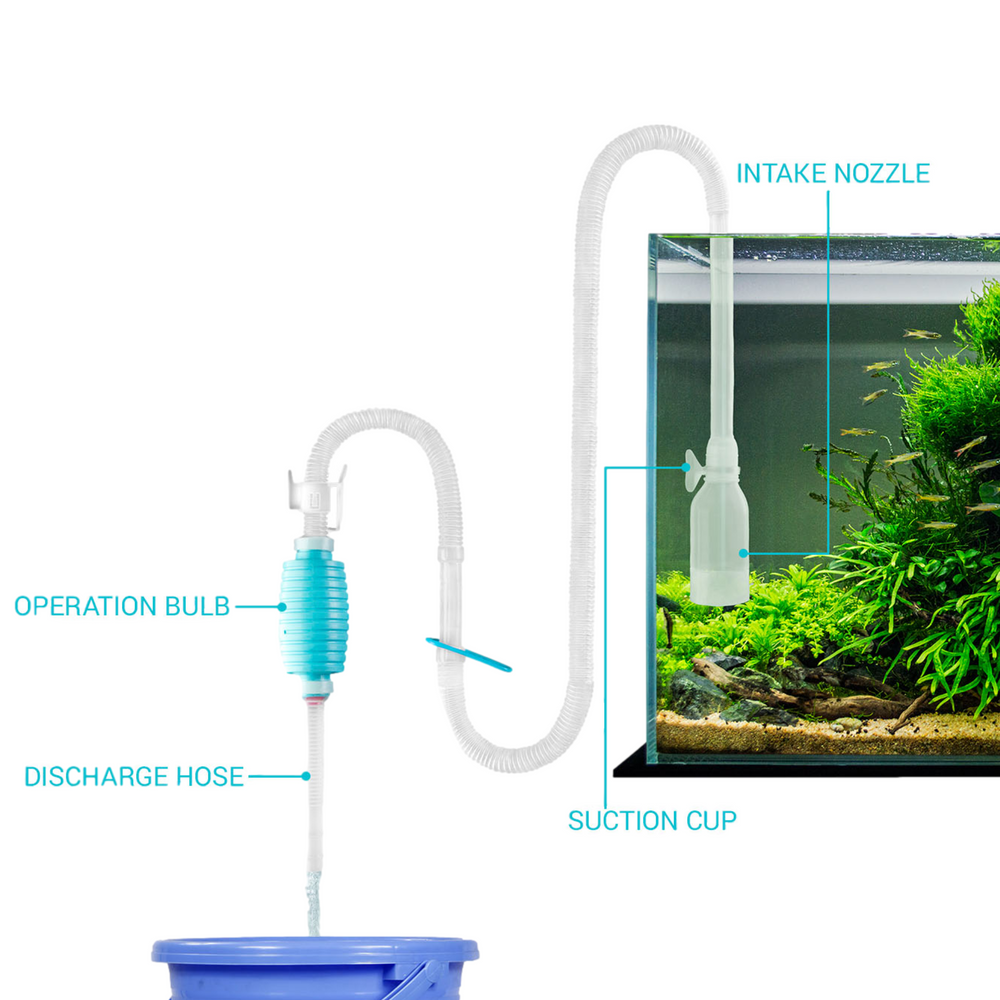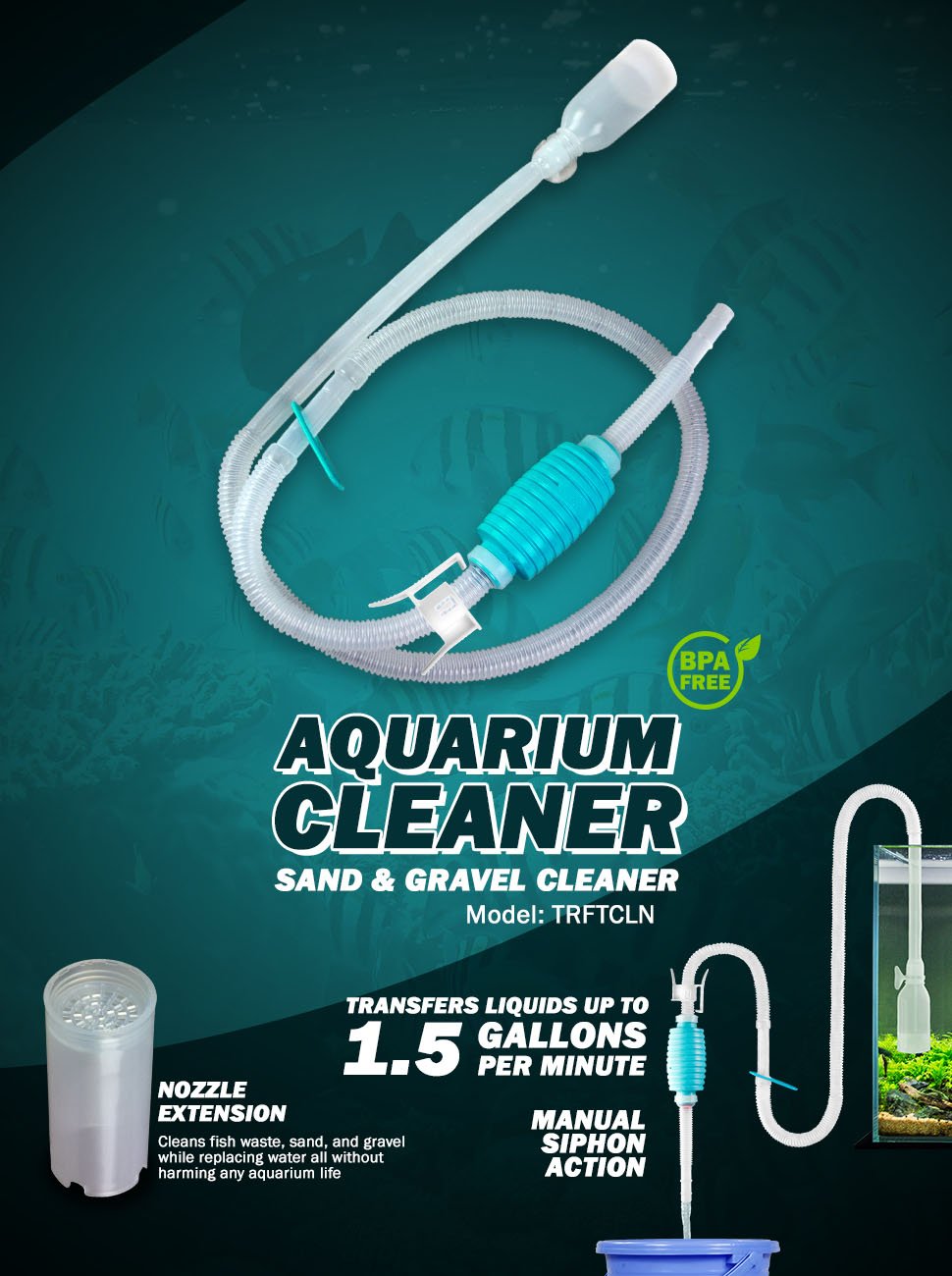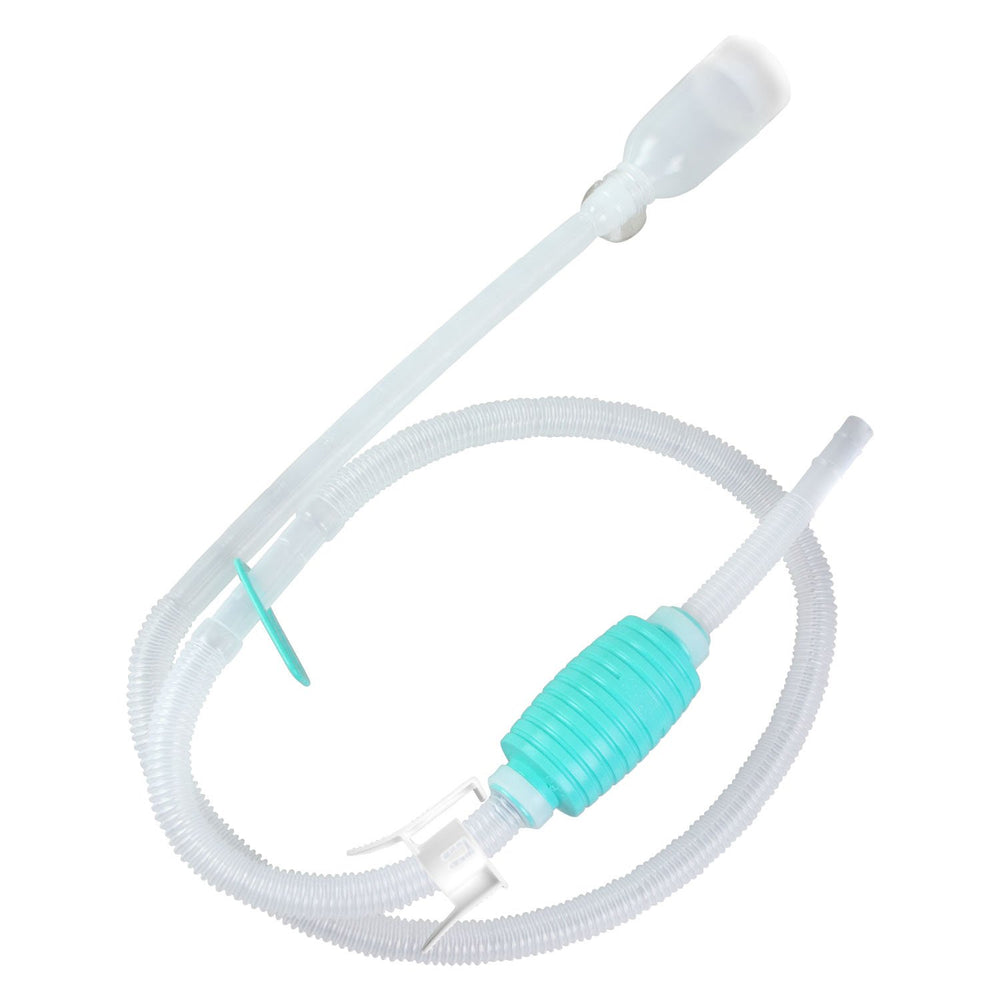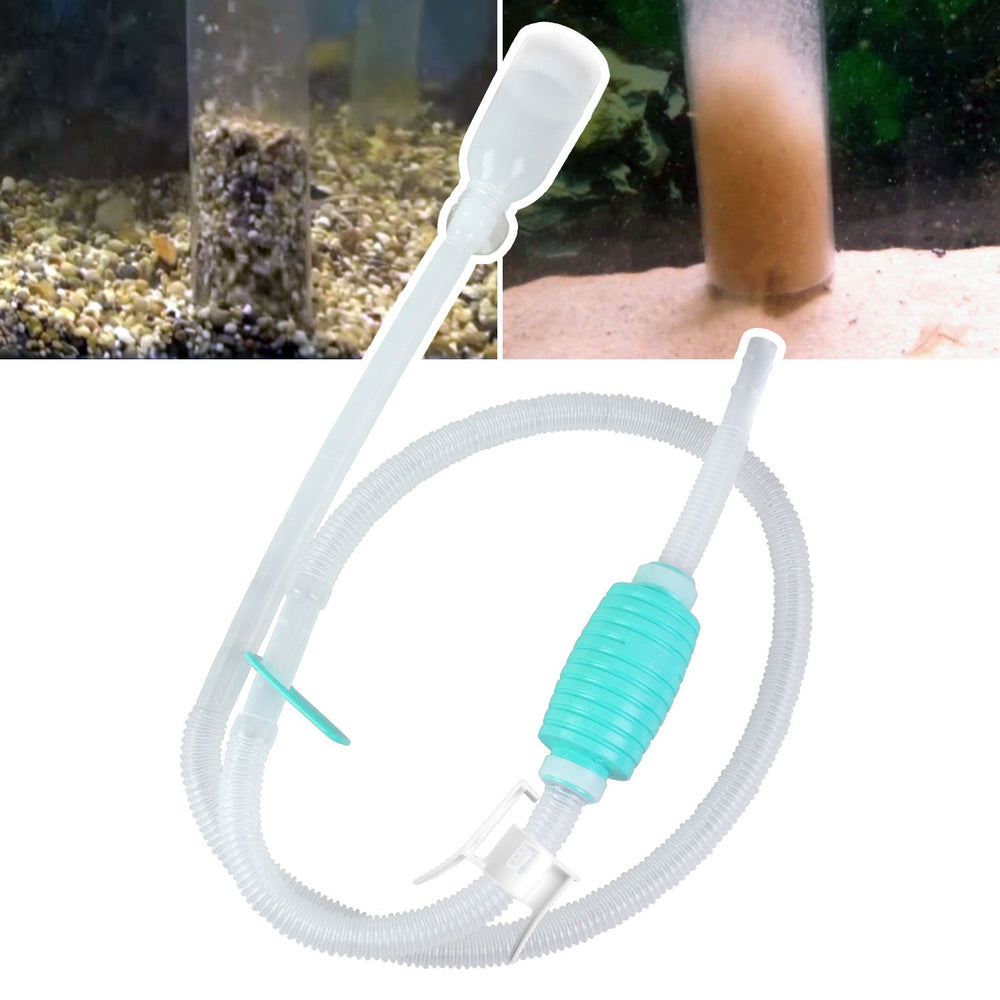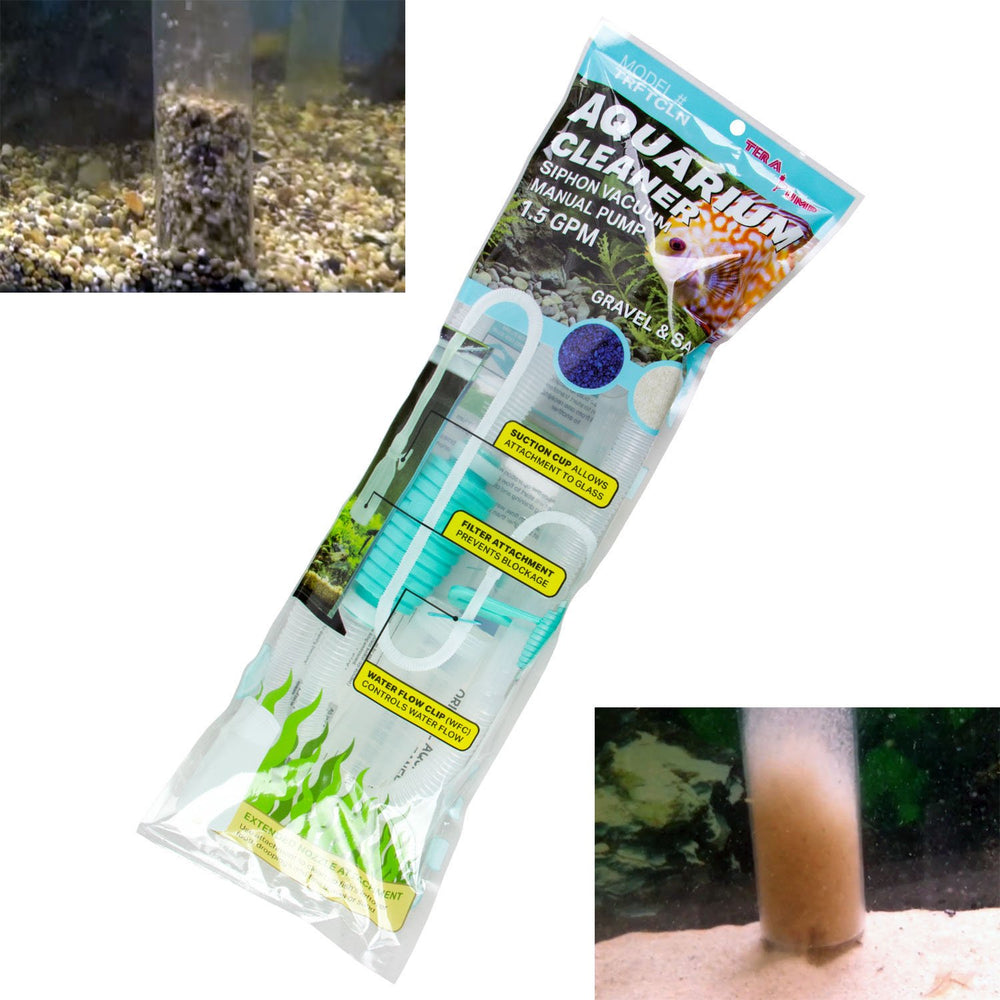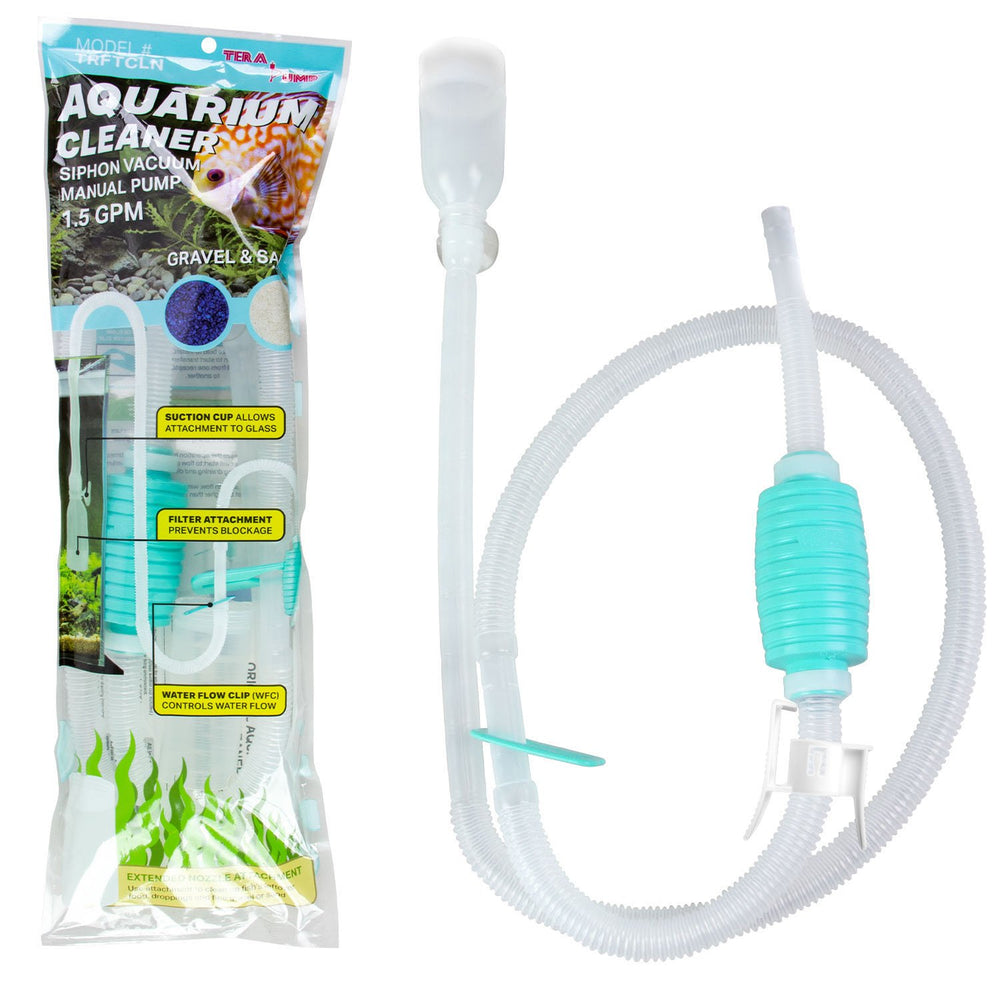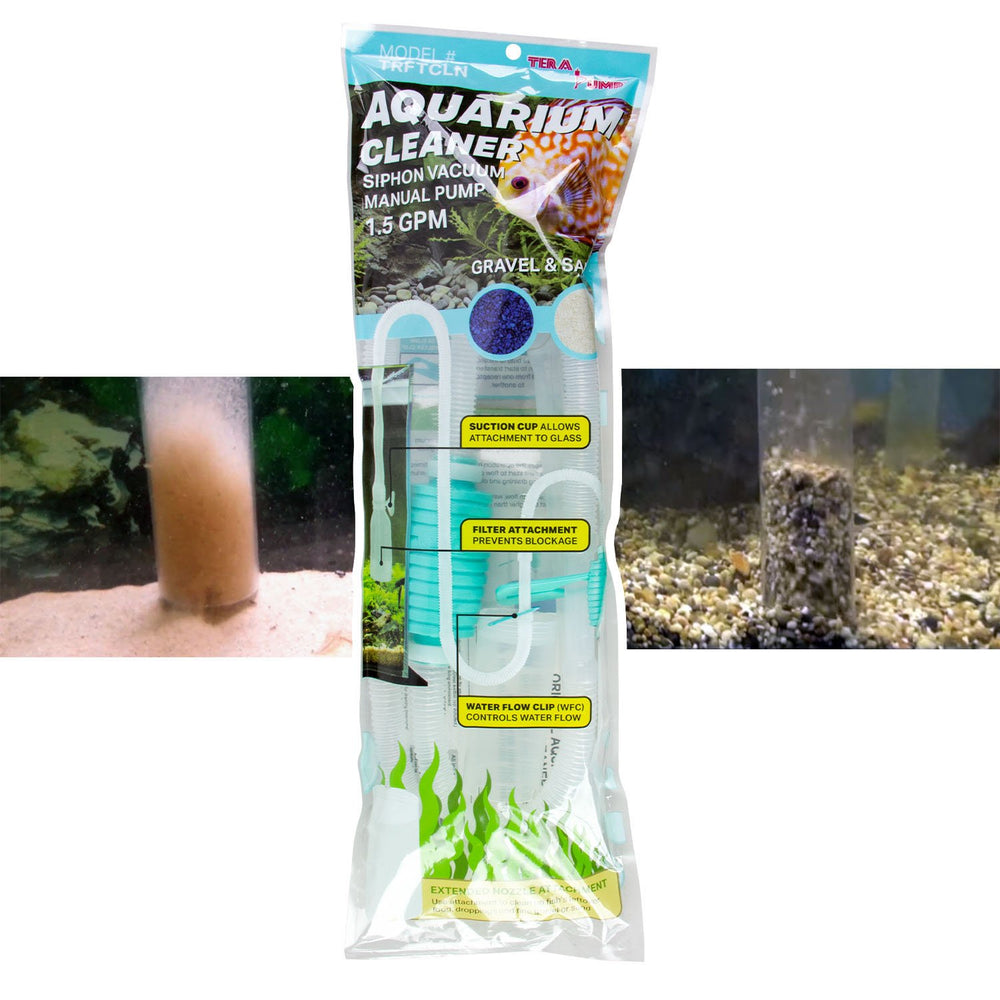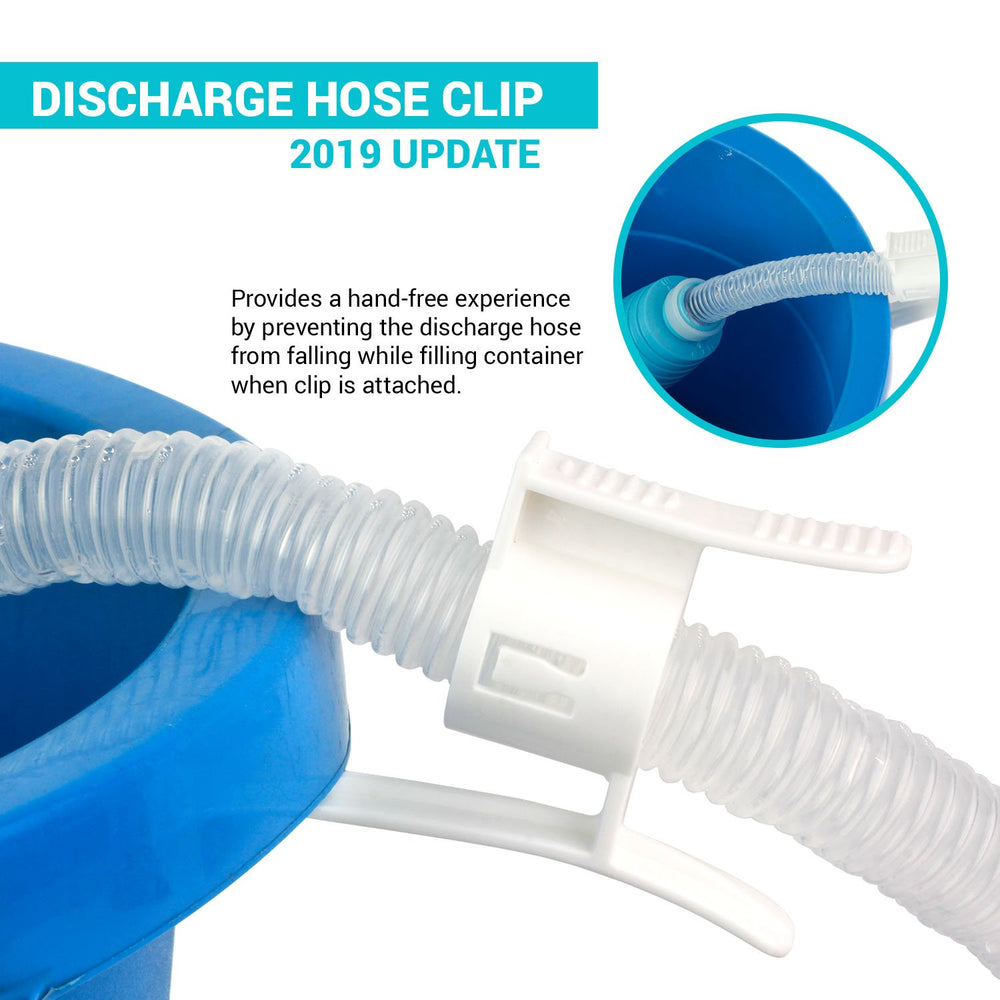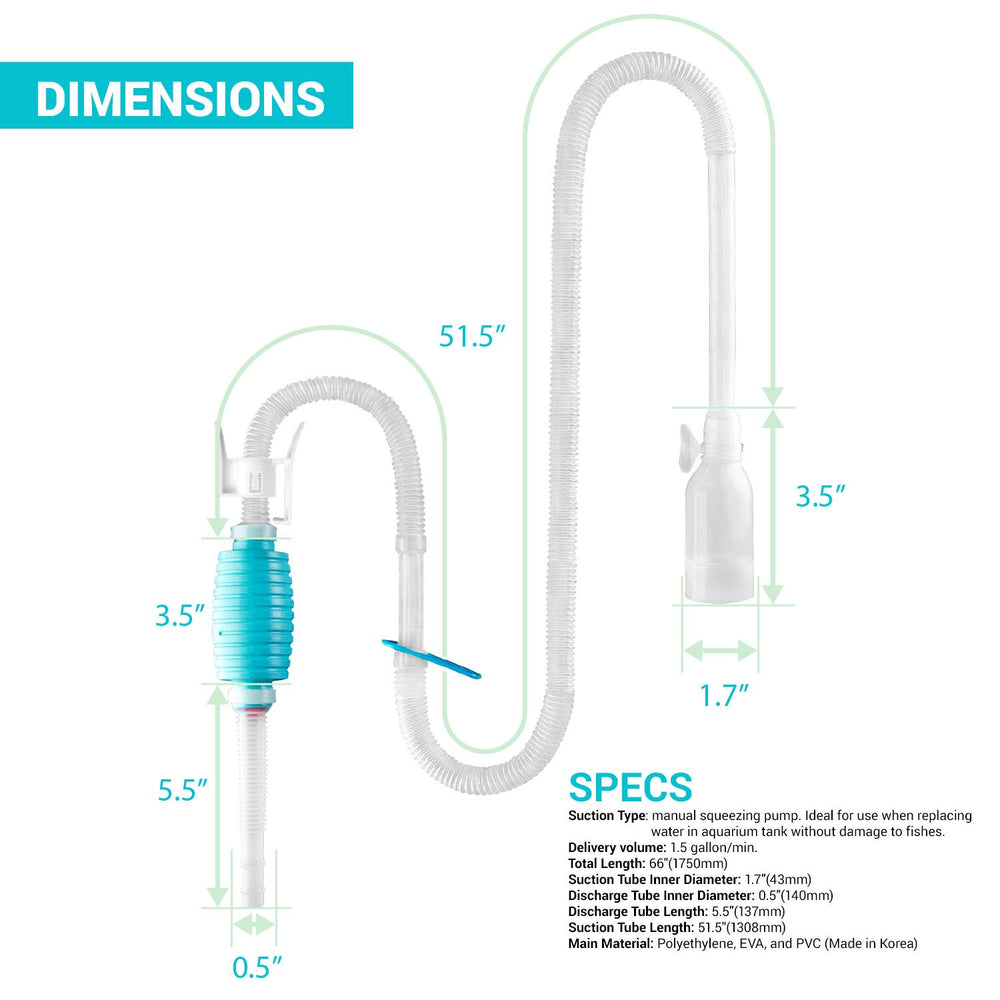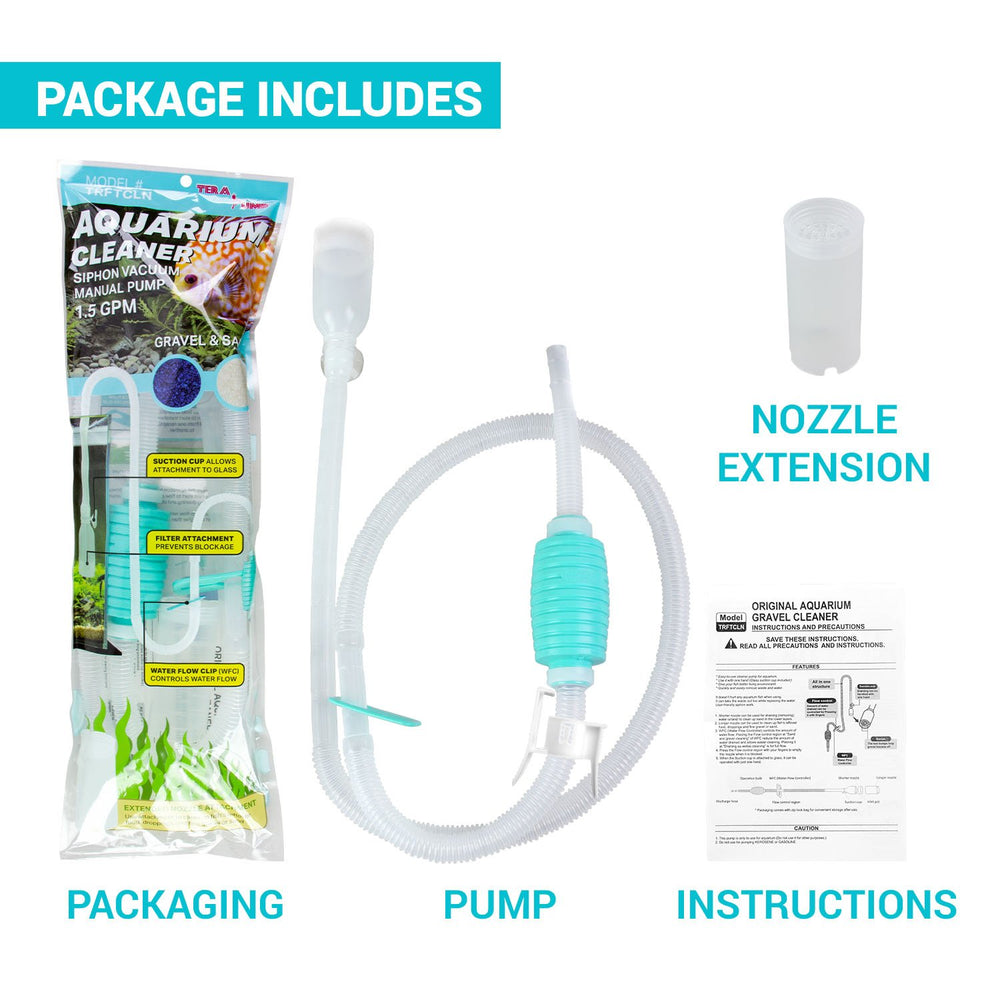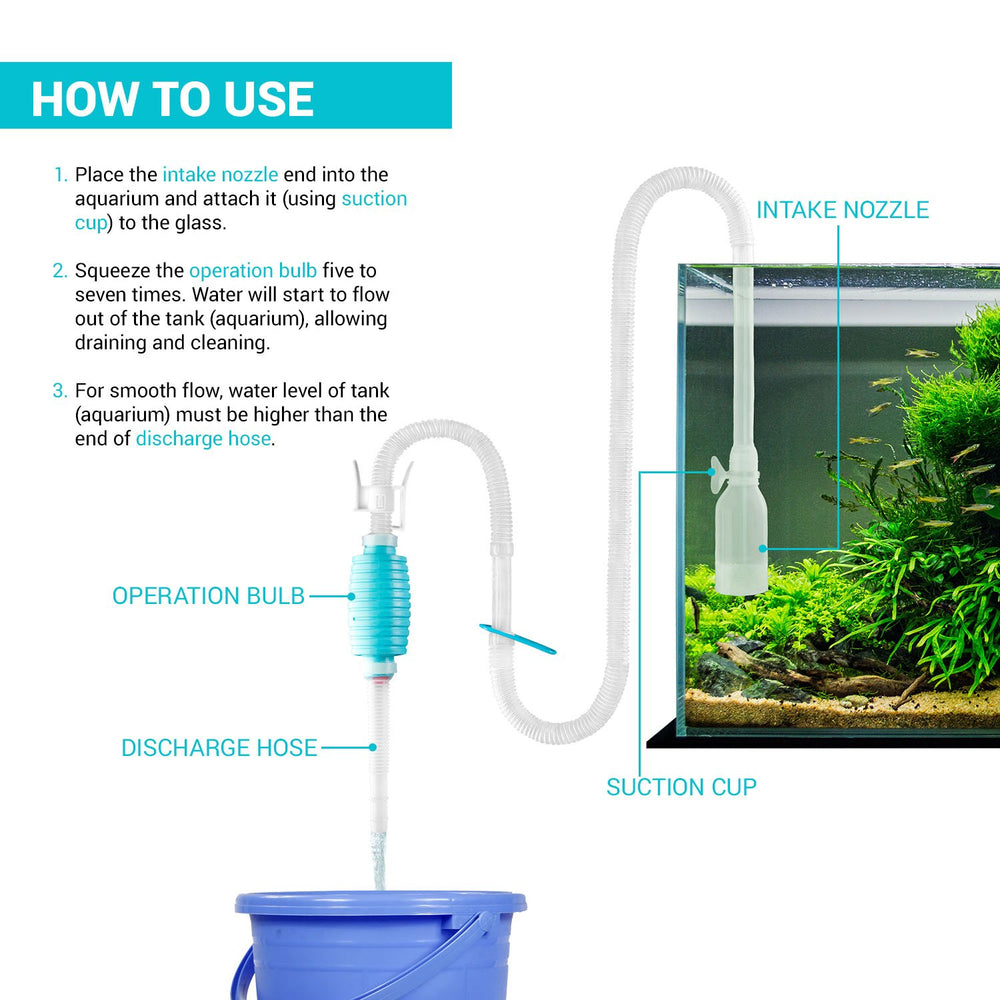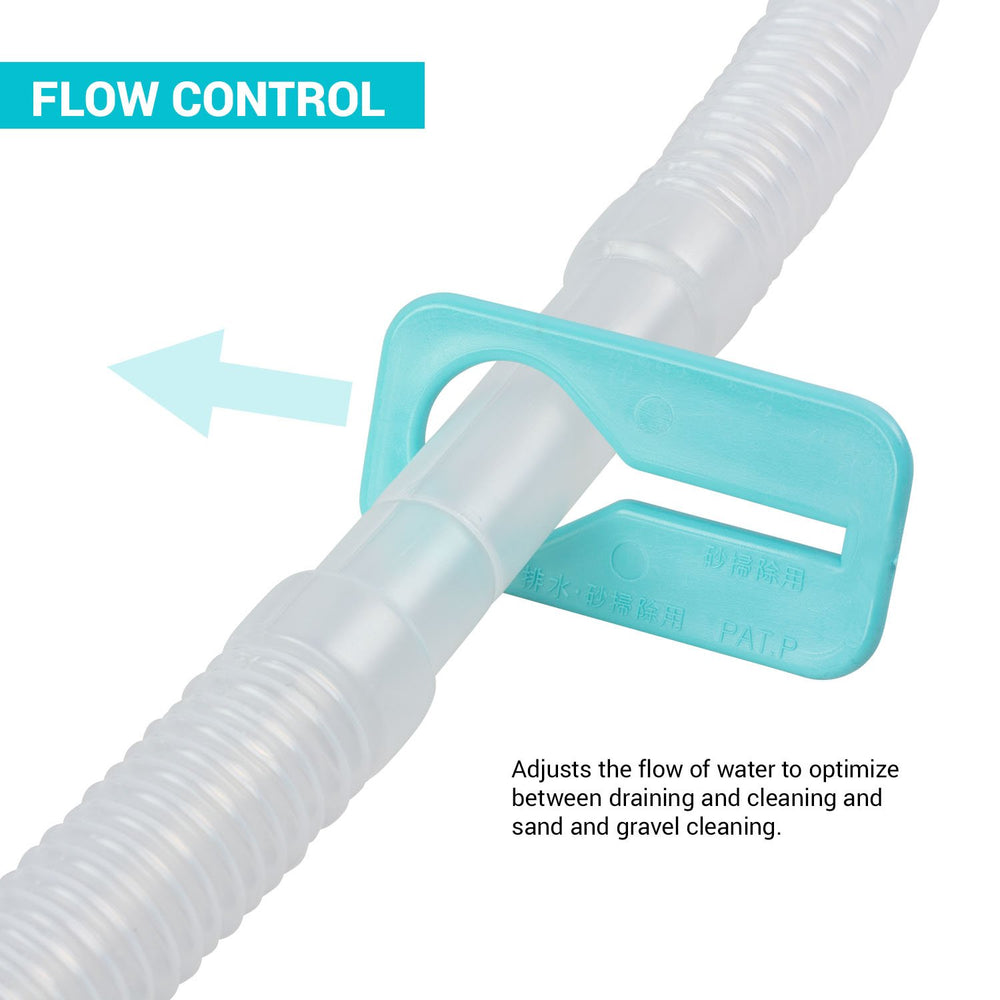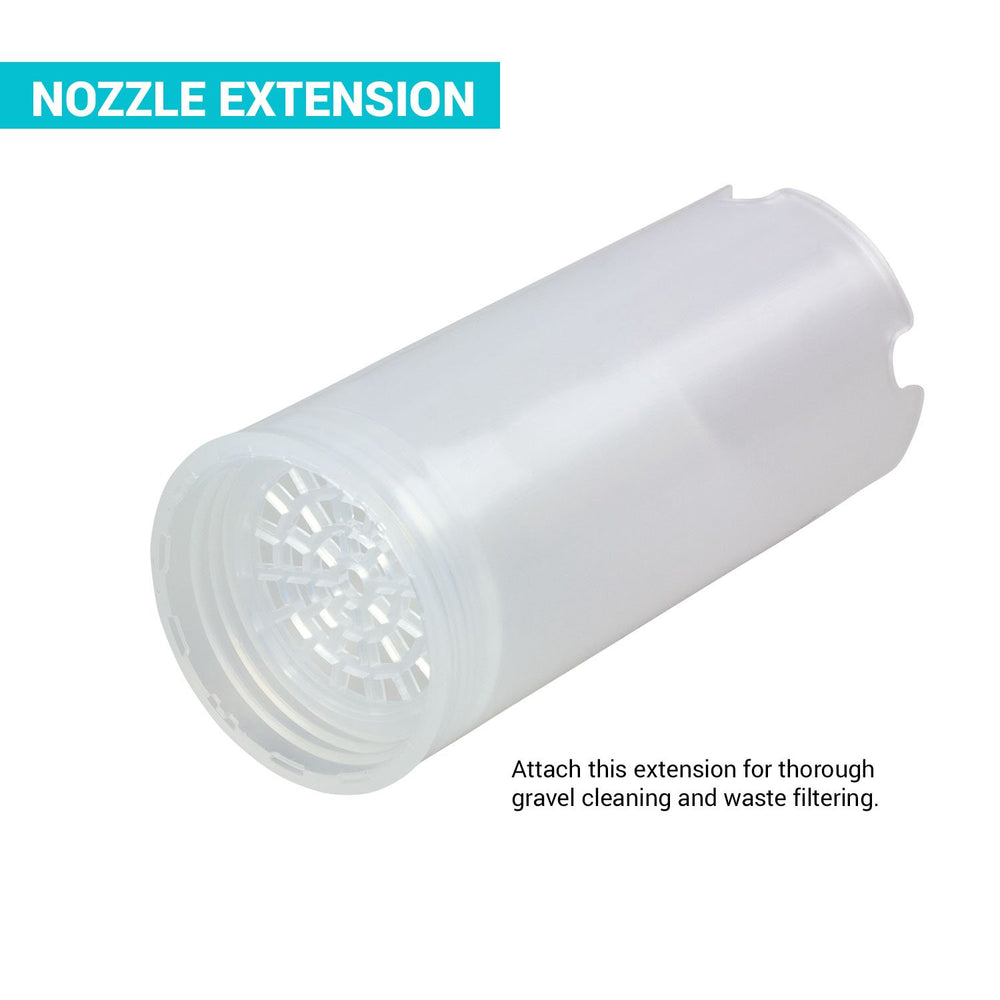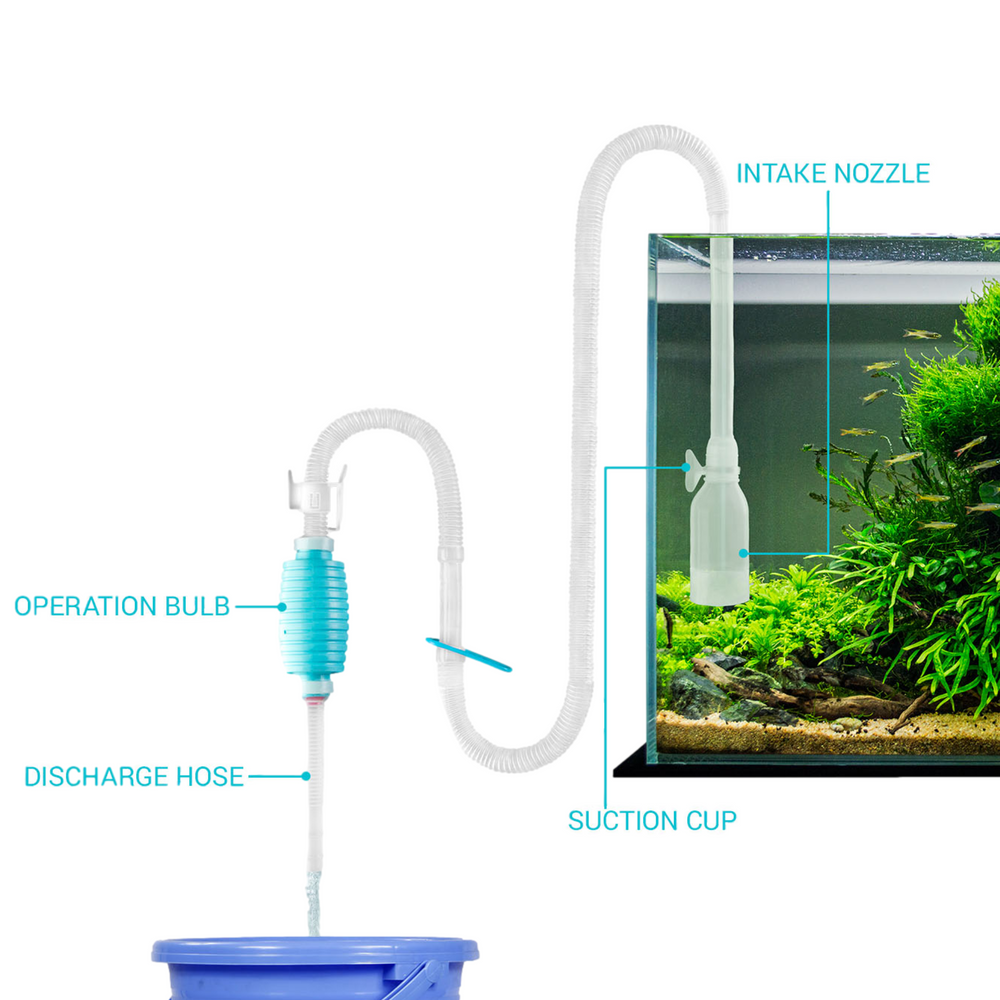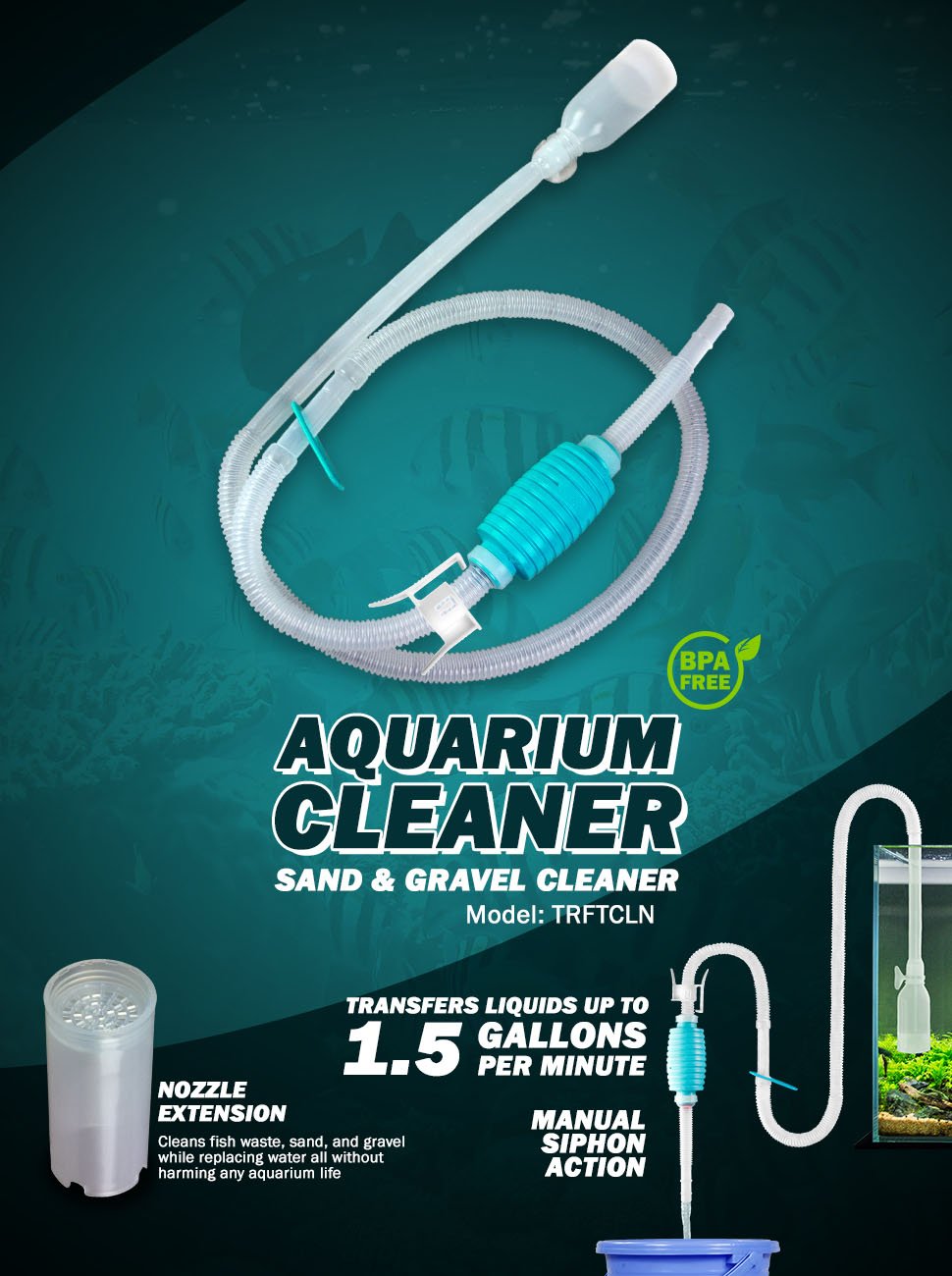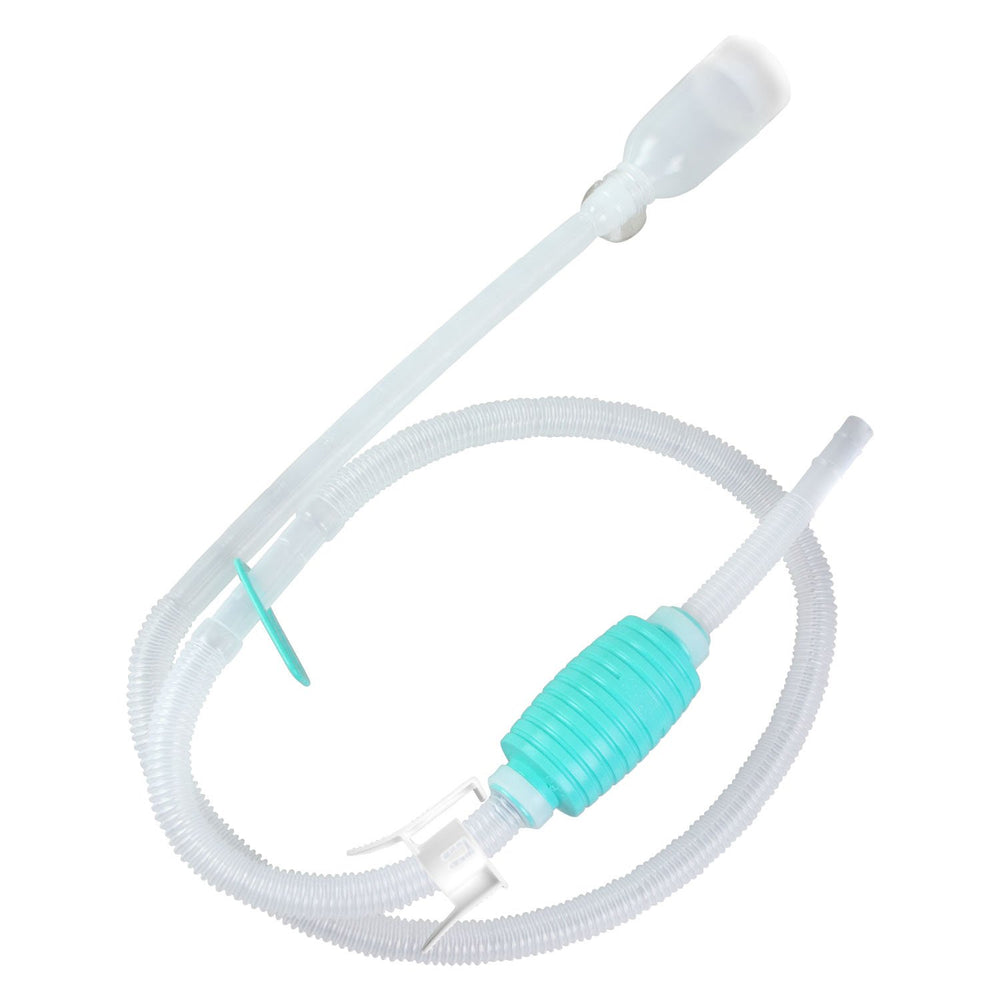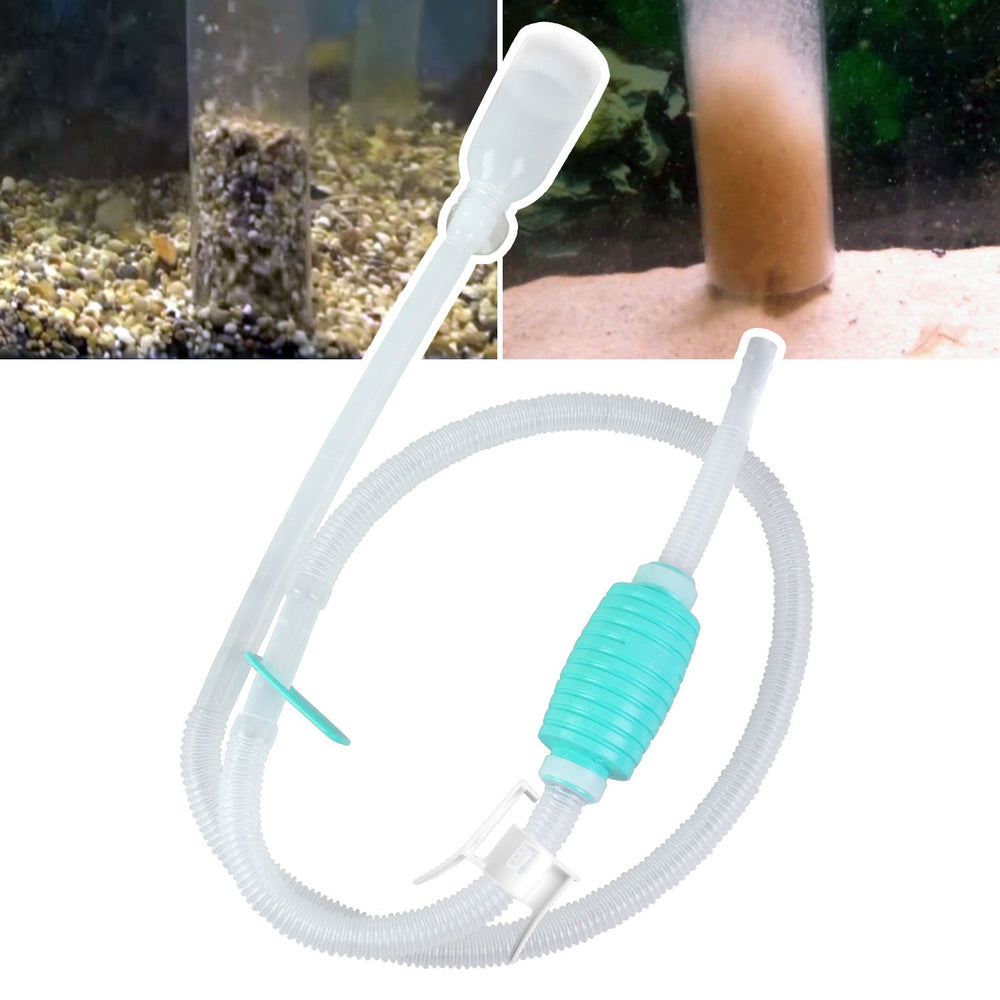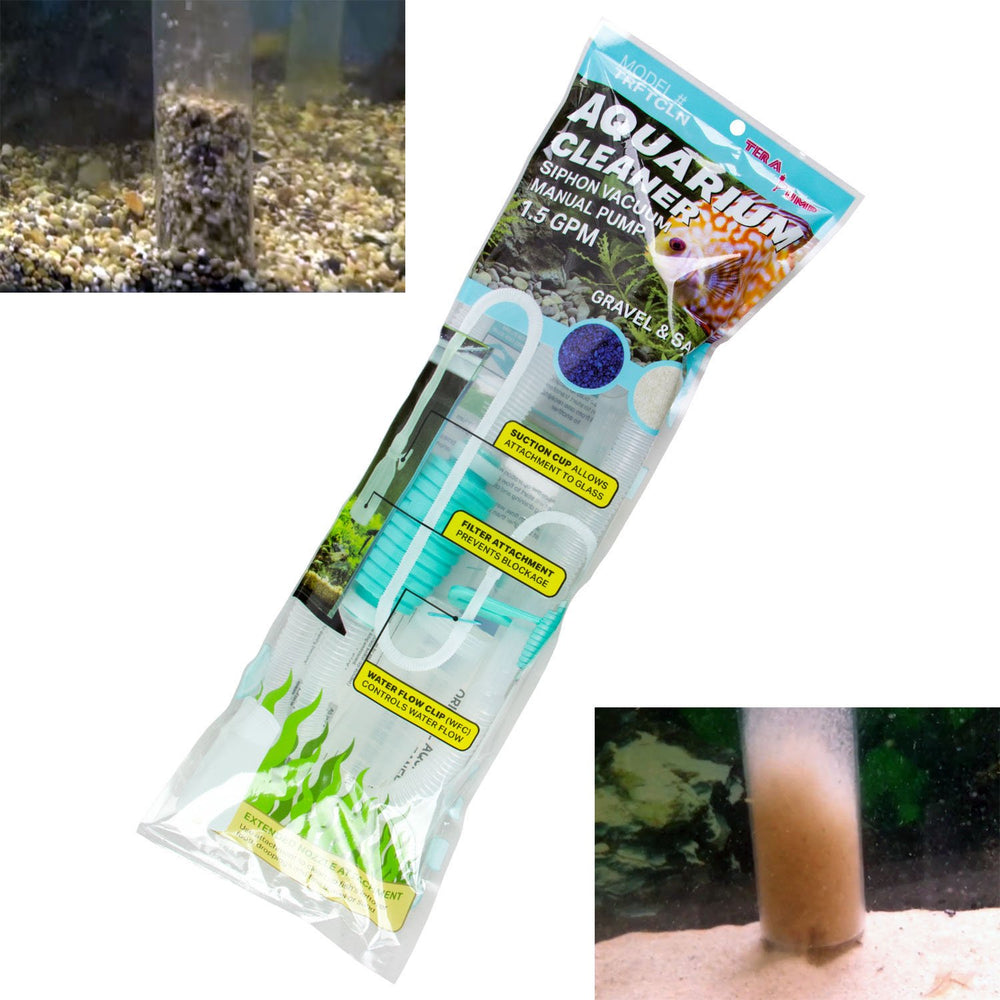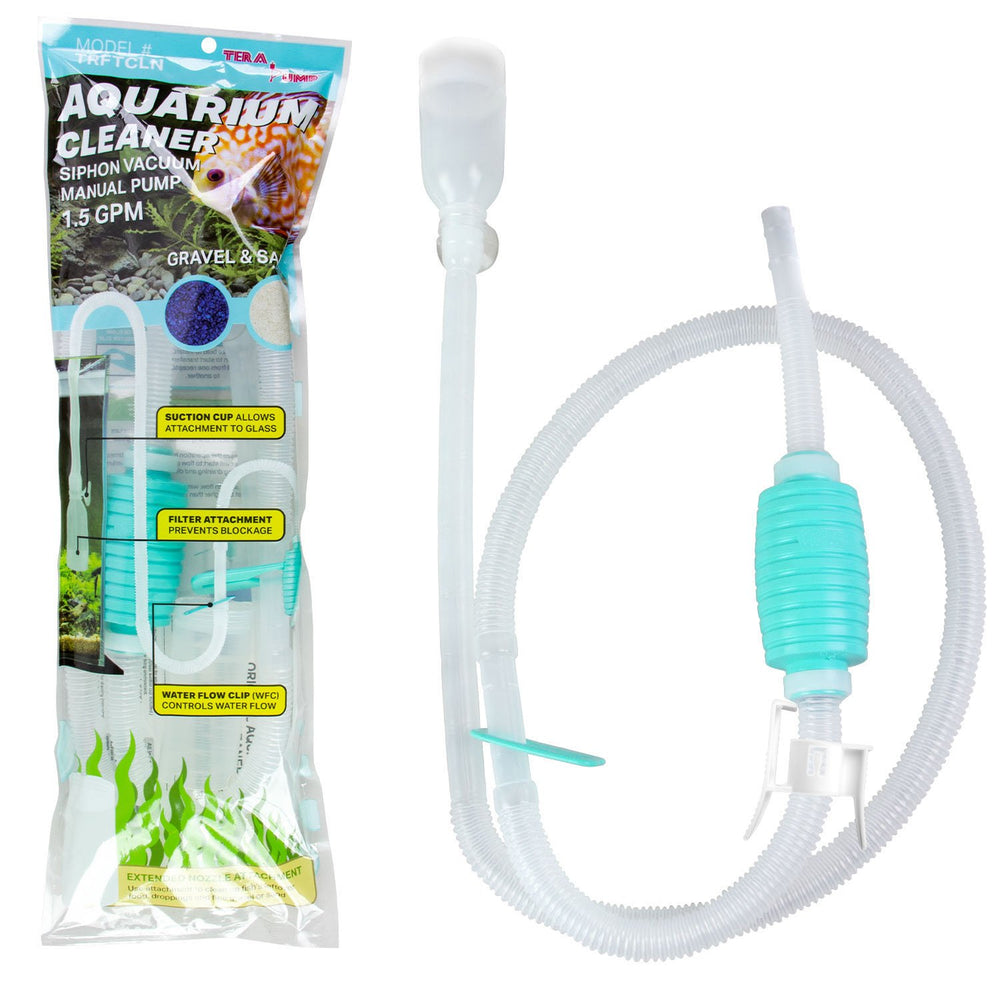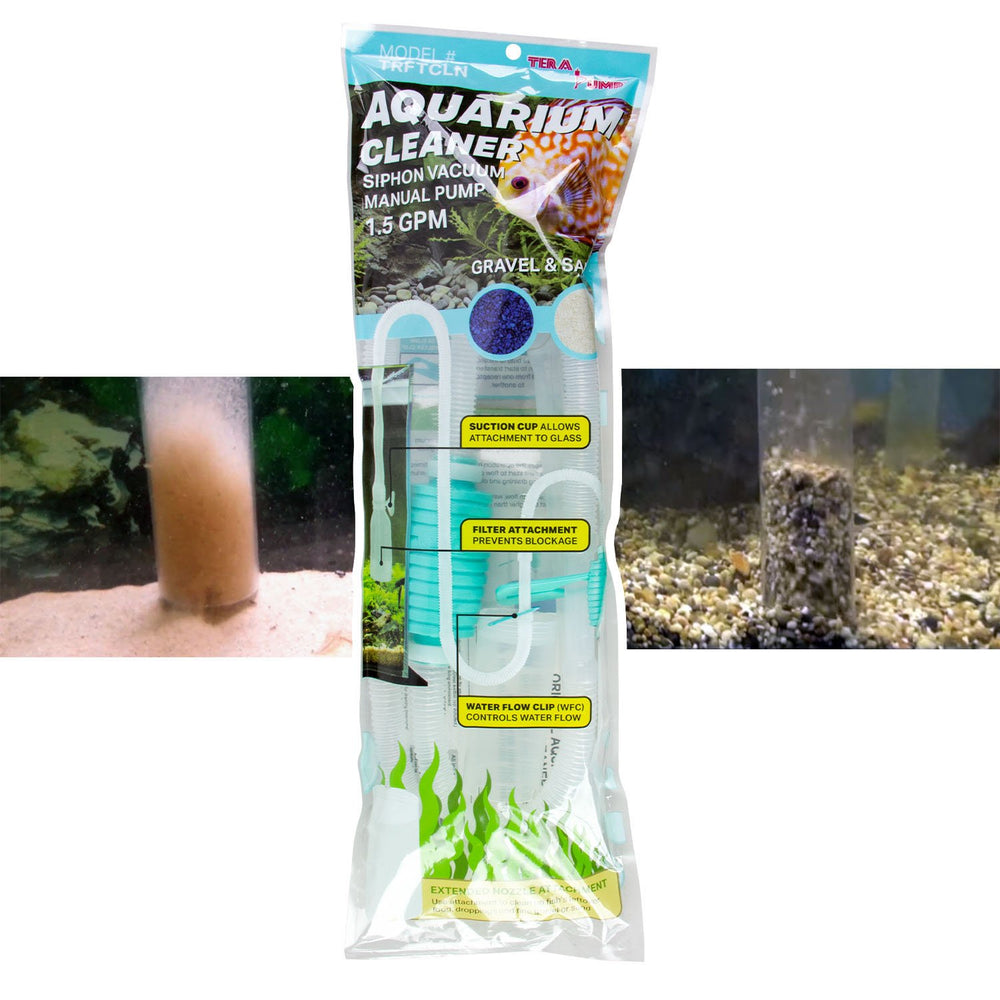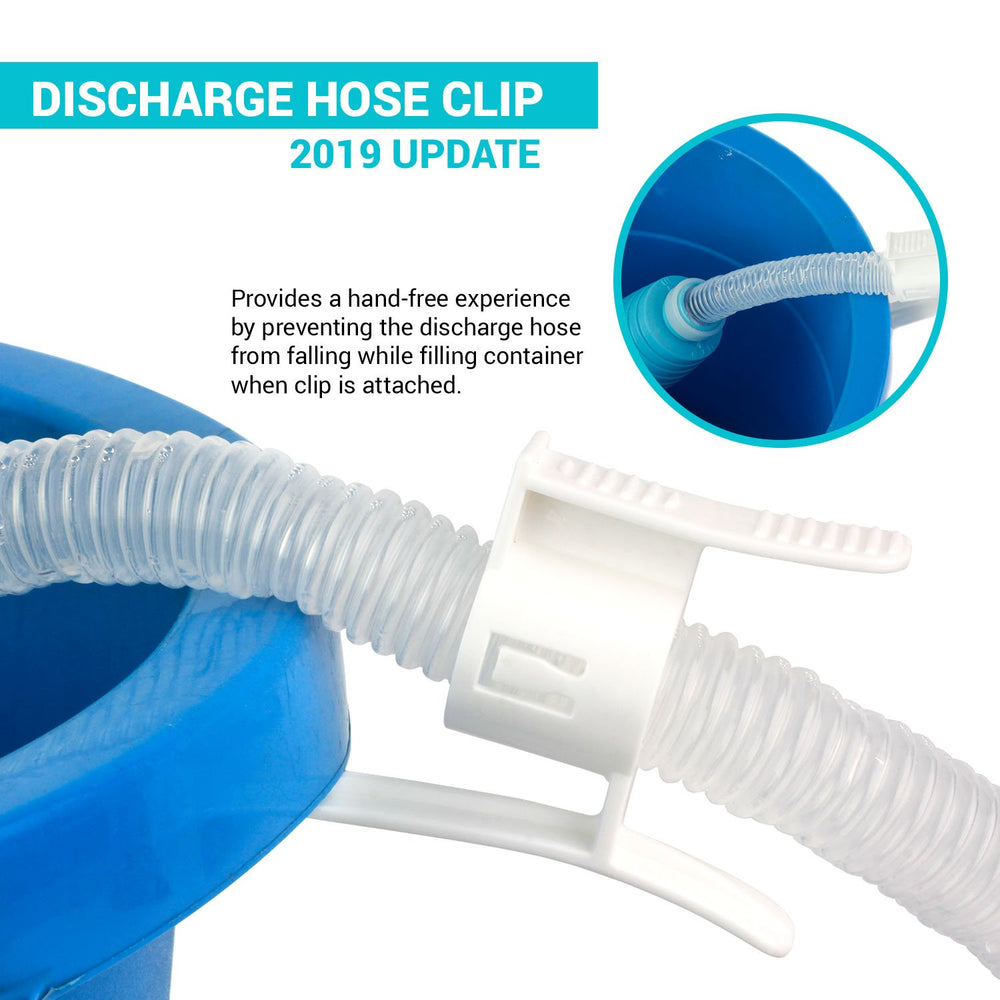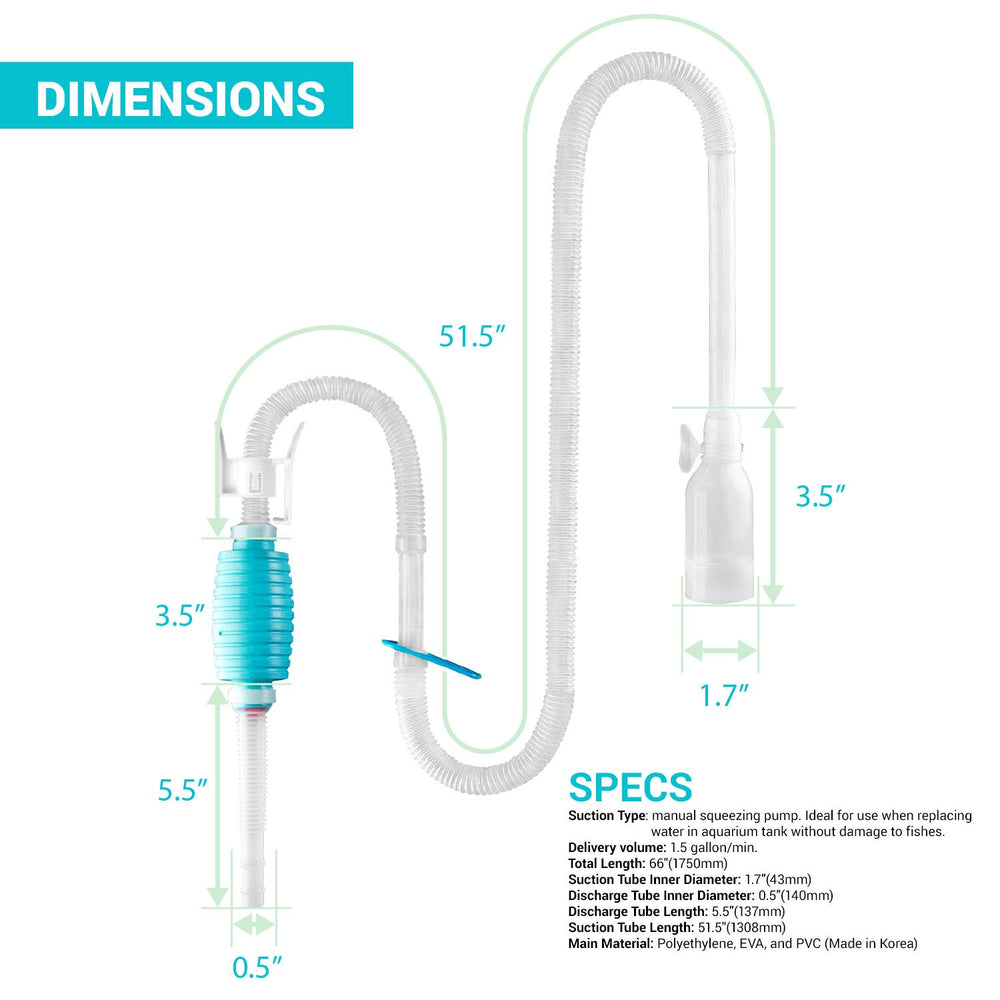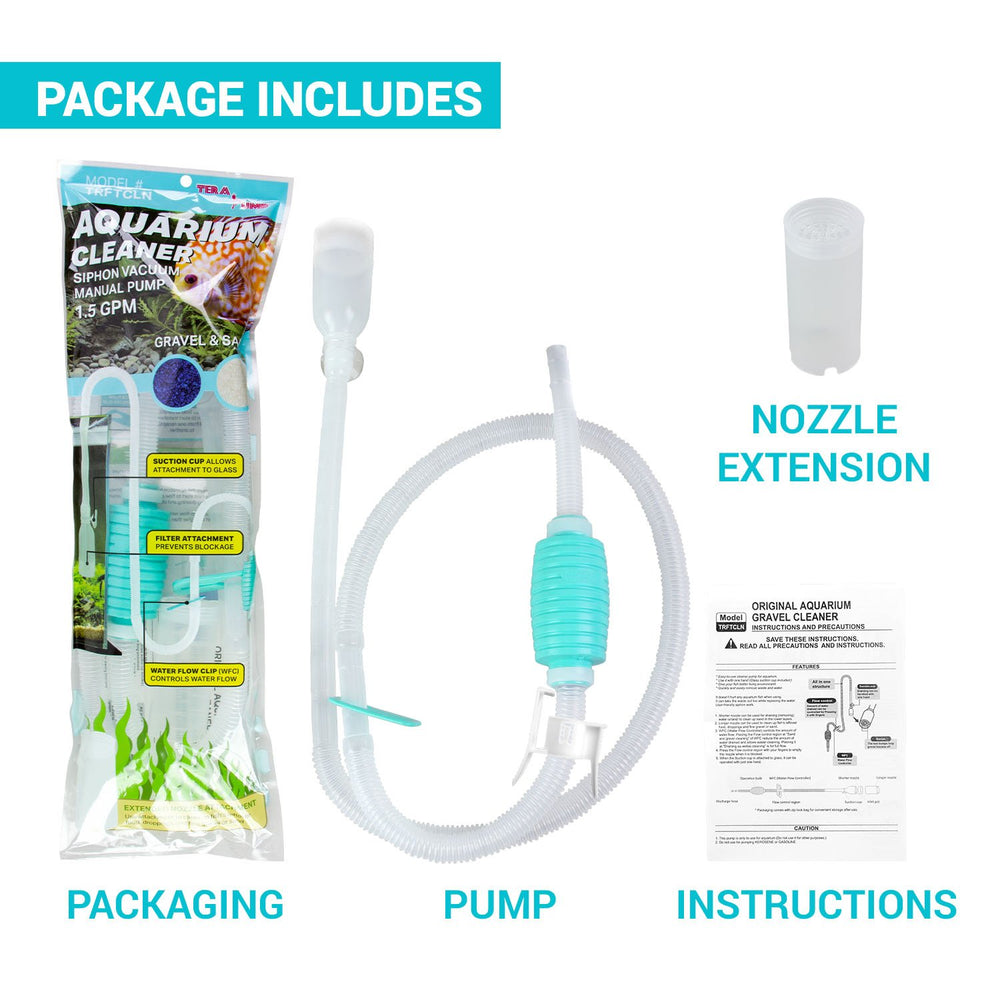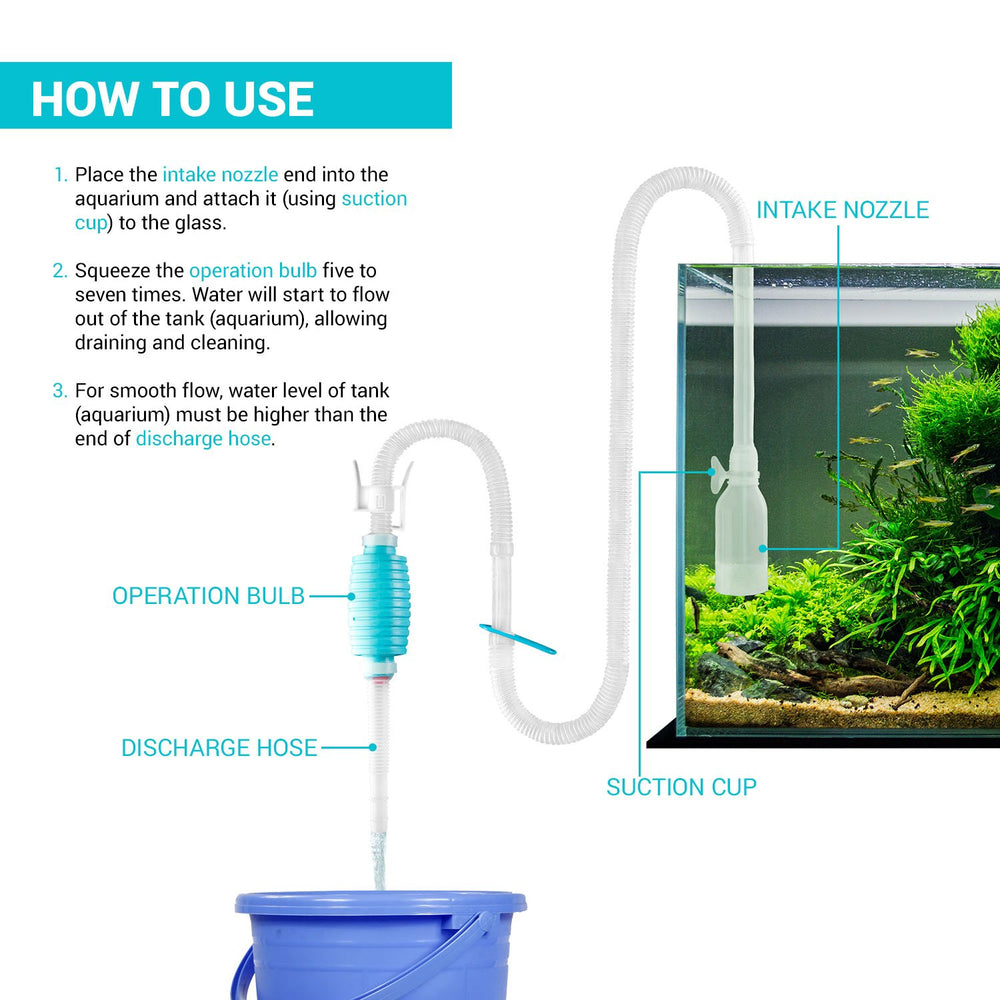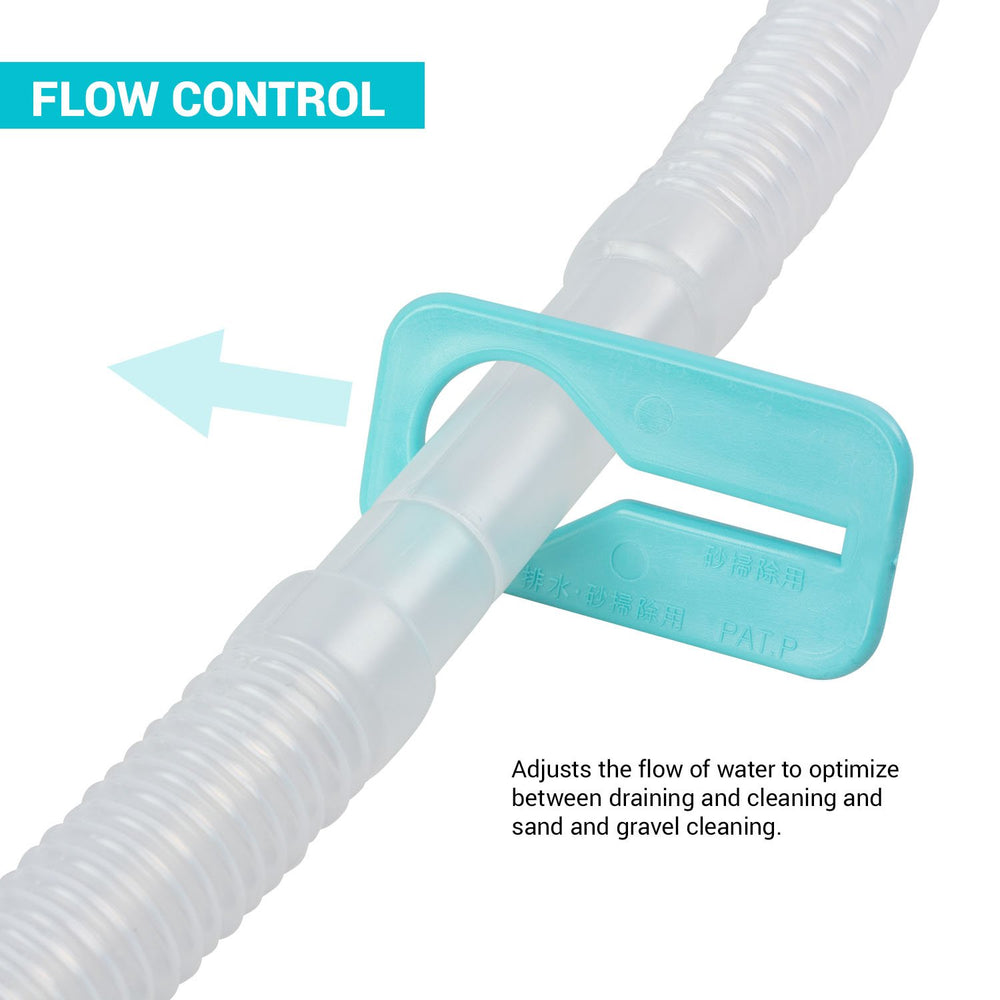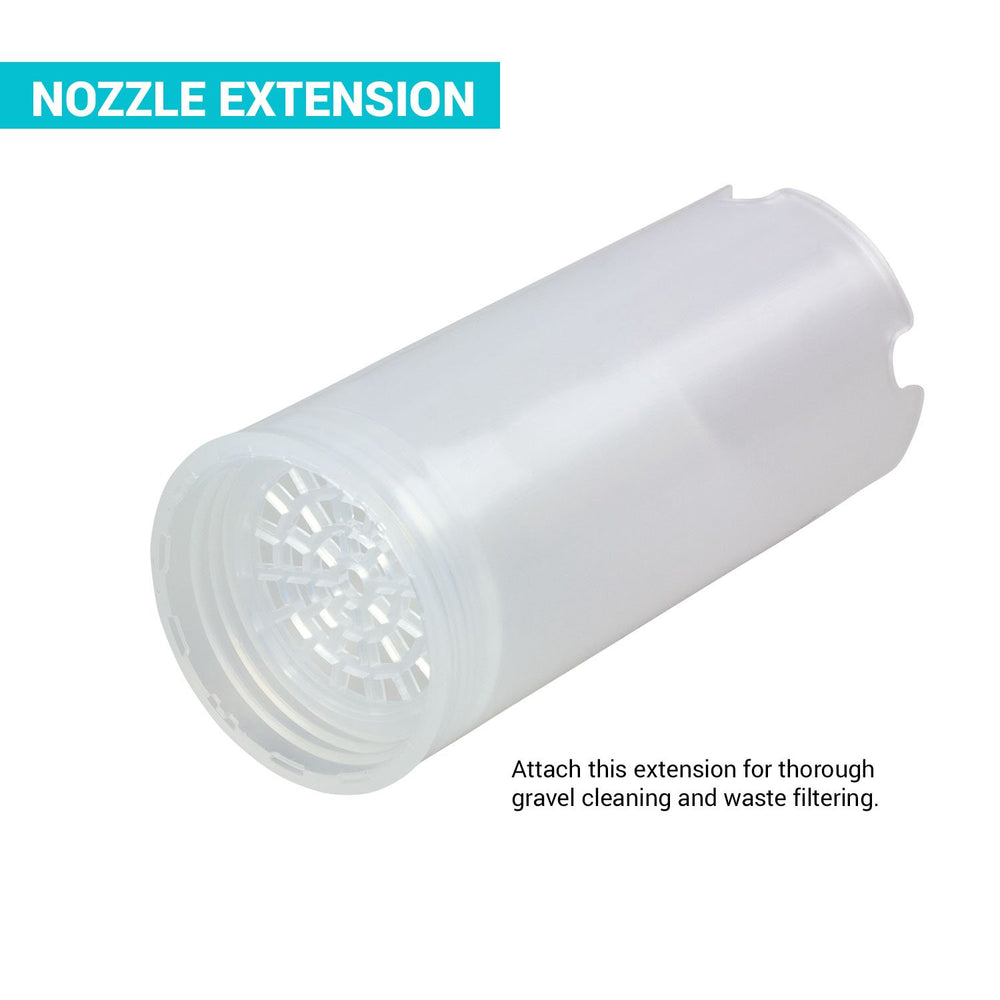 Product Description
Description
WANT AN EASIER WAY TO CLEAN YOUR AQUARIUM?
Introducing: The TeraPump TRFTCLN Aquarium Vacuum Siphon Pump... 
Do you have a hard time cleaning the sand and gravel in your aquarium?


...Or do you get frustrated when you have to drain your aquarium?


If you answered yes to any of the above, then you're going to love the Terapump Aquarium Cleaner. 


Make cleaning and draining your aquarium fast and easy.


No More Wasting Time Cleaning and Draining Your Fish Tank...
Features of The TRFTCLN Aquarium Pump:
✅ Transfers 1.5 Gallons of Water Per Minute - Makes draining your aquarium a fast process. 
✅ BPA Free
-
Safe for all aquarium life.
✅ Flow Control
-
You are able to
adjust the flow of water between draining and sand and gravel cleaning. 


APPLICABLE USES:
✔️ Aquariums
✔️  Small Ponds
✔️  Fish Bowls


COMPATIBLE WITH:
✔️  Water Only



❌

NOT COMPATIBLE WITH:


Gasoline, Kerosene, Thinners, Solvents, Hot Liquids, Aceton, Benzen, Creosol, Ethyl, Phenol, Methylethyl, Concentrated Caustic Soda Liquid, Nitric Acid, Hydrochloric Acid, Sulfuric Acid, etc.


It's Fast! Transfers 1.5 Gallons of Water Per Minute
Ideal For 2 to 20 Gallon Aquariums, Tanks, and Fish Bowls
Total Length: 66" / 1750mm

1.7" / 43mm Suction Tube Diameter 

51.5" / 1308mm Suction Tube Length 
5.5" / 137mm Discharge Tube Length
Flexible Hose, adapts to odd angles


Tera Pump TRFTCLN Highlights:
✅ BPA-Free 
✅ Transfers 1.5 Gallons Per Minute
✅ Includes Nozzle Extension
✅ Vacuum Siphon Cleans and Drains Simultaneously 
✅ Flexible Hose 


Save Time & Eliminate Frustration When Cleaning and Draining Your Aquarium!


Benefits:
✔️ BPA Free -

Safe for all aquarium life. 
✔️ Transfers 1.5 Gallons Per Minute -

You are going to save a ton of time ⏱️ because the Tera Pump TRFTCLN transfers 1.5 gallons of water per minute so cleaning and draining your aquarium is quick and easy. 
✔️ 51.5 Inch Hose -

The long hose allows you to reach the bottom of 2 - 20 gallon aquariums and fish tanks with ease so cleaning and draining is fast, easy, and hassle free. 
✔️ Larger Suction Tube

- Allows for use in bigger Aquariums (10 Gallons or Greater) 
✔️ Includes Nozzle Filter -

Keeps Large Gravel from entering the pump to prevent blockage while operating. 
✔️  Includes Discharge Hose Clip

- Provides you with a hands-free experience by preventing the discharge hose from falling while filling the container when the clip is attached.
✔️ Flow Control:

Adjusts the flow of water to optimize between draining, cleaning, sand and gravel cleaning.
✔️ Works Perfectly With 2 - 20 Gallon Aquariums  -

The TeraPump TRFTCLN vacuum siphon pump designed for 2 - 20 gallon aquariums. 


The aquarium siphon pump is a tool that's ready to go when you need it... 
The Tera Pump TRFTCLN Vacuum Aquarium Pump is the perfect gift for you or anyone who needs to clean or drain their fish tank..  
The TRFTCLN Aquarium Pump is easy to use…  just 3 steps:


Step 1:

Place the intake nozzle end into the aquarium and attach it (using suction cup) to the glass


Step 2:

Squeeze the operation bulb five to seven times. Water will start to flow out of the tank (aquarium), allowing draining and cleaning


Step 3:

For smooth flow, water level of tank (aquarium) must be higher than the end of discharge hose


Simple and Very easy to use!
Imagine how hassle free your life is going to be… 


 🛒 Click the "Add To Cart"  Button NOW… Limited Stock Available… 


When you place your order today you will also receive FREE SHIPPING… 
- Designed to make cleaning and draining your aquarium quick and easy
- Includes extension nozzle and flow control clip
- Pump is made from high quality BPA Free plastic that's safe for aquarium life 
- Filter out debris when cleaning sand and gravel 
- Instruction manual provides details to maximize the life of your TRFTCLN
You Are Protected By Our 30 Day Money Back Guarantee and 1 Year Warranty. 
PACKAGE INCLUDES:
✔️ PUMP
✔️ NOZZLE EXTENSION
✔️ INSTRUCTION MANUAL
MAKE CLEANING AND DRAINING YOUR AQUARIUM FAST & EASY...
quicklink
terapump battery powered transfer pumps fuel transfer pumps gas transfer pump jerry can pump battery operated liquid transfer pump pump for fuel transfer
I have been using this pump all summer to keep my boat, lawn tractor and a whole bunch of other stuff filled up around here. I still use 5 gallon containers for their portability and even with 10 of those I'll have to fill them twice to get through the summer. This pump has been great for my needs. If you are sick and tired of having to hold a 5 gallon container of fuel in the air while attempting to get those funky nozzles to work, buy this pump.
Brad
So far it's working as well as I had hoped. Nothing is perfect when trying to transfer gas, but this does a very decent job. You need to make sure to lift the nozzle and hose up at the end of the fuel transfer to allow any residual fuel to run back into the tank or it will dribble out all over. It empties most of a five gallon gas can in a couple minutes without having to lift and hold the can up which is exactly what I wanted.
V. Thomas