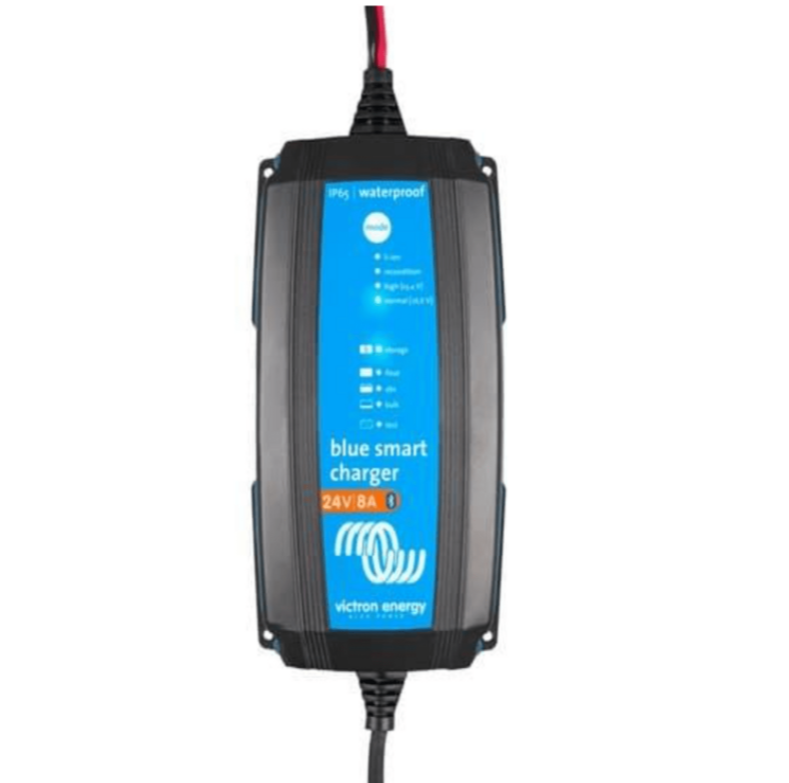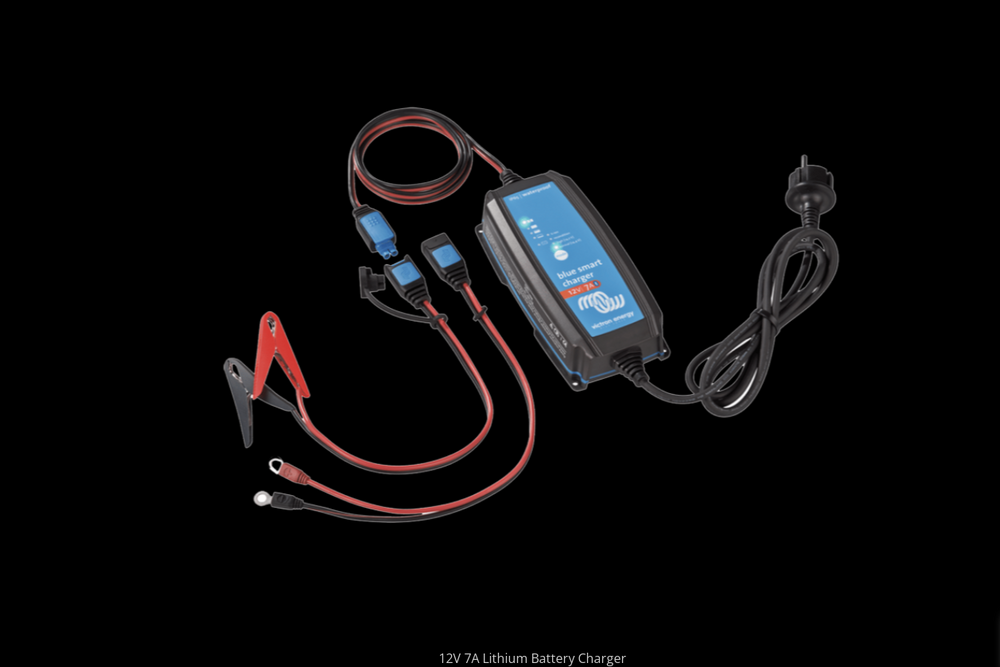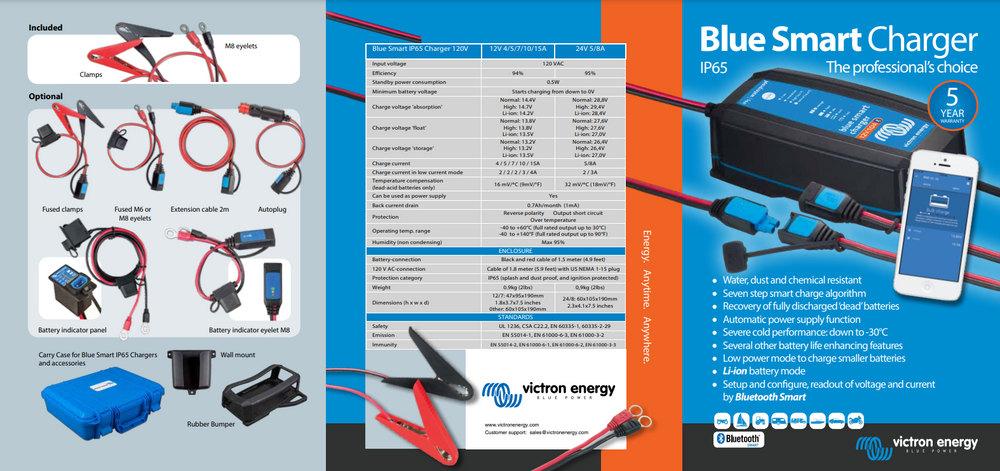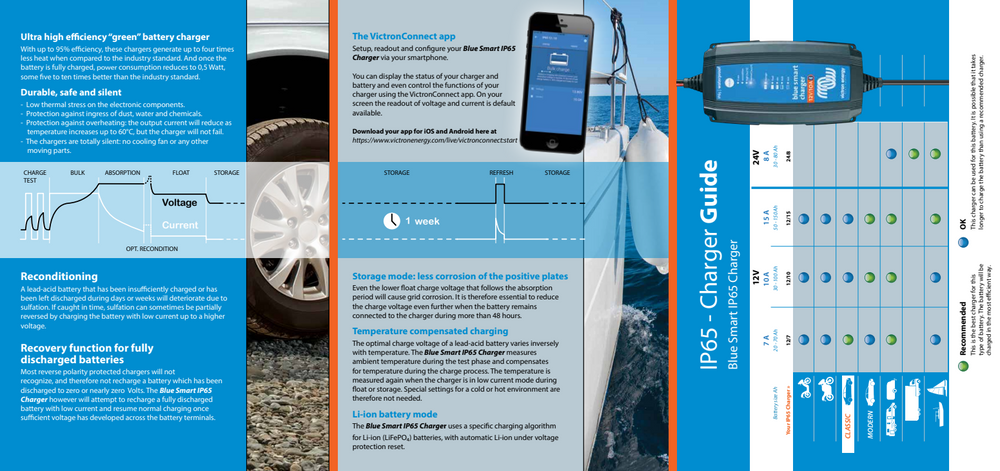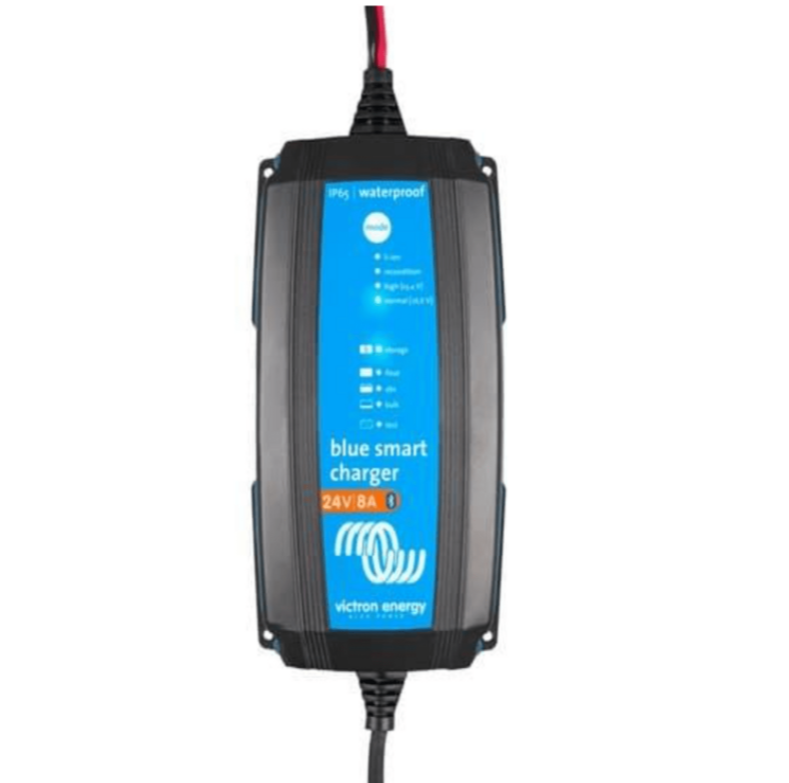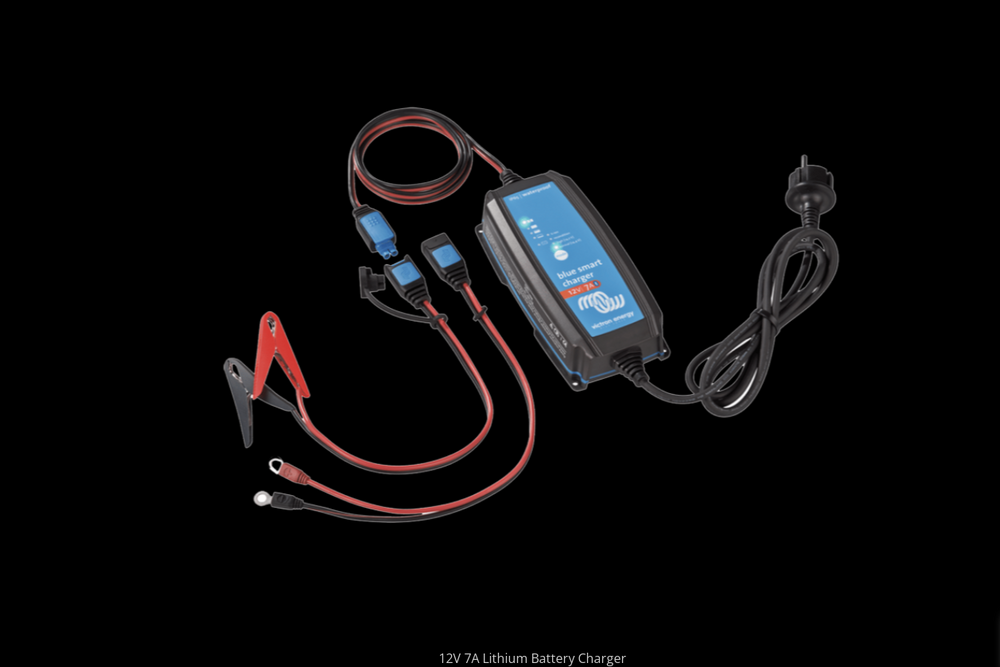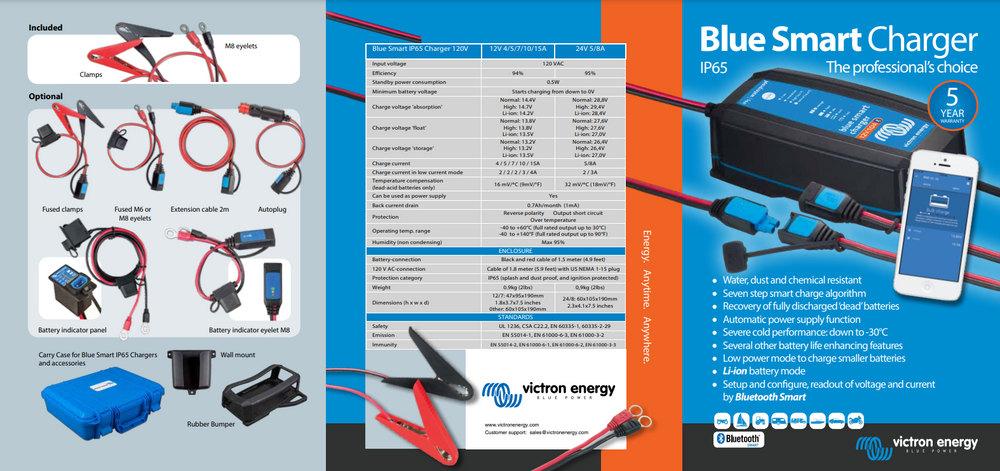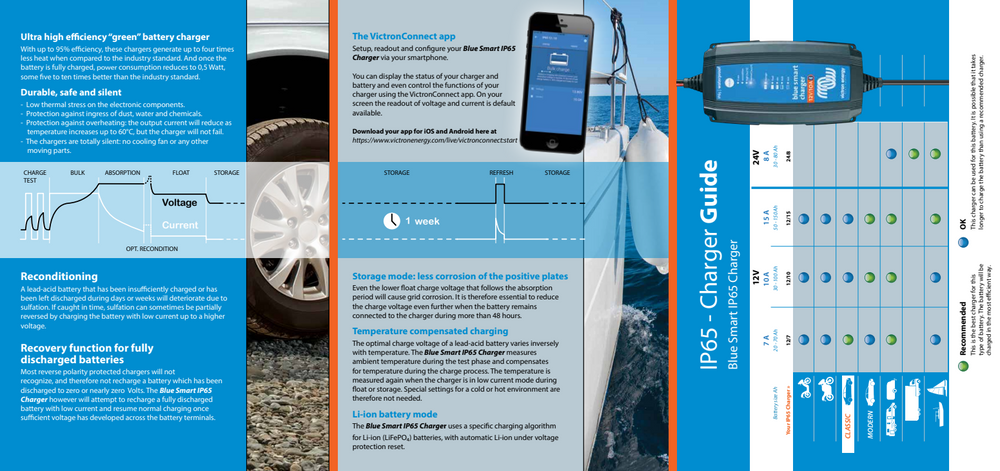 Product Description
Description
The Victron Blue Smart Charger IP65 24V 8A with built-in Bluetooth for workshops, cars, campers, motorcycles and boats provides the battery with the necessary energy, maintains its health and ensures better performance and longer life. This can be used on both AGM and Lithium  batteries.
Description

The Blue Smart IP65 Charger is the new professional battery charger with built-in Bluetooth. This 24V 8A Charger can be used on devices in your workshop and on motor vehicles, such as (classic) cars; motorbikes; boats and camper-vans and can be used on both AGM and  Lithium batteries.
Victron IP65 24V 8A Charger Features:
Water, dust and chemical resistant
Seven steps smart charge algorithm
Recovery of fully discharged 'dead' batteries
Automatic power supply function
Severe cold performance: down to -30°C
Several other battery life enhancing features
Low power mode to charge smaller batteries
Li-ion battery mode
Setup and configure, readout of voltage and current by Bluetooth Smart
The VictronConnect App Setup
Readout and configure your Blue Smart IP65 Charger via your smartphone!
You can display the status of your charger and battery and even control the functions of your charger using the VictronConnect app. On your screen, the readout of voltage and current is the default.
App Available for iOS and Android Devices
Ultra high efficiency "green" battery charger
With up to 95% efficiency, these chargers generate up to four times less heat when compared to the industry standard. And once the battery is fully charged, power consumption reduces to 0.5 Watt, some five to ten times better than the industry standard. Durable, safe and silent – Low thermal stress on the electronic components. – Protection against ingress of dust, water and chemicals. – Protection against overheating: the output current will reduce as temperature increases up to 60°C, but the charger will not fail. – The chargers are totally silent: no cooling fan or any other moving parts.
Reconditioning
A lead-acid battery that has been insufficiently charged or has been left discharged during days or weeks will deteriorate due to sulfation. If caught in time, sulfation can sometimes be partially reversed by charging the battery with a low current up to a higher voltage.
Recovery function for fully discharged batteries
Most reverse polarity-protected chargers will not recognize, and therefore not recharge a battery that has been discharged to zero or nearly zero Volts. The Blue Smart IP65 Charger however will attempt to recharge a fully discharged battery with low current and resume normal charging once sufficient voltage has developed across the battery terminals.
Storage mode
Less corrosion of the positive plates Even the lower float charge voltage that follows the absorption period will cause grid corrosion. It is therefore essential to reduce the charge voltage even further when the battery remains connected to the charger for more than 48 hours.
Temperature-compensated charging
The optimal charge voltage of a lead-acid battery varies inversely with temperature. The Blue Smart IP65 Charger measures ambient temperature during the test phase and compensates for temperature during the charging process. The temperature is measured again when the charger is in the low current mode during float or storage. Special settings for a cold or hot environment are therefore not needed.
Li-ion battery mode
The Blue Smart IP65 Charger uses a specific charging algorithm for Li-ion (LiFePO₄) batteries, with automatic Li-ion under-voltage protection reset.
Additional Information
Weight
2 lbs
Dimensions
7.5 × 4.1 × 2.3 in
Brand

Victron

Input Voltage

120 VAC

Efficiency

95%

Standby power consumption

0.5W

Minimum battery voltage

Starts charging from down to 0V

Charge voltage 'absorption'

Normal: 28.8V
High: 29.4V
Li-ion: 28.4V

Charge voltage 'float'

Normal: 27.6V
High: 27.6V
Li-ion: 27.0V

Charge voltage 'storage'

Normal: 26.4V
High: 26.4V
Li-ion: 27.0V

Charge current

8 Amps

Charge current in low current mode

3 Amps

Temperature compensation (lead-acid batteries only)

32 mV/°C (9mV/°F)

Can be used as power supply

Yes

Back current drain

0.7Ah/month (1mA)

Protection

Reverse polarity / Output short circuit / Over temperature

Operating temp. range

-30 to +50°C (full rated output up to 30°C)
0 to + 140°F (full rated output up to 90°F)

Humidity (non condensing)

Max 95%

Battery-connection

Black and red cable of 1.5 meters (4.9 feet)

120 V AC-connection

A cable of 1.8 meters (5.9 feet) with US NEMA 1-15 plug

Protection category

IP65 (splash and dustproof, and ignition protected)

Safety

UL 1236, CSA C22.2, EN 60335-1, 60335-2-29

Emission

EN 55014-1, EN 61000-6-3, EN 61000-3-2

Immunity

EN 55014-2, EN 61000-6-1, EN 61000-6-2, EN 61000-3-3
WARRANTY
I have been using this pump all summer to keep my boat, lawn tractor and a whole bunch of other stuff filled up around here. I still use 5 gallon containers for their portability and even with 10 of those I'll have to fill them twice to get through the summer. This pump has been great for my needs. If you are sick and tired of having to hold a 5 gallon container of fuel in the air while attempting to get those funky nozzles to work, buy this pump.
Brad
So far it's working as well as I had hoped. Nothing is perfect when trying to transfer gas, but this does a very decent job. You need to make sure to lift the nozzle and hose up at the end of the fuel transfer to allow any residual fuel to run back into the tank or it will dribble out all over. It empties most of a five gallon gas can in a couple minutes without having to lift and hold the can up which is exactly what I wanted.
V. Thomas