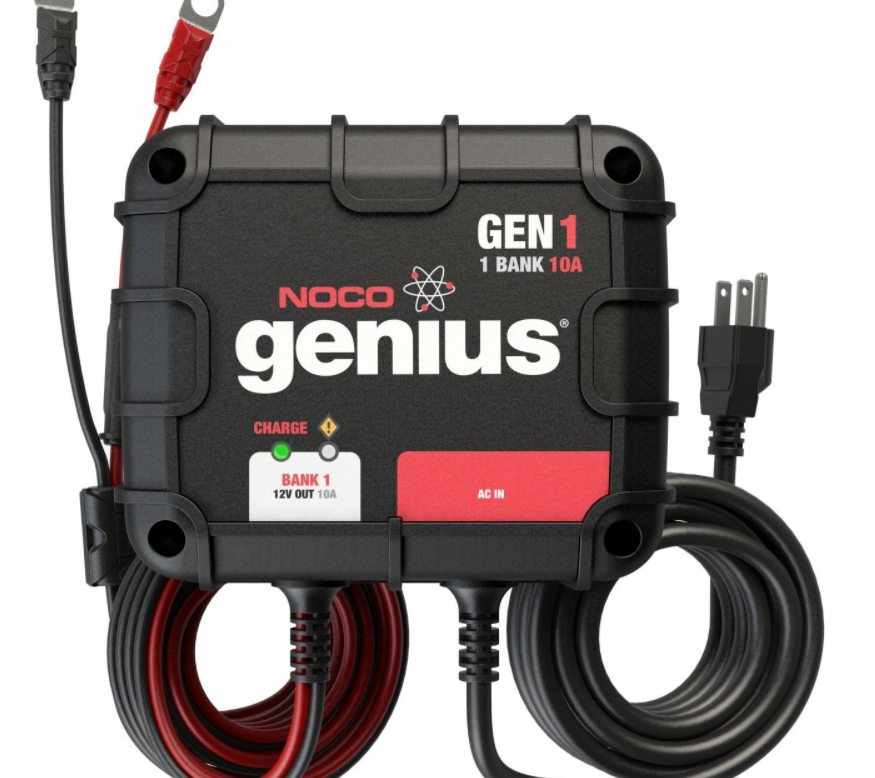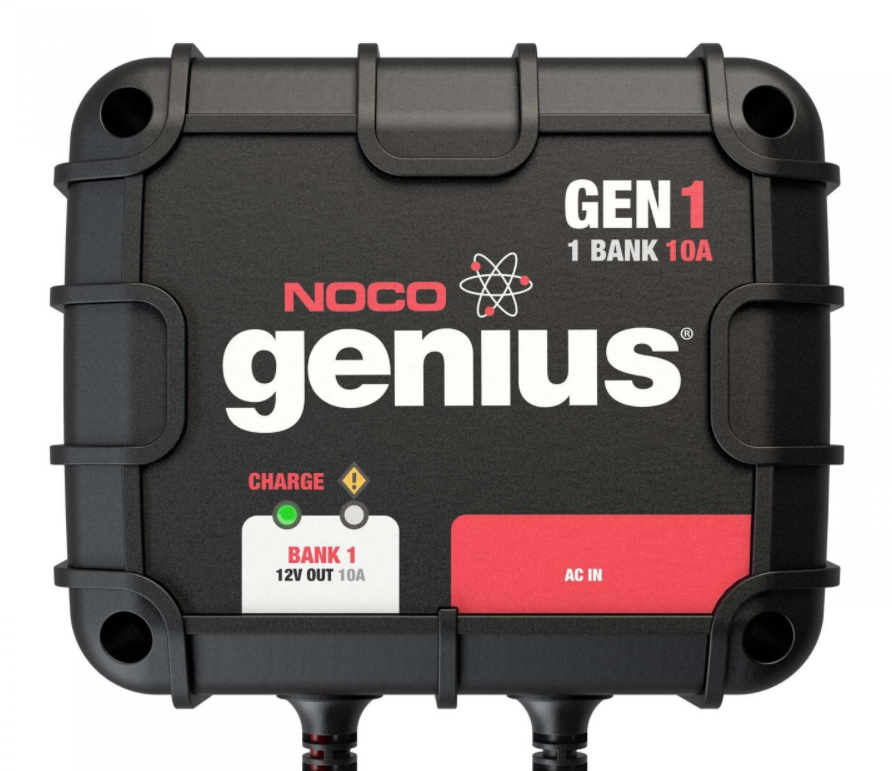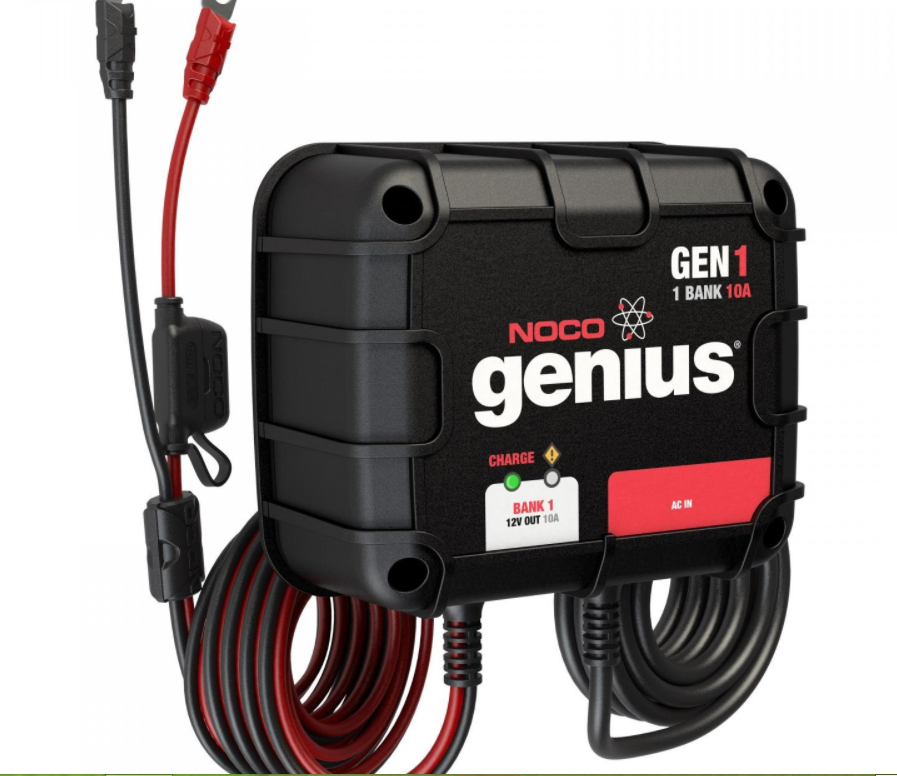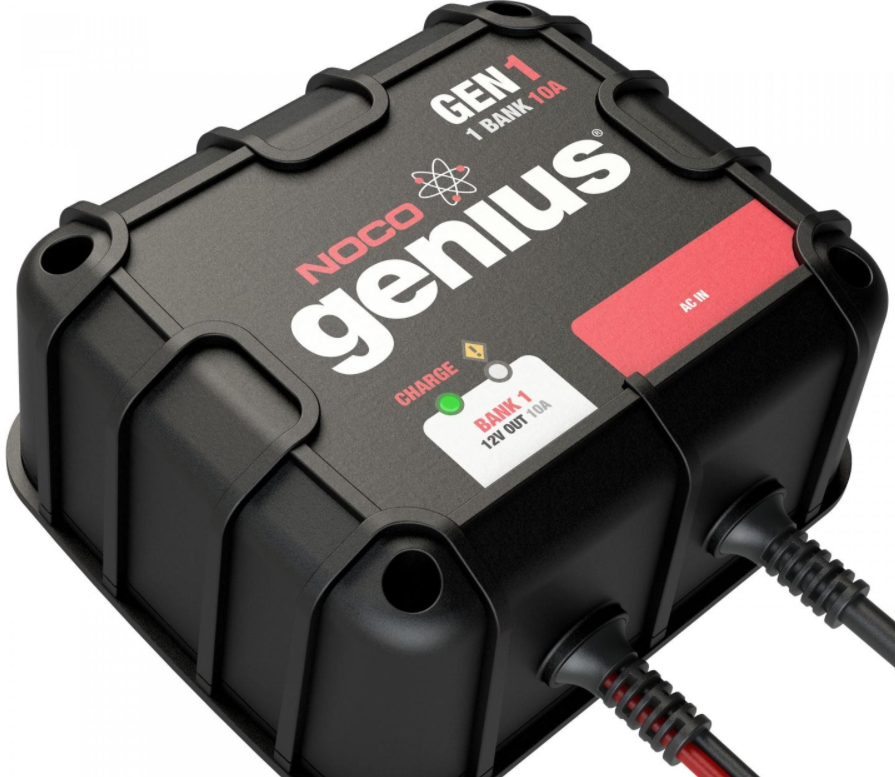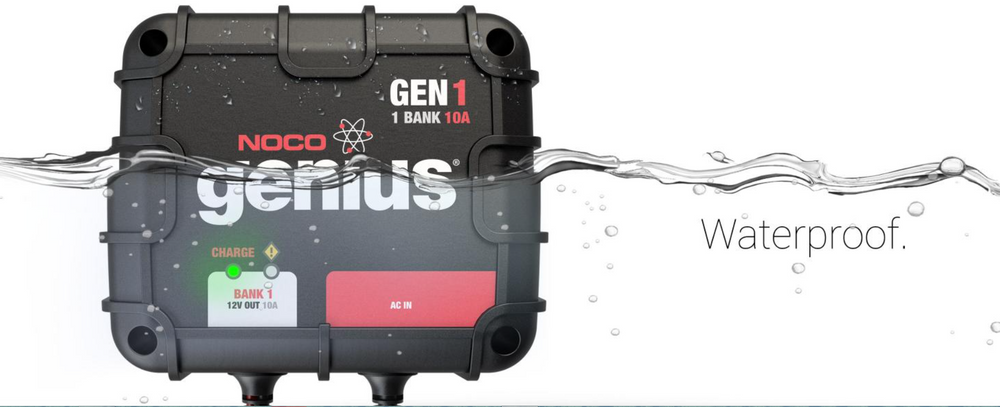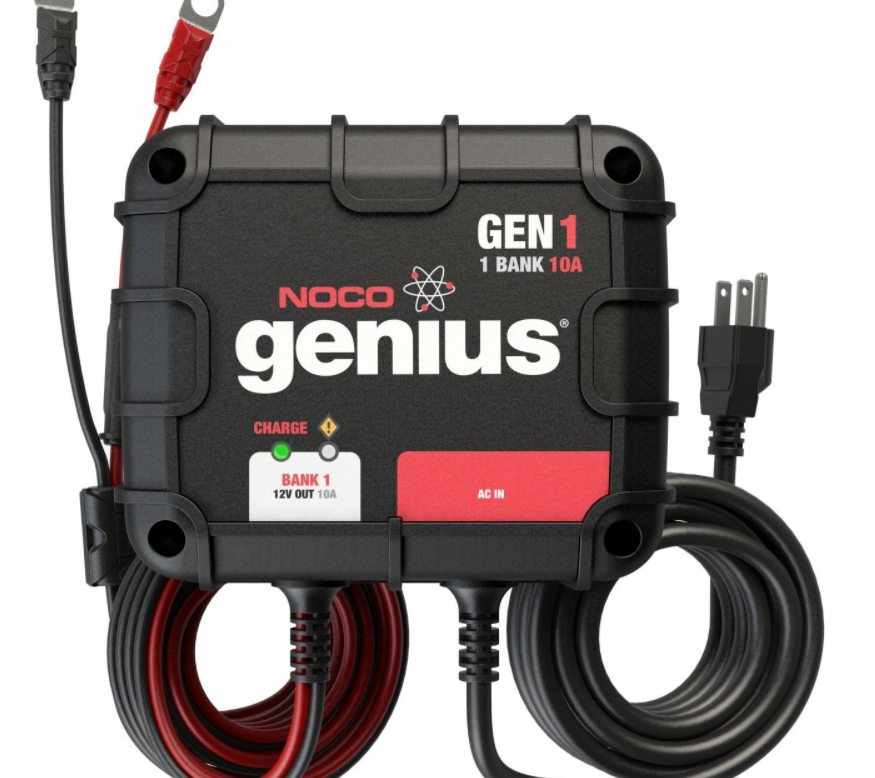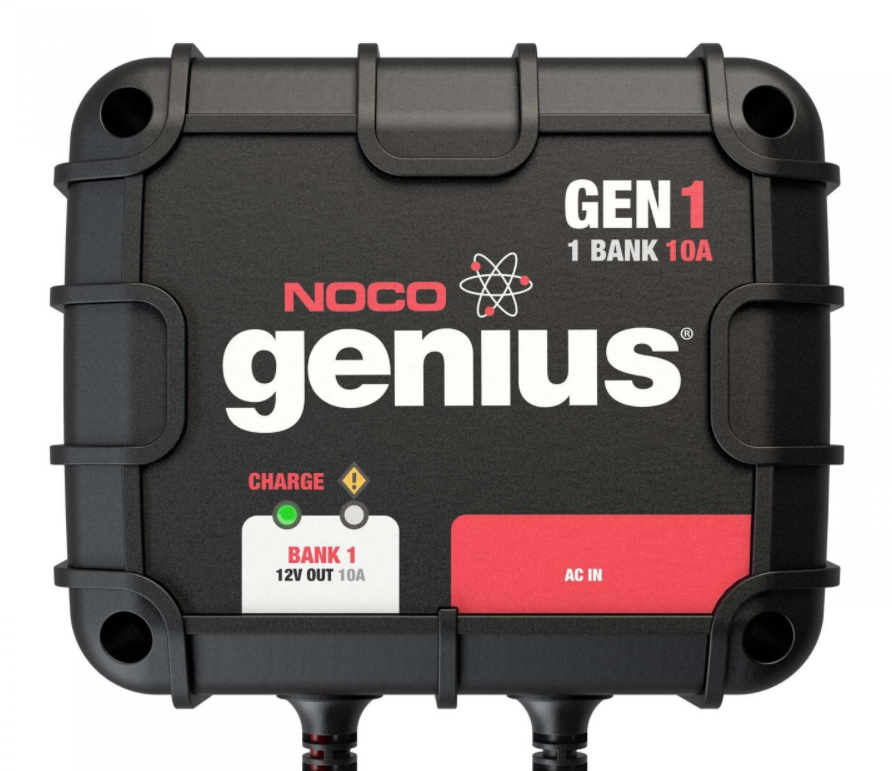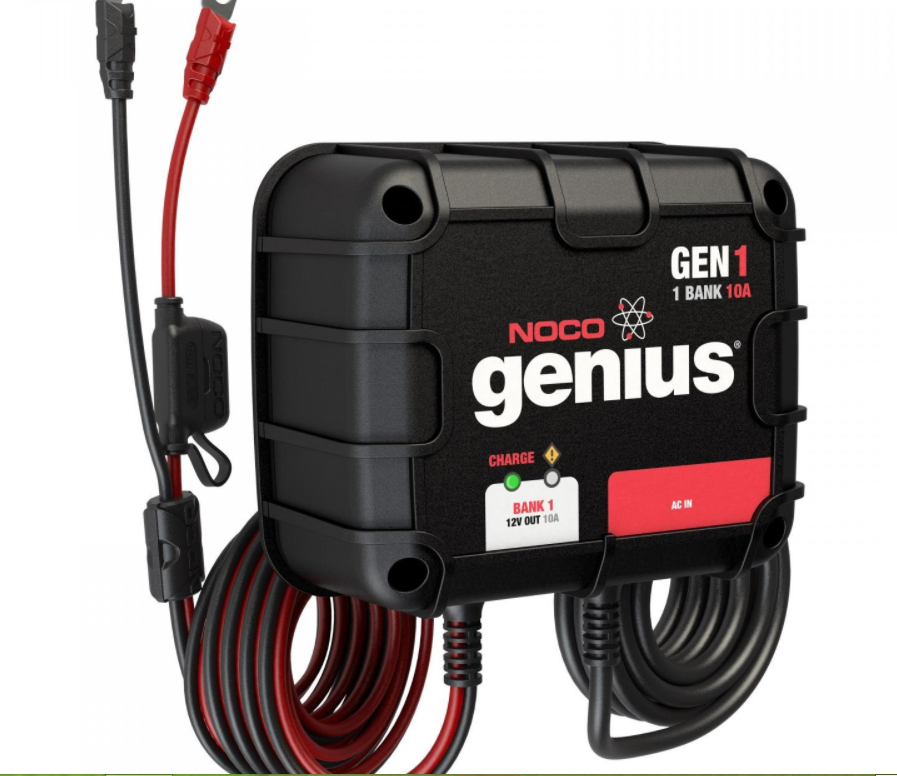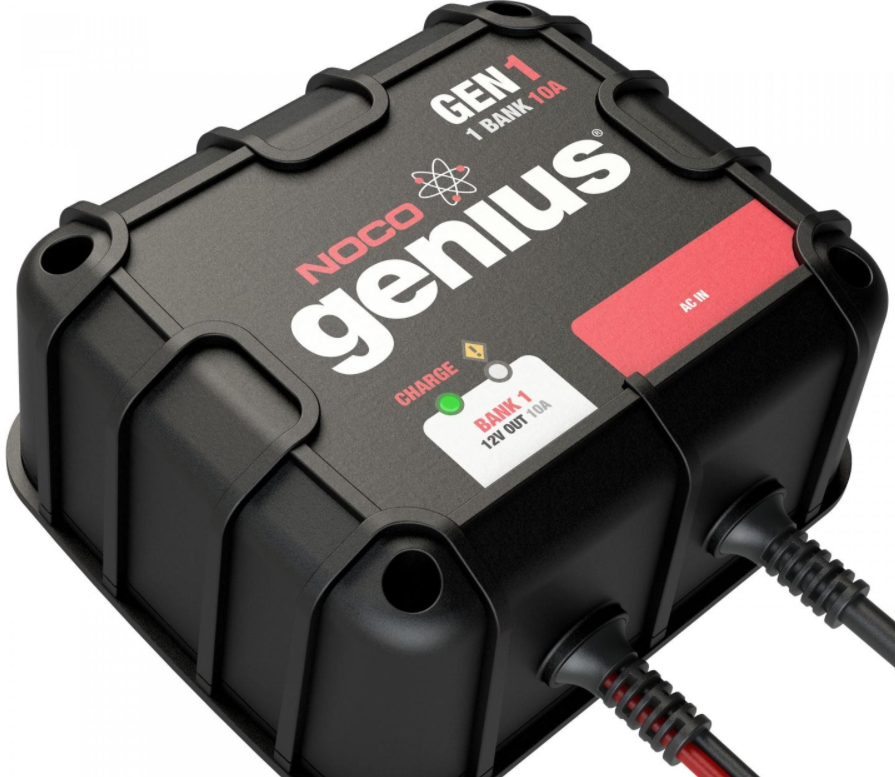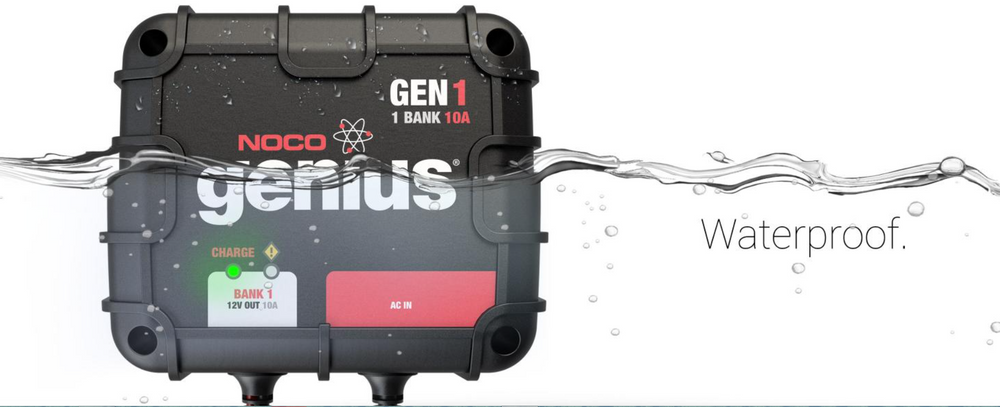 Product Description
Description
1-Bank 10 Amp On-Board Battery Charger
The GEN1 is an On-Board Battery Charger for charging and maintaining a single 12-volt Marine, Starter or Deep-Cycle battery. It's waterproof, shock and vibration resistant rugged design can be mounted directly onto a variety of applications, including a boat, trolling motor or generator, as well as, a full range of electric vehicles and industrial equipment. It monitors battery activity for safe, fast and efficient charging of Wet, Gel, AGM and Maintenance Free batteries without the worry of overcharging. And it's one of the most advanced charging systems designed for improved battery performance and longevity.
A 1-bank, 10 Amp (10 Amps per bank) onboard battery charger.
Charges starter and deep-cycle batteries up to 230Ah.
100% completely sealed and waterproof design rated at IP68.
Spark-proof technology and reverse polarity protection.
Provides full-charge output even with low-line voltages.
Built-in battery desulfator to recover worn-out batteries.
Charges 2X faster than most marine battery chargers.
Saltwater-tested to combat corrosion.
Ignition Protection and meets USCG-33 CFR 183.410 requirements.                                                                   

Fully submersible.

100% completely sealed waterproof on-board battery charger.

Designed to operate in extreme conditions with a waterproof, shock and vibration resistant rugged construction, as well as saltwater tested to combat corrosion. 

Optimization.

Stabilizes the internal battery chemistry for increased battery performance and longevity by optimizing the batteries internal specific gravity.

Maintenance Plus.

A powerful battery maintenance charge that actively monitors and manages charge cycles, but also provides a finishing charge every 24-hours, keeping batteries fully charged with zero overcharge.

Interactive.

Dynamically alters the charging process based on organic battery feedback allowing for precision battery charging.

Recovery.

When detected, it applies a high-voltage low-current pulse charge causing battery sulfation to convert back to the active material, regaining lost battery capacity.

Battery Charging Times

Which onboard battery charger is right you?

Recharging your battery fast and efficient is essential. But selecting the proper onboard battery charger for your application is equally important. Our On-Board Battery Chargers charge at either 4-amps per bank (GEN Mini-Series) or 10-amps per bank (GEN Series). Whether you have a boat, trolling motor, or trailer, the GEN Series charges a standard deep-cycle marine battery in less than half the time of the GEN Mini Series.

Efficient design.

Compact, yet powerful onboard battery charger.

A mix of electrical engineering and industrial design create a powerful, yet space-efficient charger that can easy to mount anywhere in your boat or equipment. It uses high-frequency switch-mode technology to efficiency convert A/C power into safe D/C power for battery charging. And its onboard microcomputer precisely controls the charging to minimize power loss to create an incredibly compact form factor.

The perfect companion.

Remote power access anywhere.

The GCP1 is an AC Port Plug with an integrated extension cord (16-inches) that offers optimal flexibility and ease of installation. It can mount to the exterior of any boat, vehicle or equipment to make the charging port accessible in a more convenient location. Quickly plug-n-play with any extension cord and requires zero cable modifications or hand wiring. Rated for use at 13-amps, 125-volts, and UL certified. Fits into any standard 2-inch hole size.

Technical Specifications.

What's In The Box

GEN1 1-Bank On-Board Battery Charger

User Guide & Warranty Information

Charging Amperage

10 Amps (10 Amps Per Bank)

Type of Batteries

(1) 12-Volt Lead-Acid Battery

Battery Chemistries

Suitable for Wet Cell (Flooded), Gel Cell, Calcium, AGM, Enhanced Flooded Battery or any Maintenance-Free Battery

Battery Capacity

Ideal for Batteries up to to 230 Amp-Hours. Suitable for Maintaining All Battery Sizes.
I have been using this pump all summer to keep my boat, lawn tractor and a whole bunch of other stuff filled up around here. I still use 5 gallon containers for their portability and even with 10 of those I'll have to fill them twice to get through the summer. This pump has been great for my needs. If you are sick and tired of having to hold a 5 gallon container of fuel in the air while attempting to get those funky nozzles to work, buy this pump.
Brad
So far it's working as well as I had hoped. Nothing is perfect when trying to transfer gas, but this does a very decent job. You need to make sure to lift the nozzle and hose up at the end of the fuel transfer to allow any residual fuel to run back into the tank or it will dribble out all over. It empties most of a five gallon gas can in a couple minutes without having to lift and hold the can up which is exactly what I wanted.
V. Thomas