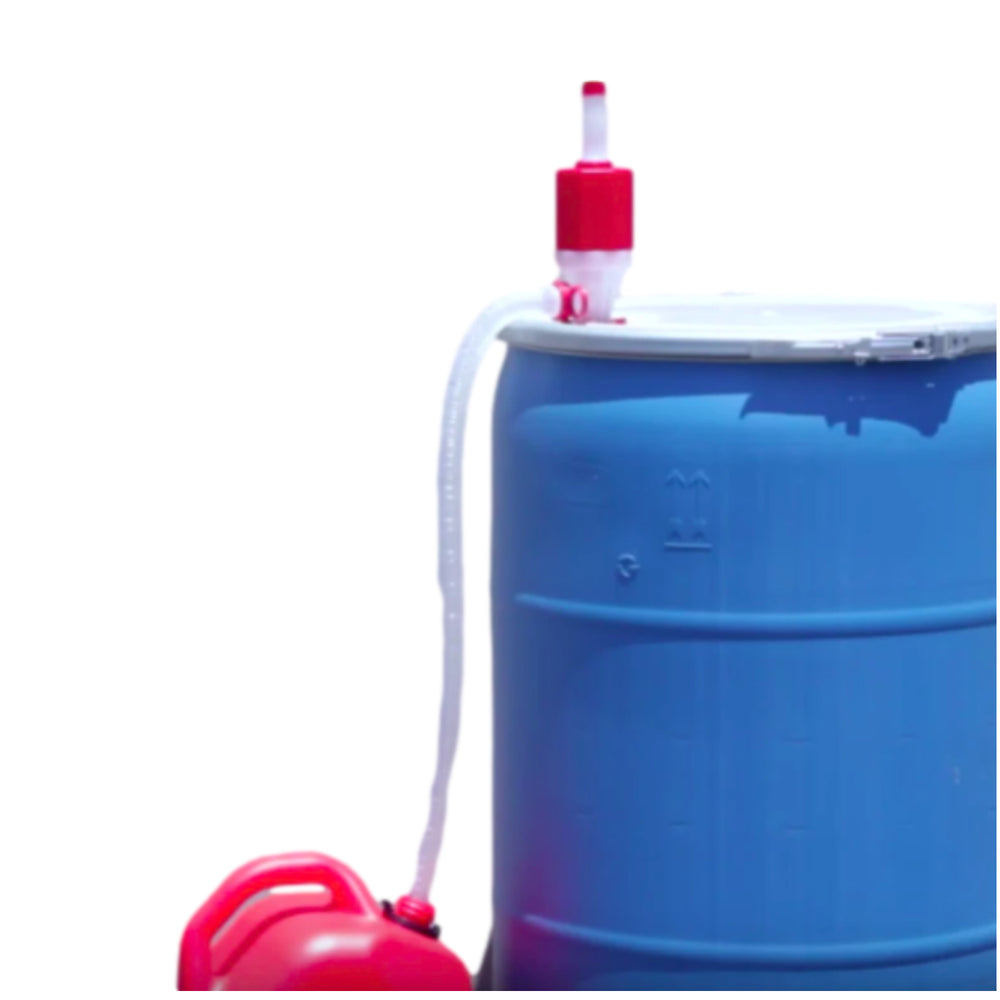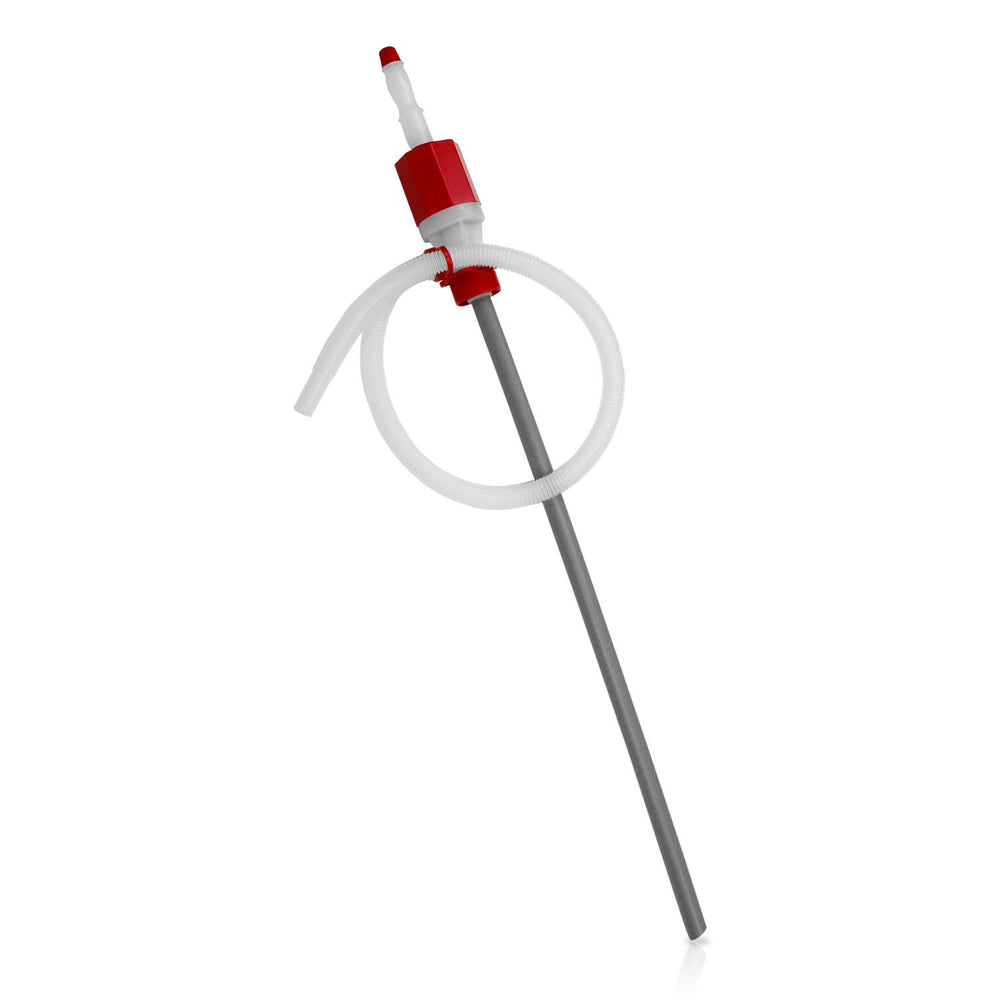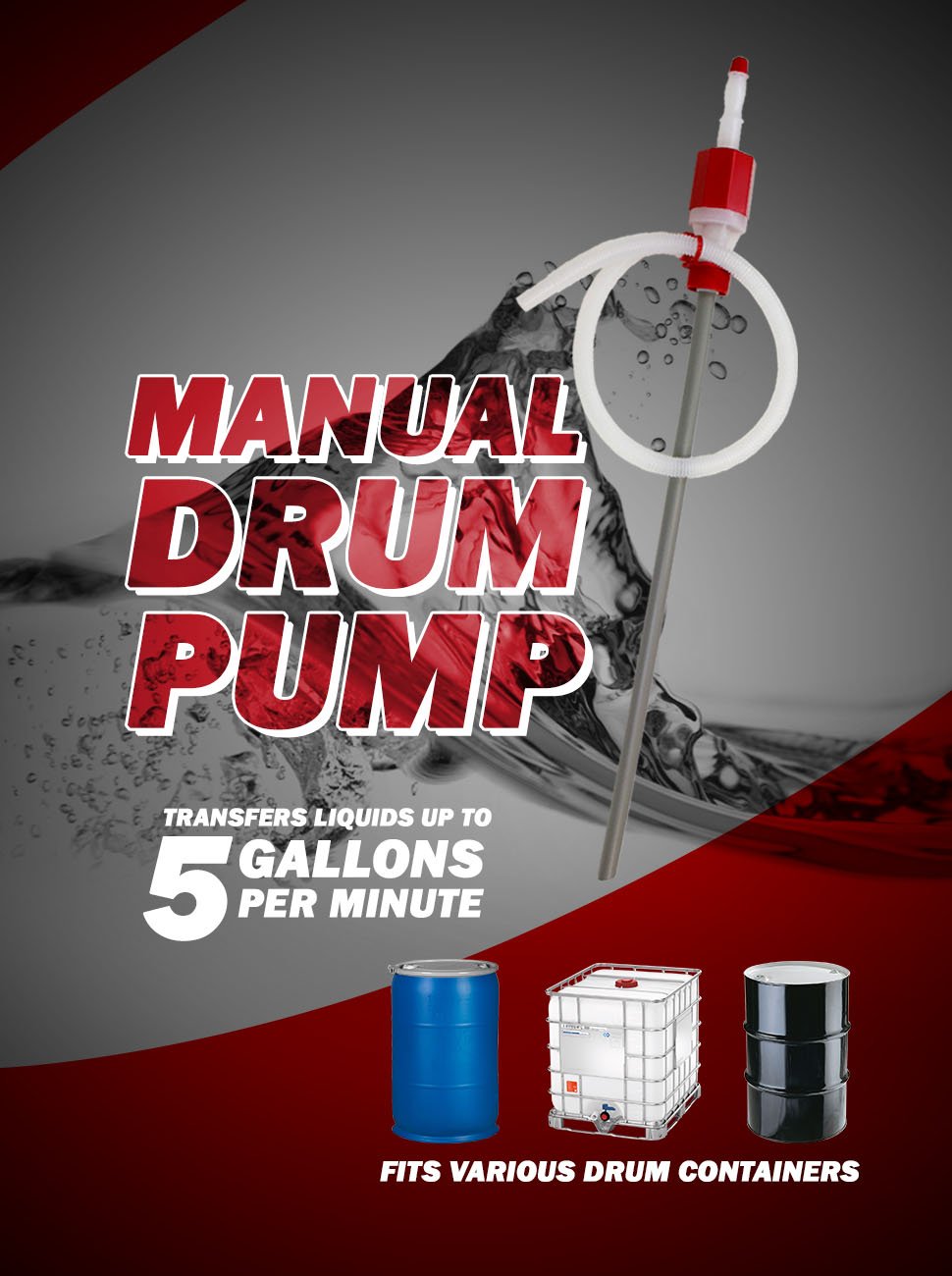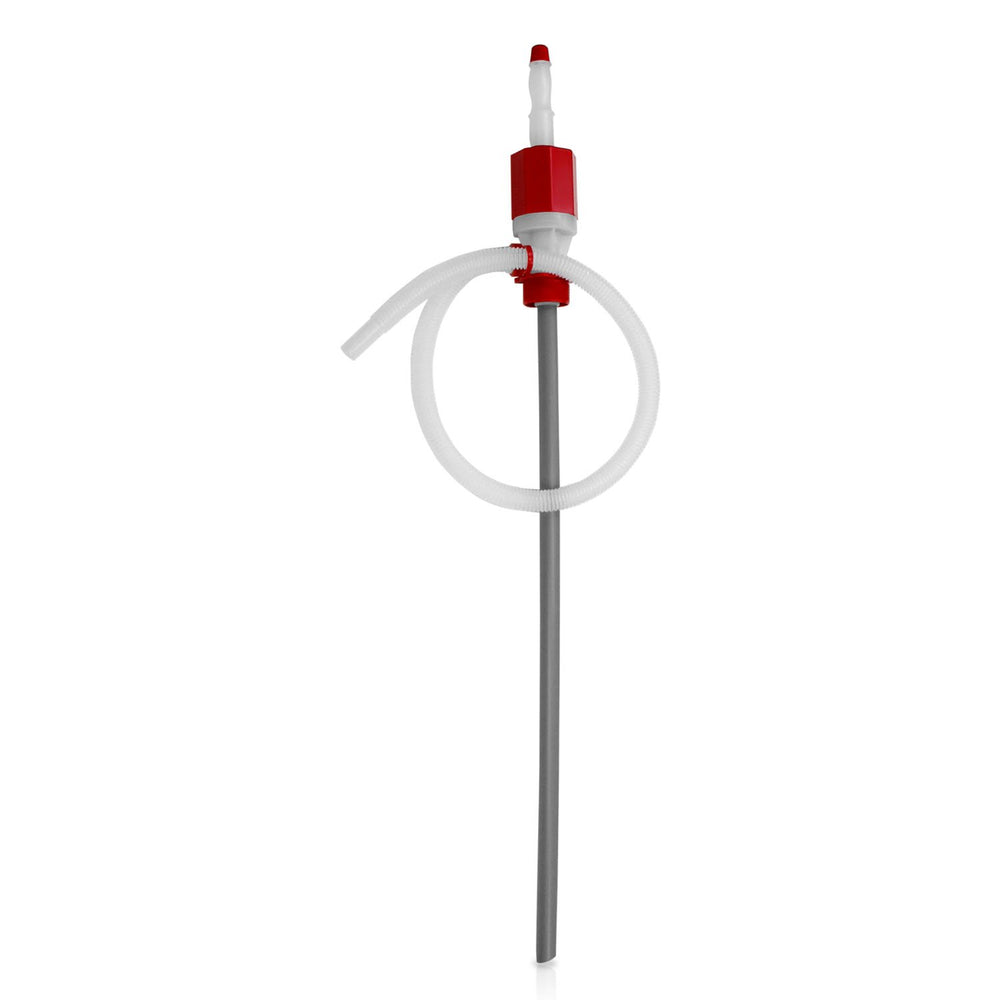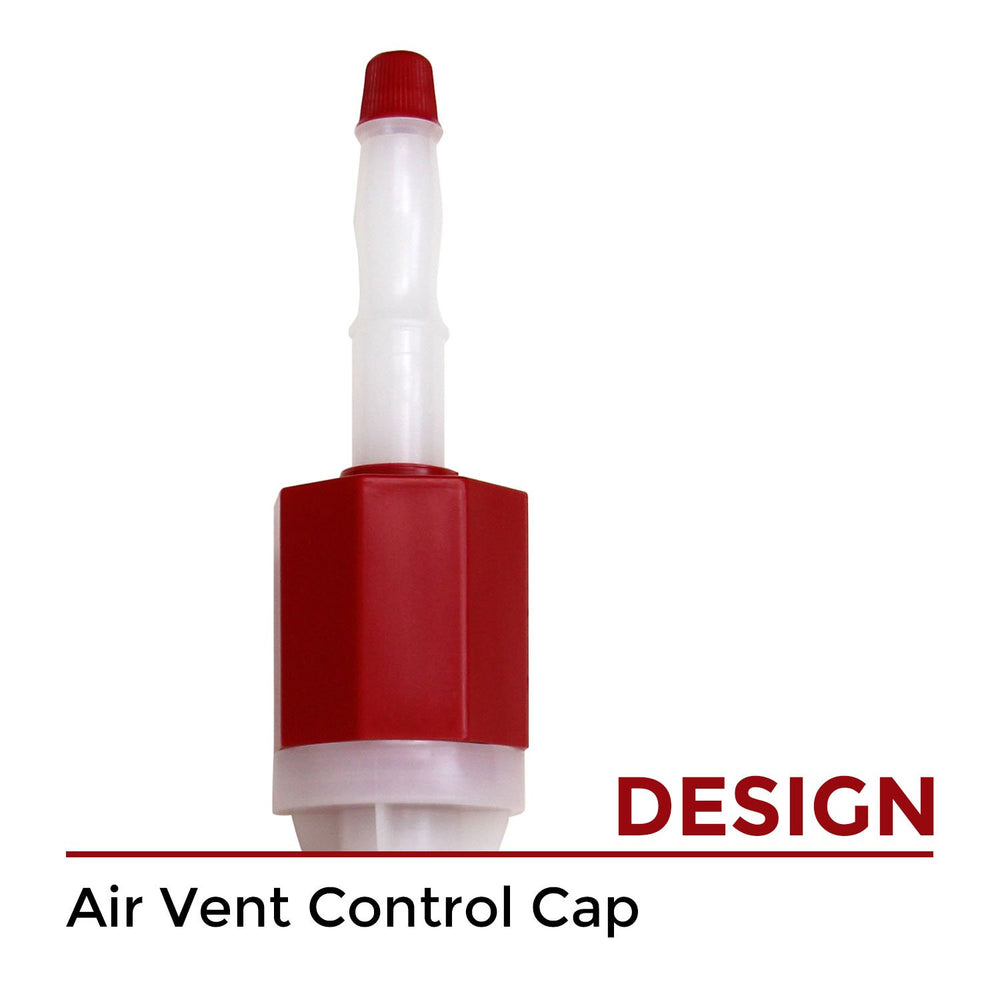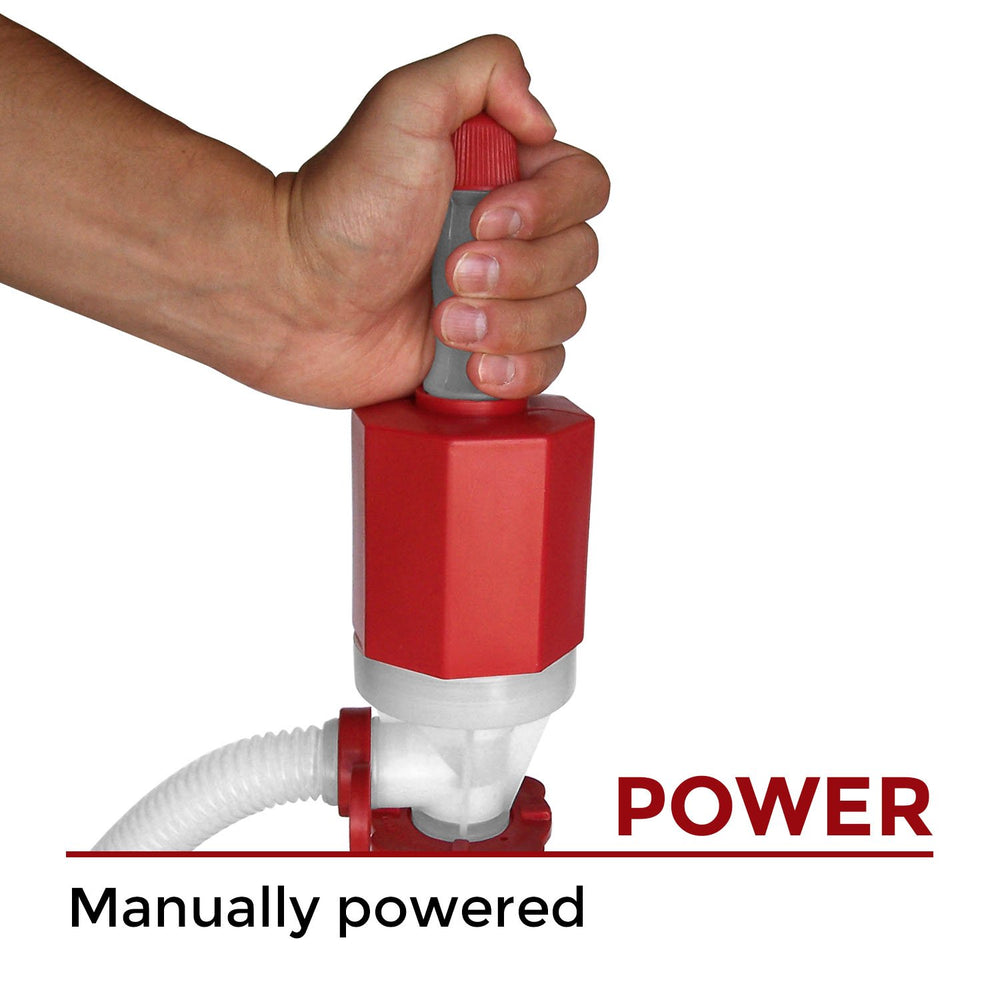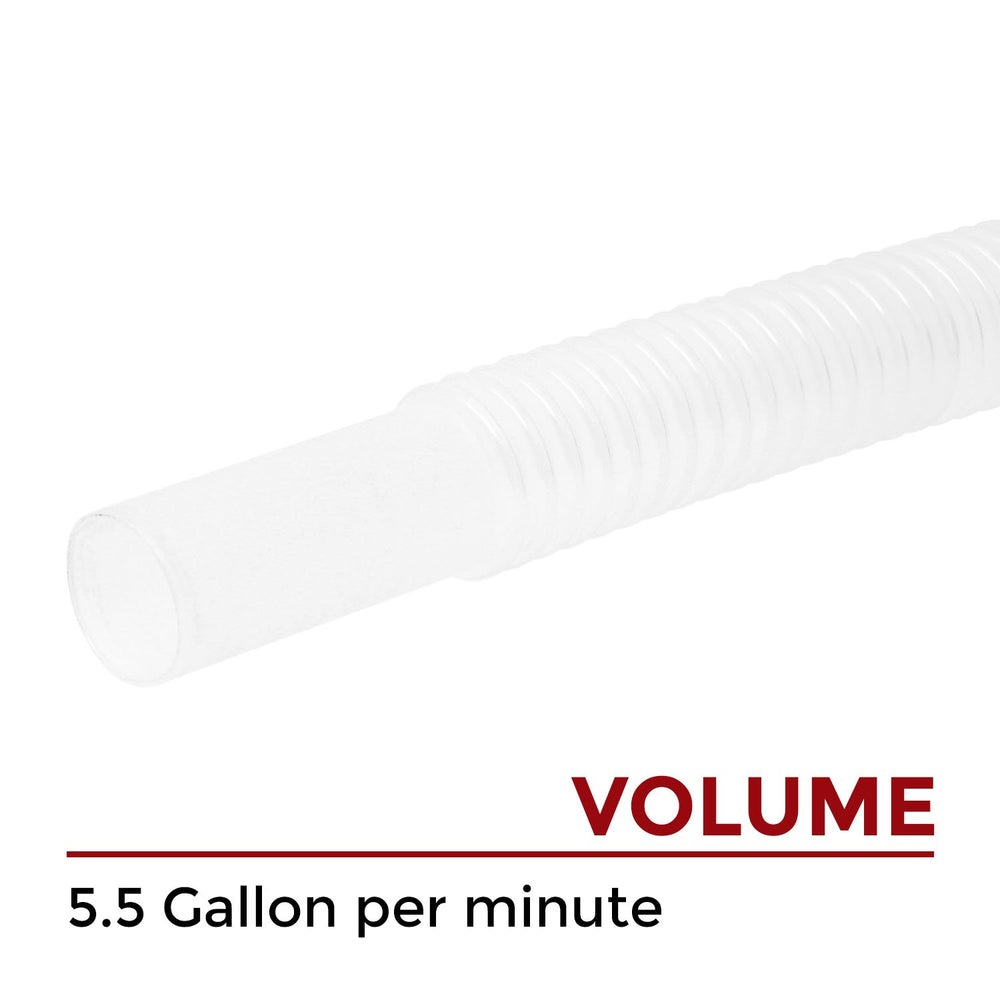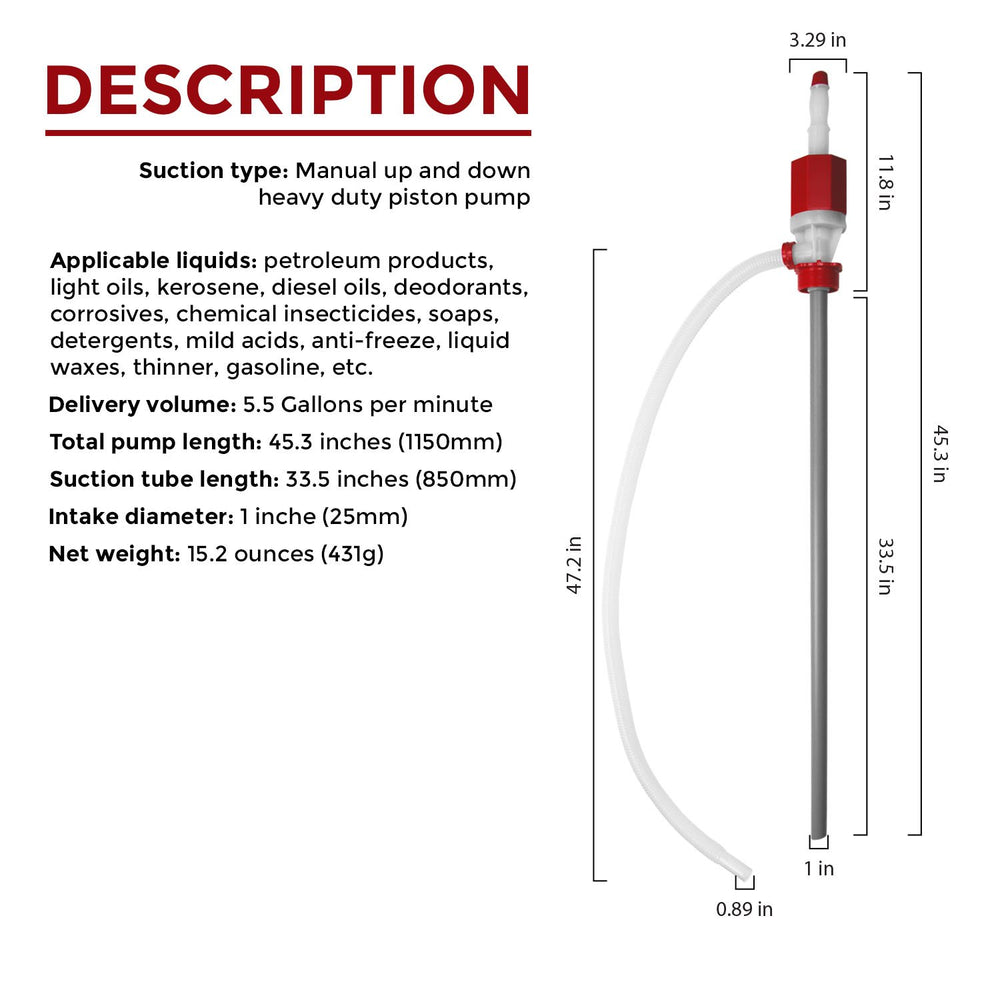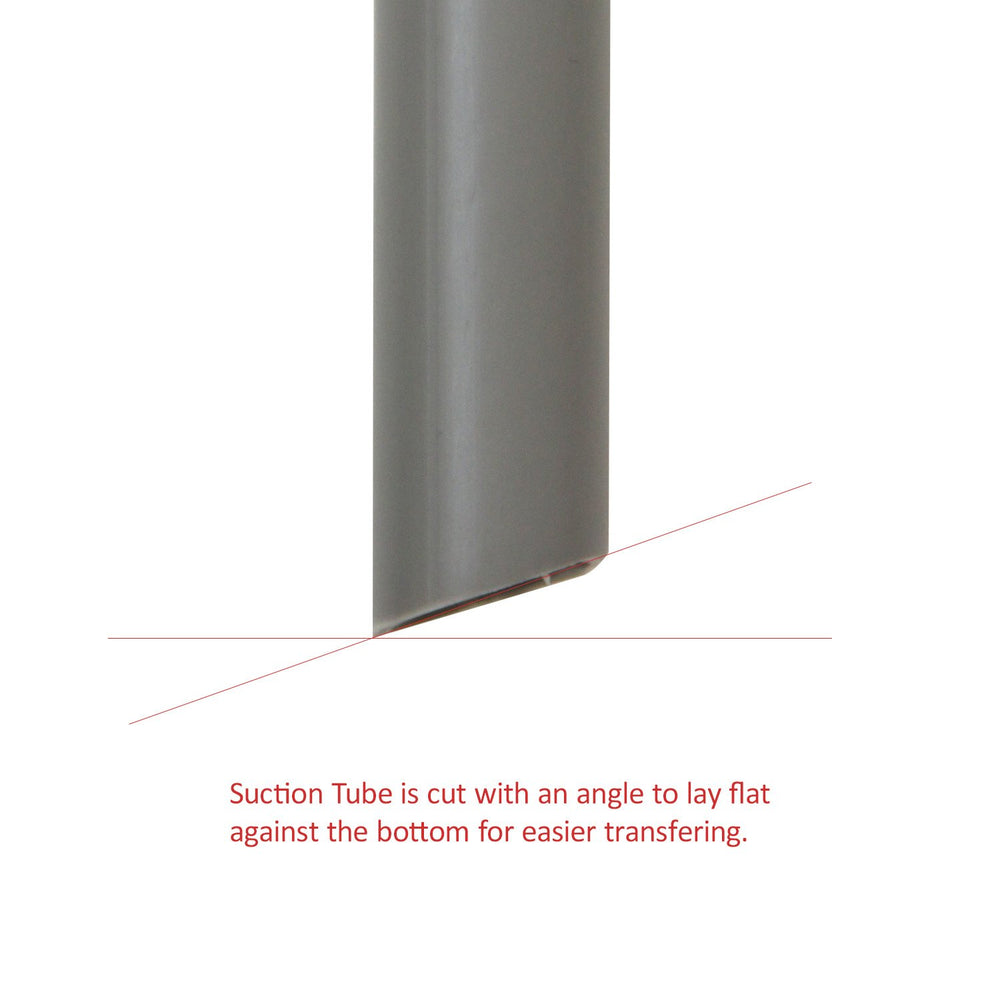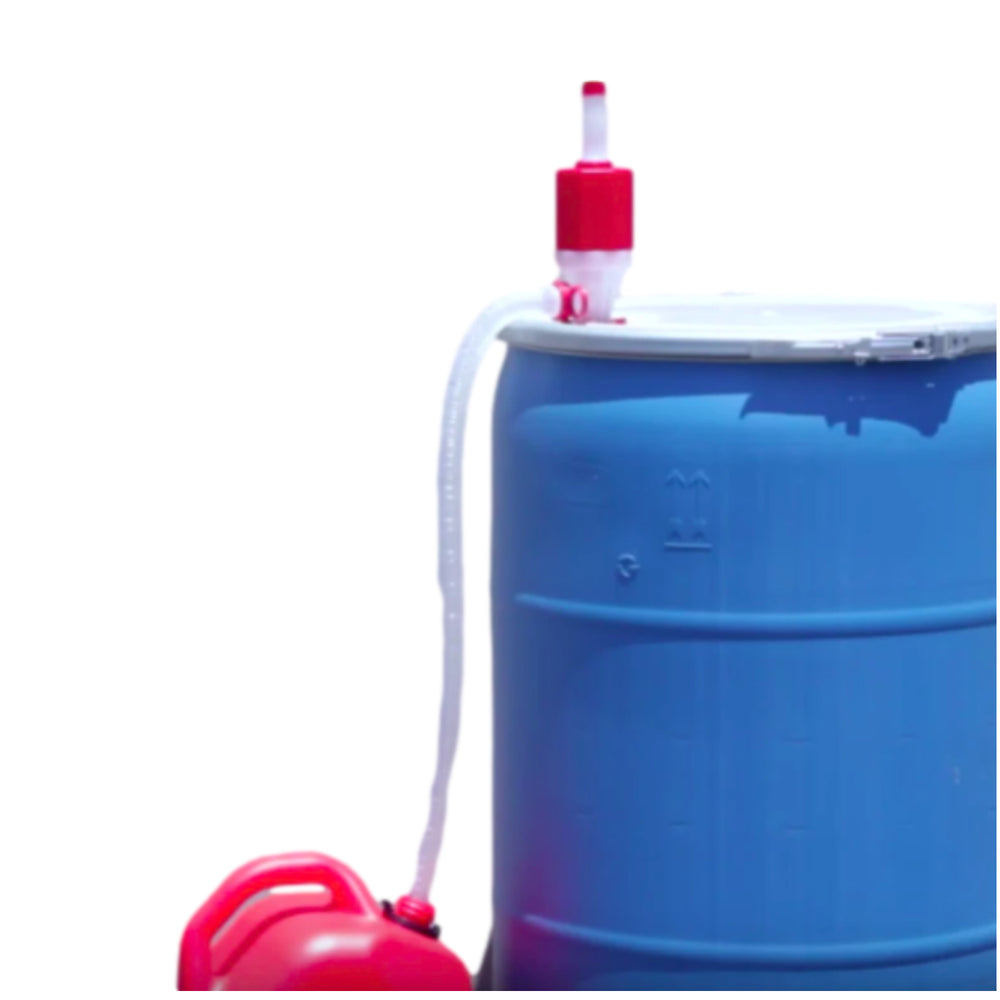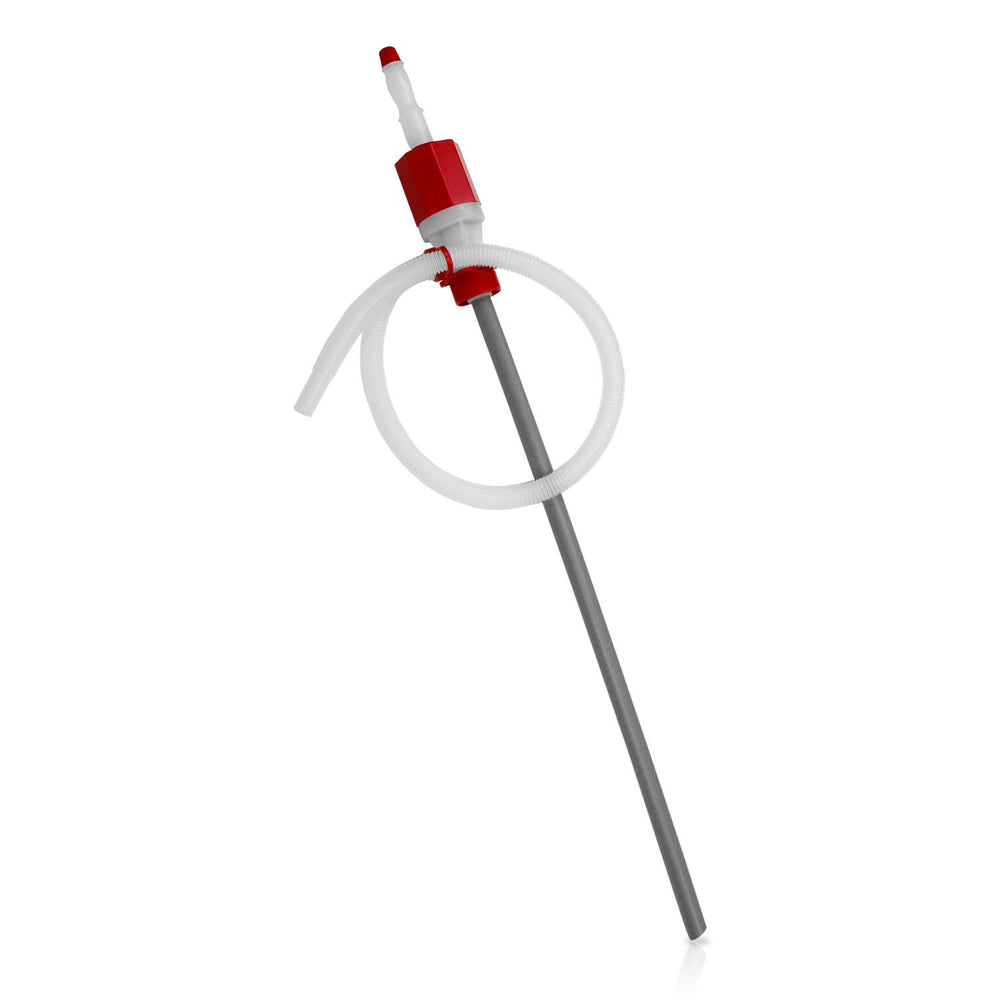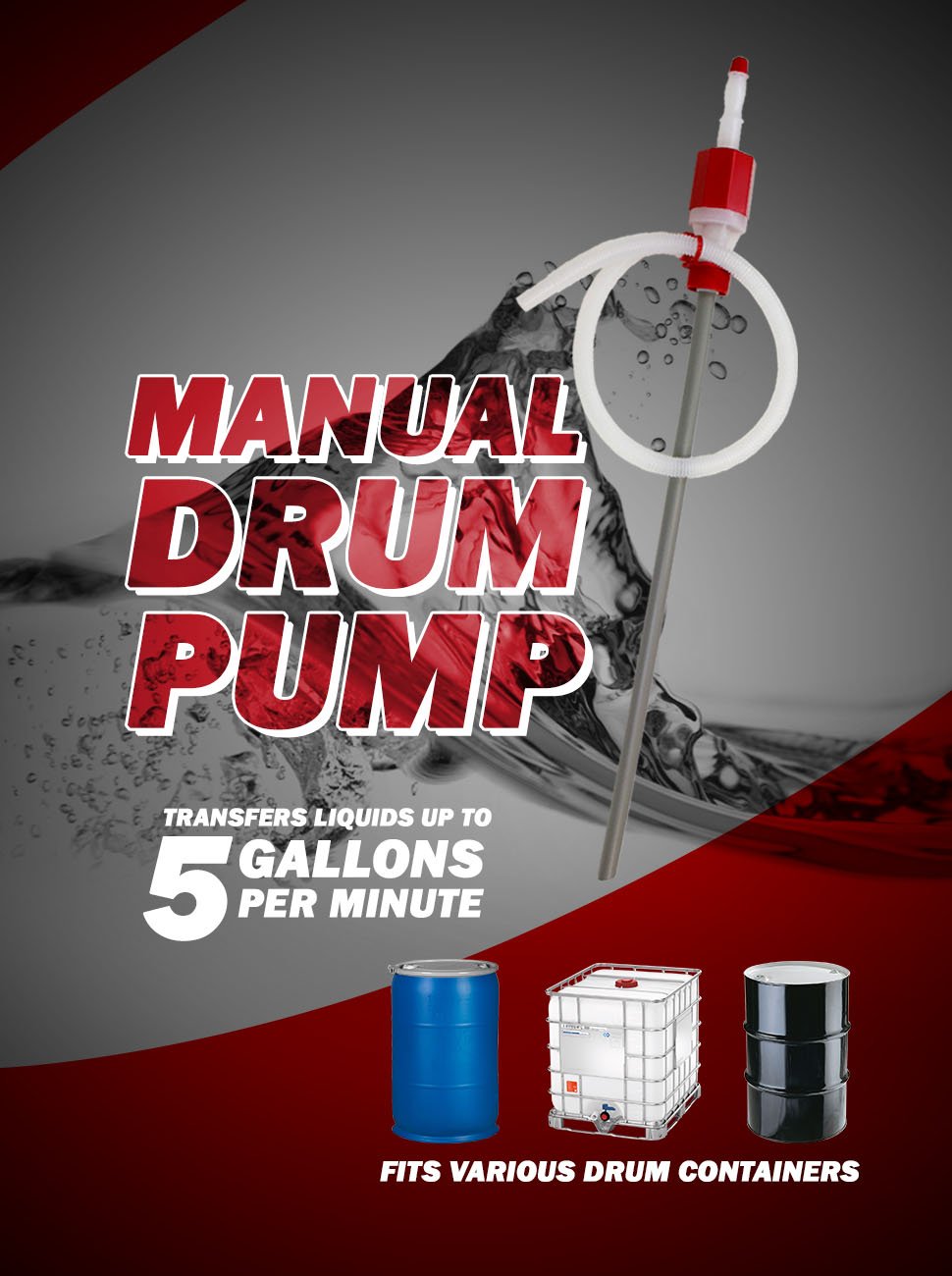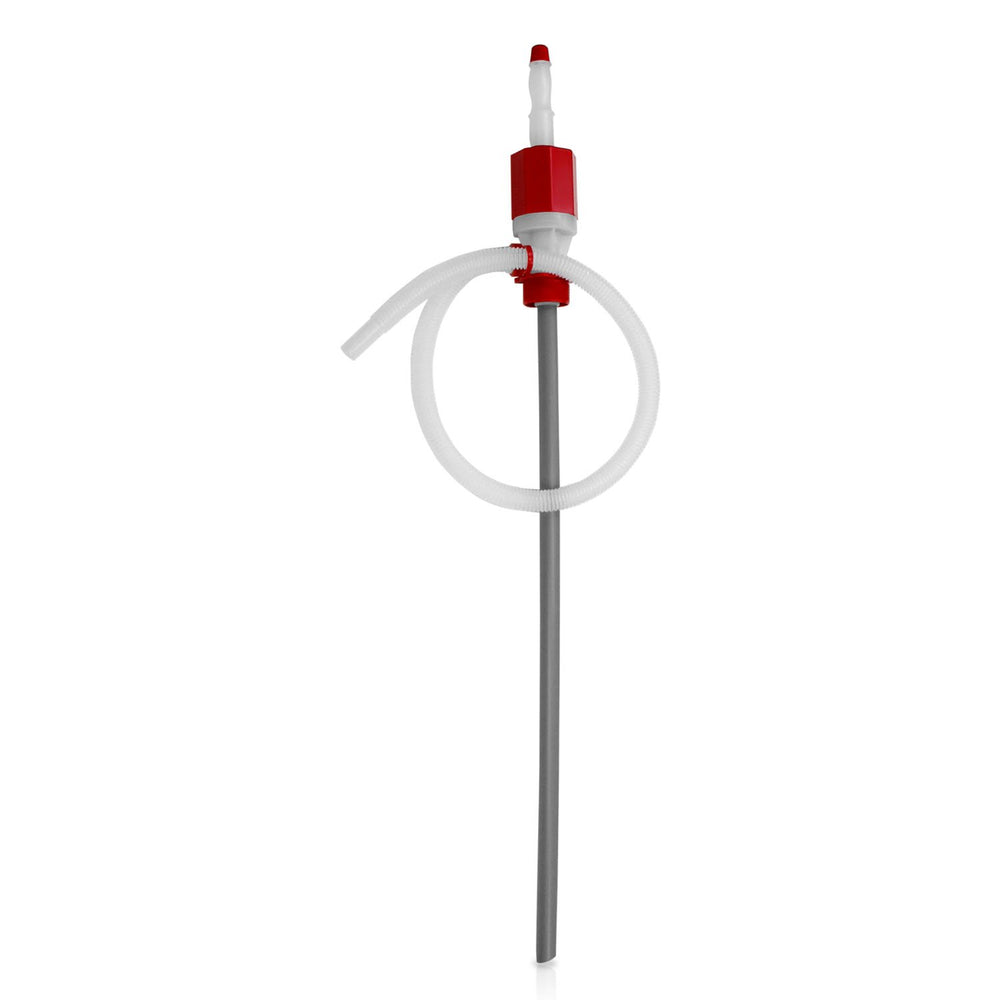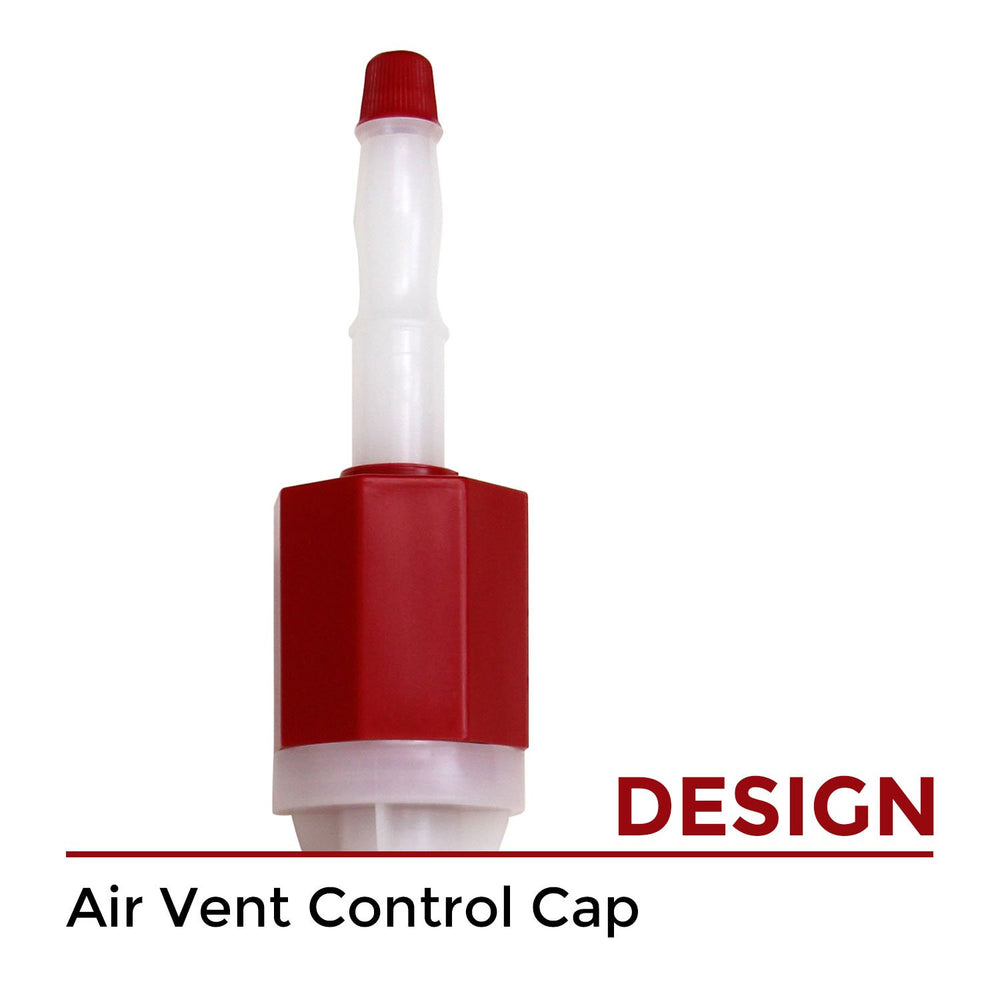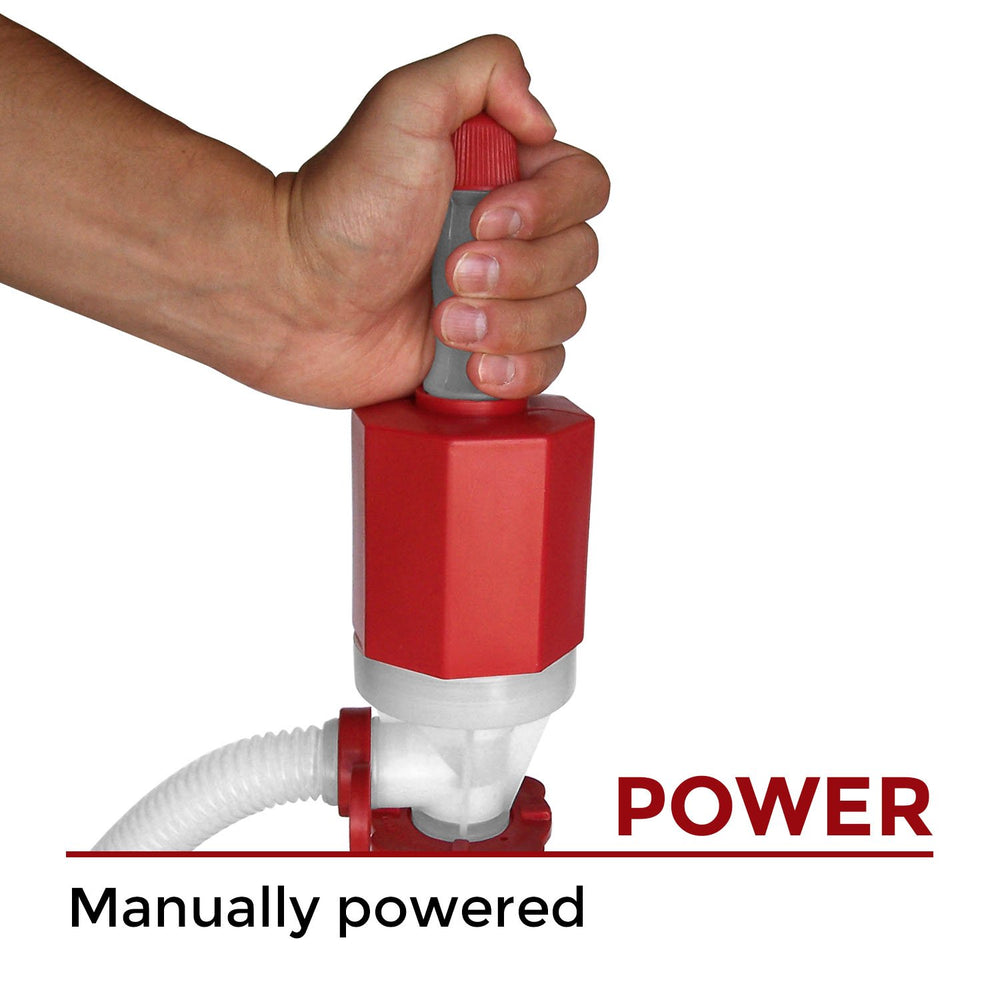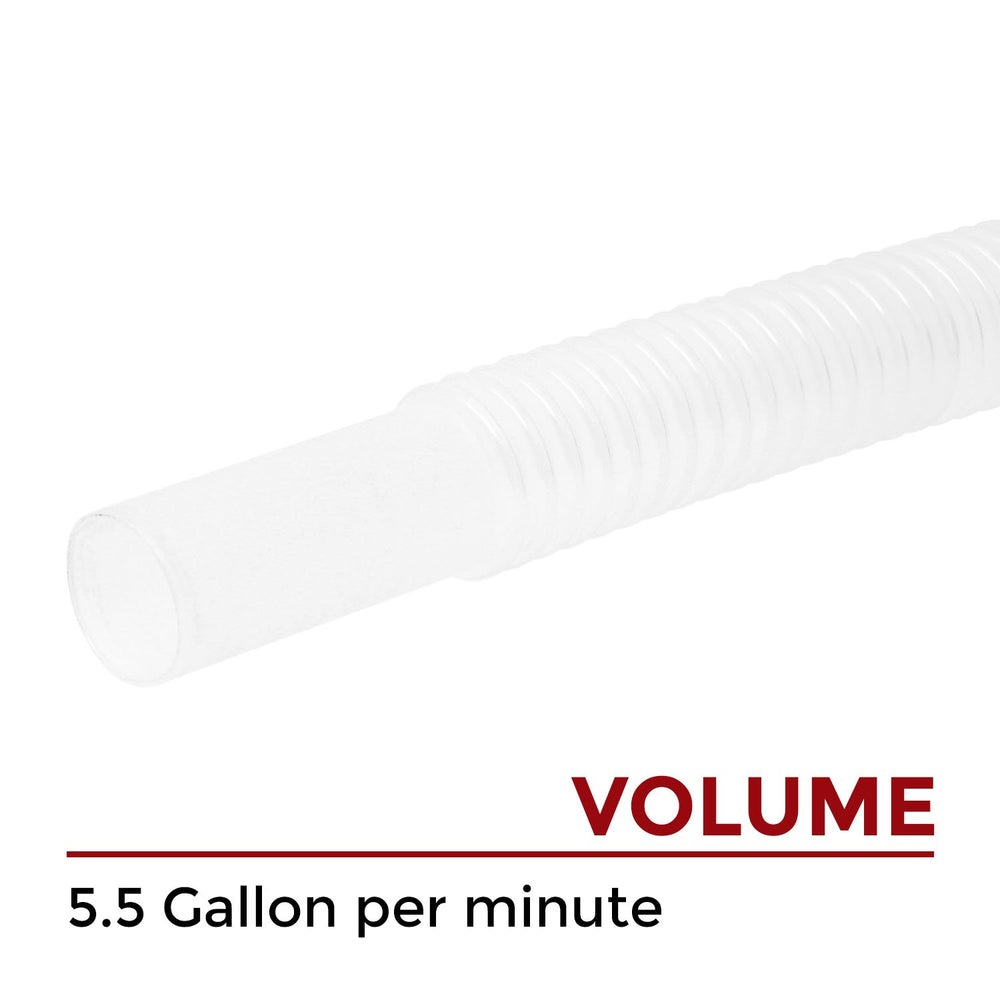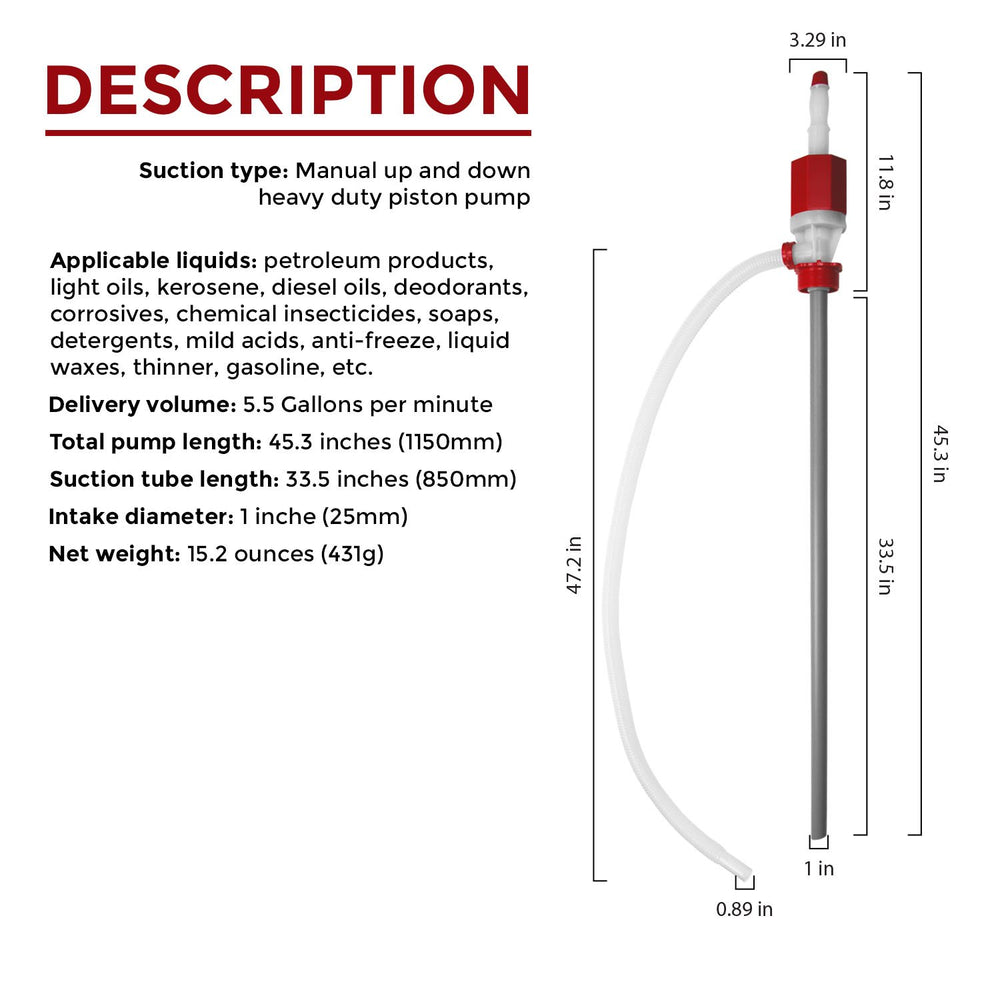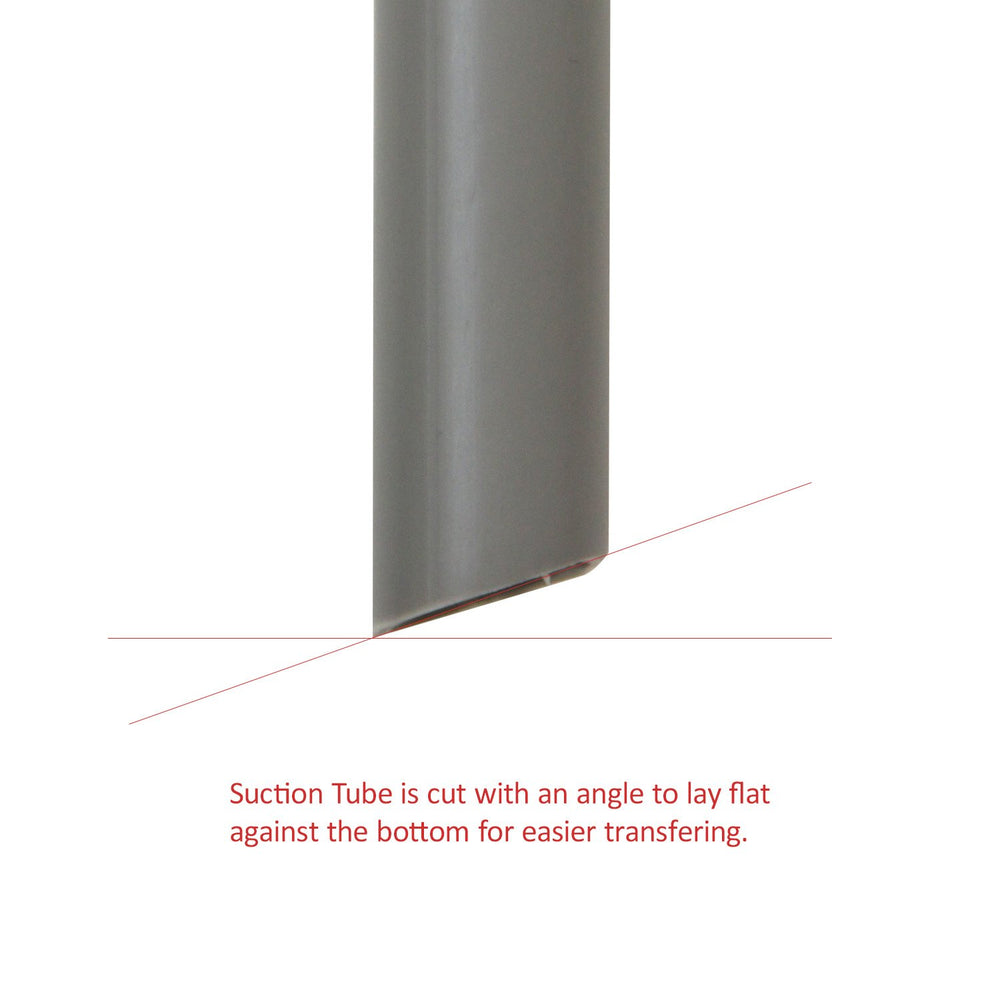 Product Description
Description
Introducing: THE HEAVY DUTY TERAPUMP TRDRUM30... 
Do you have to pump liquids out of drum barrels?
...Or do you have to transfer liquids from one container to another?
If you answered yes to any of the above questions, then we'd like to show you an easy way to transfer liquids with our TRDRUM30 - this manually powered heavy duty drum container siphon pump transfers liquids fast and easy with no spills or messy cleanups..
COMPATIBLE WITH: 
✔️ Petroleum Products
✔️ Light Oils 
✔️ Kerosene 
✔️ Diesel Oils 
✔️ Deodorants 
✔️ Corrosives
✔️ Chemical Insecticides
✔️ Soaps 
✔️ Detergents 
✔️ Mild Acids
✔️ Anti-Freeze
✔️ Liquid Wastes
✔️ Thinners
✔️ Gasoline
✔️ Water & Drinking Water
NOT COMPATIBLE WITH:
❌ Lacquer Thinners
Transferring liquid out of a drum can be a pain!
Safely use this portable TERA PUMP TRDRUM30 Manual Siphon Pump to transfer or empty tanks, barrels, drums, carboys, and IBC containers. 

The TERA PUMP TRDRUM30 is an affordable manual transfer pump designed for quick and easy emptying of drum barrels of various sizes. The TRDRUM30 eliminates the lifting of large, heavy containers and spilling liquids all over the place. 
The up and down operated flexible spring type bellows allow smooth operation and high powered discharge.
HEAVY DUTY FEATURES:
✅  Easy To Use Manual Pump
Grasp top handle and pump up and down, once hose is full gravity will do the rest of the work for you.
Designed With 35% Thicker and Durable BPA FREE Plastic
✅  Air Vent Control Cap
The air vent control cap allows you to stop the transfer of liquids once the siphoning process begins. 
✅  Control Flow of Liquids
Pumps 5.5 Gallons of Liquid Per Minute
The large suction tube is 1 inch in diameter to transfer liquids quickly.
5.5 GPM
HOW TO OPERATE:
1. Insert suction tube into drum barrel and screw down threaded bung adapter.
2. Position discharge hose into receiving container. For siphoning, be sure level of drum barrel is higher than that of receiving container.
3. Grasp top handle and pump up and down. When discharge hose is completely full, you may cease pumping
4. To allow siphoning action. Siphoning will slow down and then cease as supply lowers and receiver rises.
5. To stop the flow of liquid, unscrew cap on the top of handle counterclockwise. Close cap again before next use.
ADDITIONAL DETAILS 
Suction Type: Manual Up/Down Piston Type
Total Length: 45.3 inches
Suction Tube Length: 33.5 inches
Suction Tube Inner Diameter: 1.0 inch
Discharge Tube Length: 47.2 inches
Discharge Tube Inner Diameter: 0.89 inches
Head out Diameter: 3.29 inches
Net Weight: 15.2 oz
DESCRIPTION
Heavy duty / Fast Siphon Pump / BPA Free
Designed for quick and easy emptying of 15, 30, and 55 gallon drums
Made of polyethylene and PVC.
Comes standard with a 2" NPS bung adapter.
Can be used with mild acids, light oils, water based fluids and other materials which are NOT Corrosive to polyethylene and PVC (DO NOT use with lacquer thinners)
Siphons to a lower level or pumps to higher level.
Siphoning is controlled by the air vent on top.
Discharge tube is designed to be flexible for better control of the flow.
Suction tube is cut at an angle to lay flat against the bottom for easier transferring.
DESIGNED TO TRANSFER LIQUIDS FROM VARIOUS DRUM CONTAINERS
quicklink
terapump battery powered transfer pumps fuel transfer pumps gas transfer pump jerry can pump battery operated liquid transfer pump pump for fuel transfer
Warranty
You are protected by our 30 Day Money Back Guarantee and Specific FULL REPLACEMENT Warranty Options: BRS Super Gas Pumps: 1 Year Full Replacement Warranty. BRS Super Battery: 30 Days, 2 Years, or 10 Years Full Replacement Warranty with NO PRORATION. BRS Super Charger: 1 Year Full Replacement Warranty. Fisher Price Power Wheels / Peg Perego Batteries and Chargers: 6 Months Full Replacement Warranty. Please contact us for all other product specific warranty options.