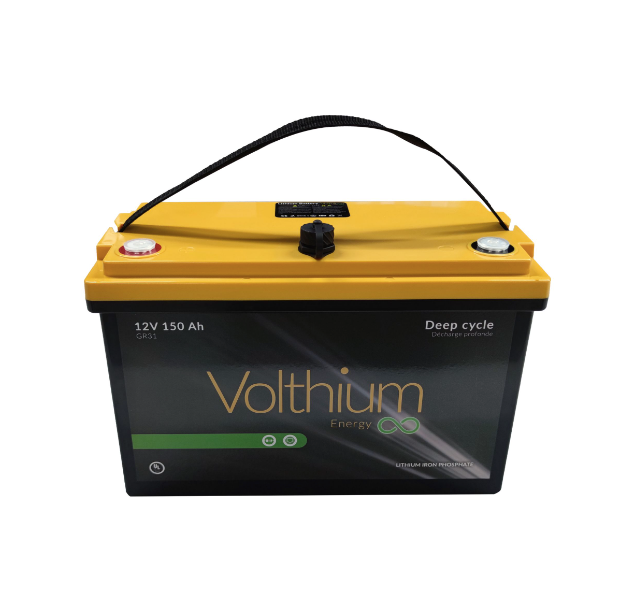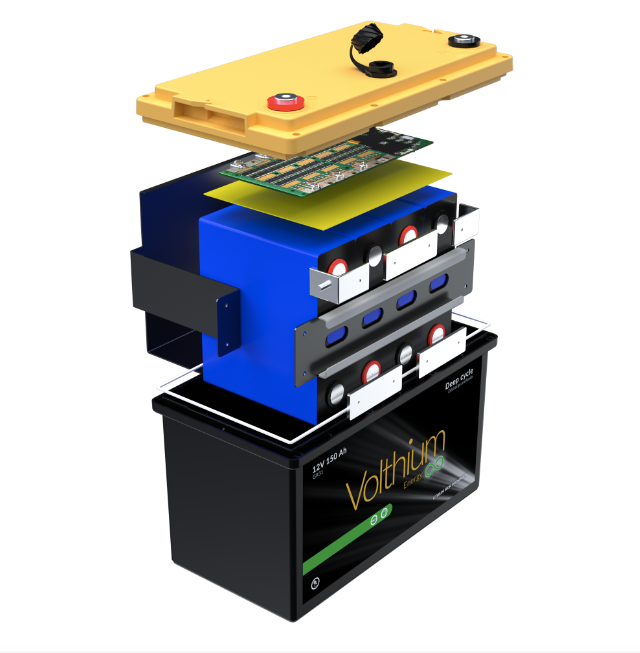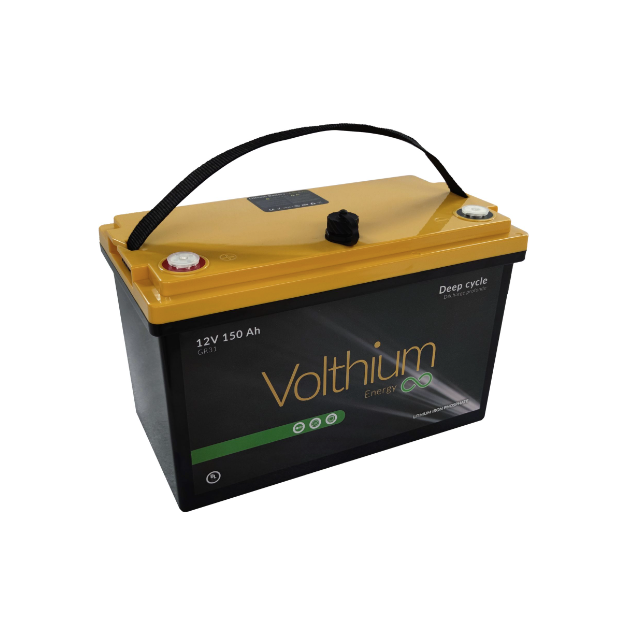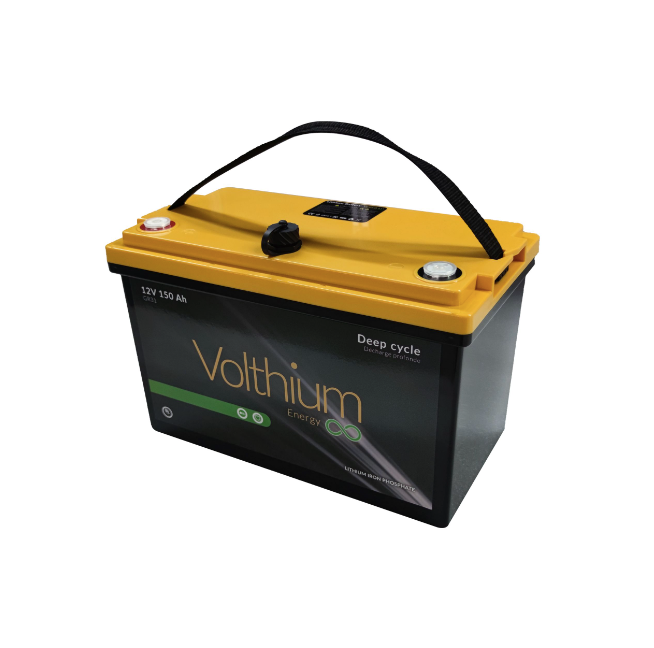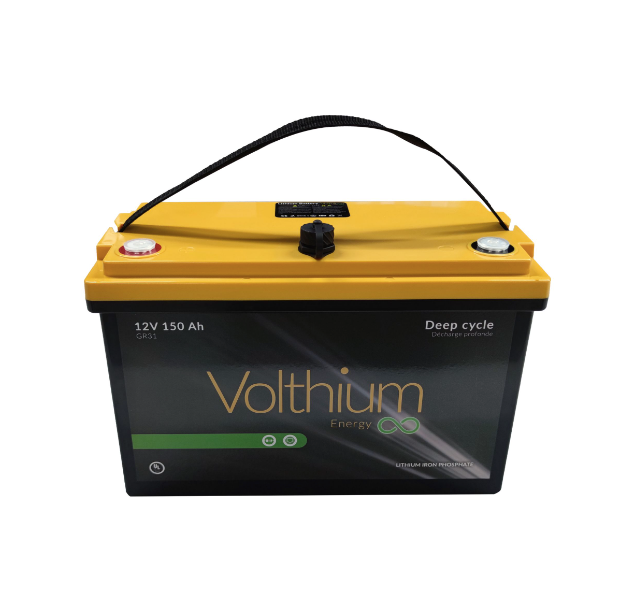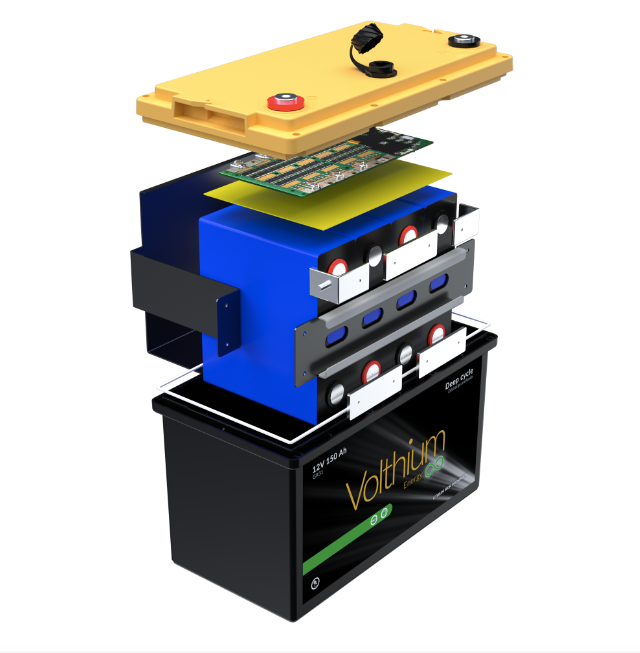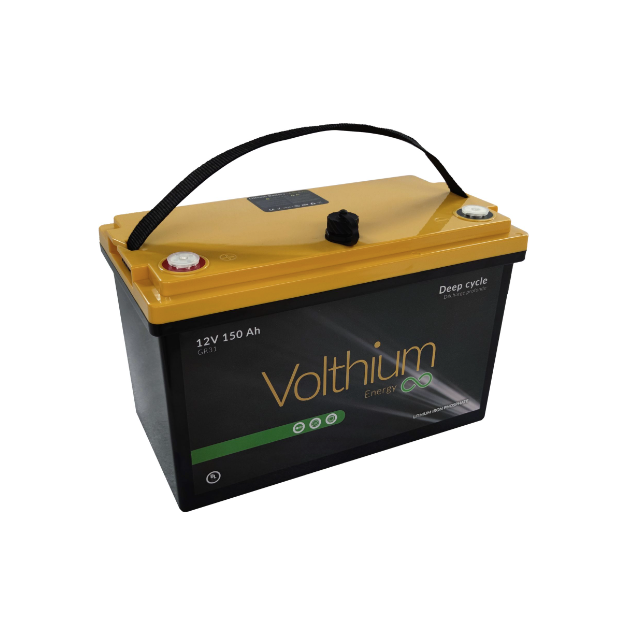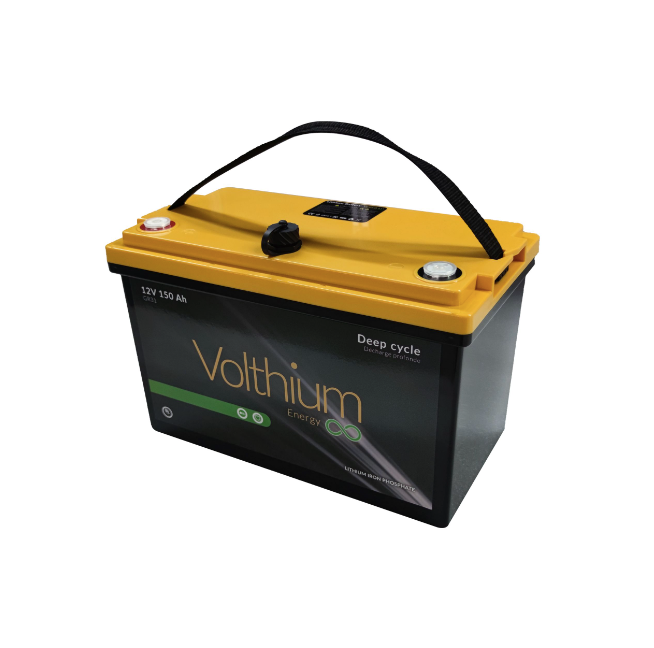 Product Description
Description
Our 12V150AH LiFePO4 ABS battery in Group 31 format is manufactured specifically for the recreational vehicle, boat, off-grid cottage, trucking and industrial applications.
Never before has a battery developed in Canada achieved this level of energy density!
KEY FEATURES:
- BMS access - out of warranty repair possible

- IP66 sealing

- RJ45 communication port - compatible with Volthium accessories (Victron, WakeSpeed, FireFly...)

- Dischargeable to -25 degrees

- 10 year limited warranty

- Continuous discharge current 100A

- Peak 300A (3sec)

- Up to 4 batteries in series (up to 51.2V)
- Quebec engineering
- Weight of 38 pounds
- Protection against cold charging
Our 12V 150Ah is certified IP66 sealed and has the particularity of having easy access to the electronics (BMS). This makes it repairable in case of failure, even after the warranty expires (10 years limited warranty).
In order to comply with ABYC requirements (e.g. Standard E-13), this battery has a sealed RJ45 (Ethernet) connector allowing the transmission of internal battery data to monitoring systems.

Indeed, ABYC requires that audible and/or visual alerts be sent before the automatic shutdown of the batteries.

The connectivity is used to transmit the internal battery information to the Victron environment (on their VE.CAN protocol) thanks to our Volthium accessories (CommunicationHUB and Bluetooth accessory).

Another exclusivity resulting from our internal and exclusive development.
Not only is this LiFePO4 battery resistant to vibrations, but it has a discharge range superior to the competition. Indeed, this battery can be discharged down to -25 celsius degrees, instead of -20 degrees for the competition.

This innovation is possible thanks to the cells from the automotive industry that we use for our Volthium batteries.


10 years limited warranty, 15+ years lifepsan.
Average operation beyond 6000 cycles.

Certifications: Full assembly: ABYC | Cells UL1642, UL1973, IEC62619, IEC62660, CSA UL9540A.
- BMS:
The BMS core is produced by the American company Texas Intrument. This manufacturer of BMS microcontrollers is known worldwide in the field of electric cars, as well as for its long-standing collaboration with NASA and the US Army. The programming and communication protocols are entirely developed by our engineers in Quebec.
- Cells :
The quality of LFP cells is paramount. Indeed, they are the ones that will assure you to have a durable product and whose long term performances will remain reliable.
Our batteries are equipped with GRADE A+ prismatic cells, manufactured by a subsidiary of Volkswagen Group.
- Engineering:
A true pillar, bringing together the strength of each of the parts integrating the product. At Volthium, engineering is distinguished by the selection of the best components in each industry, with the objective of obtaining the best final product, scalable to future needs and impossible to compete with. The continuous integration of new communication protocols, combined with the custom development established for clients, as well as the integration of technologies perfectly adapted to our Canadian environment, makes Volthium a reference in terms of design quality.


INCLUDED
- 1 X 12V 150AH Battery - 12.8-150-G31Y-CSS
--------------------------
I have been using this pump all summer to keep my boat, lawn tractor and a whole bunch of other stuff filled up around here. I still use 5 gallon containers for their portability and even with 10 of those I'll have to fill them twice to get through the summer. This pump has been great for my needs. If you are sick and tired of having to hold a 5 gallon container of fuel in the air while attempting to get those funky nozzles to work, buy this pump.
Brad
So far it's working as well as I had hoped. Nothing is perfect when trying to transfer gas, but this does a very decent job. You need to make sure to lift the nozzle and hose up at the end of the fuel transfer to allow any residual fuel to run back into the tank or it will dribble out all over. It empties most of a five gallon gas can in a couple minutes without having to lift and hold the can up which is exactly what I wanted.
V. Thomas