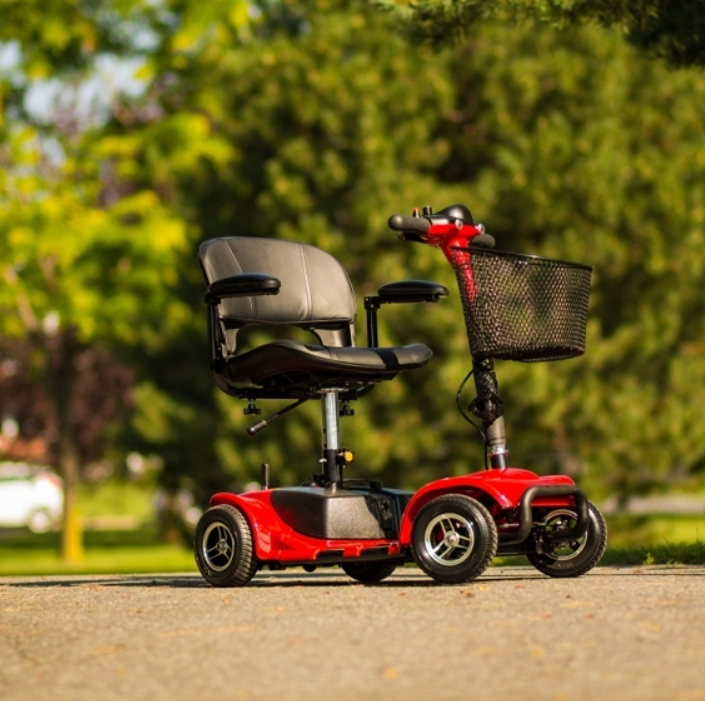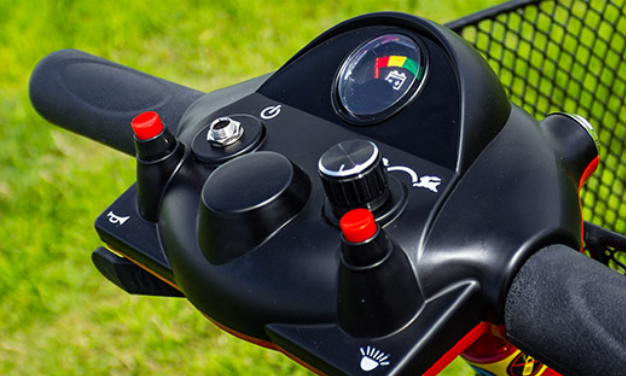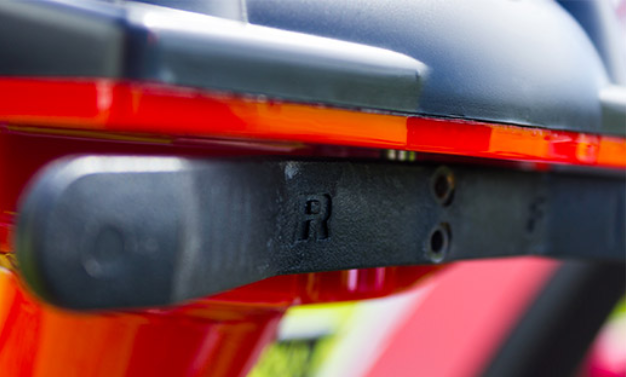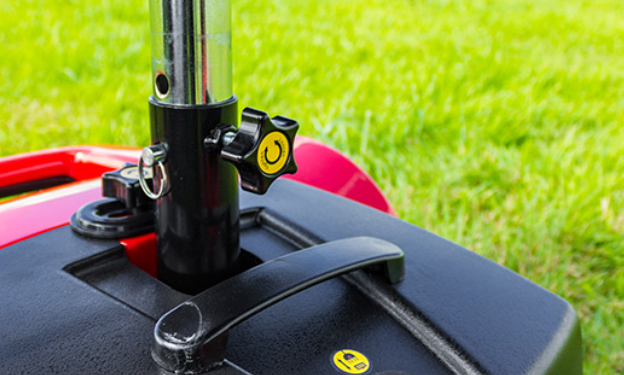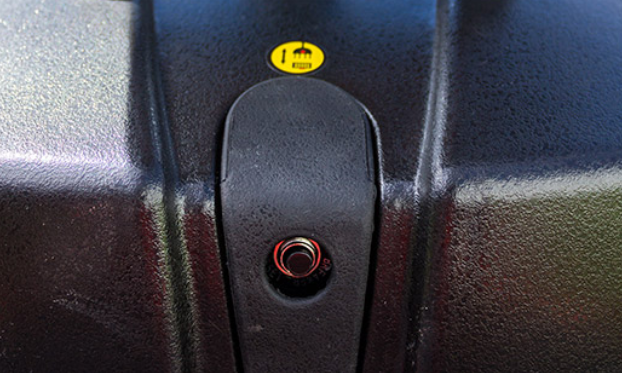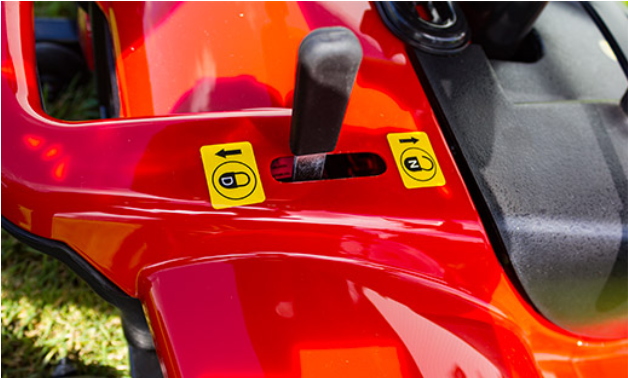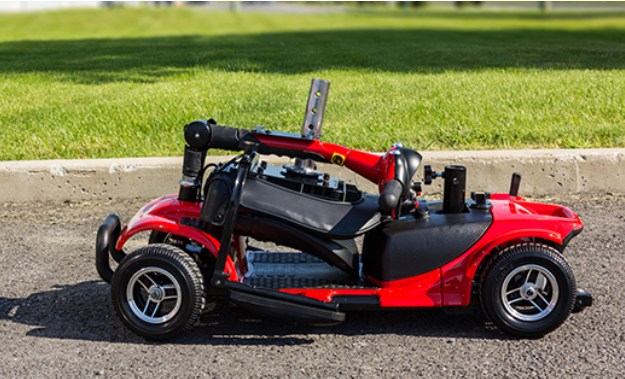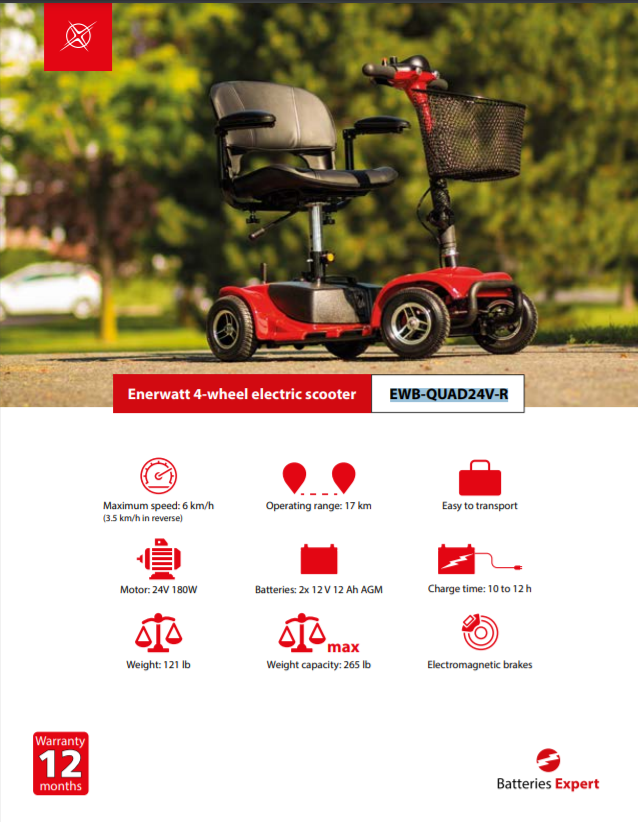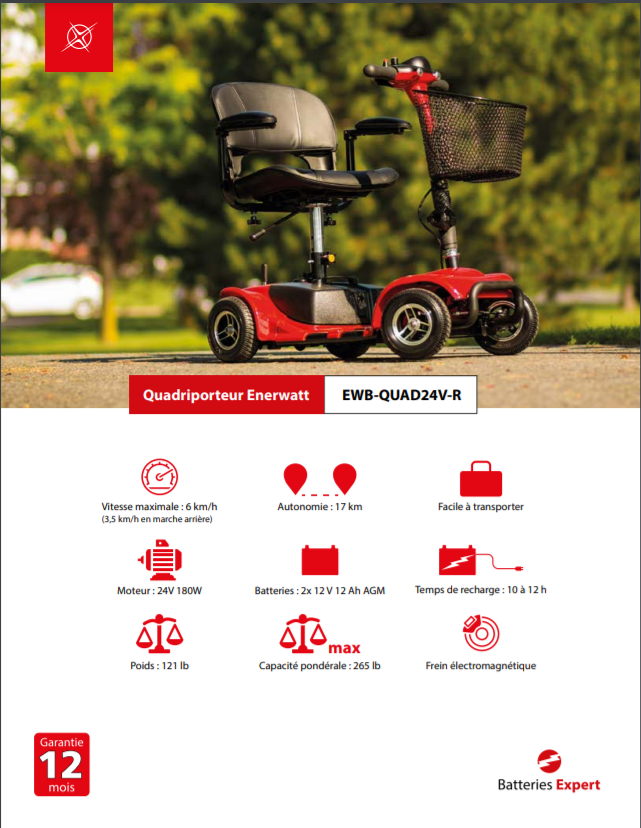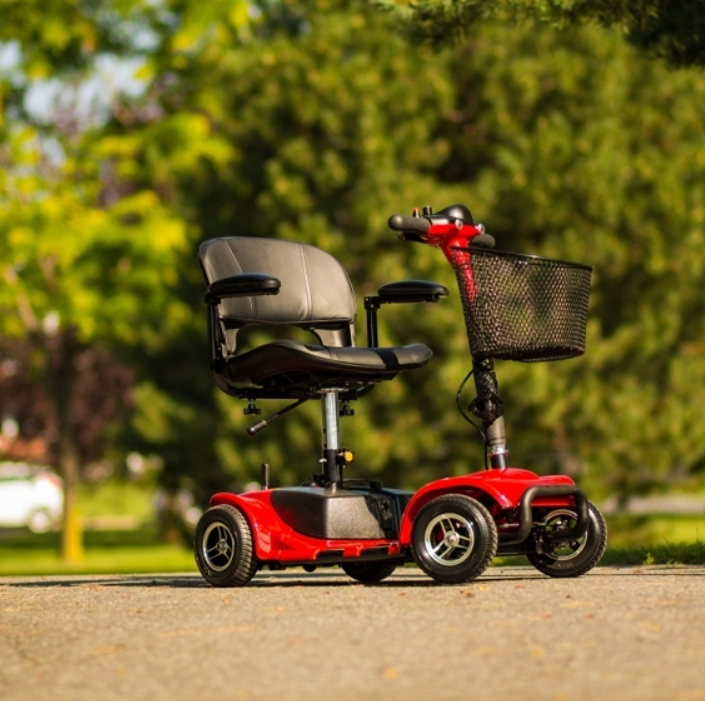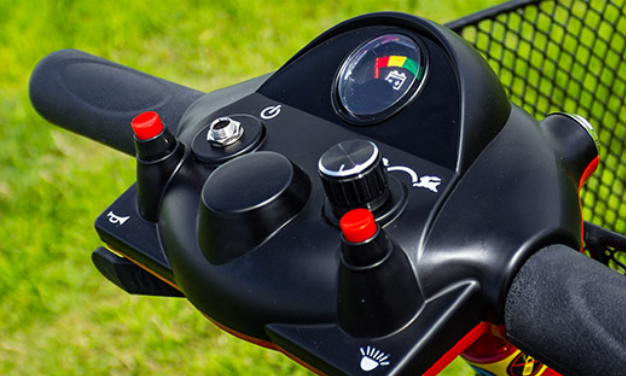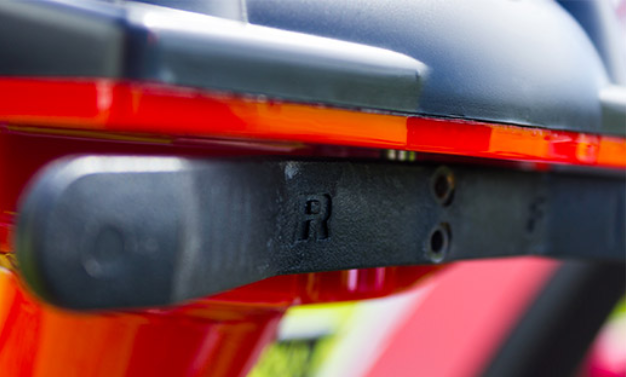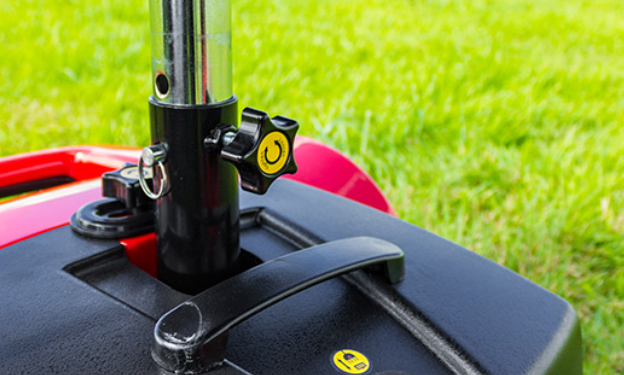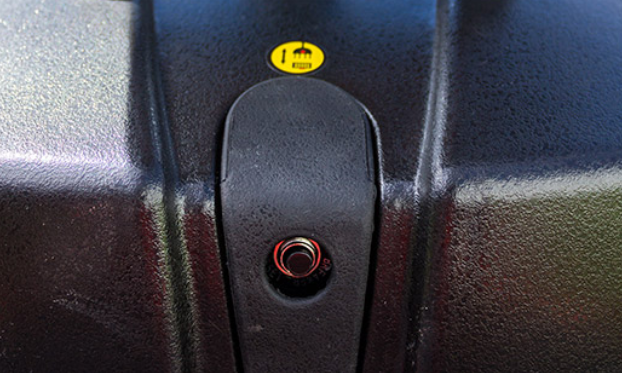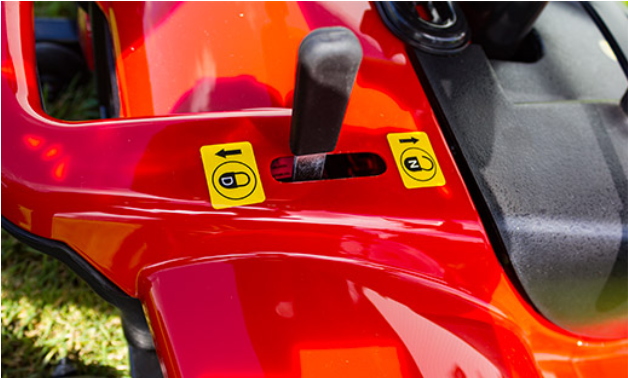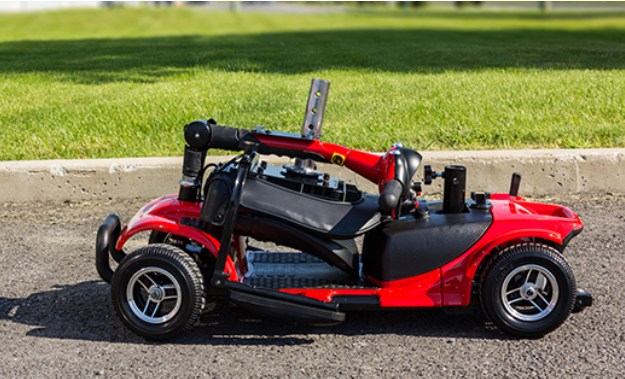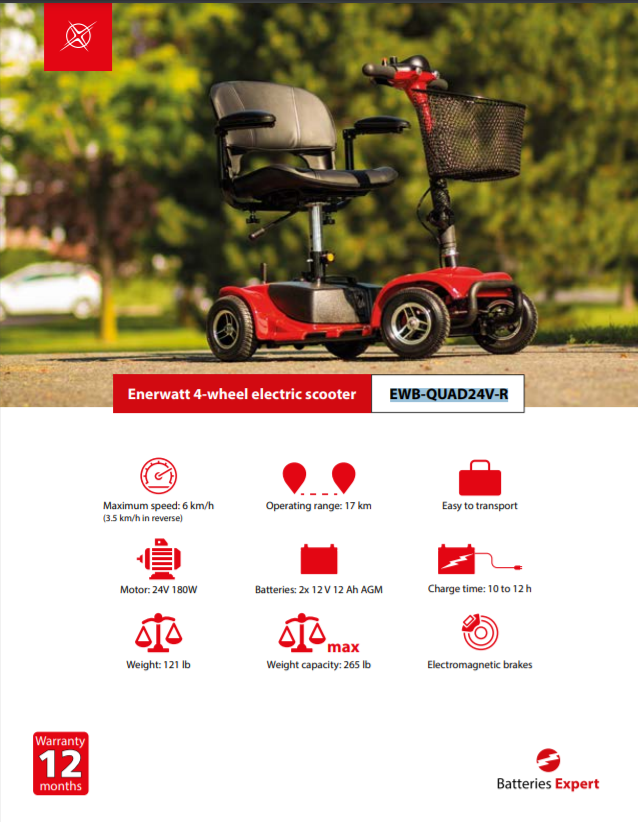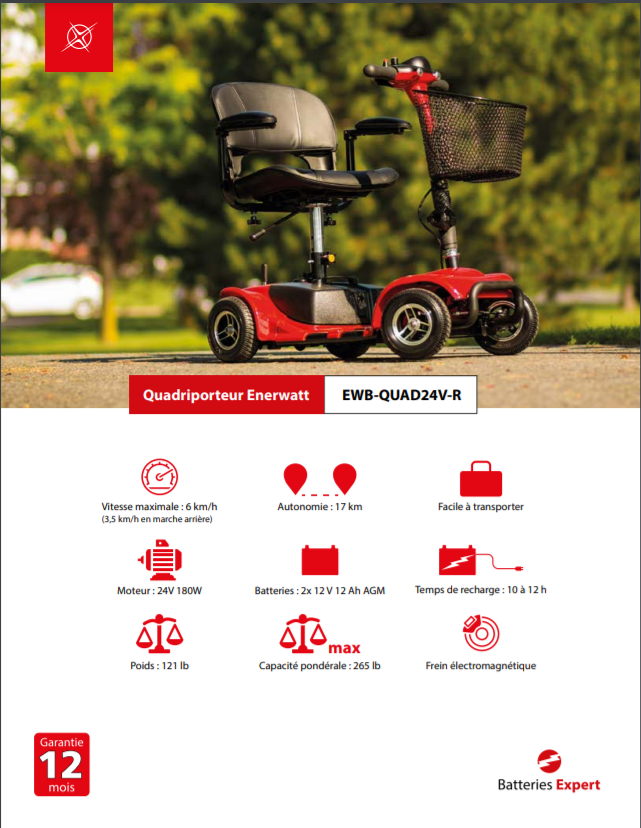 Product Description
Description
Get around with ease using the EWB-QUAD24V-R quad mobility scooter with rear traction. The scooter features a 24 V/180 W brushless motor with differential, an operating range of 17 km, an automatic electromagnetic brake system, rear anti-tip wheels, a front LED light for increased safety, a 1,000 mm turning radius, as well as many adjustable settings for your comfort.
The compact wheels and battery block are perfect for short outings. They come apart in four sections for easy storage and portability, making this model an ideal solution for those who lead active lives and need their independence.
DASHBOARD
The scooter's features are easily controlled while riding thanks to built-in commands on the EWB-QUAD24V-R's dashboard, including key switch, speed adjustment knob, gas handle, battery indicator, warning and headlight buttons.
SMART BRAKING SYSTEM
The automatic electromagnetic brake system (braking distance of 1.2 m/47.24") allows the EWB-QUAD24V-R to come gradually to a complete standstill as soon as the gas handle is released. The brake system features a shock absorber that ensures that the vehicle remains completely stationary while stopped. The brake system is released simply by pressing with the thumb to lower the EWB-QUAD24V-R's handle.
SETTINGS FOR YOUR COMFORT
Adjustments including seat height and direction, armrest width and tiller angle ensure superior comfort on the EBW-QUAD24V-R.
OVERCHARGE PROTECTION
For optimum safety, the EWB-QUAD24V-R is equipped with an overcharge protection device. The device is triggered when the battery is fully charged, protecting the scooter's motor and other powered devices.
FREEWHEEL MODE
Freewheel mode allows the EWB-QUAD24V-R to be manually pushed with ease using a simple lever while the scooter is off, preventing unnecessary battery use.
PORTABILITY AND STORAGE
To ensure greater ease of transportation and storage, the EWB-QUAD24V-R's four main parts (front and rear sections, seat and battery pack) are easy to assemble and disassemble without tools.
SPECIFICATIONS
24V/180W brushless motor, rear traction with differential
Solid drive wheels, 200 mm
Solid front wheels, 200 mm
Solid anti-tip wheels, 56 mm
Maximum speeds – forward: 6 km/h; reverse: 3.5 km/h
Automatic electromagnetic brake system
Ground clearance: 90 mm
Turning radius: 1,000 mm
Dimensions: 1,030 mm x 510 mm x 830 mm
Lightweight seat back with standard fold-down foam seat base
Drive system—unique drive motor
Batteries: 2 x 12 V/12 Ah
Operating range: 17 km
Off-board charger: 24 V/2 A
Weight capacity—nominal weight: 75 kg; maximum weight: 120 kg
Climbing capacity—nominal capacity: 8°; maximum capacity: 12°
Full charge duration 10–12 hours
Weight of parts— frame: 27 kg; seat: 10 kg; batteries: 9 kg per battery
e-bike mobility ebike mobility mobility bike
I have been using this pump all summer to keep my boat, lawn tractor and a whole bunch of other stuff filled up around here. I still use 5 gallon containers for their portability and even with 10 of those I'll have to fill them twice to get through the summer. This pump has been great for my needs. If you are sick and tired of having to hold a 5 gallon container of fuel in the air while attempting to get those funky nozzles to work, buy this pump.
Brad
So far it's working as well as I had hoped. Nothing is perfect when trying to transfer gas, but this does a very decent job. You need to make sure to lift the nozzle and hose up at the end of the fuel transfer to allow any residual fuel to run back into the tank or it will dribble out all over. It empties most of a five gallon gas can in a couple minutes without having to lift and hold the can up which is exactly what I wanted.
V. Thomas