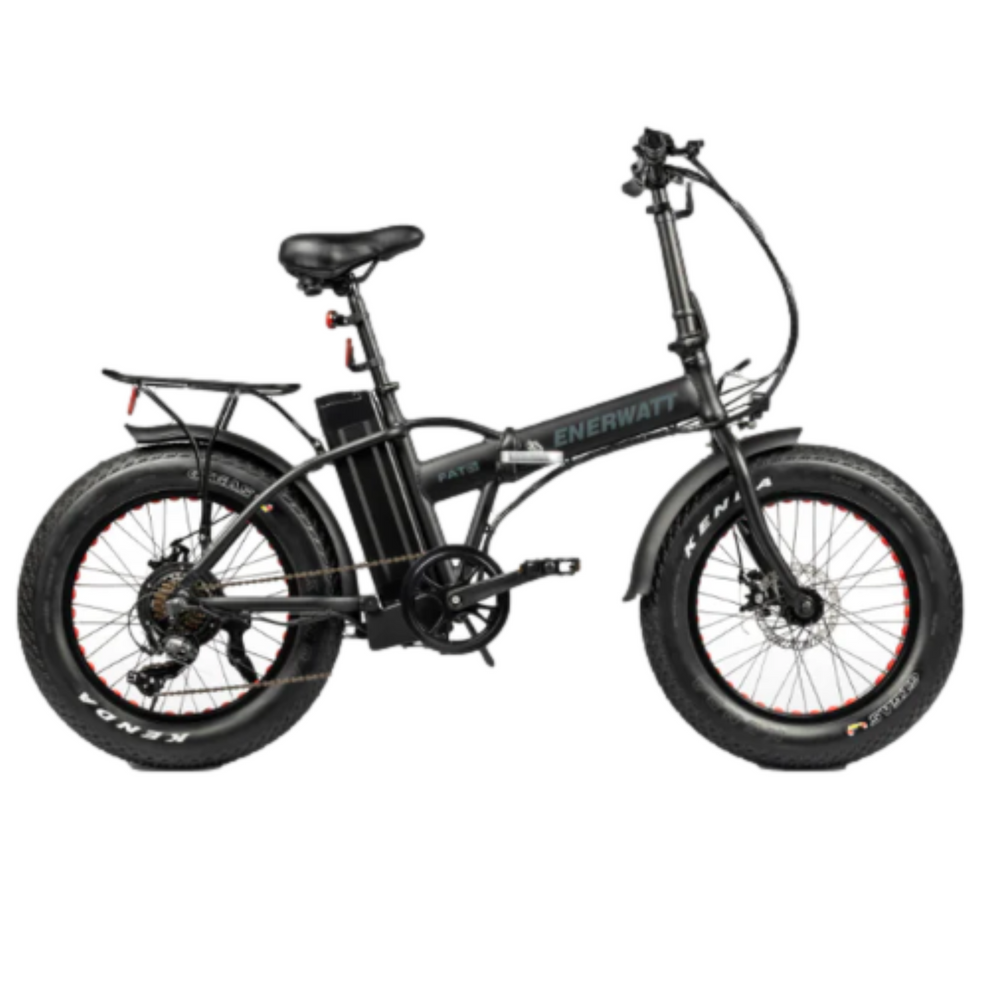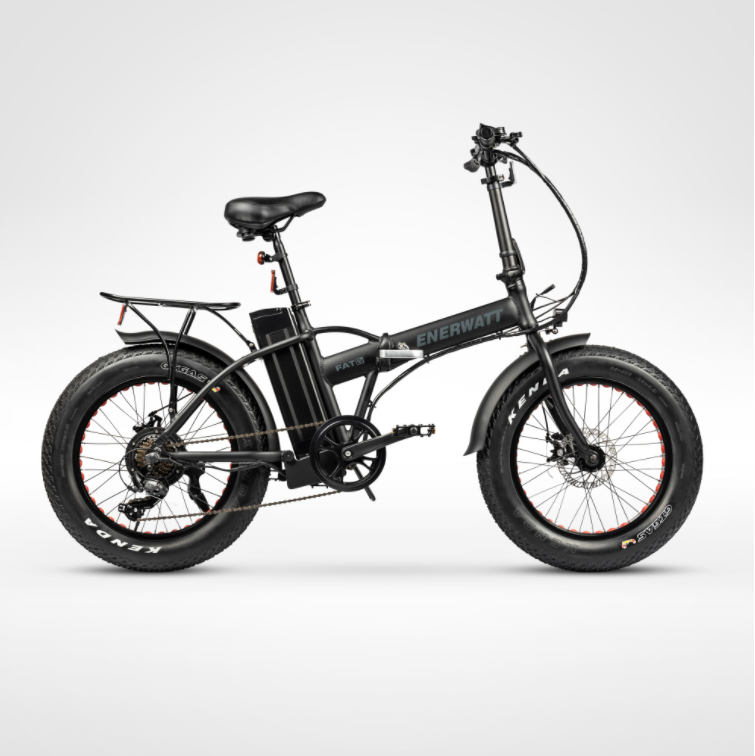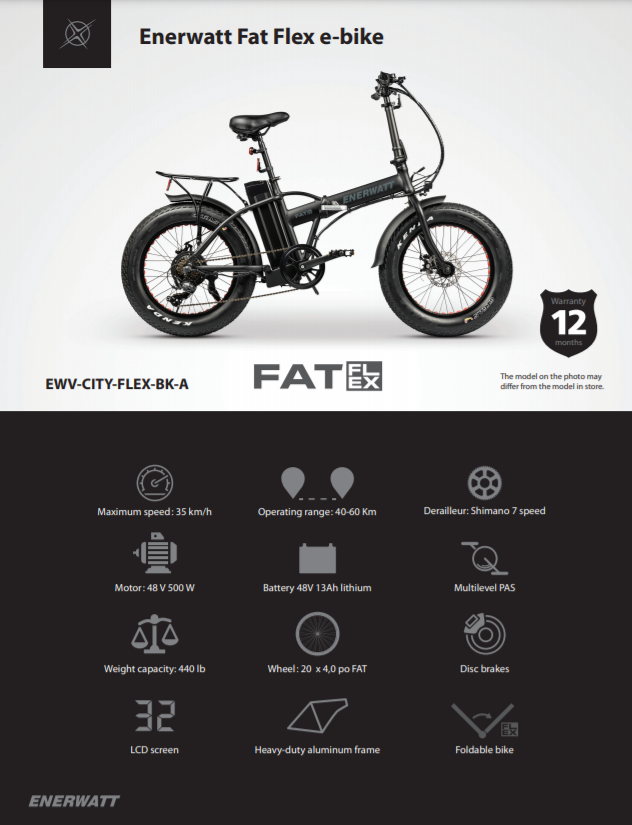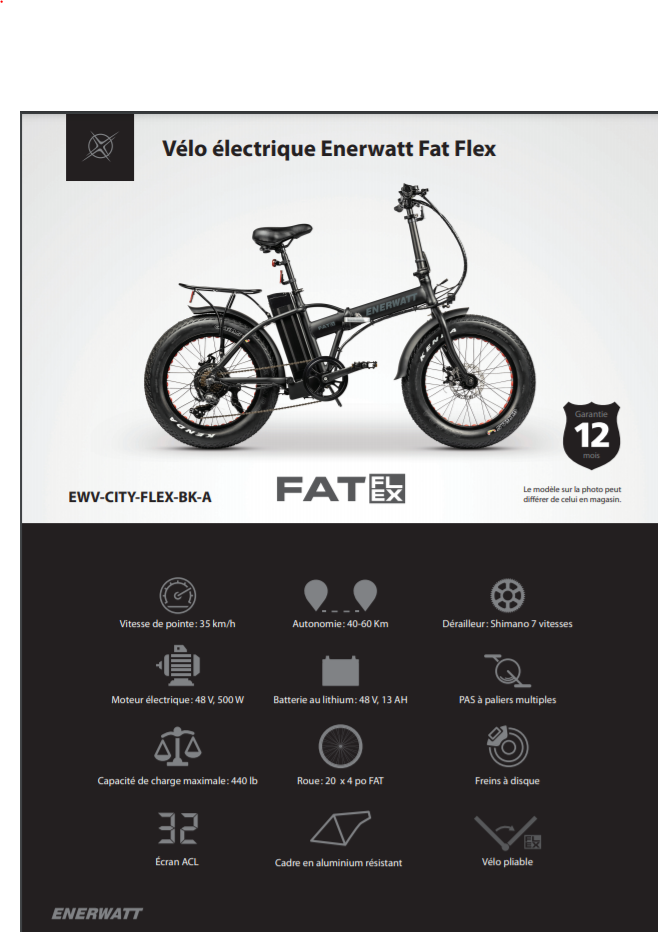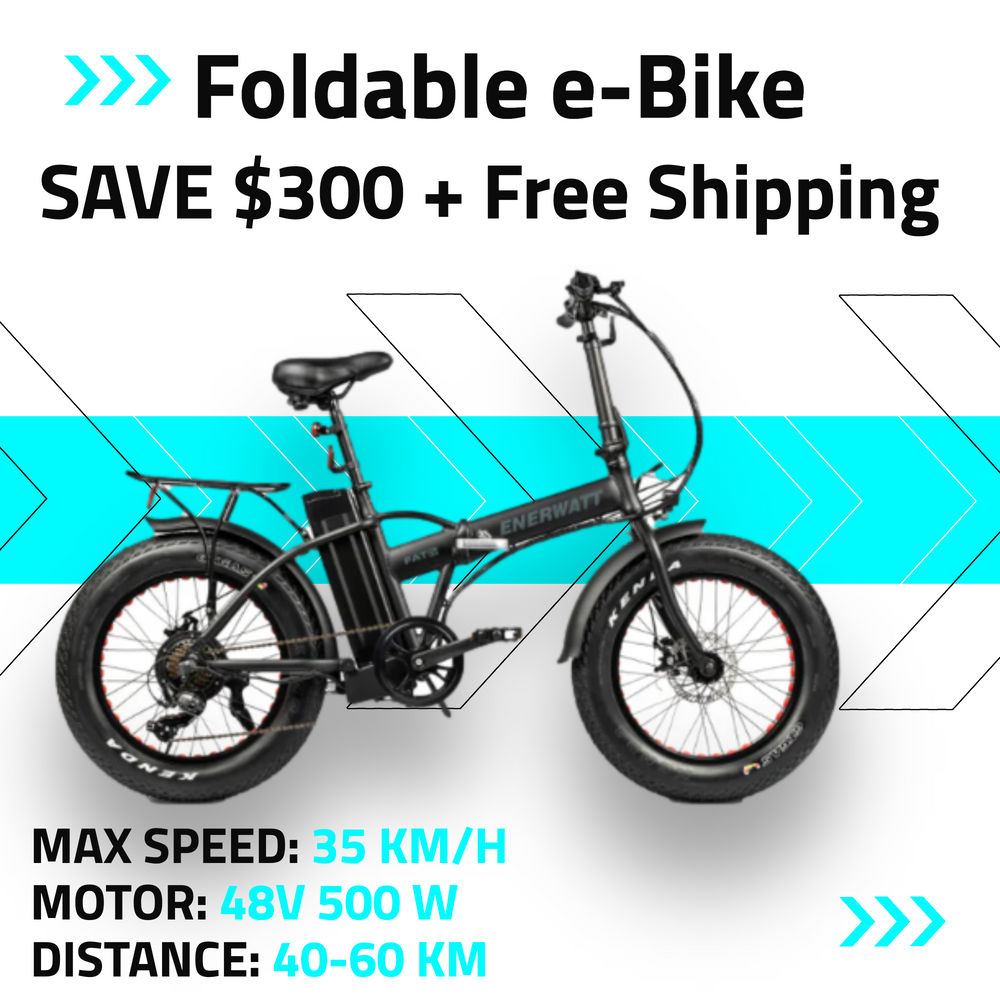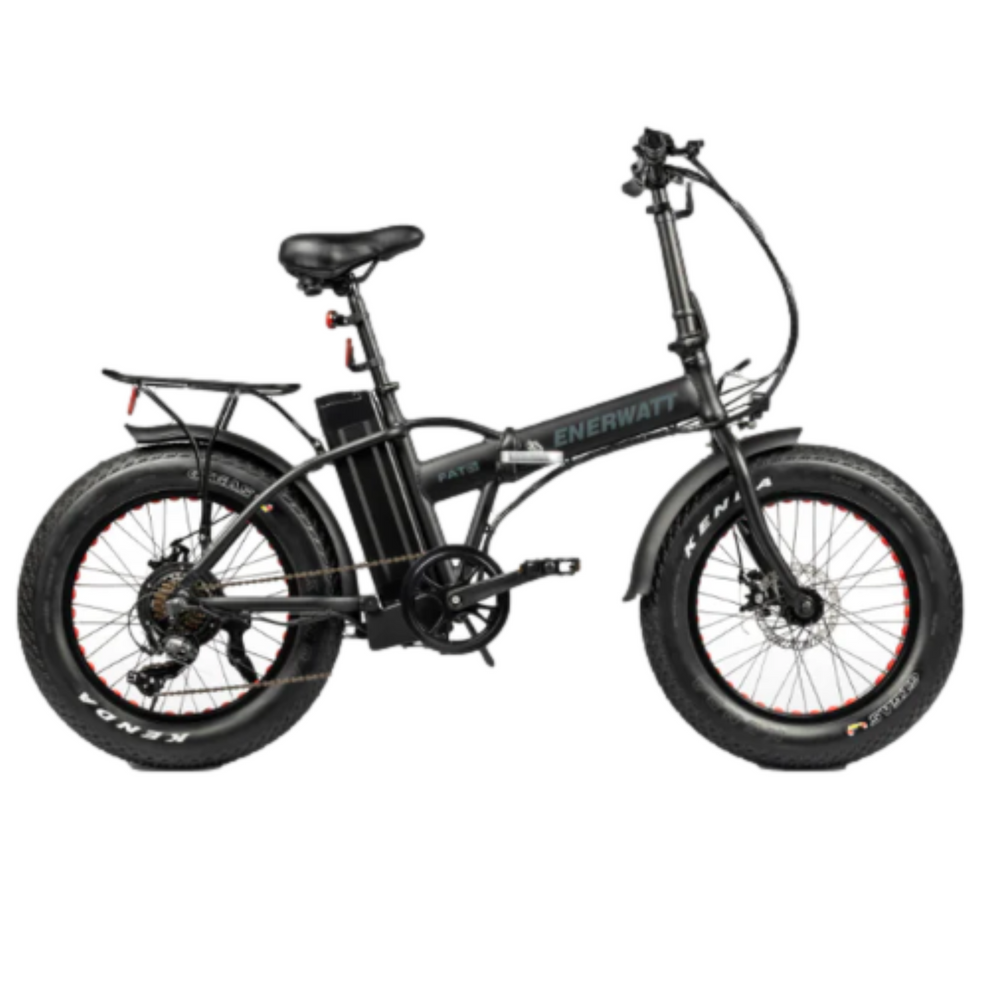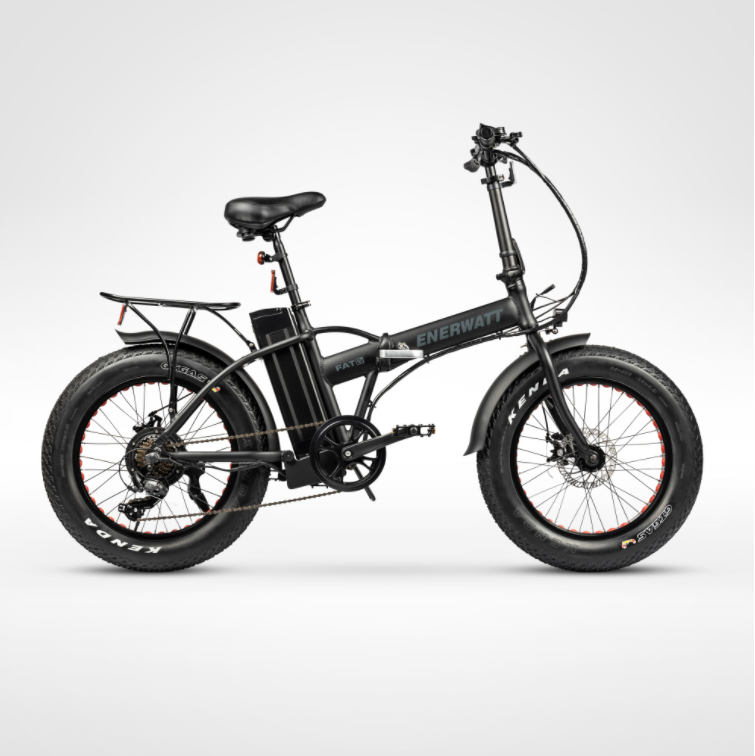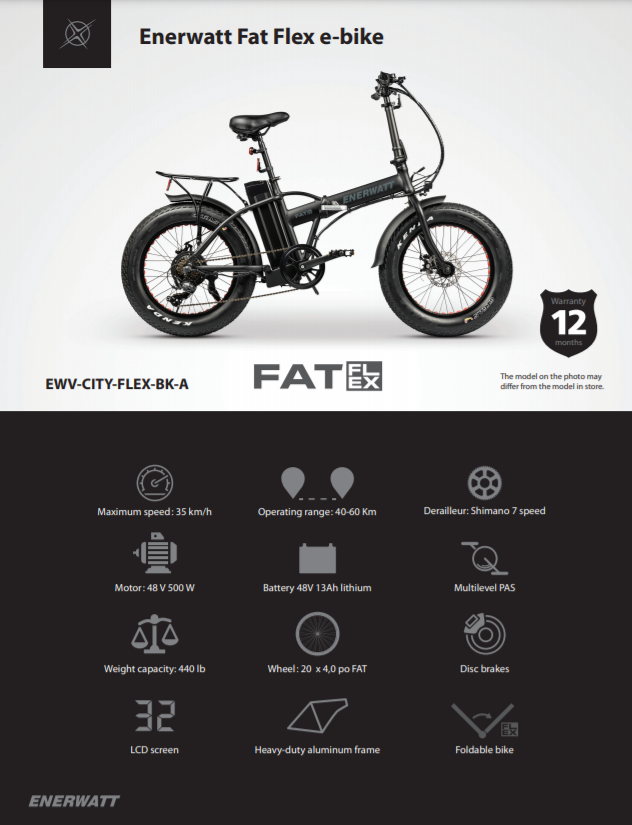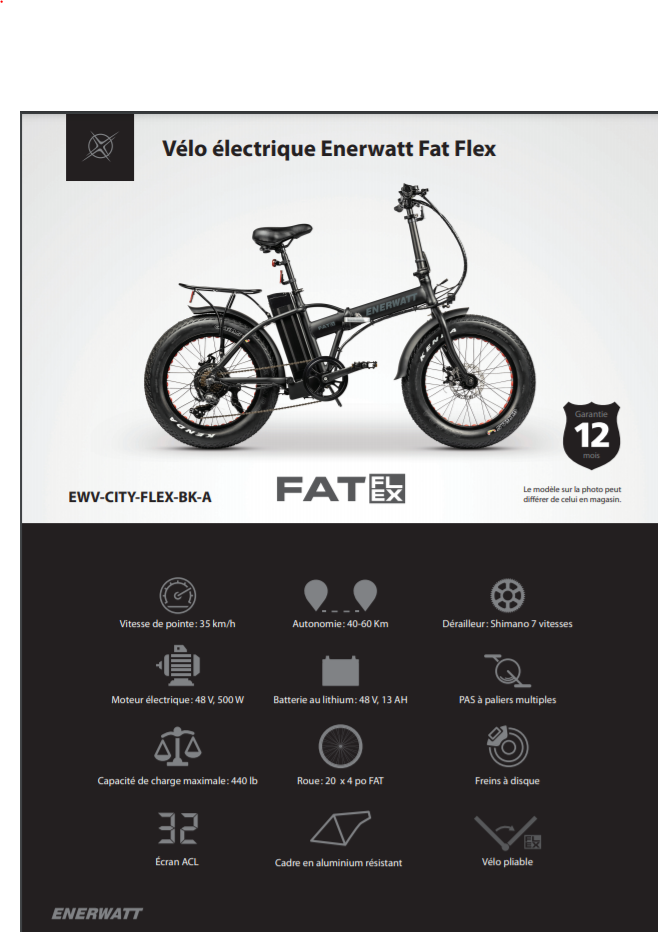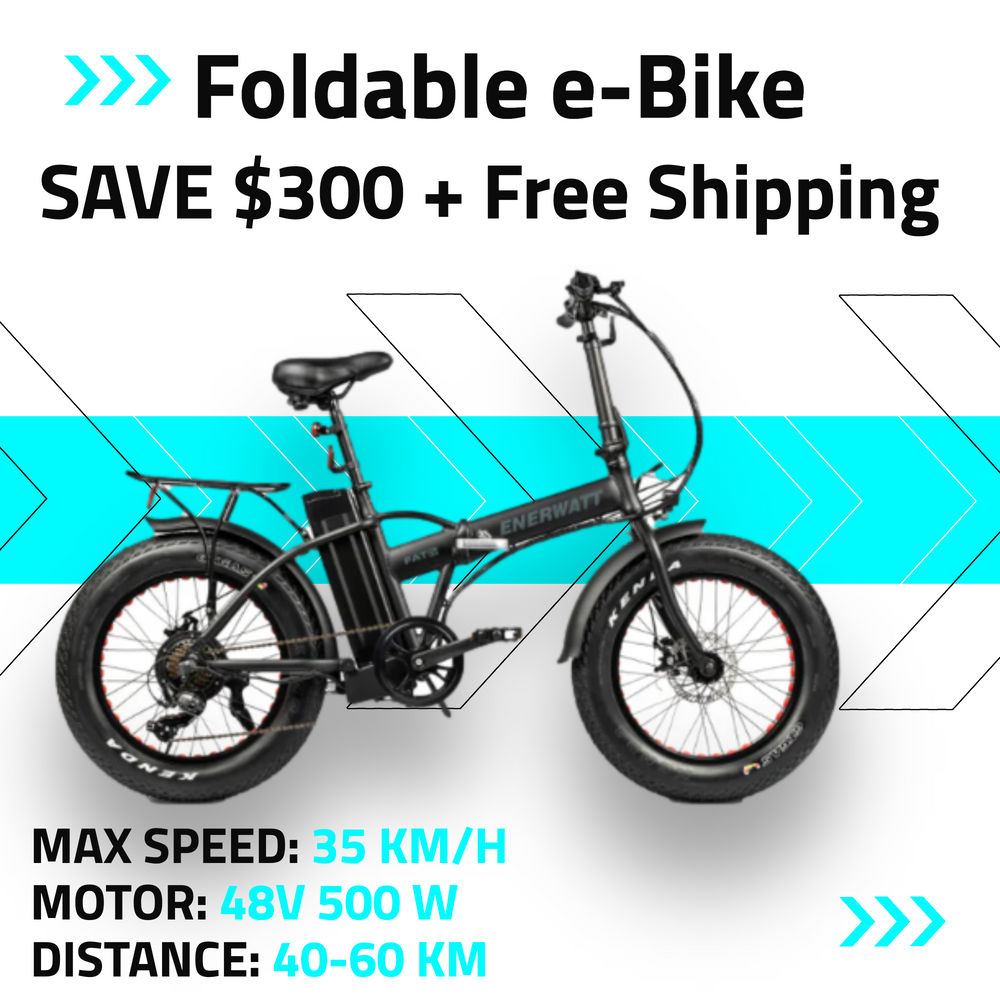 Product Description
Description
Imagine cruising both on and off-road, sight seeing and exploring with or without peddling. 
Introducing the Enerwatt 

EWV-FAT-FLEX-BK-A an amazing bike for new adventures. 


This is the perfect bike for anyone who wants to get around town quickly and easily. The foldable design makes it easy to store in small spaces, and the lightweight construction means you can take it with you wherever you go. Plus, the powerful motor provides plenty of power to help you reach speeds of up to 35 km per hour.

*PLEASE NOTE: THE BIKE YOU WILL RECEIVE IS DARK GREY  / BLACK AS PICTURED IN THE MAIN PRODUCT IMAGE ABOVE
Specs:
✅ Maximum Speed: 35 km per hour
✅ Operating Range: 40 - 60 km
✅ Motor: 48V 500W 
✅ Battery: 48V 13ah Lithium 
✅ Weight Capacity: 440 lbs.


Special Features:
✅ LCD Screen
✅ Heavy Duty Aluminum Frame
✅ Multi-Level Peddle Assist System
✅ Disc Brakes 
✅ Shimano 7 Speed Gear System
✅ Foldable
✅ 1 Year Warranty
Type (chimie) / Type (Chemistry)
Garantie / Warranty
12 mois
12 months
Numéro de pièce/modèle / Part/Model Number
Volts


Here's an example of how this bike folds...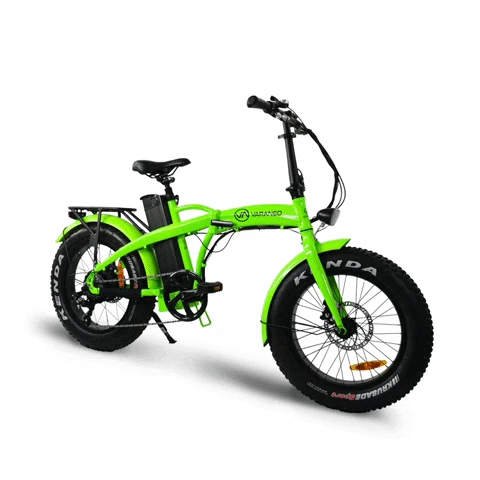 *PLEASE NOTE: THE BIKE YOU WILL RECEIVE IS DARK GREY  / BLACK AS PICTURED IN THE MAIN PRODUCT IMAGE ABOVE
e-bike mobility ebike mobility mobility bike
I have been using this pump all summer to keep my boat, lawn tractor and a whole bunch of other stuff filled up around here. I still use 5 gallon containers for their portability and even with 10 of those I'll have to fill them twice to get through the summer. This pump has been great for my needs. If you are sick and tired of having to hold a 5 gallon container of fuel in the air while attempting to get those funky nozzles to work, buy this pump.
Brad
So far it's working as well as I had hoped. Nothing is perfect when trying to transfer gas, but this does a very decent job. You need to make sure to lift the nozzle and hose up at the end of the fuel transfer to allow any residual fuel to run back into the tank or it will dribble out all over. It empties most of a five gallon gas can in a couple minutes without having to lift and hold the can up which is exactly what I wanted.
V. Thomas